Happy Amazon Prime Day! Yes, it's actually a real day…actually TWO day. Today and tomorrow (October 13th-14th) are two of the biggest sales days on Amazon, which include some incredible deals on a variety of things including WINE related gifts and products. So what else should a home-bound wine travel writer do, create a curated list of the best deals for all of you wine lovers. (I'll be updating this list throughout the day so make sure to check the full list on Amazon.)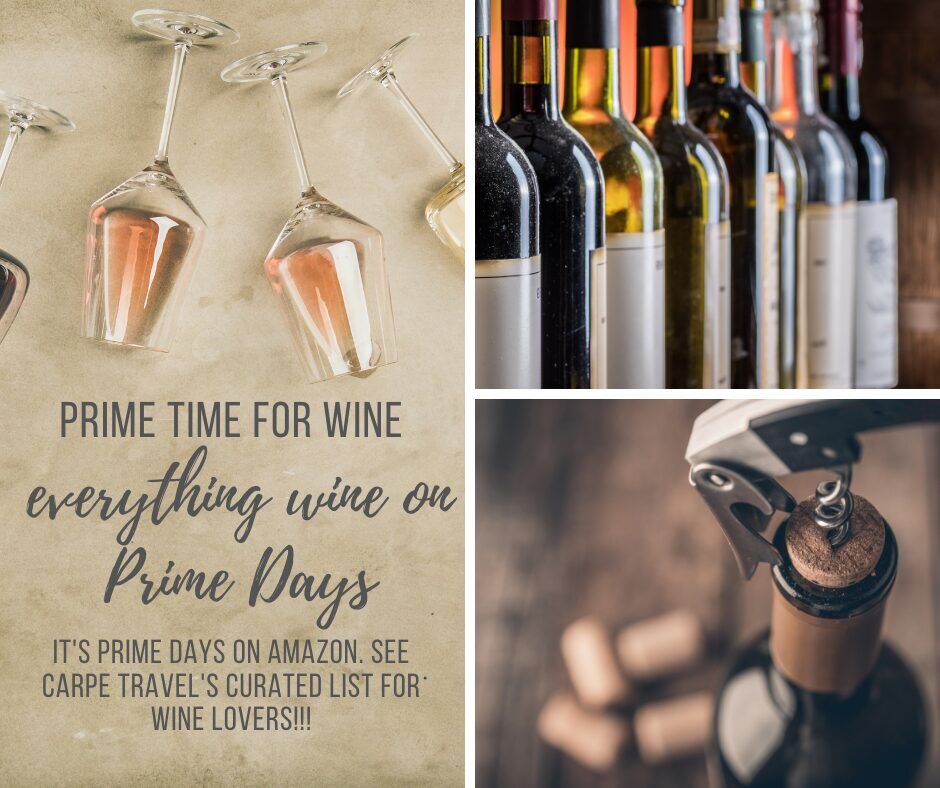 Kindle Paperwhite
I know the Kindle Paperwhite isn't really "wine related" unless you're going to be reading WINE BOOKS – duh. Which is why it's on my list!
Wine Totes
Who doesn't love – and need – a wine tote to keep those bottles safe when you're in transit. Ok, so I know we're not really "transiting" right now but we will and this is a good deal.
Wine Tote Bag with Cooler Compartment
The perfect traveling case to bring wine to an outdoor party or picnic that also keeps the bottle at a low temperatures. In addition to the wine, you've got glasses and your own wine opener – perfect for keeping your social distance with the party host, while still looking sleek and styling.
Wine Cork Place Card Holders (set of 25)
These wine cork place card holders are made from real, unused corks. They have "Cheers" printed on them and are all uniform in size. Corks come ready to use with the slit cut and a flat bottom. These place card holders are sure to be unique and a hit for any special occasion – and can help keep people in their socially distanced seat.
Bambusi Cheese Board and Knife Set
Wine and cheese make for the perfect pairings. This cheese board is the ultimate with bordered grooves that hold crackers, nuts, or olives and designed with a hidden drawer with four utensils, cheese knife.
Riedel Wine Glasses
When it comes to wine glasses, size and shape do matter. Each different glass showcases the unique flavors and characteristics of wine. Riedel makes some of my favorite glasses. Both their white and red glasses on on sale. Why different sized wine glasses matter.
Reusable Beverage Chilling Stones (4pcs)
Some people like to put ice in their wine to chill it, totally their choice. I personally prefer not to water down my wine so instead turn to these little reusable chilling stones.
Wine Cooler
Ice your wine or champagne for up to six hours. Oh, and no ice is needed. It's the ultimate outside wine chiller!
Iceless Wine Chiller, 3-in-1 Stainless Steel Stick with Aerator and Pourer
I'm on a trend here with chilling wine without ice…  This wine chiller stick is a combination of wine bottle chiller, filter and pourer, that allow you enjoy a glass of perfectly chilled wine without the ice. You also get a classic "waiters" corkscrew and an extra stopper.
Inflatable Wine Glass Giant Pool Float
I'm always trying to snag my kids floats when we're at the pool, beach or river. Not anymore. This float is for adults only!
WineBlock Lip & Teeth Balm
Do you get purple lips when sipping red wine? You don't have to. Made with plant-based, all-natural ingredients – no petroleum ingredients or parabens – WineBlok prevents wine-stained lips and teeth when you apply it before you begin sipping.
Professional Wine Key
Having waited tables for too many years to count, I prefer to open my wines with a wine key. But, I won't judge, to each their own. There are soooo many other wine opening tools that are also on Amazon Prime Days.
Boxxle Box wine Dispenser
Boxed wine is soooo the new thing. Actually, I don't really know but I do know there are some great boxed wines out there. With the Boxxle Box Wine Dispenser, wine stays fresh for up to six-weeks after serving the first glass. It's also the best way to have wine-by-the glass anytime at home.
Champagne Sealer Stopper
I love to sip bubbles but I hate to waste them. This Champagne sealer can save the day…and the bubbles!
Le Chateau Wine Decanter
This hand blown lead-free crystal decanters is not only pretty but will enhance the purity, aroma and taste of your favorite red or white wine.
Wine Cooler Refrigerator – 30 Bottle
"Who needs a wine fridge that holds 30 bottles?" said the guy at Home Depot where I bought my first wine refrigerator more than a decade ago. My response, "I do." I mean really, who doesn't?!?!?
Wine Glass Markers
To be totally candid, I didn't think I would EVER use Wine Glass Markers but I do ALL. THE. TIME. Not only do I write when to open my bottles, which ones I need to review (so The Husband doesn't open them) but I also use them to write names on glasses when we have guests. They are more helpful than I ever imagined.
Bottle Lights
These are a fun way to bring light into a dark space. Something we could all use more of these days…
Reusable Wine Bags for Travel
I have a ton of these and they used to come in very handy. The "used to" is only because I haven't traveled since February 2020, thanks to C19. But this will change, as will the price on these so snap them up to use when we can all travel again. Hello! You need to be thinking ahead to your next wine country vacay and all the bottles you'll be bringing home.
Wine Tumbler
While I love my hand blown wine glasses, I hate to break them. So, when I'm outside at the river, camping or just doing a BBQ I tend to sip from my tumbler. The stainless steel doesn't change the flavors in my wine AND the double wall vaccum keeps my whites supper chilled. Getting a set of six at this price is great…and will save your nice glasses!
Wine Filters
I have some friends who have sworn off red wine given the headaches they get. I'm not sure if it's the wine or the amount they sip… Regardless, I'm curious to try these wine filters that absorb histamines and sulfites, which are found in most wines and can cause reactions like congestion, red cheeks, and a headache. The filters claim to do this without releasing any chemicals into the wine.
There are a lot more Wine Prime Day Deals I've added to my curated Amazon list that's being updated over the next 48 hours.