Exploring wine country shouldn't be complicated but many people I've talked to find it daunting to plan a wine trip. I get it. I've been there and still get overwhelmed at times when I'm heading to a new wine region to explore. With that said, I wanted to share my tips on planning a great grape escape to make it easier for you to plan yours. I've put together a detailed guide with everything you need to know BUT it's a lot of content to sip-in. To break things out and make it more digestible, I've broken them into steps AND pulled out a few quick tips here to help with your sipping adventures.
Do it Yourself, Group Tour or Personal Guide
The first step in planning a wine trip is deciding if you're going to do it on your own or go with guide/tour. There are pros and cons to each. If you're new to wine tasting, a tour might be the best way to get started and to educate you on the region. However, the costs for tours are typically higher given they provide transportation and many of the other costs associated with tastings. See our planning a wine vacation guide for more details on the pros and cons to pair your vine trip accordingly.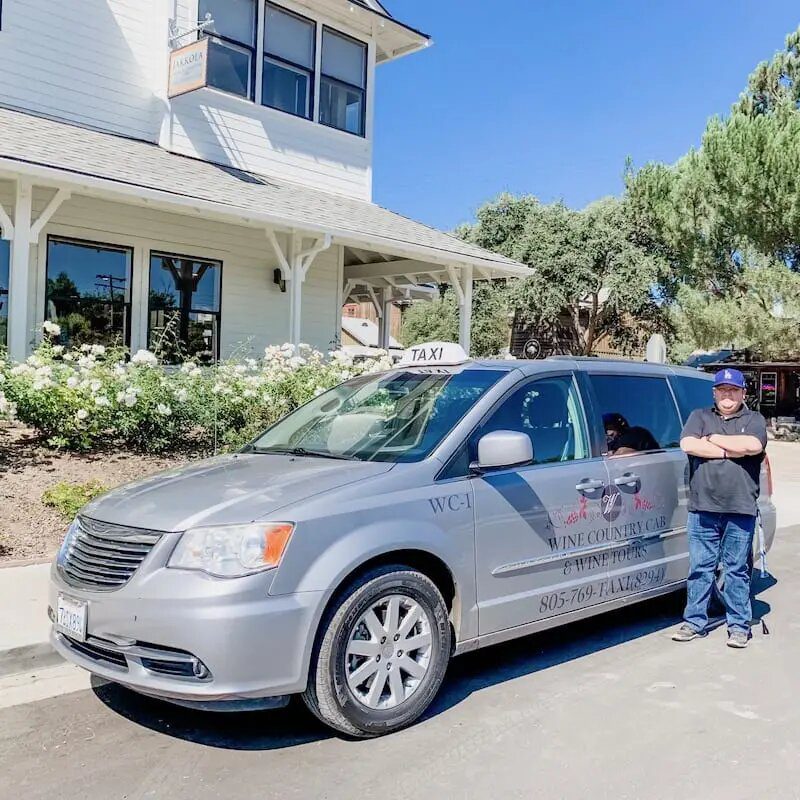 Hire a Driver or Have a DD
Always have a driver, be it a paid driving service or a designated driver. You will be drinking and more than likely you will consume more than you anticipate. There are some excellent driving services in wine country that will chauffeur you in their cars and others who can drive your car.
Destination Drivers and Main Street Drivers are two great, affordable services I've used that drive your car during the wine trip. Check their sites to see where there services are offered as they're pretty widely spread. Uber Wine is also a new, growing service. I loved the concept and put it to the test myself. It worked well…and then it didn't. Read my full review before you rely on Uber Wine for your wine vacation.
I personally prefer to leverage a local driver for my wine vacations, mainly so I can get access to their connections at the wineries. There have been several times we were not able to get into a specific winery for a tasting, only to have our driver arrange something last minute. They also tend to have some excellent recommendations on wineries I would not have known about otherwise. In fact, it was one of these recommendations that lead me to falling in love with Kokomo Winery and Garrison Creek Cellars.
There are several ways to find a local driver for your wine trip. TripAdvisor is a start but I also suggest you talk to your hotel since they tend to have the skinny on who's good. I've also noted several services in the guides here on Carpe Travel.
Have a Plan
If you are planning your own wine tasting trip, before you go it's best to map out the wineries you want to visit, locate them on the map and chose the most efficient route. This may sound elementary but given weekend traffic in wine country it can mean the difference in a few hours, aka visits to wineries. You can easily make a Google Map and save it offline so you can use it without wifi. (Wine country is in the country after all, so service might be spotty.)
I'm also loving Wine Routes, an app – and website – you can use to literally create your own routes in wine country. While Wine Routes includes the mapping capability it also shares information on the winery, tasting fees, hours, and experiences in the area. (Make sure to see Carpe Travel's Best Wine App Recommendations for more.) I may never create another Google Map again…
Sharing Goes Along Way
Sharing a wine tasting with someone is perfectly fine. Not only do you reduce the tasting fees, but you can also increase the number of wines you're able to sample since wineries offer different wine tasting options – a reserve wine tasting, a flight of white wines, etc.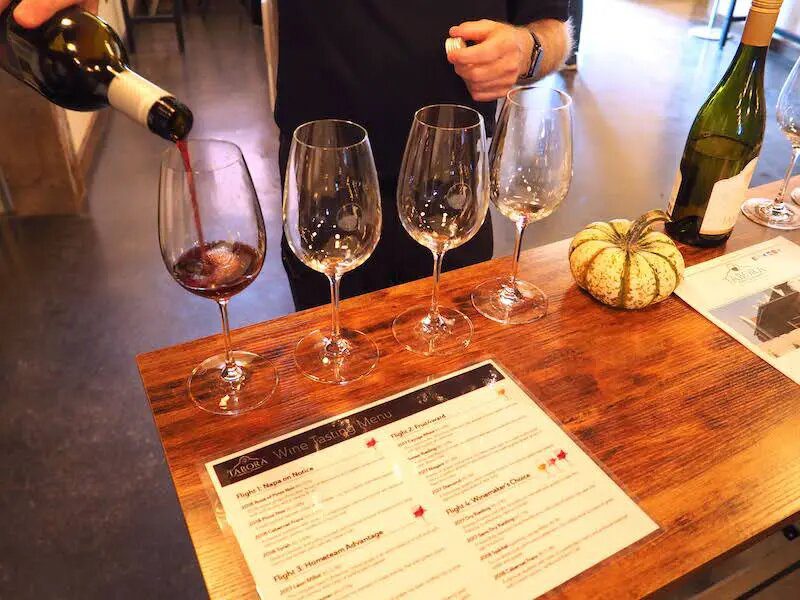 It's OK to Dump
It's perfectly acceptable to pour any remaining wine out from your glass during a tasting – even if you liked it and especially if you didn't.
Reservations & Timing of Tastings
Many wineries only do tastings if you have a reservation so make sure to call ahead. Additionally, if you have a large group – more than four people – it's best to call before you visit to ensure the winery has room for your group.
Wine Club Discounts
When you participate in a wine tasting at a winery and choose to make a purchase you can typically save 10-20% if you join their wine club. If your order is large enough, it's usually a great deal, that is, until your first wine club order arrives and your credit card is billed. It's best to simply limit the number of wine clubs you join to those you absolutely love and want to regularly receive wine from.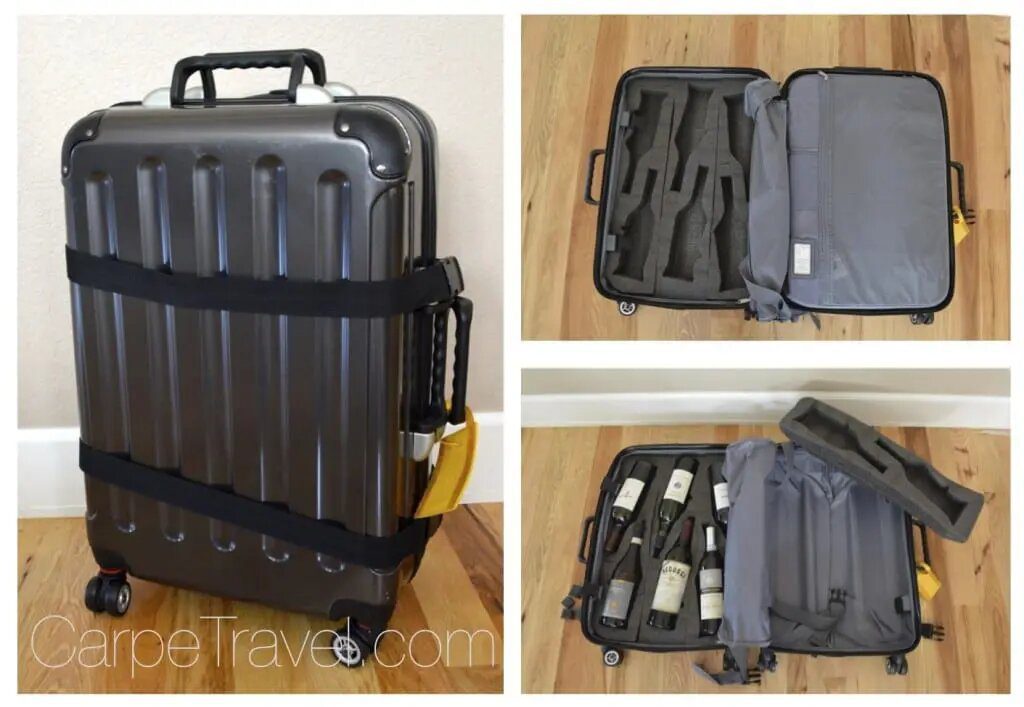 Think Ahead: Getting Wine Home
If your wine vacation is in the United States, it's easy to have wine simply shipped to your home or office since someone will need to sign for it. (See State by State wine shipping laws). However, when you're traveling internationally, that's not always the case given the laws around shipping wines.
You can always try to ship wine but it gets very pricey and you're limited on the number of bottles you can receive. There's packing it in your suitcase and checking it. I've written a pretty detailed guide regarding having wine shipped back to the United States. I will tell you now, if you plan to bring wine back with you I suggest looking into buying the Wine Check or VinGardeValise wine suitcase.
I've been using my Wine Check a lot lately since it's super easy to pack in your luggage and allows you to then insert a packed case of wine that can be checked as baggage. It's less expensive than the VinGardeValise (you can get three for about the price of one VGV) and it gives you the ability to bring more wine home. You just have to make sure it's packed well since the wine isn't nearly as protected as it is in the VGV.
Dress for a Wine Tasting
It's important to be comfortable when you're on a wine tasting trip but it's just as important to be prepared for the different areas of the winery tour will help ensure a good time. For instance, a winery may conduct its tasting on a patio outside the vineyard but during a tour you will visit the cellar, which can be extremely chilly in a summer sun dress and sandals. Plan ahead by bringing a scarf, light sweater or jacket. Something else to consider is if you plan to have an outdoor picnic along the way. Wearing a short dress, may not be the comfortable thing to sit down in. Take a peek at the full guide on what to wear in wine country for some ideas on outfits, etc.
---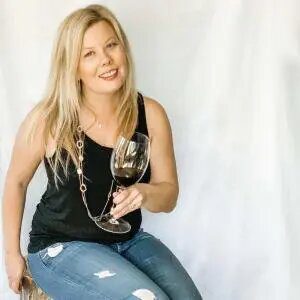 Elaine Schoch (pronounced the German way – Shock) is the editor and founder of Carpe Travel as well as an award-winning travel writer, wine judge, certified by the Wine & Spirit Education Trust (WSET) Level 2 and certified American Wine Expert. She is married to The Husband and has two kids, Princess One and Two – who's interest and knowledge in wine is quite extensive. Not to mention the stamps in their passports.