Hint. Orange wine doesn't come from oranges.
Red, white, rosé and bubbly might be the quartet of classics when it comes to wine styles, but in recent years, a fifth category has emerged. Whether it's referred to as orange wine, amber or skin contact white wine, this unique style of winemaking is having a real moment right now. Here's what you need to know about orange wine.
The name can be deceiving. Although orange might be the most well recognized term for the style, it's also the most misleading. Long story short, orange wine is made from grapes, not oranges.
And that brings us to the more telling name for the style, skin contact white wine. Skin contact wines are wines that are left to ferment on the skins for anywhere from a few hours to several months.Think about red wines. It gains color, body and tannin through time macerating (soaking) with grape skins. Skin contact white wines work the same way. The winemaker allows the white grape juice to macerating (soak) with its skins, seeds and stems to add color and body to the wine.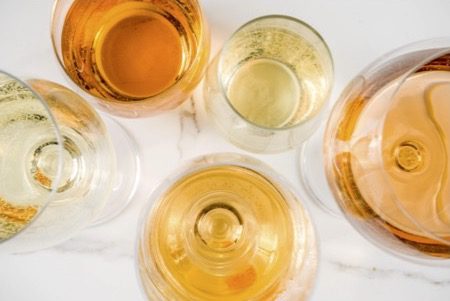 Skin contact white wines might be new to the United States, but the process dates back thousands of years to the Republic of Georgia where native Rkatsiteli grapes were aged on their skins in large terracotta amphorae known as qvevri. The results are gorgeous amber hued wines with a true sense of place.
This method produces truly unique bottles that aren't red, white or rose, but something completely unique. From delicate and floral to savory and substantial, here are the U.S. winemakers championing the style of orange wine.
U.S. Winemakers Championing Orange Wine
Ross and Bea Maloof are a husband and wife winemaking duo based just west of Portland in Forest Grove, Oregon. Their vibrant lineup of wines feature eye catching labels, memorable monikers and fascinating bottles that are redefining notions of what Pacific Northwest wines can be. Their current lineup features a couple of fascinating orange wine options including Where Ya PJs At?, an 80/20 blend of Pinot Gris and Riesling. The winemakers refer to easy drinking bottle as rosé-ish and suggest pairing with popcorn or pizza. Another elegant orange offering from Maloof's catalogue is their Gewurztraminer that spends 20 days on the skins before aging in neutral French oak. Maloof isn't currently open to the public but their wines can be found on discerning lists throughout the country.
Field Recordings winemaker Andrew Jones has a passion for making approachable, single vineyard wines out of his Central Coast winery. By sourcing from small growers, Field Recordings is able to introduce avid wine drinkers to lesser known California grapes — think Charbano and Alicante Bouschet — as well as styles like Piquette and skin contact. Field Recordings' current roster includes two orange wine offerings, a food friendly proprietary white blend simply called Skins as well as the cleverly named Domo Arigato (Mr. Ramato), made from Pinot Gris up and down the Central Coast. Fans of Field Recordings (and the band Styx) can visit Jones' Paso Robles tasting room daily from 11-5 p.m.
Sourcing fruit from Mendocino County, Napa Valley and Sierra Nevada, Donkey and Goat boasts the title of Berkley's first natural winery. They've been making wines using organic and biodynamic methods since 2004. Donkey and Goat is a pioneer in the domestic orange wine game, debuting Stone Crusher, their first skin contact Roussanne in 2007. This age-able orange was a hit from the start and is currently in its 12th vintage. Another Donkey and Goat take on skin contact is their reimagining of Ramato, a northern Italian method of adding complexity to Pinot Gris i.e. Pinot Grigio. For those who have written off Pinot Grigio as an insipid sipper, this California take on a Friulano classic is a game changer. Donkey and Goat recently introduced a bubbly pet-nat Ramato. Donkey and Goat's downtown Berkley tasting room is located on a stretch of Fifth Street, within walking distance to Broc Cellars and Windchaser Wine.
Over the past decade plus, the Baker family has been fighting the good fight for Maryland made wine. The first vines were planted on the family farm in 2011 and since then the three Baker siblings have been sharing their unique takes on Mid-Atlantic winemaking. Some of the winery's most unique creations come in brightly labeled cans and include a carbonic Cabernet Franc, a fizzy pink co-ferment of local cider and wine, and perhaps the most accessible orange wine out there, Skins and Seeds. This individual serving of Maryland grown, skin contact Pinot Gris is hazy and easy drinking, and eschews the sometimes intimidating 750 ml bottle for an accessible and affordable 12 ounce can. Old Westminster goes beyond the traditional tasting room experience with a full service pizzeria and wine bar that's open Friday through Sunday. And their bi-weekly farmers' market is set to reopen in 2022.
Taking advantage of the cool Northern European like climate of New York's Finger Lakes region, Red Tail Ridge puts out an impressive array of elegant, understated wines that range from crisp Rieslings and rosés to bubbly bottles of sparkling Sekt. Their foray into the world of skin contact is Miscreant, an equal blend of Chardonnay and Gewurztraminer that spend two weeks together fermenting on their skins. Red Tail Ridge offers tastings seven days a week.
While Anthony Vietri's Southeast Pennsylvania vineyard footprint might be small, his unique wines have gained national acclaim with good reason. His small production of French and Italian grapes are made into field blends and Prima Donna, his spin on orange wines might be the most distinctive of all. Prima Donna brings together Fiano, Malvasia Bianca, Petit Manseng, Pinot Grigio and Tocai, a combination that has been praised for its singular complexity. While Vietri's wines can be found on a small handful of lists around the Philadelphia area, the best way to get familiar with Va La is to visit the small farm and production facilities on Friday, Saturday or Sunday afternoons.
Based in Escondido, just north of San Diego, husband and wife team Jody Brix Towe and Emily Towe are part of a new generation of winemakers pushing the limits of West Coast wine. Their trio of skin contact wines is an ideal representation of just how diverse the style can be. Nomine Amoris, Latin for "in the name of love," is made from 100% Pinot Gris and the result is a bright Ramato style wine with a lovely deep rose tone that's aged for 15 days on the skins. Island of Souls is a solidly amber hued bottle made from French staples Grenache Blanc, Picpoul and a bit of Vermentino. Skin contact time on this one is one month. J. Brix's most intense take on the style is Nulls in Verba Amphora. Taking a cue from the Georgian style of aging wines underground in giant amphorae, this 100% Pinot Gris spends 90 days on the skins in a custom terracotta vessel made on the island of Crete. J. Brix's tasting room is temporarily closed by their full catalogue is available to order online.
Caroline Coral is a food and travel writer based in Philadelphia. You can follow her on Instagram at @carolinefcoral.