Happy Wine Wednesday! We're in for a treat this week with a guest post from Valerie Quintanilla, one of Italy's newest expats, living her dream in Piemonte, Italy and sharing her wine tales at GirlsGottaDrink. Her recent wine adventures took her along the Piemonte Wine Trail. Sounds amazing…read on to see why.
Valerie Quintanilla
From Rosato to Chardonnay, Gavi to Grignolino, Amarone to Chianti, Macedonia to Colorado, I've had some amazing wine tastings since I moved to Italy a month ago. Of course, being in one of the world's top wine regions I'd be remiss not to explore the Piemonte wine trail.
The Piemonte Wine Trail: Andiamo!
Our first stop on the wine tasting train: Azienda Agricola Stella Giuseppe, a gorgeous farm in Costigliole d'Asti in Monferrato. The winery opened in 1920 and today remains family-run by Giuseppe Stella and his sons Massimo and Paolo.

Stella
Production Notes:
30 to 40k bottles annually

12 hectares, six grapes
Reds: Barbera, Dolcetto, Grignolino
Whites: Cortese, Chardonnay, Moscato
On the Piemonte Wine Trail: The Vines
Paolo gave us a short tour of the vineyards with a look at their chardonnay, grignolino, and barbera vines (the grapes shown here are about a third of the way through growing season).
On the Piemonte Wine Trail: The Tasting
Chardonnay Piemonte DOC, "Cascina Stella", 2012. The fresh, vibrant wine is a perfect summer drink. It sees no oak and the grape shows tropical fruits of pineapple and melon. 100% Chardonnay. About 3k bottles produced annually.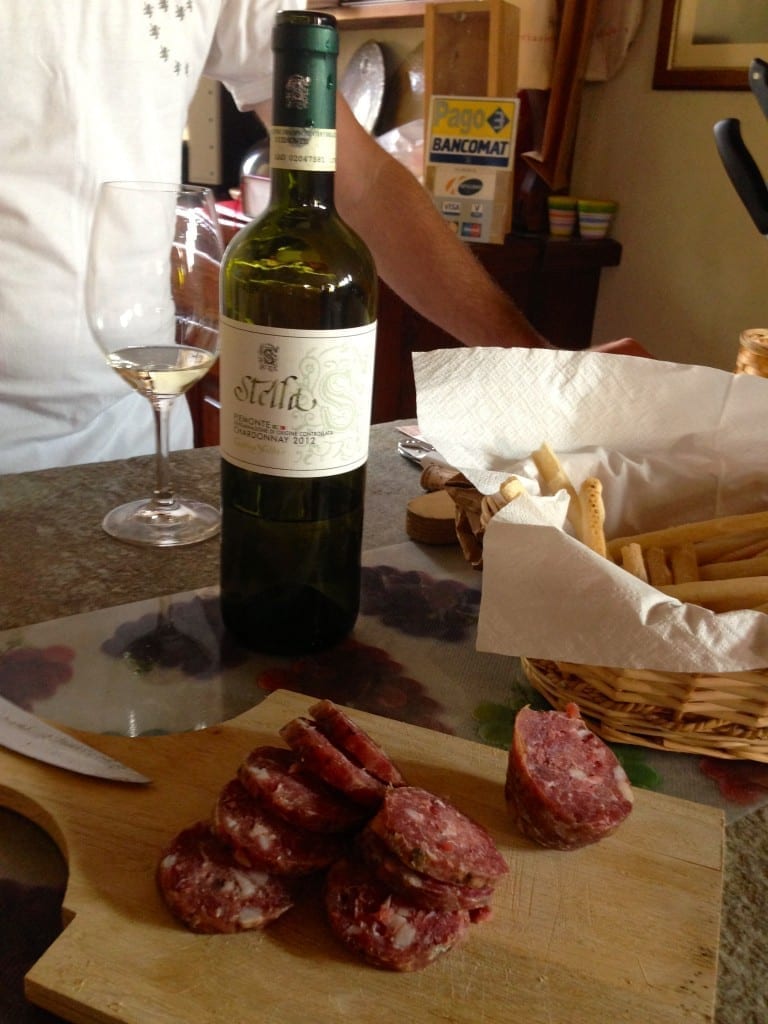 Fresia d'Asti DOC, "Covent", 2012. My first experience with fresia – in fact, the first I'd heard of it. Smack smack – it's ripe with tannin and begs for a food accompaniment. 100% Fresia. 10 to 12k bottles produced annually.
Grignolino DOC, Sufragio (translation: "Suffrage"), 2011. The surprise of they day! The fresh, fruity wine is a great summer palate pleaser. The light wine is done in steel, offering floral and fruity scents. We paired it chilled with grilled tuna the other night. Brava! 100% Grignolino. 3k bottles produced annually.
Barbera d'Asti Superiore, "Giaiet", 2010. Stella is known for its barbera and it didn't disappoint. It ages in steel tanks for five months, then french oak for six months. The wine shows ripe plum and the subtle vanilla hints at the french oak. My favorite of the day! 100% Barbera. 4k bottles produced annually.
We left with a mixed case of chardonnay, grignolino, and barbera – all amazing Piemonte wine! Piemonte-bound? Schedule an appointment with Paolo for a tour and tasting at Stella. You won't be sorry!
Cin Cin!
About the Blogger
Valerie Quintanilla is one of Italy's newest expats, living her dream in Piemonte. Follow her wine, food, and travel adventures on GirlsGottaDrink, on Twitter @Valeriekq, or on Instagram.