Last year I spent a week in Toronto and was able to see a lot of things and taste some great Candaina Icewine BUT I didn't have a chance to get out to any wineries. So, I'm very excited to have Tamara Gruber a family travel blogger at We3Travel.com share her thoughts and experience after visiting Peller Estates, one of the many Niagara-on-the-Lake Wineries. Have you visited Peller Estates? Other Niagara-on-the-Lake Wineries? Let us know what you thought – and your thoughts on Icewine – in the comments. Cheers and happy WineWednesday!
-Elaine
Niagara-on-the-Lake Wineries: A Visit to Peller Estates
By Guest Blogger, Tamara Gruber
When you hear Niagara, you generally think about its famous Falls and possibly the kitschy towns that teeter on the rim. But a mere 30 minutes away from Niagara Falls, Ontario you enter an entirely different Niagara; one home to 27 different wineries nestled beneath the Escarpment, taking advantage of the microclimate created by Lake Ontario. As you drive or bike along Niagara's Wine Trail, you'll come across a diverse set of wineries, from those with barn-like tasting rooms to ones with sleek, modern lines to grand chateaus like Peller Estates.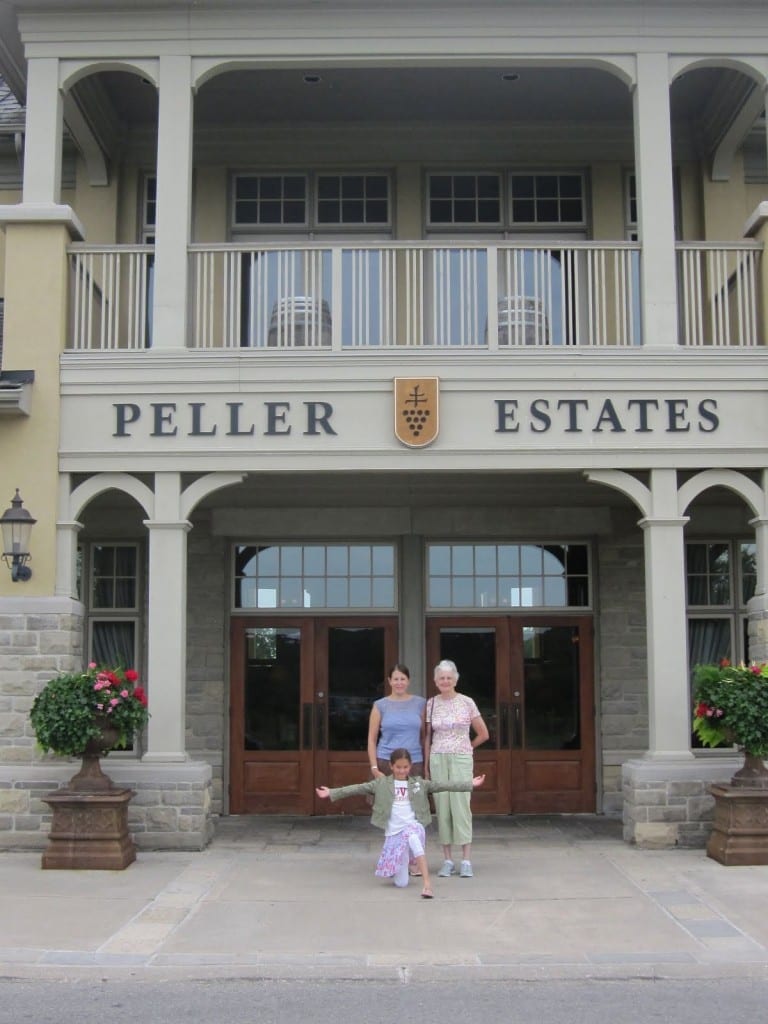 I traveled to the region as part of a family trip that included our nine-year-old daughter and my teetotaling mother, but I didn't want to pass through this region without visiting at least one winery. I selected Peller Estates because I knew its sprawling estate grounds and renowned gourmet restaurant would appeal even to those non-drinkers in our group.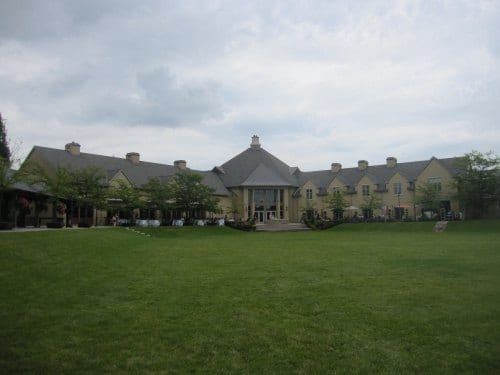 Traveling up the drive to the formidable Peller Estates chateau, you can't help but be visually impressed. While my husband and I are happy enough to belly up to a barrel in a field to taste good wine, for those in our party new to winery tours and wine tasting, it was exactly the type of experience I wanted.
We had booked a reservation for lunch in advance, but when we arrived we decided to sign up for the Winemaking Excellence Tour of the vineyard and cellars after lunch. With a little advance planning you can arrange for a variety of tours and experiences, including the "Chicks and Chocolate" designed for girlfriend getaways.
For lunch we were escorted through the formal dining room to the patio with a sweeping view across the lawns to the vineyards. It was a peaceful and idyllic setting for enjoying a four- or five-course lunch. After starting with an amuse bouche of smoked salmon followed by an heirloom tomato salad, the Seared Diver Scallops with Atlantic Lobster, Saffron Bouillabaisse, with Crispy Polenta was perfect accompaniment. It was delicious but even better was my daughter's Truffle Roasted Pork Loin with Lemon Thyme Tortellini, Black Truffle, Chanterelle and Sorrel Mushrooms.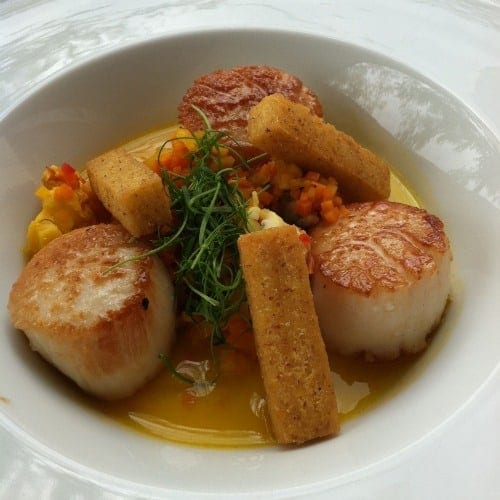 Peller Estates Icewine
Even the non-drinkers in our group were very captivated learning about the history of Peller Estates and the labor-intensive process of making their signature Ice Wine. Ice wine is a type of sweet dessert wine produced by picking grapes when the grapes have frozen on the vine. Imagine being out there at night or early morning picking grapes in the freezing cold with the wind coming off the Lake. Brrrrr. All the grapes have to be picked within a few hours and it takes a tremendous number of grapes just to produce one bottle of ice wine.
As we walked through the vines we learned how the roses were harbingers of mold so that it could be identified and resolved before it can damage the grapes. We also learned how the barn swallows keep away sparrows that might try to eat the grapes and therefore help protect the crops.
After touring the vineyard we ventured down into the wine cellar for a tasting. Of course, they were offering one of their ice wines to sample. Throughout the day, the staff was very courteous and accommodating to our daughter, offering up sparkling juices for her to try during each pour and including her in the experience. The Ice Wine was too sweet for our palates, not being much for sweet or dessert wines. However, we also tasted a Merlot and Pinot Gris, the Pinot Gris being more to our tastes.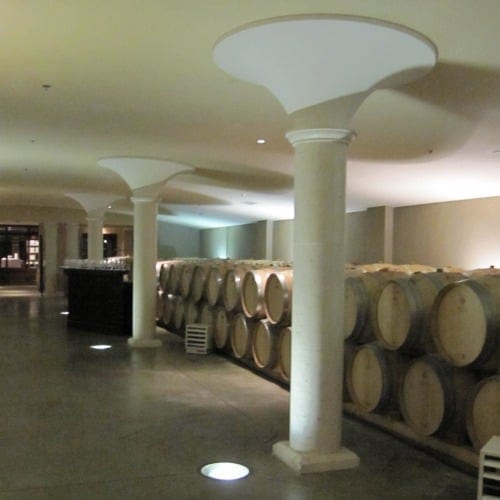 When visiting Niagara-on-the-Lake, it is easy to combine visits to several wineries over your trip but in the midst of your wine touring, be sure to take time to enjoy the surrounding country; either by utilizing the bike paths, taking some time on the lake, or simply touring the quaint town of Niagara-on-the-Lake. The charming downtown features many shops, restaurants, and inns. Niagara-on-the-Lake is also home to the Shaw Festival, which runs April through November and features the works of playwright George Bernard Shaw and his contemporaries.
Wine is a big enticement for visiting Niagara-on-the-Lake, but once you arrive you will find much more to keep you busy. Ideal for romantic weekends and girlfriend getaways, Niagara's wine regions also makes a nice change of scene for families visiting the Falls.
Have you visited Peller Estates? Other Niagara-on-the-Lake Wineries? Let us know what you thought – and your thoughts on Icewine – in the comments.
About the Guest Blogger: Tamara Gruber is a family travel blogger at We3Travel.com. She often incorporates wine and fine dining into her family's vacations. You can also follow Tamara on Twitter, Facebook, Instagram or Pinterest.