In-depth review of a family bike tour in Munich with Fat Tire Munich
During our European summer adventure, we spent several days in Munich, Germany. During that time one of the big adventures was a bike tour of the city with Fat Tire Munich. Given we had only two full days in Munich, it was the one official activity I scheduled in advance. And, I'm so glad I did!
To be honest, I was a bit hesitant in doing a bike tour in Munich given Princess Two isn't the strongest bike rider. On rides at home, my eight-year-old was still freaking out when going downhill and using her feet as breaks. I assumed we would end up needing a tandem bike or child carrier to ensure we could actually do the Munich bike tour without having to turn around. But, she had other ideas and convinced our tour-guide, Steve, she could make it happen on her own.
The Husband and I begrudgingly agreed to let her try. Since I had scheduled a private tour for my family with Fat Tire Munich, if we did end up having to turn around she wasn't going to damper anyone else's day…except for ours.
Behold, Princess Two was a rock star bike rider! Mainly thanks to Steve and his coaching. Her confidence and excitement for riding went through the roof that afternoon.
And…we got to experience Munich on two wheels!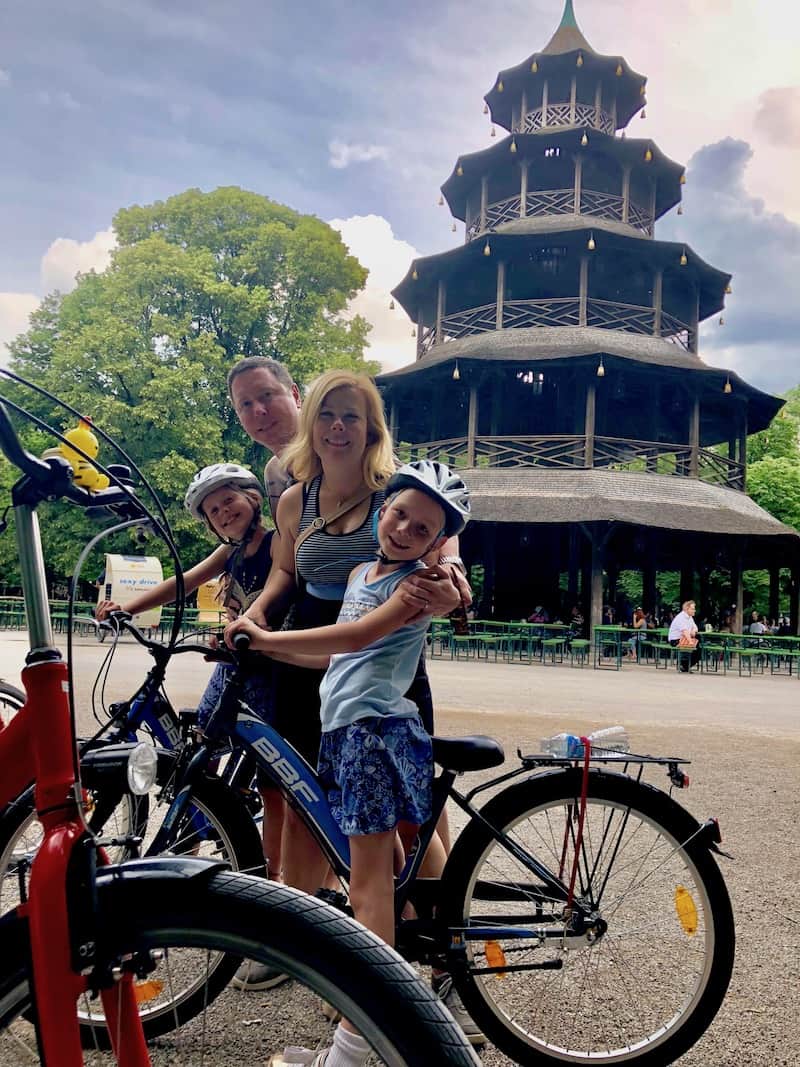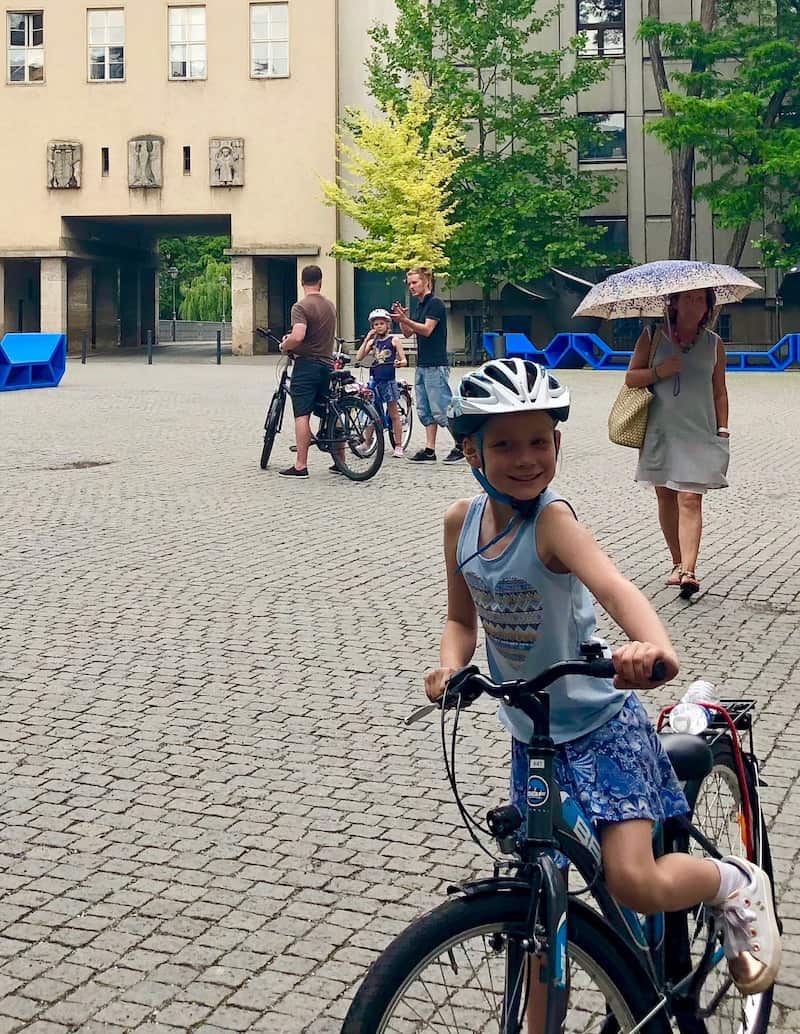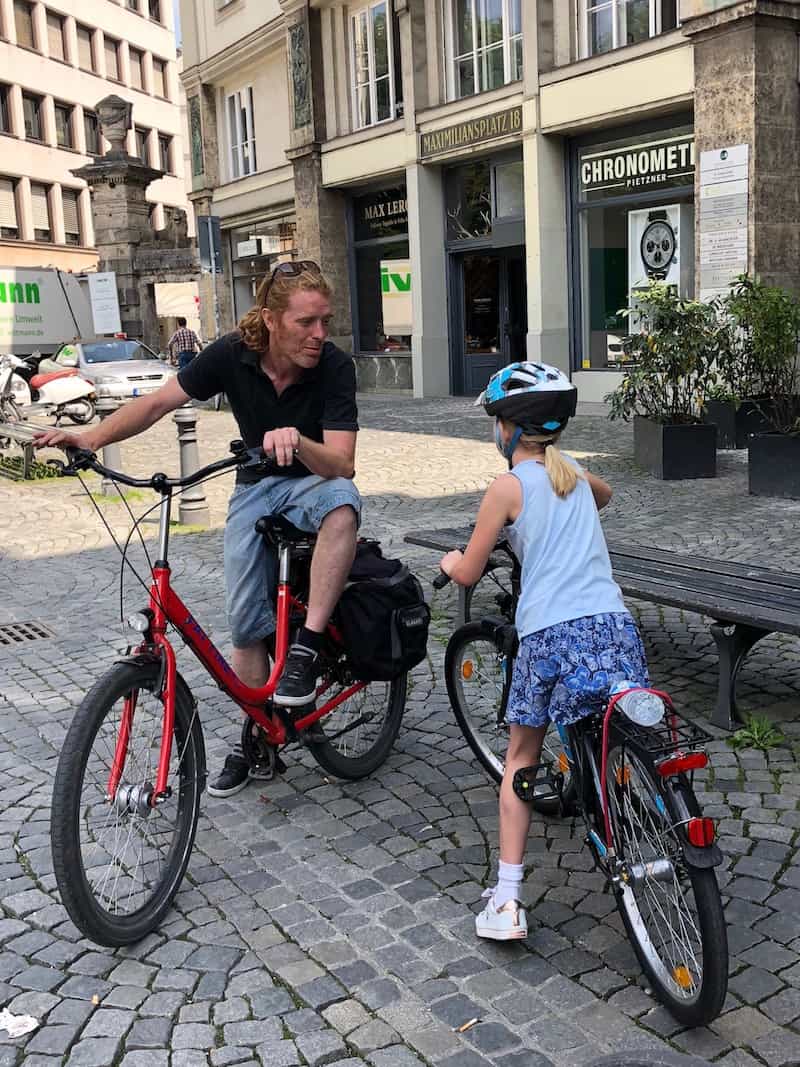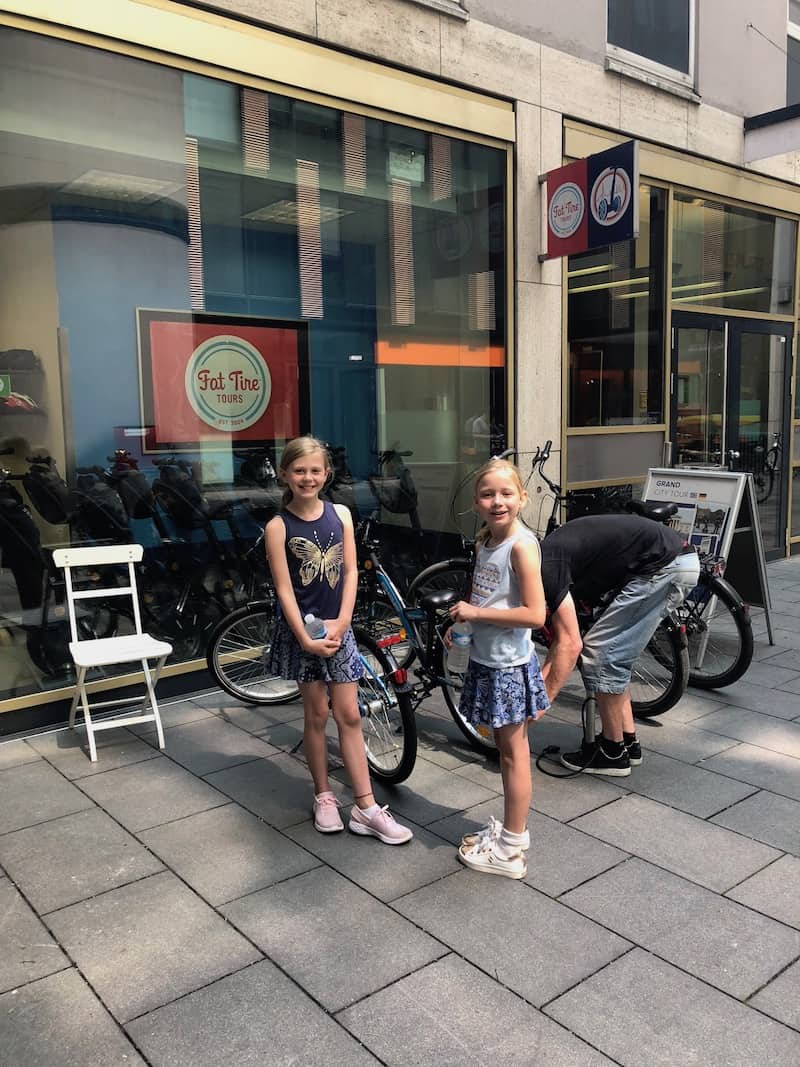 During the bike tour with Fat Tire Munich we saw several of the main sites in the city and learned a lot about its beautiful, colorful and turbulent history. I highly suggest if you're going to do a Munich bike tour to schedule it early in your visit so you can learn about the city and have more appreciation for what you're seeing during your stay. Your guide is also a wealth of information and can also suggest a ton of other activities and sites to see.
A few of the sites we visited during the Munich bike tour included… Königsplatz, Odeonsplatz, The English Gardens and the Chinese Tower beer garden, The Residenz and The Deutsches Museum.
But it wasn't necessarily these sites where we learned about Munich, rather it was the stops along the way… For instance, when we rode through Marienhof Park, where you have a lovely view of Frauenkirche – Cathedral of Our Dear Lady – we learned about the Devil's Footprint, which we set out to see up close the following day.
Then, riding along the Isar River Steve point out the bridge that had replaced the original bridge the Monks built to connect the road from Salzburg to a market they had been granted permission to open. It was this that helped the kids really grasp how Munich got its name. The term Munich means Monk and is what the area became known as since people would say, "we're going to see the Monks at the market".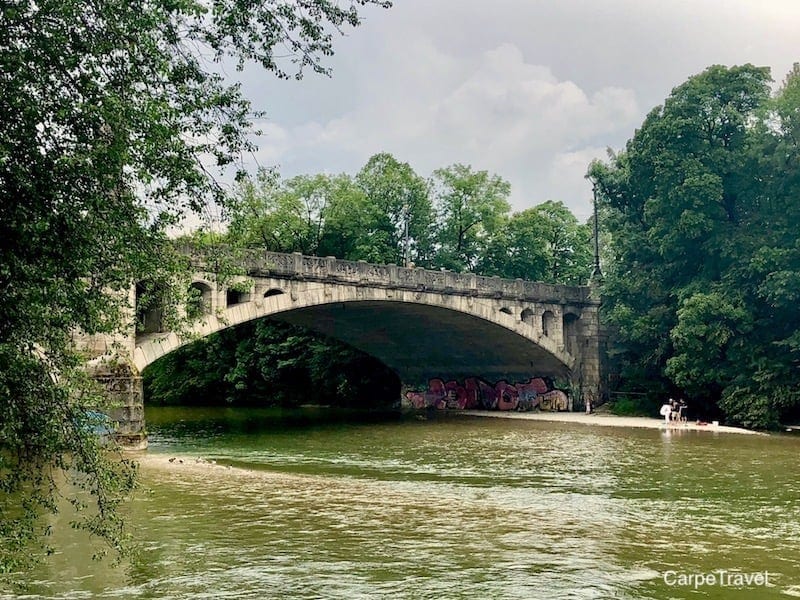 We were all surprised to see so many WWII remains throughout the city. I think this was the biggest take away for me. Munich has done a great job in leaving pieces of the past in the present to remind and educate future generations of the mistakes and loss that the war invoked…on the world.
The capital, where you can still see chunks in the pillars from air raids during WWII.
A few buildings we passed still had faded, Nazi symbols (nearly completely faded, but still apparent if pointed out).
Pieces of the Berlin Wall placed in the English Garden.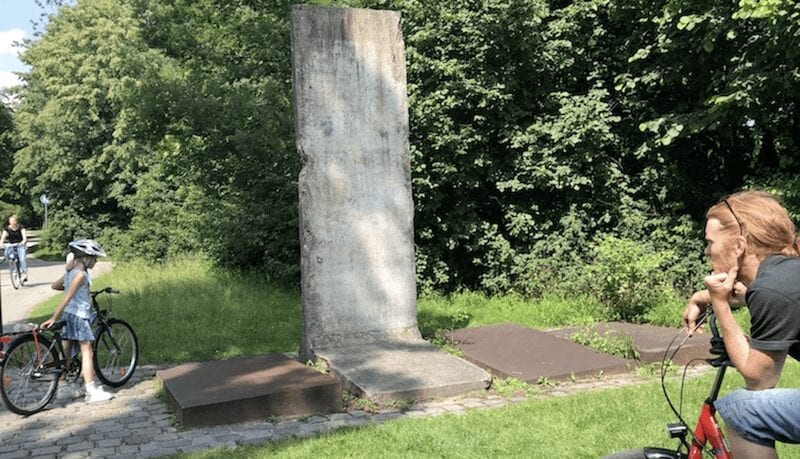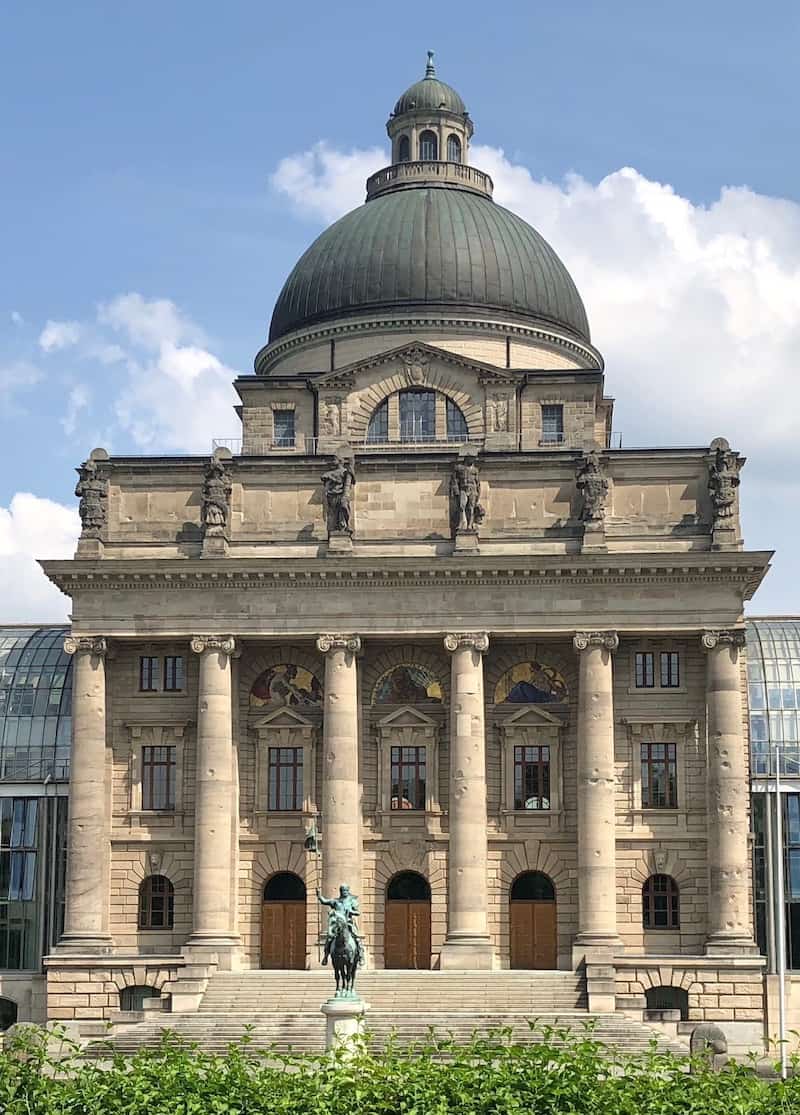 These holes and symbols could have easily been filled but were left on purpose. To remember the past mistakes, and never repeat them.
And then there were the river surfers…
Undeterred by the icy waters of the Eisbach, these river surfers jumped into the rapids to carve the raging waves until one would take them down. It's a fun sight to see at southernmost tip of the English Garden and a good starting point for a bike ride through the English Garden.
What had been a marshy bank of the Isar River was converted into the English Garden and opened to the people of Munich in 1792 as a public park. The area is made up of 910 acres and is known as one of world's largest urban public parks. With 50 miles of pathways, including seven miles of bridle paths, nine miles of waterways and more than 100 bridges it's easy to get lost of find a secluded spot to just be lost. Do both…but do make sure you hit one of the beer gardens too, which is exactly what we did. It's the perfect place to really soak in the Bavarian motto – Gemütlichkeit.
Gemütlichkeit is being relaxed, it's not laziness. It's hard to define in English, I think the best way to think about Gemütlichkeit is that it's about people, good feelings and coming together to do absolutely nothing but yet having a magical time doing it.
During the bike tour we took a break at the Chinese Tower, homes to one of the park's largest beer gardens. The Chinese Tower is just that – a traditional Chinese five story wooden pagado. You can't miss it if you're riding through the English Garden. The kids loved this beer garden as well given there is an antique carousel and playground they could run around on.
On the weekends you'll hear brass bands playing on the first floor of the pagoda and if you are hungry, you can pack a picnic or visit the restaurant at the beer garden where there is a lot more than beer. Wine – yes, local, delicious, Bavarian wine! As well as sausage, pretzels, chicken and all kinds of traditional German deliciousness.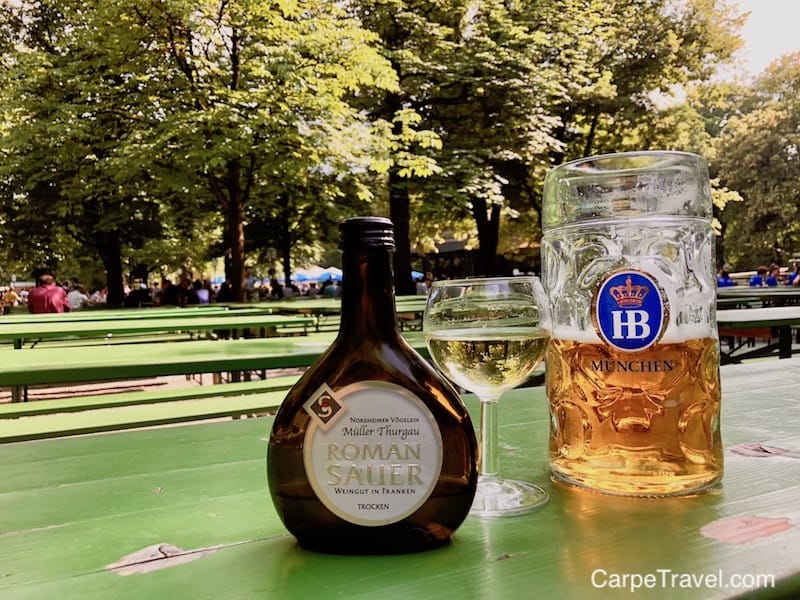 As I mentioned I scheduled a private tour with Fat Tire Munich, where they have concentrated largely on Segway's and e-bikes for public tours, and those bikes are only in adult size. However, they do have a fleet of regular bikes, and kids' bikes, that are primarily used as rental bikes. If you're going with kids and need a child's size bike, tandem or child carrier you need to schedule a private tour, or at least contact them to see if you can do another group tour using traditional bikes. (We used the traditional bikes.)
I would suggest doing a private bike tour if you're with kids so that you can tailor the start time, duration, stops, and content to your liking – and your kids interest. There were several times we ended up changing course and heading down another route after the kids mentioned being interested in seeing something (or our guide thought we'd be interested in seeing something based on what we were talking about).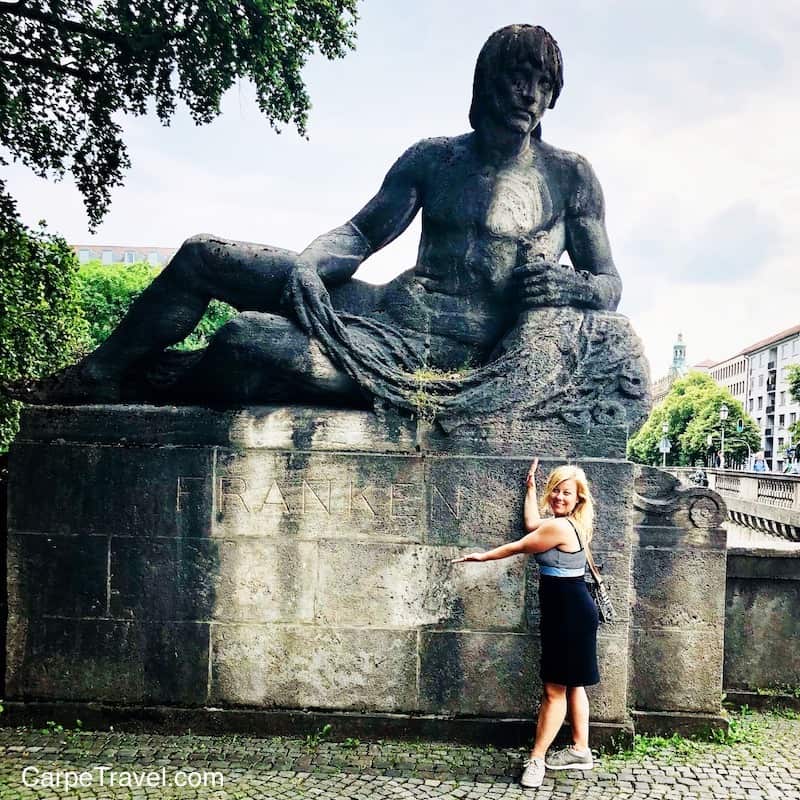 This statue is the perfect example of being able to change course during the Munich bike tour. I mentioned I do wine travel writing and Steve took us across the Luitpold Bridge towards the Friedensengel – the peace angel – to this Franken statue which represents the Franconian wine region in Germany. It was a fun photo opp for me!
BOTTOM LINE
A bike tour through Munich is a great, fun and educational way to see the city with your family and friends. Do it. Book a tour with Fat Tire Munich. (If you can't ride a bike but still want to do a bike tour, take a look at the rickshaw tours!)
THE PRINCESSES VERDICT
Two thumbs up. Or in this case, rabbit ears.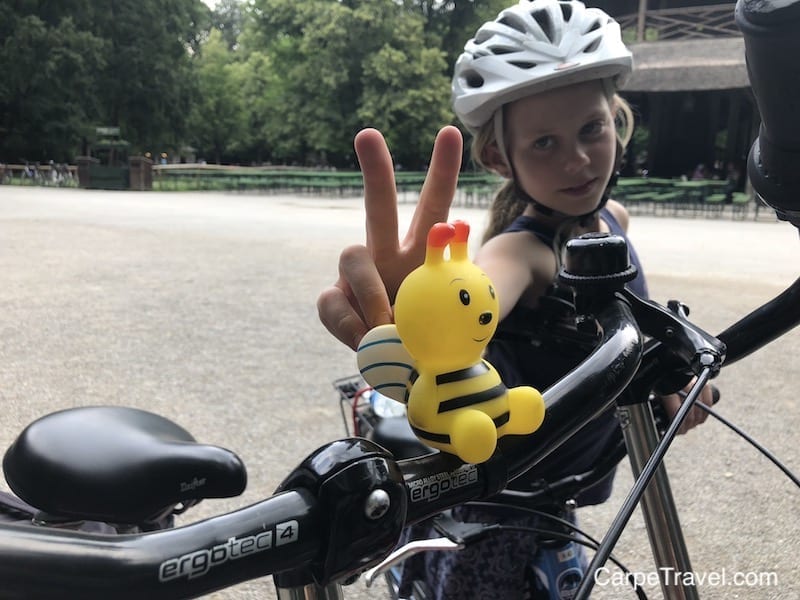 Fat Tire Munich Bike Tour Tips
Common mistakes people make on bike tours?
Joining a tour on the last day of your stay is the worst mistake! Make the bike tour your first stop not only to see the sites, but soak up all the advice you can take from your guide.
Make reservations for a tour? How early in advance?
Reservations are required for Fat Tire Munich bike tours.
How long do the Munich bike tours last with Fat Tire Munich? How many miles are covered?
Each tour is a bit different, but are between 8 and 12 miles. In between 4-5 hours you will cover a lot of ground but it doesn't seem strenuous in the least.
When you're on the bike tour, are you also going into the location you're at or just riding by?
The Fat Tire Munich bike tours do not go into museums or exhibits. If they did, the tour would be way to long. They're designed to help you learn about the city and have exposure to all that you want to take in while you are here. One of the reasons why you should book your tour early in your stay.
For more tips, see our interview with Fat Tire Bike Tours Berlin.
Have you been to Munich? Done a bike tour with Fat Tire Munich? What did you think?