Did you know Germany is home to 20,000+ castles? It might just be the most castles in any country. That said, why not plan a vacation that pairs German castles and German wine. Ok, maybe that's just an us thing…but if you're reading this, it's likely your thing too. it's
Germany produce a variety of exquisitely crafted wines, ranging from after-dinner wines, wines with hints of spices, sour, sweet, to dry wines. But, it's Riesling that Germany is most famous for and one of Germany's wines that you will find most often on your sipping adventures. We've paired a few German castles and nearby wineries to get you on your way. 
But first, the answer to your question, a vineyard in German is simply Weinberg.
What's Riesling?
Riesling has its origins in the Rhine Valley in Germany. It's one of the most produced wines in Germany's 13 wine production regions, taking up about 23% of the total portion. Generally a single varietal wine, Riesling rarely sees oak. Its natural flavor profile shows apple, citrus, and stone fruits. Dominant flavors on the nose and palate include lime, lemon, white peach, green apple, beeswax, jasmine, the grape signature petroleum, and wet slate. Riesling wine tends to have a lower ABV (alcohol by volume) as well. What separates Riesling from other white wines is its floral aroma, aging potential, and unique balance of sweetness and acidity. (Having the right food pairing makes it even more delish!)
Popular Castles in Germany's Wine Region
Mosel boasts of the most spectacular and scenic landscapes that are lined with vineyards, villages and of course medieval castles. Here are a few castles where you can sample the finest wines Germany has to offer along with nearby wineries to sip in.
Heidelberg
This castle was constructed before 1214 and was first owned by the Bishop of Worms. It's a castle famously visited by poets and painters. A few nearby wineries we suggest pairing with this castle include…
Castle Neckarzimmern
Part hotel and part museum, Castle Neckarzimmern is a destination in itself. You'll want to take a tour around Nektar Valley to view the iconic and ornamental buildings surrounding the castle while sampling the town's cuisine. A few nearby wineries we suggest pairing with this castle include…
Weingut Burg Hornberg
Boron von
Zur Alten Kelter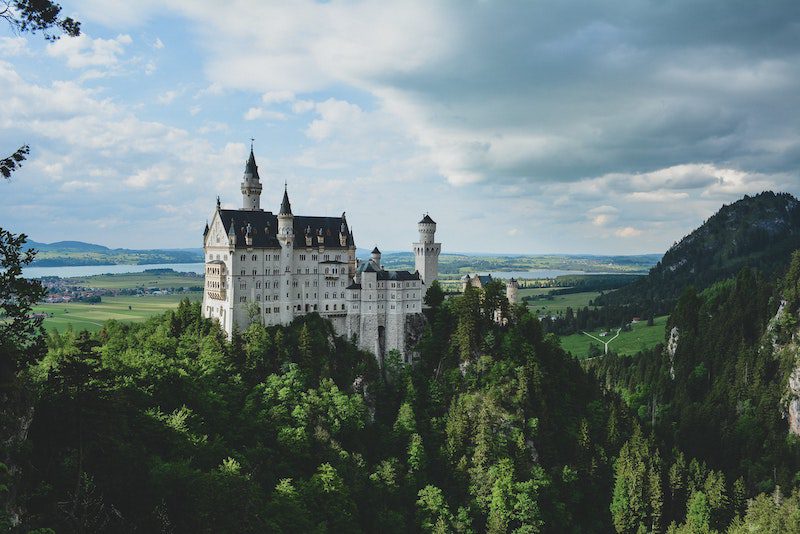 St. Goar Castle
This was once a fortified town and is one of the most magnificent castles in Germany's wine region. Sankt Goar is renowned for having some of the best winery and wine-tasting tours.
You can take a tour to Stefan's Wine Paradise where you'll be spoiled with options as far as wine-tasting is concerned. They have menus that suit every taste, from brandy to the best wine options.
Koblenz 
Koblenz is one of Germany's oldest cities and home to nearly 20 castles. We suggest visiting the Fortress of Ehrenbreitstein, which boasts plenty of things to do and see, including enjoying the majestic view of the "Deutsches Eck", where the Rhine meets Moselle, as you sip from your favorite wine – Riesling or Ehrenbreitsteiner.
Better yet, you can consider taking a cruise aboard the infamous RMS Goethe. This classical and artistic ship will help you spend the whole day in the beautiful waters as you explore the romantic wine villages and castles in Koblenz.
BONUS: What to Pair With Riesling
Steely, Dry Riesling with Panang Beefy Curry
Because of its citrusy flavors, Riesling goes well with sour to greenish flavors such as tomatillos and jalapeno. Combined with the wine's mild acidity, a beefy panang curry will simply feel like it's dissolving in your mouth. The main ingredients in this dish include the coconut curry sauce that helps to enrich all these flavors. 
Mild Sweet Riesling with Bacon and Radish Salad
If you are looking to treat your palate in Germany, try ordering it in the German language. Here is where a German course for English speakers might come in handy, especially when summoning the chef for your favorite wine pairing. 
Sample the faintly sweet Riesling with bacon and radish autumn salad, toasted nuts, blue cheese, and bacon. Combined with a glass of low alcohol faintly sweet wine, you'll have yourself winking at the chef. You can, later on, have some salty snacks because this is a daytime wine. 
Cheese
German Riesling wines pair well with a variety of cheese. Besides the age-old cream cheese, some popular options include ricotta, gruyere Quark and the slightly salty feta cheese. Quark is a type of creamlike cheese, unripened, and mildly sour.
Moderate Sweet Riesling with Tandoori Marinated Quail
To make tandoori marinated quails, grilled quails will be seasoned in a slightly spiced yogurt marinade. This helps to tenderize the meat while locking all the juices in. The meal is often served with lime pickles, making it a perfect pairing with a glass of moderately sweet Riesling.  
Off-Dry Riesling with Veggies
Dry Riesling is often an ideal pairing with vegetables and vegetarian meals. With its hint of sweetness, a few favorites include…
Roasted root vegetables – The simple flavors in this meal are a great combination with Riesling's crispy taste. 
Broccoli salads – When enriched with cider vinegar and mustard, the meal becomes somewhat sour. Now paired with Riesling's crispness, it arouses the liveliness in the taste buds.