Today, wine making in Florida is a thriving business albeit small. Kayla Matthews, who has shared her tips for hitting the Pennsylvania wine trails has passed along some must visit wineries in Florida as well.
Fabulous Florida Wineries to Visit
You may not know this if you're not from the state, but Florida has a ton of wineries spread across its borders. They stretch all the way from the northern panhandle down to the southern tip and number well over 20 total locations.
Furthermore, a lot of people – without knowing Florida well – believe that the wines from the state are made from citrus, and while there are some citrus wines out there, most of the recipes in the state call for grapes. Since grape harvests in the state generally begin in May and end in September, there's plenty of time – and beautiful weather – to hit as many wineries as you can.
In addition, most of the Florida wineries are off the beaten path, tucked away in small Florida towns that are worth visiting on their own. Some of them are San Sebastian in Saint Augustine, Lions Run Winery in Miami or Lakeridge Winery and Vineyards in Clermont.
To see a list of certified Florida wineries, you can pay a visit to the Department of Agriculture and Consumer Services or you can take a look at this up-to-date map of their locations across the state.
If you'd like to plot a route to see as many wineries in Florida as possible, that map is your best bet. Here is closer look at some of the most interesting Florida wineries that also serve as great vacation spots.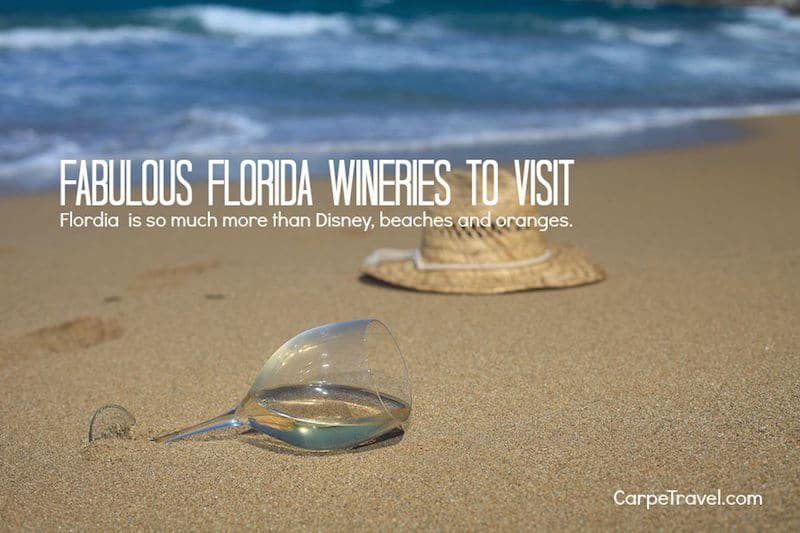 San Sebastian in Saint Augustine
Starting in Northeast Florida in the beautiful city of Saint Augustine, you can pay a visit to San Sebastian winery. The city is actually the oldest European-established settlement in the continental U.S. and includes several interesting attractions like Castillo de San Marcos, the Lightner Museum, Old St. Johns Jail and many others.
They don't actually grow the grapes used in their wines at the Saint Augustine location, as the vineyards are located in Clermont at its sister winery, Lakeridge Winery and Vineyards, which we'll get to later. That said, there are free tours offered daily of the Saint Augustine location. Don't be discouraged by the lack of vineyards, as this winery is gorgeous. The structure is huge and during the tour you'll learn how they turn the grapes into wine and get to sample many different kinds.
Pair your winery visit with a trip to the historic city of Saint Augustine and you'll have a memorable vacation indeed.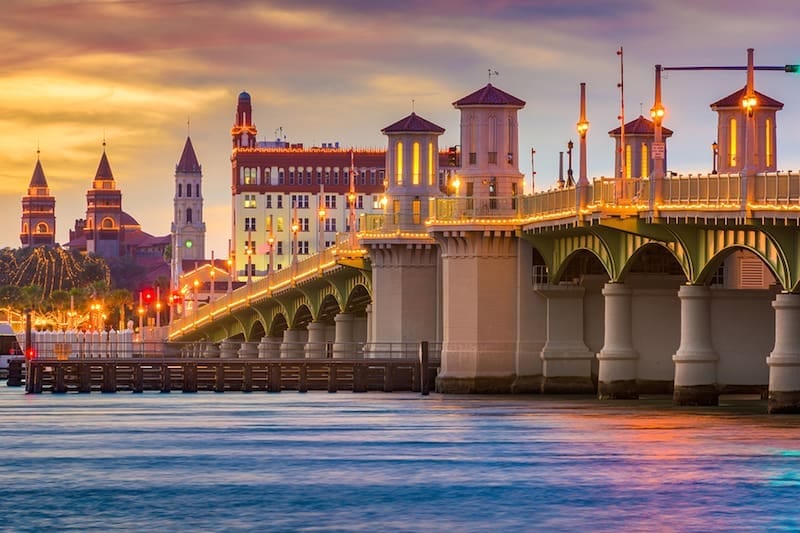 Lakeridge Winery and Vineyards in Clermont
Located 25 miles northwest of Orlando is San Sebastian's sister winery, Lakeridge. When you picture a winery, most likely the picture of lush, green vineyards stretched over rolling hills comes to mind. That's exactly what Lakeridge has to offer. The location and vineyards are absolutely beautiful, and borrow a lot of inspiration from the Spanish design of Saint Augustine.
Free tours are offered from Monday to Saturday and run about 45 minutes in length. You'll get a closer look at the entire winemaking process, and of the beautiful 80-acre vineyards.
If you wait until August to pay a visit, you can be a part of the Annual Harvest Grape Stomp, a huge festival in celebration of the annual harvest. There's live music, tons of great food, and plenty of fun events and games. You can even try your hand at stomping your own grapes into wine
Quantum Leap Winery in Orlando
Orlando is well known for theme parks like Walt Disney World, Universal Studios, Islands of Adventure, SeaWorld and many others. Chances are if you're visiting Florida, you're probably making a trip to the city at some point. That's what makes this next Florida winery, Quantum Leap, such a great stop.
It's actually one of the newest Florida winery, and since it's located right in downtown Orlando, it doesn't actually grow or harvest the grapes at this location. Instead, the grapes are shipped from locations around the world, and are then fermented and blended in Orlando. That doesn't mean there's nothing to see here, though. Quantum Leap has a romantic-style barrel room and a fantastic tasting area. Thanks to the location, it also hosts a lot of interesting events.
Free tours are offered on Thursday, Friday and Saturday.
Schnebly Redland's Winery in Homestead
The most southern winery in the state – located about 40 miles southwest of Miami – is Schnebly Redland's Winery in Homestead. Every weekend, it offers complimentary tours of the beautiful grounds. The Grand Tasting Room is something to behold, as it overlooks a lush courtyard and beautiful coral waterfalls. There's even an on-site restaurant for when you get hungry.
The biggest issue with this winery is the long commute from some of the other locations in the state. Considering it is the southernmost winery and there aren't many other locations nearby, this might be a visit that most people will cross off their Florida wine country tour list.
Luckily, in just a few years, you'll be able to take the All Aboard Florida rail line from Orlando down to Miami Beach, and the swing down to Homestead to visit Schnebly's will be almost nothing.
Rosa Fiorelli Winery in Bradenton
On the west coast of the state, near Tampa, is the Rosa Fiorelli Winery in Bradenton. It was founded by a couple who felt that Bradenton was very similar to their hometown in Casteldaccia, Sicily.
It offers free tours of the grounds every day except for Tuesday, which offer a closer look at the nearby vineyards and the winemaking process. As expected, you'll also get a chance to taste their great wine selection.
Play Your Own Trip to Wineries in Florida
Of course, these are just some of the must-see wineries in Florida. There are more than 20 wineries scattered across the state. If you use the Department of Agriculture's map you can have an amazing Florida wine country trip planned in no time.
Have you had any Florida wines? Done any Florida wine tours or visited any Florida wineries? Let us know in the comments. Cheers!
About the Guest Blogger
Kayla Matthews is a travel writer and blogger. You can also find her work on ProductivityBytes.com, Afar, Pink Pangea and Girl's Getaway.