Choose your own adventure for sipping in the Rhode Island wine country. Where to Sip, Stay & Things to Do in Rhode Island Wine Country.
With just a few miles between the densely wooded parks to the west and miles of coastal beaches to the east, country-city-coast vacations in Rhode Island are possible with just one flight or train ride.
(See Carpe Travel's complete Rhode Island Wine Travel Guide)
Explore the great outdoors
Rhode Island is an outdoor lover's paradise. Enjoy a beachy horseback ride with Newport Equestrian. The Wolf Hill Forest Preservation is a gorgeous place for a vibrant hike or a relaxing nature walk. Pack your camping gear and fishing pole and head to Whispering Pines Campgrounds or Lincoln Woods State Park. Rent a kayak and explore Narragansett Bay. Paddleboard and surf just off of First Beach in Newport or Second Beach in Middletown. Speaking of beaches, Rhode Island has hundreds of miles of beachy coastline to explore. The state is primed for cyclists too. Bring your bike or rent one and cycle from the country-city-coast in less than a day.
Wine Tours and Day Trips
There are 15 wineries in Rhode Island, making it very achievable to sip them all in – just not all in one day. A tour of wineries in Rhode Island starts with Diamond Hill Vineyard in Cumberland and wends its way clockwise around the state. Given the small size of the state using the following order for your sip trip will make your route extremely efficient.
Diamond Hill Vineyard in Cumberland, Verde Vineyard in Johnston, Mulberry Vineyards in Chepachet, Nickel Creek Vineyard in Foster, Leyden Farm Vineyard and Winery in West Greenwich, Tapped Apple Cider and Winery in Westerly, Langworthy Farm Winery in Misquamicut, WinterHawk Winery in West Kingston, Shepherd's Run in South Kingstown, Hollow Ridge in North Kingston, Gooseneck Vineyards in Wickford, Newport Vineyards in Middletown, Greenvale Vineyards in Portsmouth, and Carolyn's Sakonnet in Little Compton.
Providence is a cosmopolitan city with just under 200,000 residents. Founded in 1636 by free-thinker Roger Williams, Providence has a luxe modern feel alongside its historic districts. Once a manufacturing hub, the city is known for its academic and art districts. Built upon seven hills, just like Rome and Lisbon, Providence has 25 distinct neighborhoods across its 20.5 square miles. The city is haphazardly organized and densely populated as is common in America's oldest eastern-seaboard cities. Highly walkable, the city center was built before automobiles were invented. We highly recommend you wander through the gilded-age mansions or the historic district on a guided tour.
Charter a boat and tour the bay or take a ferry to Martha's Vineyard for a day of lobster rolls, lemonade, shopping, and discovering seashells along the shore. Don't forget to wander through the vines. Book a morning mimosa sip and sail around Narragansett Bay with Gansett Tours.
Rhode Island is home to dozens of historic lighthouses, many of which are still actively guarding the shores and guiding sailors safely into the bay. It's worthwhile to Tour Rhode Island lighthouses for a glimpse into their solitary and stoic missions.
Take in the culture
Fashion-lovers will find classic upscale shopping brands, locally owned clothing boutiques, and a thriving vintage shop scene. Take in the arts at Cornelius Vanderbilt's former mansion, The Breakers in Newport, the RISD Museum, or Rough Point, the former mansion of the late socialite Doris Duke. Visit the Museum of Newport Irish History, the International Tennis Hall of Fame, or The Sailing Museum. For outdoor fun, a day at the Blithewold Mansion Botanic Gardens and Arboretum or the Roger Williams Park Zoo. Take in a Broadway-style show at the majestic Providence Performing Arts Center.
Take a stroll along the manicured riverwalk after a leisurely lunch at Bacaro, a contemporary Italian place, Café Nuovo, an Asian-European fusion restaurant, or the original Capital Grille (circa 1990) for serious surf and turf.
Drink & Dine
The Ocean State is known for its delicious seafood. Whether you are looking for al fresco dining or an elegant evening indoors, everything is at your fingertips in Rhode Island. If you are looking for clams, Rhode Island is the place for you. Aunt Carrie's has been churning out their secret recipe clam cakes for more than a century in the same Narragansett neighborhood. For 125 years, Blount Clam Shack has specialized in robust New England clam chowder, a clear broth clambake chowder, and a red chowder chock full of veggies, that can be ordered in or for takeout along with a range of bisques and soups.
Fish and chips are a perennial favorite of kids and adults alike. Who doesn't love the combination of hot and crunchy beer batter on the outside and delicate fish on the inside? Ye Olde English Fish & Chips in Woonsocket is famous for its authentic British-style battered and fried fish, clams, and chips. Family-owned since 1922. Amaral's Fish & Chips in Warren serves Portuguese fish and chips are served alongside fresh coleslaw.
Seven species of fresh oysters are abundant in the waters along Rhode Island's nearly 400 miles of coastline. Look for Matunuck's, Walrus and Carpenter's, Umami's, Salt Pond's, Quonnie Rock's, East Beach Blondes, and Moonstone oysters.
Indulge in a New England signature lobster roll or two. Check out Finn's Harborside in East Greenwich, Champlin's Seafood in Narragansett, or Showfish Montauk at Gurney's for traditional and spicy modern rolls. For an upscale seafood meal, try The Lobster Pot, Chapel Grille, or The Newport Lobster Shack. Reserve one night for America's oldest restaurant, White Horse Tavern, in Newport: opened in 1673, it is the tenth oldest restaurant in the world.
If seafood isn't your thing, Rhode Island boasts cuisine from across the globe including Hawaii, the Caribbean, Africa, Columbia, India, Greece, France, Spain, Portugal, Italy, the Middle East, and Asia. Restaurants like The Cooked Goose, Breakfast at Tiffany's, Bluebird Café, Blu Violet Rooftop Bar, Dante's Kitchen, and Coffee & Cream specialize in hearty breakfasts or mimosa and bloodies brunch, fine dining or casual lunch and dinner, and cocktails with a view.
After a day of wine tastings, your palate might be craving something different. Check out one of Rhode Island's dozens of breweries or distilleries. Sons of Liberty Distillery focuses on single malt whiskies and infused gin while Rhode Island Spirits crafts gin, vodka, and liqueurs using locally foraged botanicals. Opt for a Narragansett Brewery lager, a Bombshell Blonde from Bravo Brewing, or a Coffee Milk Stout from Ravenous Brewing Co., to wind down after a day of sightseeing.
Stay & sleep
Established in 1875, The Castle Hill Inn in Newport offers classic luxury and coastal gardens with views of the bay. Book a suite or a private cottage with its own stretch of private beach. Castle Hill Inn is a relaxing respite from the chaos of the world. Treat yourself to a stay at the famed Ocean House on Watch Hill. With glorious views and gardens, Ocean House is a palatial estate boasting world-class dining, amenities, and a luxurious spa and wellness center. It is no wonder Ocean House is one of the top ten hotels in the country and the top one hundred in the world.
The NYLO Providence Warwick Hotel offers the perfect location to launch your Rhode Island exploration. The cozy comfort of a B&B is always a great choice. Look for the Christopher Dodge House or the beachside Blue Whale Inn. Budget and family-friendly options include the Graduate Providence or the Pleasant View Inn.
Sip in More of Rhode Island Wine Country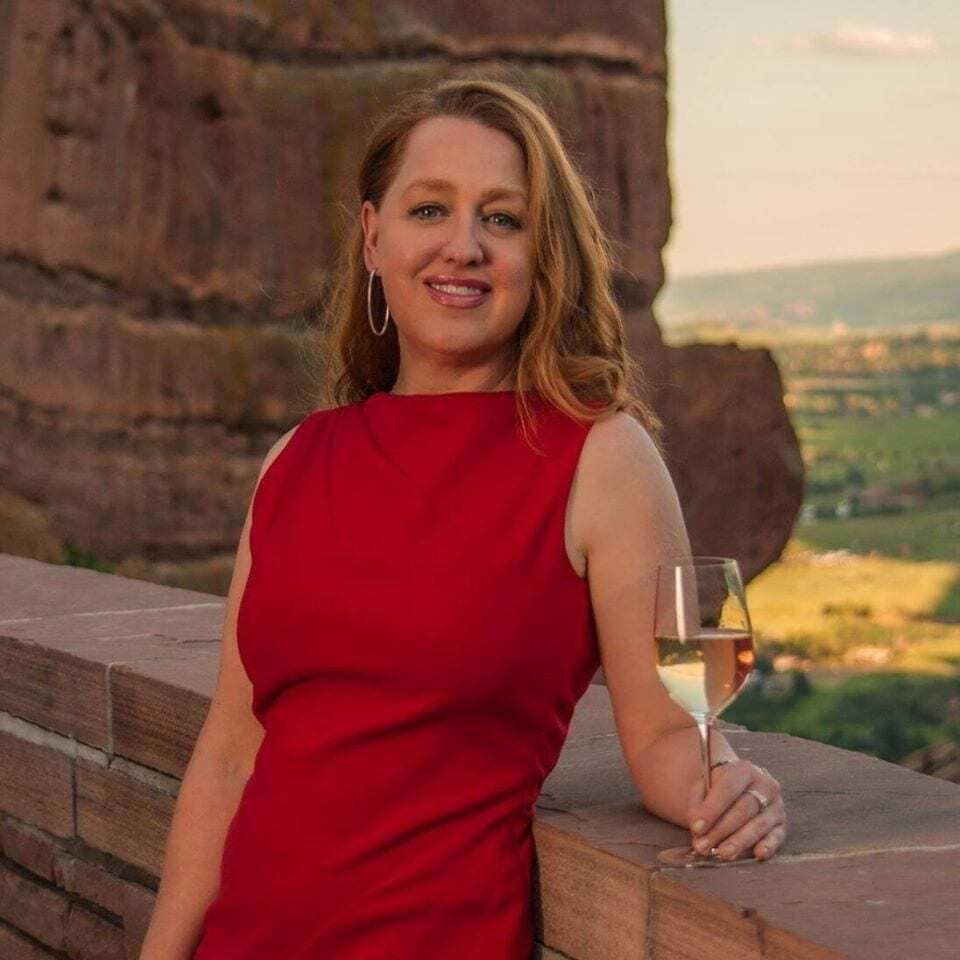 Simone FM Spinner is a wine writer, consultant, judge, speaker, and published author. She is a certified sommelier with 13 advanced wine certifications, a bachelor's and master's degree in wine studies, and is pursuing her doctorate researching wine, climate change, and legacy. She is the Women of the Vine & Spirits 2020 WSET Diploma scholar.