A Perfect Colorado Resort Getaway
This summer Cheyenne Mountain Resort in Colorado Springs celebrated its 43rd anniversary. Any resort that has survived more than four decades has to be doing something right. When I was invited to visit this summer I jumped at the chance to see just what made this Colorado Springs resort withstand the test of time.
Cheyenne Mountain Resort features a hotel, conference center, sports facilities, private beach, golf course, spa and four restaurants. Yes, it's the real deal but what I found during our stay was it's the little things that really set it apart. Little things such as…
Being greeted on a Friday afternoon with a complimentary craft beer tasting that features different local Colorado brews every week (Friday's 5-7pm)…
Having a stuffed bear in the room to welcome your child to the resort…
Members and residents of the Cheyenne Mountain Zoo greeting guests for Saturday breakfast…
Staff going above and beyond to ensure your stay is wonderful…
And, then there was the s'more's bar…
Now, I've been to my share of s'more's bars, but my friend, this tops them all. Think every and any kind of candy, spread and even bacon laid out nicely for you to prepare the perfect s'more. I truly had a life changing experience…who knew bacon would ever be so grand on a s'more. I can truly say that bacon does make everything better.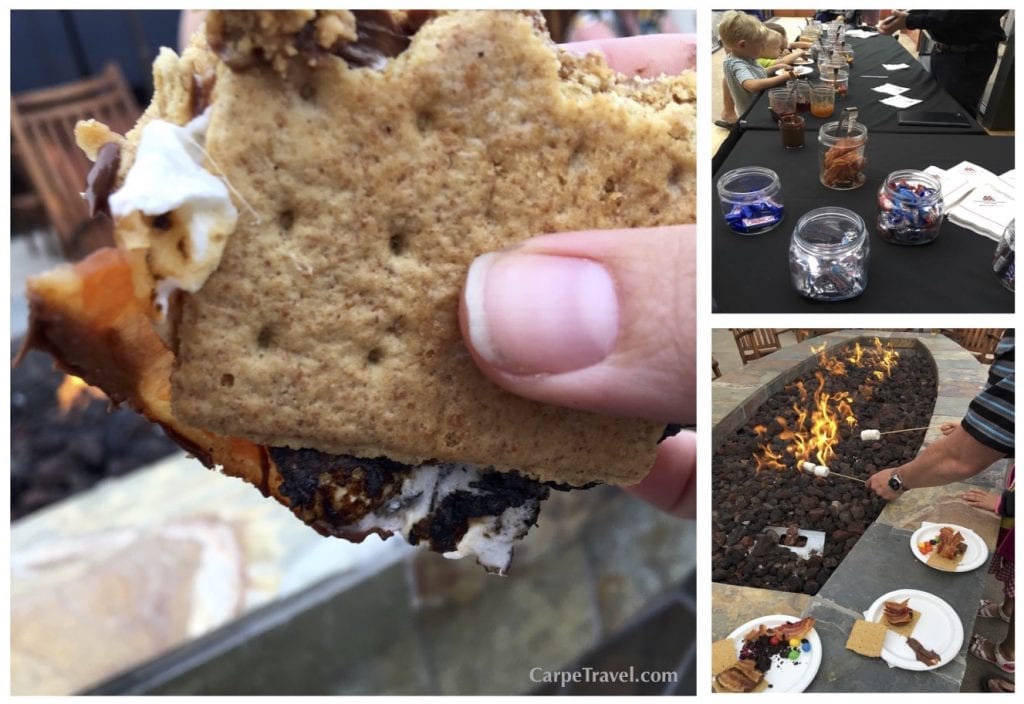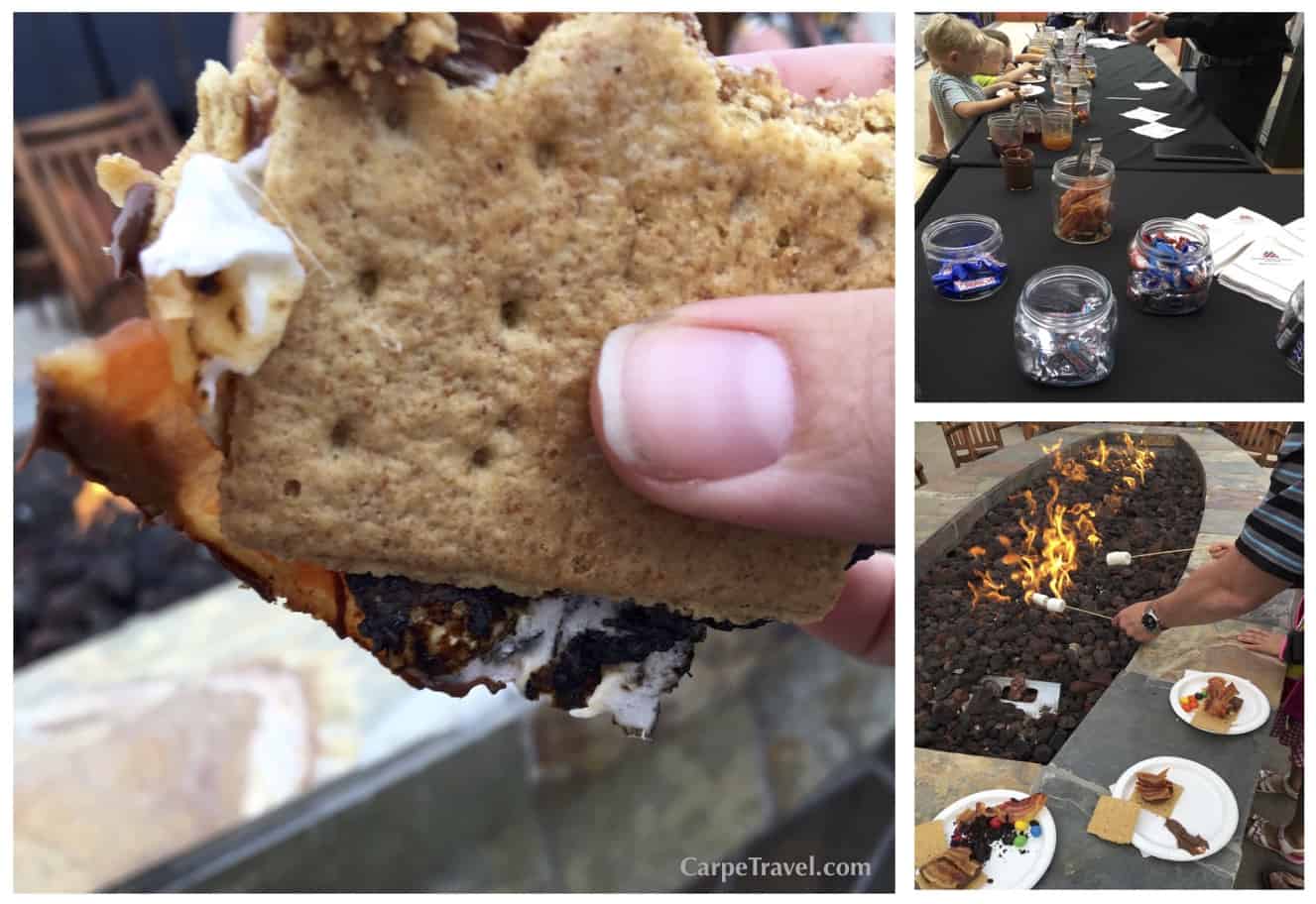 Location
The Cheyenne Mountain Resort is a 200-acre resort located at the base of Cheyenne Mountain in Colorado Springs, Colorado. The resort offers a multitude of different seasonal activities while surrounded by breathtaking scenery provided by Mother Nature. The resort is located 10 miles west of the Colorado Springs Airport, a short drive into downtown Colorado Springs and about 1.5 hours from downtown Denver.
The Rooms at Cheyenne Mountain Resort
There are 316 guest rooms and suites at Cheyenne Mountain Resort, each offering a private patio or balcony to soak up the stunning views of Cheyenne Mountain and the surrounding mountain vistas. The rooms at Cheyenne Mountain Resort are housed in one of the eight, multi-story residential lodges. The lodges are fairly spread out, which gave me that sense of "mountain seclusion" when we were enjoying a glass of wine on our balcony in the evenings. However, since they are fairly spread out you may find yourself walking a bit more to get to your activities. (The front office will be more than happy to have a golf cart drive you to/from if you call them.)
During our visit to the Cheyenne Mountain Resort we stayed in the Deluxe Double Queen guest room. The room had two queen beds and included an armchair, small workspace, coffee maker, iron and ironing board, terry cloth robes, hair dryer, mini-bar refrigerator (unstocked), flat screen TV and high speed wireless Internet access. The room itself was immaculately clean with updated furnishings and comfy, plush white linens.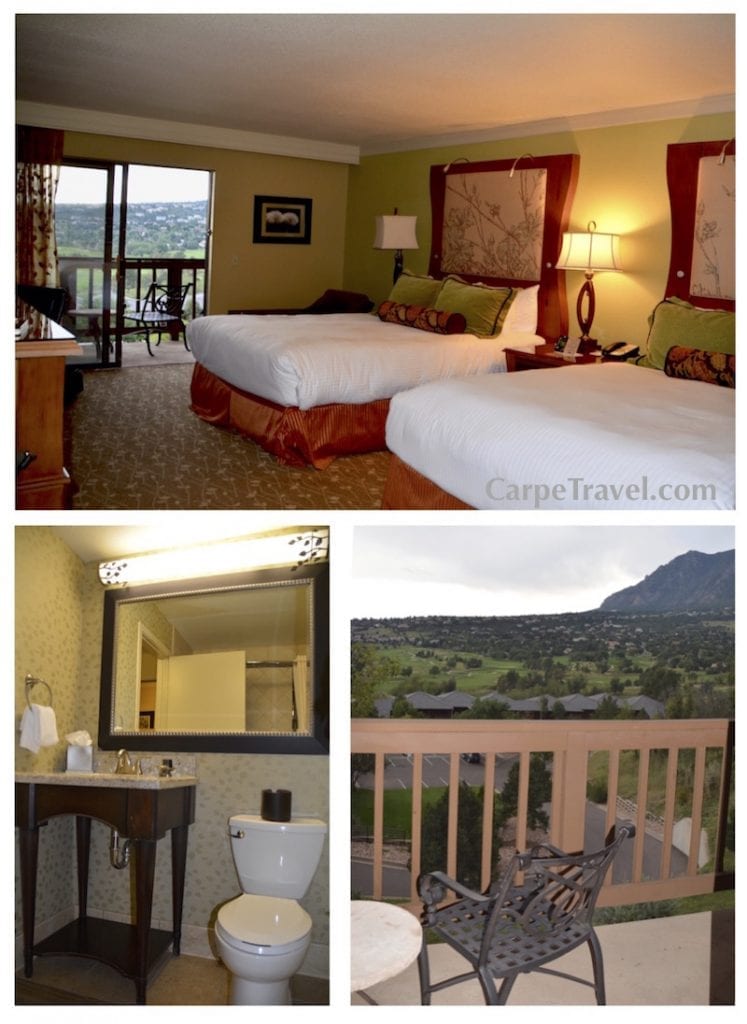 Families Take Note…
This type of room is not equipped to accommodate a rollaway bed and does not have a fold of couch. I recommend families look at staying in a Junior Suite as you'll have more elbow room or ask for an adjoining room since they are available.
It you're traveling with light sleepers I suggest requesting a room on one of the upper floors. (The guest in the room above us woke me up several times walking around, opening and closing the door, etc. However, The Husband and Princess Two heard nothing and snored on.)
Another thing I noted for families – and those doing a lot of outdoor activities – the bathrooms offer a shower/tub combo. Perfect for little ones who still take a bath and bigger ones who need to soak after a long hike or ride.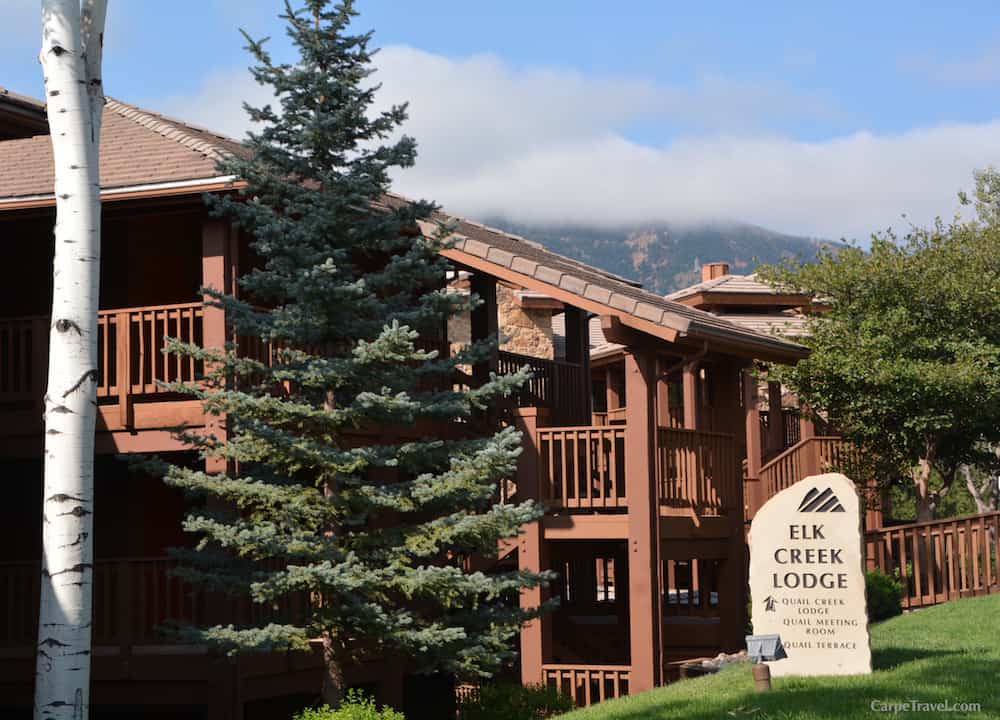 Dining Options at Cheyenne Mountain Resort
Colorado Springs is home to some amazing restaurants but if you're staying at Cheyenne Mountain Resort there's really no need to leave. For breakfast you can grab a latte and Danish or breakfast burrito at The General Store next to the main lobby. Or, indulge at The Mountain View Restaurant, which features a breakfast, lunch and dinner buffet, as well as individual menu items. Dinner at The Mountain View Restaurant is different each night, featuring different foods tied to a theme. During our stay we enjoyed the Italian themed dinner. Think cheeses, pastas, pizzas, chicken picatta, and delicious dolce's.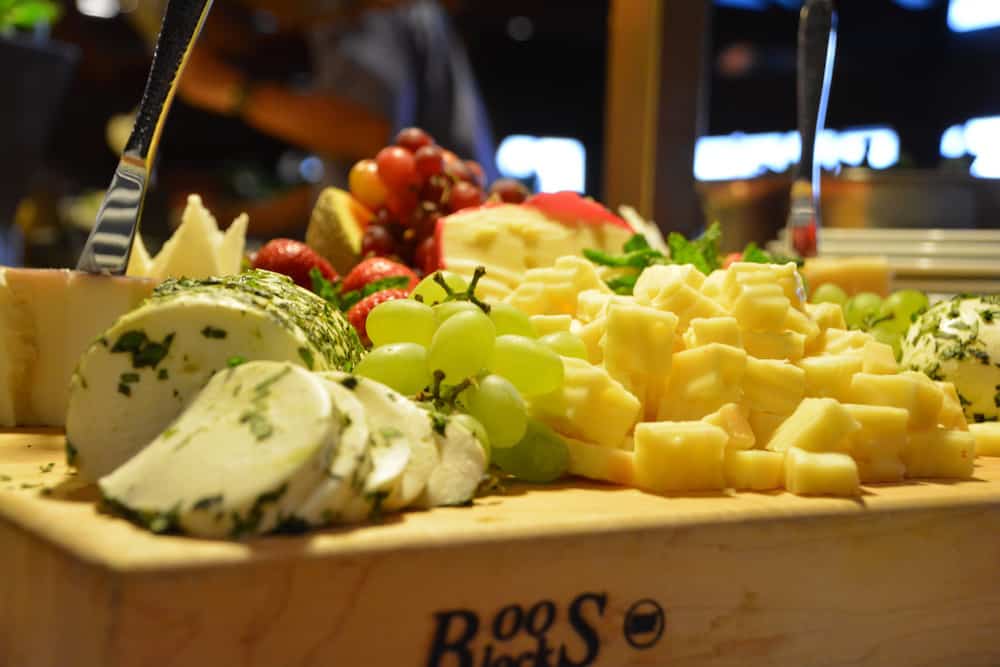 I have to say, the dining highlight for my daughter was on Saturday morning where we got to have breakfast with several zoo animals who came for a visit from Cheyenne Mountain Zoo. Before we headed into The Mountain View Restaurant Princess Two raced a tortoise, sang with a Parrot, learned about chinchillas and an endangered Colorado frog. The live animal encounter is something she won't soon forget, if ever. (Breakfast with the Zoo animals is done ever Saturday morning in the hotel lobby. During the winter animals may not visit the resort.)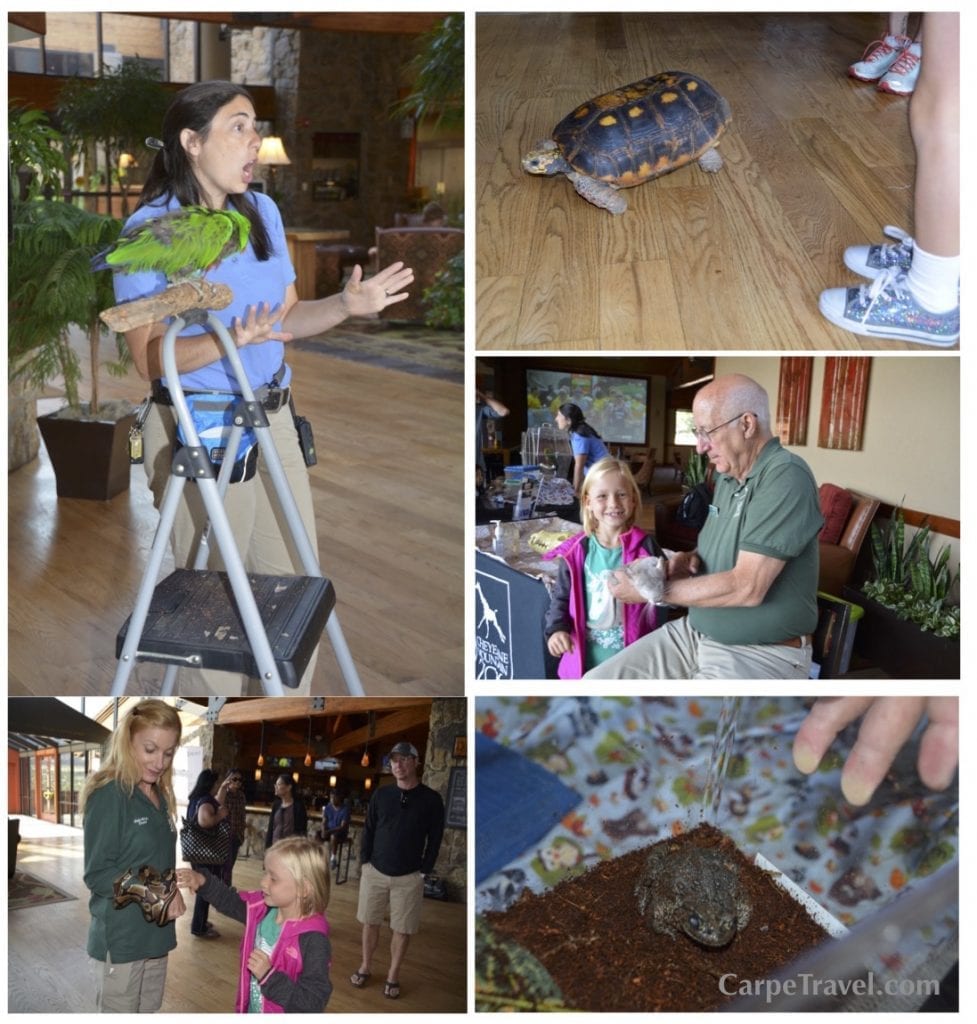 The Cheyenne Mountain Resort has two additional dining options, as well as room service.
Elevations Lounge has a feel of an upscale, family friendly sports bar. With wall-to-wall TVs, guests will not miss the game – or any of the games they're trying to catch. While you may get a sports bar atmosphere, the menu is a far cry from nachos and wings. Yes, you can still get nachos and wings but they've even taken these two dishes up a notch (or three). I highly suggest you try the panko crusted salmon, rib eye, or the baked chicken with mashed potatoes and roasted carrots. I'm convinced that I could have eaten at Elevations every night for a week and never have anything I didn't like! The seasonal local offerings on the menu are simply delicious.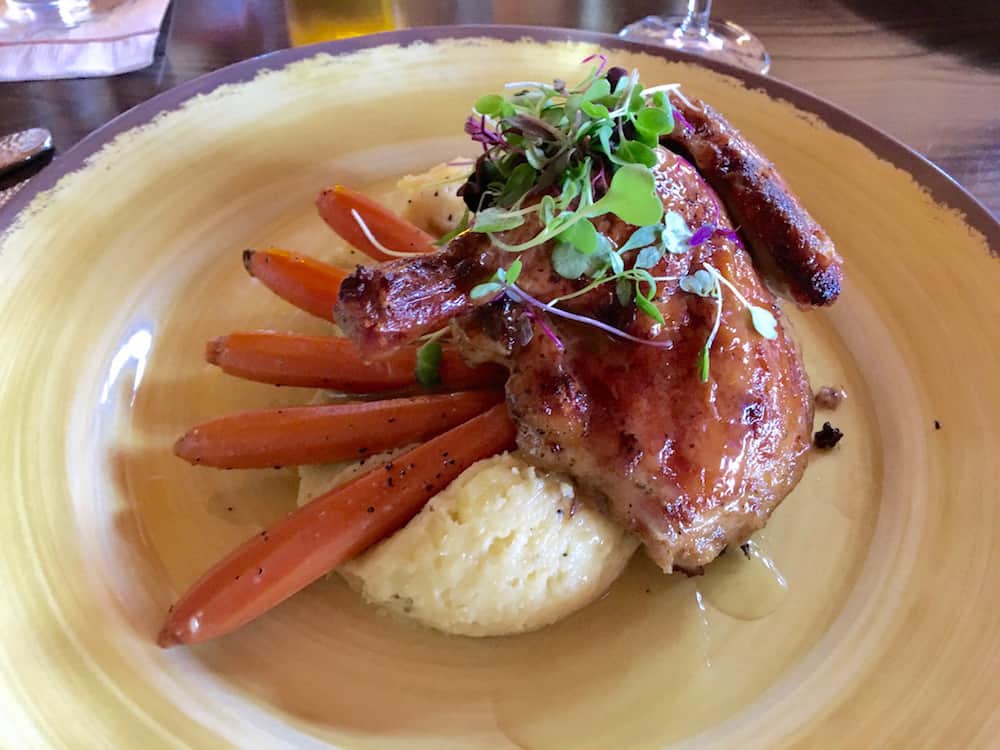 If you're planning to hit the golf course or simply want to eat while looking at the greens head down to Pineview Grille. It's located on the golf course and offers casual gourmet fare for lunch and dinner, such as salads, sandwiches, burgers, pastas. It's a great location to grab a bite before or after your round of golf.
The Amenities
Golf Course
Cheyenne Mountain Resort features an 18-hole championship course designed by the legendary Pete Dye. The course is set alongside the resorts 35-acre lake, and the base of Cheyenne Mountain creating a picturesque golf setting. The view may actually effect your game…
Golf rates vary depending on the time of year. During the peak summer months' golfers can expect to pay $125 for 18-holes or $75 for 9-holes. Rental clubs and shoes are available.
Pet Friendly Rooms
The Cheyenne Mountain Resort is a pet friendly resort in Colorado Springs (dogs only, sorry cat lovers!). The resort accepts dogs under 80 pounds and requires a $35 pet fee per day. This fee is based on a two-pet maximum per room, each weighing no more than 80 pounds.
Kidz Summer Camp
During the summer months' families traveling with their kids can take advantage of the Kidz Camps featuring countless outdoor activities. From swimming, hiking, tennis, golf, paddle boarding, you name it and the kids are doing it. Kids can participate for a single day, a half-day or during their entire stay.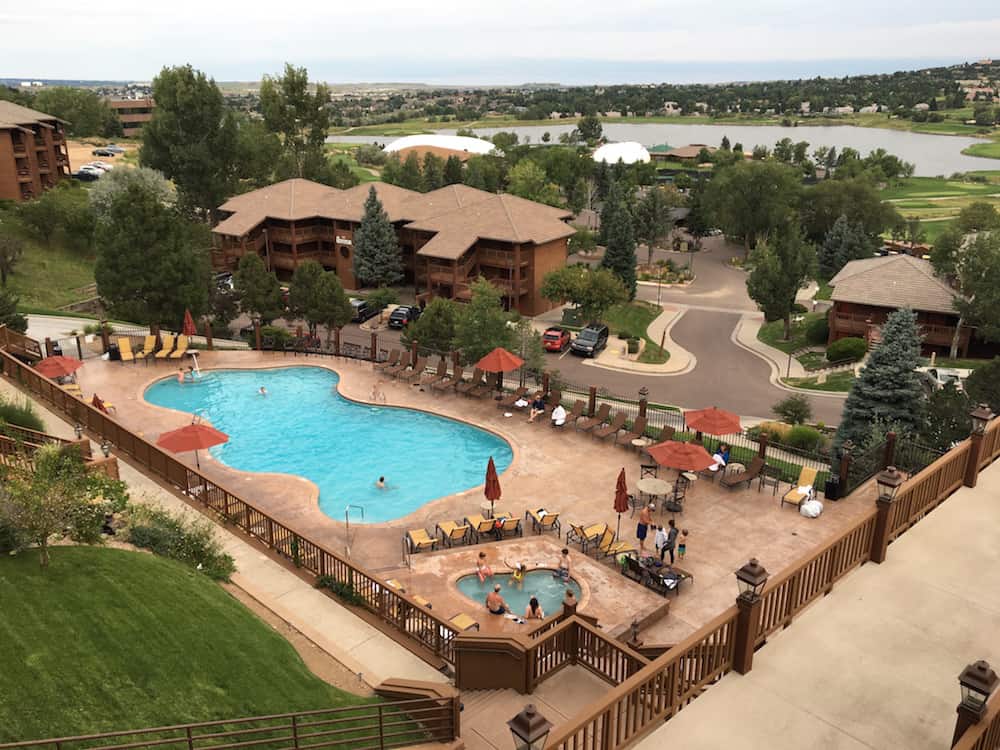 Pools
Cheyenne Mountain Resort offers year-around swimming with its five pools. Ok, so you may not want to swim in the four outdoor pools come January but the indoor pool at the Aquatics Center is a perfect place for kids to splash around and/or adults to swim some laps. If you do visit in the summer make sure to take your little swimmers to the Kidz Splash Pad and kiddie pool, they're perfect for entertaining (and wearing out) little ones. If you're sans kids, hit the adult only pool…and let me know what you think. I haven't been to an adult only pool in years…I always find myself looking in with longing.
I personally loved the pool outside the main lobby. Not only was is quite, smaller (aka I could see Princess Two from any seat) and relaxing but there is a small snack and drink bar so you can sit back with a cold beer or iced tea while the kids play Marco Polo.
Lake and Beach Activities
When you think of Colorado you don't typically think of beaches. At Cheyenne Mountain Resort guests can enjoy just that – a private sandy beach complete with water-sports and beach activities. The private 35-acre lake not only offers a ton of fun summer activities but the views make it the perfect, quiet spot to enjoy a book or morning latte.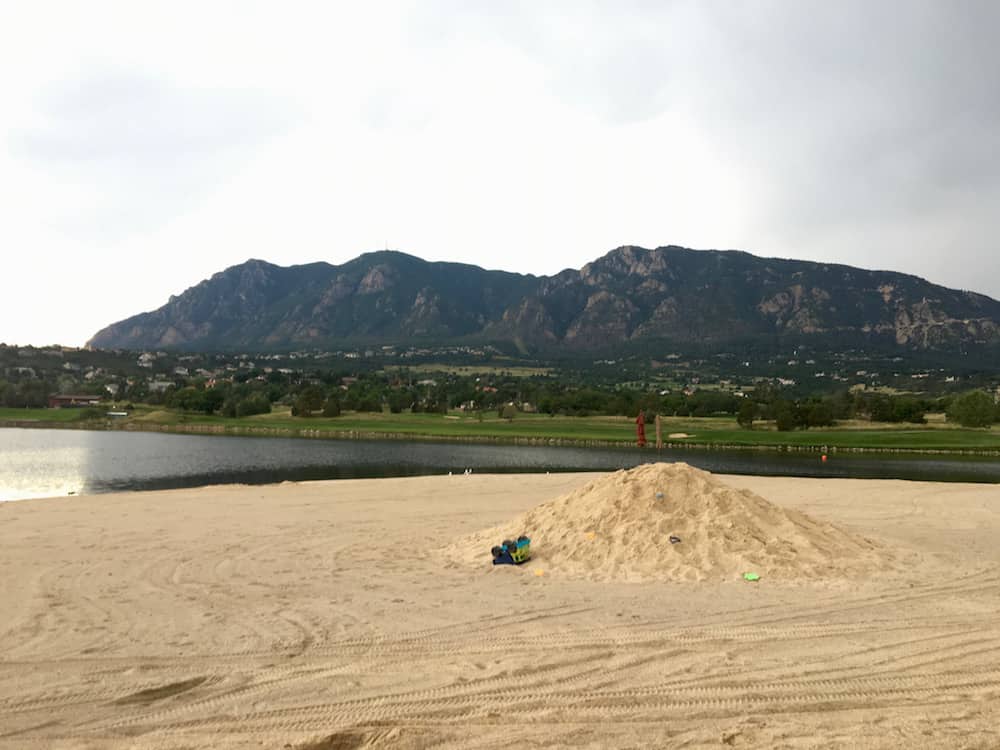 Fitness Center
Most hotels and resorts have a fitness center, but not all are created equal. The 9,000 square foot fitness center at Cheyenne Mountain Resort offers a full gym experience with weights, equipment, fitness classes, and even a child care area. (Princess Two had so much fun in the child care area during our stay that she asked to go back the next day.)
Alluvia Spa & Wellness Retreat
The spa at Cheyenne Mountain is a fairly new addition to the resort. It's located in the Fitness Center and offers every spa service you would expect at a resort.
Tennis Courts
Tennis lovers take note! There are seven indoor/outdoor courts so you can play year-around.
Free WiFi (kinda)
The WifFi is covered by the $24 resort fee (per day), but it's super easy to connect, fast and works consistently throughout the resort and golf course.
The Bottom Line
This summer the Cheyenne Mountain Resort celebrated its 43rd anniversary. Any resort that's survived this long is doing something right! This is a great resort in Colorado Springs that caters to families, large groups and couples looking for an easy, relaxing getaway. The staff is friendly, professional and helpful. The rooms are clean, spacious and affordable. We would definitely stay here again.
The Princess Rating
We only had Princess Two along for the ride this time around as Princess One was away at her first sleep over camp. Princess Two gave Cheyenne Mountain Resort two-thumbs up and while Princess One loved camp, she's afraid she "missed out on a lot of fun". And, she did. (But, I'm pretty sure camp was a lot of fun too!)
Want to hear what others had to say about Cheyenne Mountain Resort? See all the reviews over at TripAdvisor.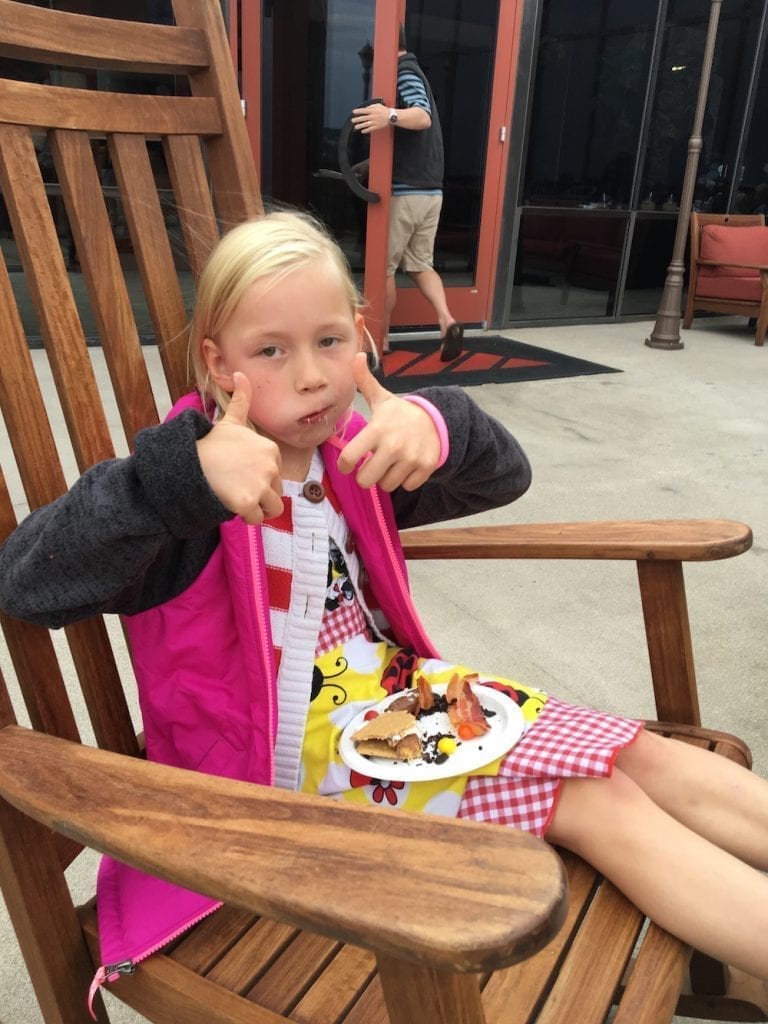 Disclosure: Our stay at the Cheyenne Mountain Resort was complementary. My thoughts outlined in this review regarding our stay are my own.
Have you stayed at the Cheyenne Mountain Resort in Colorado Springs? Share your experiences in the comments!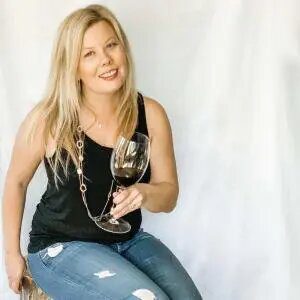 Elaine Schoch (pronounced the German way – Shock) is the editor and founder of Carpe Travel as well as an award-winning travel writer, wine judge, certified by the Wine & Spirit Education Trust (WSET) Level 2 and certified American Wine Expert. She is married to The Husband and has two kids, Princess One and Two – who's interest and knowledge in wine is quite extensive. Not to mention the stamps in their passports.