Camping should be easy…at least finding a campsite should be. But, it's not. This I have learned the hard way. It actually requires A LOT of advance planning. And, that's just summer car camping in Colorado. If you want to go camping in the Grand Canyon, well that's an entirely different game. One I can't wait to learn from my friend, camping extraordinaire and fellow writer, Janalee Card Chmel.
Janalee will be sharing a series of articles with Carpe Travel over the next few months that will cover everything from booking campsites in the Grand Canyon to family friendly activities to packing lists and more. She has taken her three kids, husband and I think even the dog for what I consider mega-camping trips to some the best National Parks in the United States – Yellowstone, Zion National Park, the Grand Tetons, Bryce Canyon and Glacier National Park, and yes, the Grand Canyon. This year they're making the trek back for more camping in the Grand Canyon (by way of Zion National Park), which is where the series begins…
To kick things off we begin with the most critical, time-sensitive requirement – booking your campsite so you can actually make camping in the Grand Canyon a reality.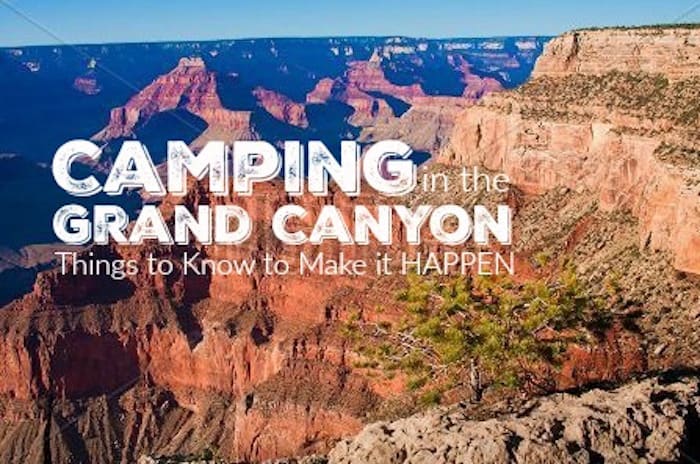 Booking Summer Camping in the Grand Canyon
By Janalee Card Chmel
To use a cliché: I will never forget the first time I saw the Grand Canyon. I literally stopped dead in my tracks and lost my breath, like someone sucker-punched me in the gut.
We had been driving for hours from Bryce Canyon to the North Rim and when we pulled into the parking area for the historic Grand Canyon Lodge at the North Rim, we still hadn't glimpsed the canyon. My husband dropped me off in the circle drive and I marched into the lodge to secure our campsite reservation.
Little did I know, the entire lodge is built right on the edge of the canyon with a giant wall of windows greeting you upon entry. When I speedily walked through the immense front doors of the lodge, I felt like I had recklessly launched myself over the precipice! I stutter-stepped, hiccuped to get my breath… and then, I started crying.
Yes, seriously. I started bawling like a baby. People coming in the door behind me (those apparently more accustomed to this view) streamed around me like I was a rock in a creek while I caught my breath. Suffice it to say, the Grand Canyon overwhelmed me.
So, we're going back in June 2016! And we're taking friends who have never been there before. This series of articles will cover everything from booking campsites to family friendly activities to packing lists and more. But first, the most critical, time-sensitive requirement is to book your campsite.
First Step for Camping in the Grand Canyon: Book Your Campsite
Camping in one of America's greatest national parks requires lots of planning months in advance. Here are the steps to take when booking camping sites in the Grand Canyon's North Rim Campground. (The same timing applies if you are booking sites at Zion National Park, which is also a very popular destination.)
Scout the Sites You Want in Advance
Seven months prior to your camping trip in the Grand Canyon, start scouting out the campsites you want. Consider whether you want hookups for a camper, easy access to the bathrooms, or a quick jaunt to the laundry and shower facilities.
For a map of the campground.
For information about campsite hookups and facilities.
According to Recreation.gov , "Sites 11, 14, 15, 16 and 18 provide a prime view of the canyon and are considered premium sites."
Our goal was to get one of the premium sites, so we knew we had to call exactly six months to the day prior to our camping plans.
Call, Don't Book Online:
Recreation.gov tells tells you that you can book the sites online but our experience showed that it was much more effective to call the representatives. Once they help you pick a site, they hold it while filling out all of the information required (length of your vehicle/camper/tent, credit card, etc.). My husband and I actually had two phones and two computers going at the same time to see if we could beat the system somehow… Nope! Just call.
Phone lines open as of 10:30 am EST. Be ready to dial exactly six months out from your desired camping date.
Some Things are Beyond Your Control
Despite all of this planning, we were unable to secure a premium site because they had been booked previously by people whose stays overlapped ours. However, because we were prepared, we had a backup plan and booked sites 12 and 13, directly across the road from the premium spots. We're still happy.
So, now our sites are booked and the fun planning begins! The next article in this series will include fun facts about the Grand Canyon's North Rim, including some fascinating stories about the Grand Canyon Lodge at the North Rim. (It's fun to tease kids with these tidbits to get them excited about the trip, too). See you then!
Do you have other tips or things to know about camping in the Grand Canyon? Let us know in the comments.