Not that you need a reason to visit Berlin, but just in case.
Did you know that Berlin is home to three UNESCO World Heritage sites, 180 museums and memorial sites, three opera houses and at least 14 Michelin-starred restaurants? Top it off with 800 designers and labels and you have one seriously creative atmosphere in a destination. Not to mention a lot of reasons to visit Berlin.
Berlin has been on my list of cities to visit for sometime now and as we're mapping out the rest of our travels for the year it's one of my top places to explore.
While one of my reasons to visit Berlin is for its history, the sites, food (and beer!) and modern twist make it a must. As I'm mapping out what we'll do in Berlin I keep asking myself just what are the sites we HAVE to see, what are the things we HAVE to do? After all, we'll only be in Germany's capital city for a few days… So, I went to the experts, my fellow travelers who shared ideas on what they think are the top things to do in Berlin. These are just a few of my ideas ideas for things to do in Berlin, I'd love your recommendations in the comments.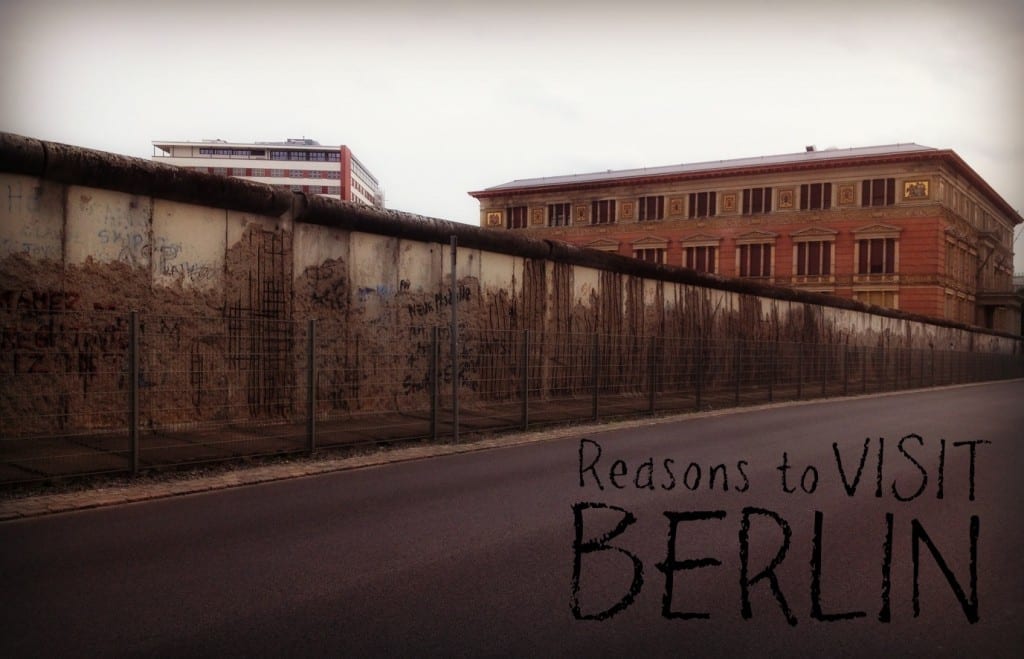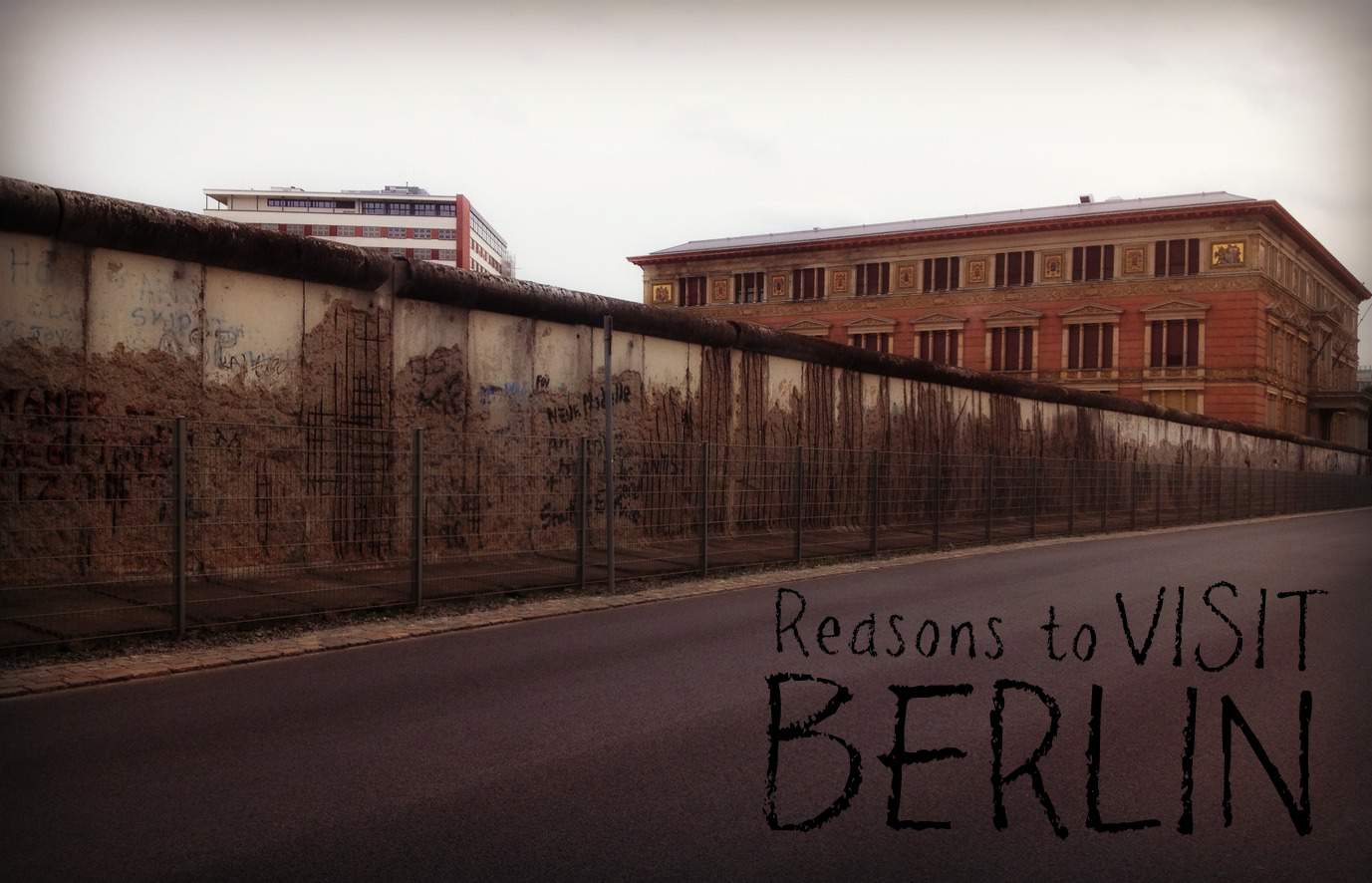 10 Reasons to Visit Berlin NOW…

Museum Island
Berlin is home to 180 museums. If you want to try for a few, I mean 180 is a lot to swallow, then head to Museum Island. Not only is it home to five museums but it's also a UNESCO world heritage site. The five museums were built between 1824 and 1930 so you'll see a contrast in architecture and the chance to see a variety of collections and exhibits. Marta at Learning Escapes Little Travel Notes, sold me on it as not only a place I would enjoy but one my kids would too.
"The island is impressive in itself but the real treasures are of course inside its museum buildings. My personal favorite, and one that also is easily enjoyable by a child, is the Pergamon museum: the impressive altar and the incredible gates to Babylon are a sight to behold and will impress all age."
Check Point Charlie
Ok, so it's seriously just a small checkpoint station. Maybe a little bigger than a phone booth but it has soooo much symbolism and history. Ann at TravelTurtle confirmed my point of adding Check Point Charlie to my list of reasons to visit Berlin.
"Take a moment to enjoy the history of this spot. Yes, there are plenty of touristy things that weren't here 25 years ago, but see past that. This was where foreigners and Allied troops could enter East Berlin. Soviet and US troops in tanks faced off here in 1961. Any spy movie set in Berlin between the 60s and 80s most likely include this area. There are several museums in this area, but the Open Air Exhibit along Friedrichstr., Zimmermanstr., and Schützenstrasse, is an easy way to learn more. With images and information depicting the escape attempts, the symbolism, and the history of this area."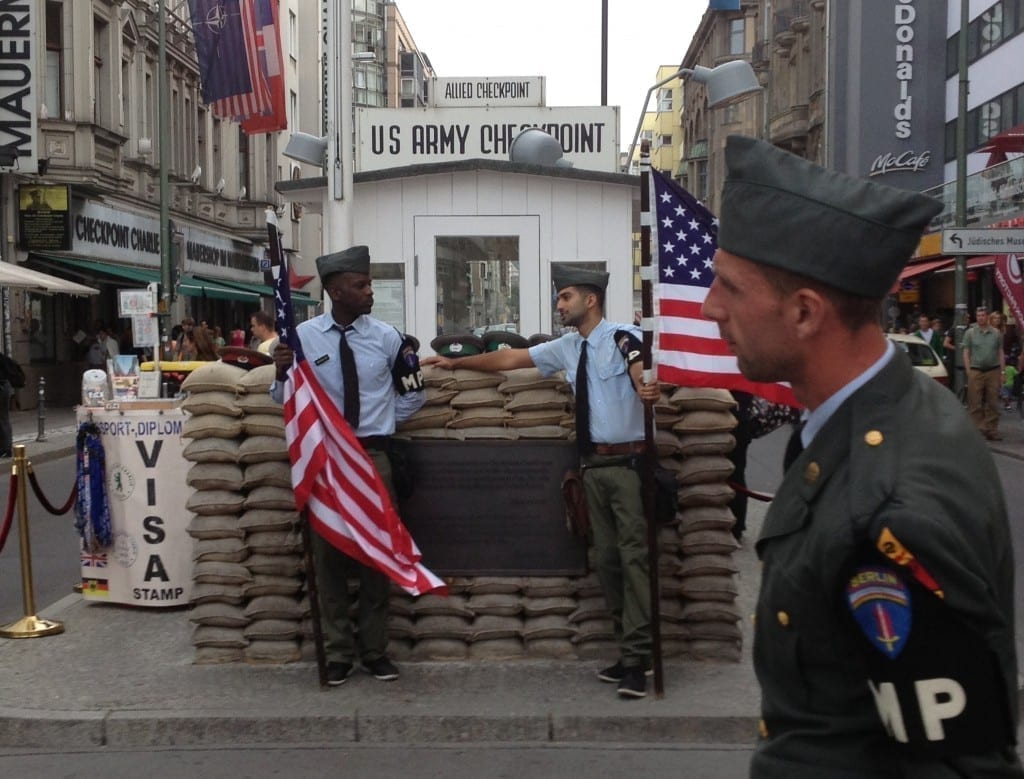 Reichstag
I've been told a visit to the Reichstag, the building which houses the German Parliament (Bundestag) is a must if you're in Berlin. I'm not really one to go visit government buildings on a trip but given that it's supposed to offer the best views of the city I think it's worth a shot. Walking up a series of winding ramps, the glass dome provides a 360-degree view of the surrounding Berlin cityscape. As you're climbing the ramps, you can learn more about German history given this building has seen much of it.
Having been built in 1884 it's seen WWI, was under the Nazi control in WWII, and it became one of the central targets during WWII. Today, visitors to the Reichstag can still see Soviet graffiti on smoky walls inside as well as on part of the roof, which was preserved during the reconstructions after the reunification of Germany in 1989.
Admission to the Reichstag and dome is free; however, you need to register online prior to your visit if you want to go up the ramps for a view. (The ramps are fully pushchair and stroller accessible.)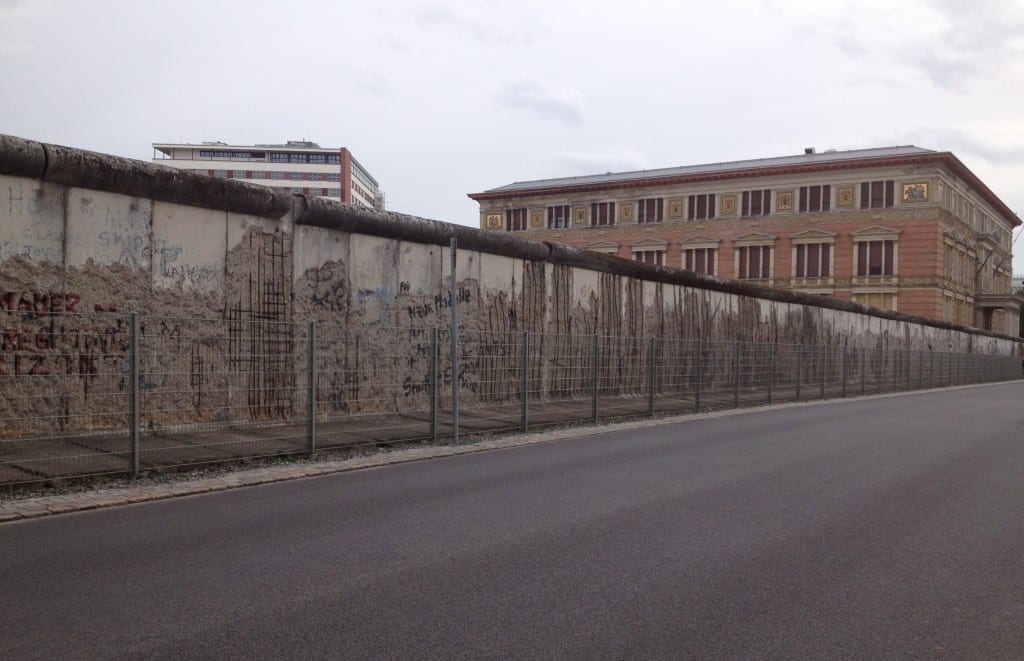 The Berlin Wall
While most of the wall is now down there are pieces that have remained as a reminder of the past and the future. I had a friend in school who was from German, one November morning she was running through the halls holding a newspaper screaming the "the wall is down, the wall is down". It was 1989 and that's had a lasting impact on me. First, I didn't even know about the Berlin Wall, what I learned afterwards is the reason I want to see it. And, according to Francesca at The Working Moms Travels, it's totally worth it.
"The fall of the Berlin Wall and subsequent reunification stand as two of the most important historical events in Berlin's recent history. Getting to see where the wall once stood, and even visiting parts of it that are still standing, are solidified as two of the most momentous experiences I've had during my years of travel. What made it even more meaningful is that I got to experience it with my daughter. It provided us an opportunity to talk with her, gently, about topics like war and even Communism. Later on when she learns about the Berlin Wall in school, she will have a real-life experience to relate to, (hopefully) increasing her interest in the subject matter and enhancing the effectiveness of the lesson."
The Berliner Philharmonie
The Berliner Philharmonie is home to the Berlin Philharmonic (Berliner Philharmoniker), which consistently ranked as one of the best orchestras in the world. If you're in Berlin, and can get tickets to a show, it's an experience I would not want to miss.
The Holocaust Memorial
I'm not really sure I need to explain why everyone who visits Berlin should visit The Holocaust Memorial, but they should. The memorial is not only a testament to those who lost their lives but it's a reminder that it's still happening in other parts of the world. On a lighter note, the architecture is stunning and walking through the maze of concrete slabs…I can only image the somber feeling of the lasting impacts WWII left not only in Berlin but all of Europe.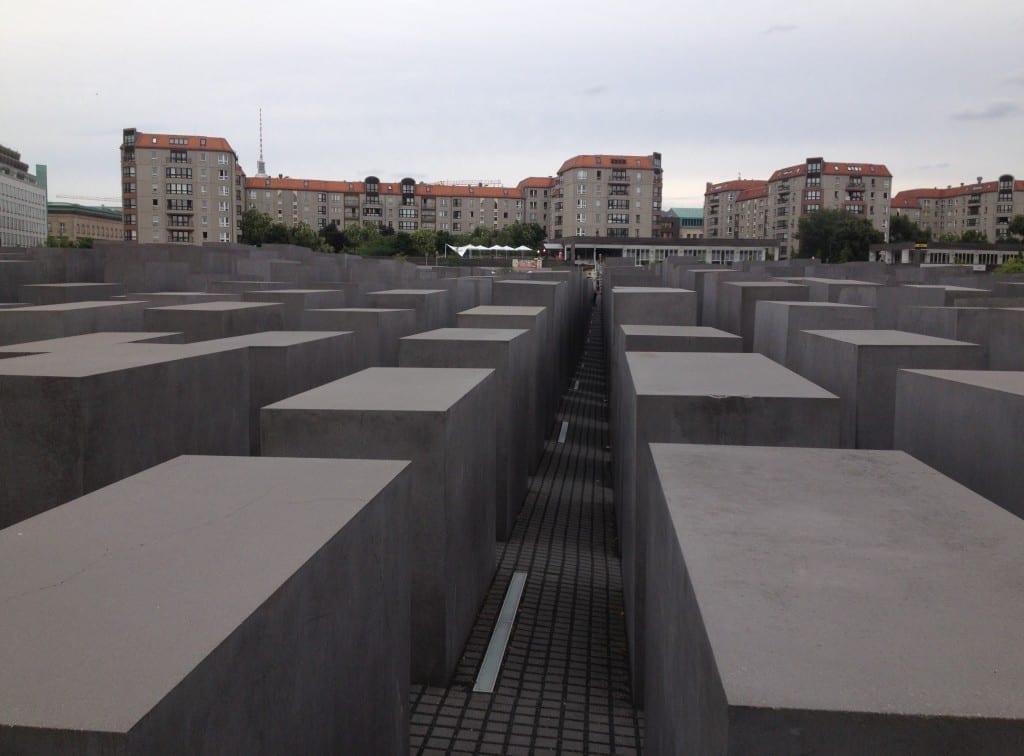 Monuments (and graffiti)
There are countless monuments in Berlin, many of which you may simply come across without trying. Those to try for though are the Brandenburg Gate, which is 300 years old and is known as the gate to the city of Berlin; the Statue of Frederick the Great; the Palace Bridge and its statues, and the Monument to Soviet Soldiers. While most may think graffiti to be a public problem, the grafitti in Berlin is said to be amazingly artistic and part of the city's artistic plan.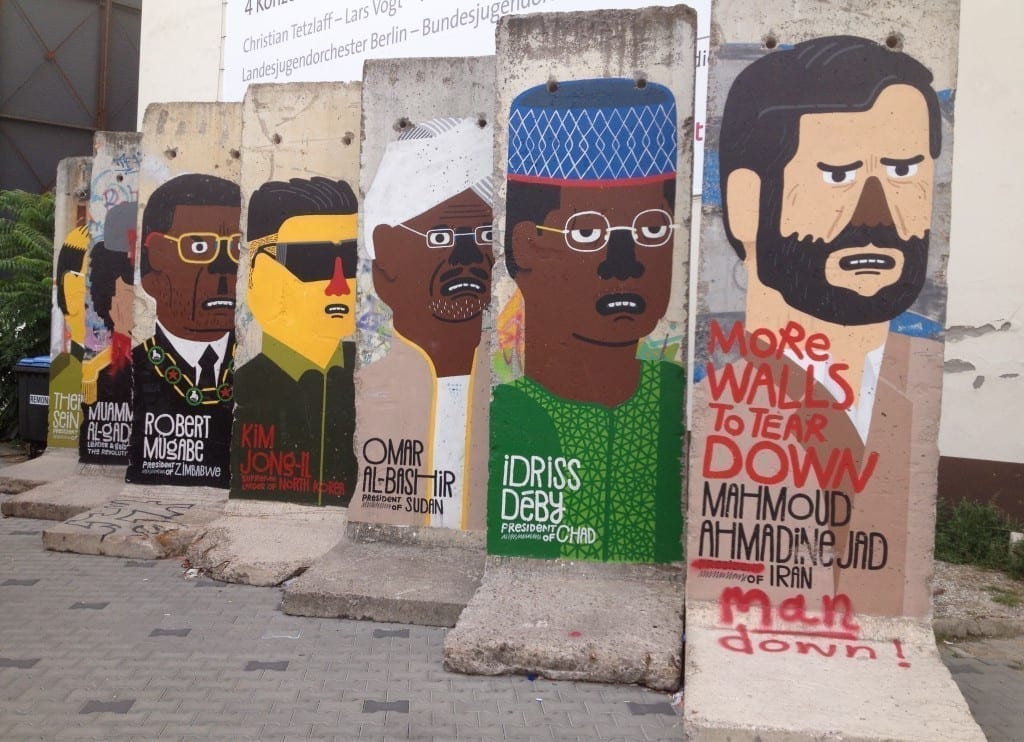 The Berlin Zoo
I have mixed feelings on zoos, so they're not always on my list of things to do. However, The Berlin Zoo is world renowned and repeatedly makes the list on the "Top 10 things to do for kids in Berlin". Needless to say, if we're visiting Berlin with the kids it's a must (especially if I'm dragging them to all my history sites!). Rebecca at Wyld Family Travel spent a day there with her kids and loved it…
"It was one of the best decisions we made! The Berlin Zoo is just amazing, child-friendly and it continuously keeps the kids wanting more, more, MORE!! What got me the most was the layout. It was so spacious and green. Every enclosure at the Berlin Zoo was built for a specific animal, what they liked and most importantly what type of terrain they came from. It was made just for them and to me that was really great to see."
There are Several Fun Ways to See Berlin
Due to Berlin's scale and the size of the city center it is difficult to cover the main sights on foot. But, a bike tour, bus tour or your own metro tour can get you to most of the historical sites you would want to soak in. Make sure to grab a Berlin Welcome Card, it offers a great way to get around the city and see many of the highlights; it includes unlimited travel on the underground, metro, and tram systems and 50 percent discounts on most museums.
A Bike Tour of Berlin
There are several different bike tours you can do in Berlin but I would suggest taking a Fat Tire Bike Tour as I've had now several friends go on tours with them. They can't praise them more and their online ratings are more proof. You can literally see just about ever site you would want to see on one of their tours. After speaking with Charles Odom, director of business development at Fat Tire Bike Tours Berlin I was told that:
"Most folks start with Our All-in-One Bike Tour as it covers a huge list of Berlin's must-see locations, like the Brandenburg Gate, Checkpoint Charlie, and the Reichstag. Our additional Topic Tours go in depth in to various subject areas. Our Berlin Wall & Cold War Bike Tour visits the Eastside Gallery and traces to location of the former Berlin Wall. Our Third Reich & Nazi Germany Bike Tour visits the New Synagogue and the Jewish Quarter along with several memorials to the atrocities of the Second World War. You can check out a more modern side of the city, like Tempelhof Park, squats, and urban revitalization on our Raw Berlin Bike Tour. You can also get out of Berlin and explore the palaces and gardens of Potsdam on our Potsdam Day Tour.
See Berlin on a double-decker bus. The Hop-On Hop-Off offers unlimited rides let you hop on and off the bus at your leisure. You can visit all the attractions on your sightseeing list or just sit back and ride the complete loop for an overview tour of the German capital.
Go by Boat
Take a sightseeing boat on the river Spree, you'll be able to catch sites like the Reichstag (the restored parliament) and its Norman Foster glass dome.
What are your top things to do in Berlin?