Creating and sticking with a fitness routine is one thing, it's a completely different thing when you're traveling. I've tried it. Hitting the hotel gym for an hour, running alongside the beach, trying to find a safe yet interesting jogging route, doing my Pilates routine that's scribbled on a piece of paper I keep in my travel bag. Taking your fitness routine on the road is key for me – and for any traveler – but it's harder than needs to be. With a few fitness apps I've found (and tested) taking my routine on the road just got easier.
I've pulled together some of the top fitness apps I think are the most helpful in staying fit while traveling…and at home. Some of these fitness apps connect you to a community for support or feed your competitive spirit, while others act as more of a go-to resource to log workouts, count calories, provide access to a personal trainers or a nutrition guide. Other fitness apps combine all of these things into one.
Have other fitness apps that should be added? Let me know what they are and why in the comments.
Top 9 Fitness Apps to Help You Stay Fit While Traveling (and at home)
MapMyFitness
Free, Pro $6 monthly or $30 annual
Available on: iOS, Anrdoid
The MapMyFitness app was developed by the company that created MapMyRun, MapMyRide, and MapMyWalk. MapMyFitness combines the information from all three into one. This is a killer app for runners, walker and anyone looking for a new route to take for their daily workout. I love it for travelers as it's PERFECT for providing a list of options and detailed descriptions of routes near your location. It's not just for running and walking though. You can pull road cycling, mountain biking, hiking and many more. The MapMyFitness app isn't just mapping routes though. You can track all of your fitness activities. Record your workout details, including duration, distance, pace, speed, elevation, calories burned, and route traveled on an interactive map. The app also integrates this information with 400 devices so you import the data into one place for easy viewing.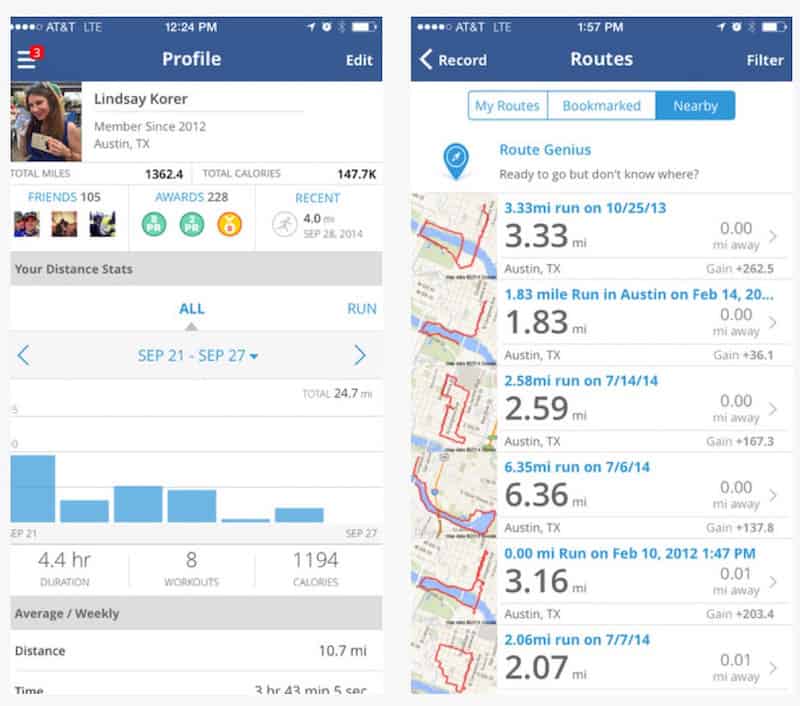 CycleCast
Free for 30-days, subscription model $10 a month of $90 for the year
Available on: iOS
I hate to admit this but I will…I used to pay a monthly gym membership just because I wanted to go to a spin class twice a week. When I was traveling, I definitely missed my spin class and the bike in the hotel gym just wasn't the same. At least it used to not be. CycleCast brings streaming spin classes to the digital space, with workouts from qualified instructors – all you need is a stationary bike and a WiFi connection. Done. The app delivers hit music, great instructors and a variety of workouts that can fit into the time you have to spin, be it 20-minutes, 45 or 60 minute sessions. This is a subscription based app ($10 a month or $90 for the year), but you can try it out for free for 30-days. It's definitely cheaper than a monthly gym membership, gives you a hard ride and is something you can easily access at home or on the road.
Charity Miles
Free
Available on: iOS, Android
Charity Miles is an easy way to make your run or walk go the extra mile. Simply turn on the Charity Miles app, choose a charity you would like to support, and press start. As you exercise be it on the hotel treadmill or taking a jog along the beach, the app tracks your distance and the money earned. When you're finished, accept your sponsorship, spread the word, and the app will send you a note confirming your good work.
FitBit
Free
Available on: Android, iOS, Windows Phone, and Web
I use the FitBit app in conjunction with my FitBit Charge but you don't have to have the wearable activity tracker to use the fitness app, although it isn't nearly as useful alone. Using just the fitness app you're able to count calories, log your weight, and record other health information, such as your blood pressure and glucose levels. Add in the wearable FitBit activity tracker and the fitness app collects additional information including your heart rate, steps/miles walked, calories burned as well as your sleep activity or lack there of. When I'm traveling (and sitting at my desk at home working) this has been a great app for me to see the reality of how much activity I'm doing – or not doing.
7 Minute Workout Challenge
Paid app $3 with in-app purchases or earned through fitness achievements
Available on: iOS
The 7 Minute Workout Challenge is a mini-workout app offering a seven minute high-intensity aerobic and resistance training (no weights) workout that can be done anywhere. With full video, audio, image and text instruction for every exercise. Don't think seven minutes is enough, try one of the workouts and then let me know if you broke a sweat…do the routine twice and you're a super star! The app will cue you to get into position and have you doing everything from high-intensity jumping jacks to push-ups and core-blasting planks. The 7 Minute Workout Challenge is a paid app, at a whopping $3. Really, that's not much for what you get and if you need some proof, it's been the top selling fitness app internationally for two years and received multiple awards. One thing to note, the $3 version only includes a few routines. You will need to either pay $2 or "unlock" additional workout packs, each contains 12 new exercises. What's nice is you can "earn" these additional packs for free through exercise achievements set within the app.
Sworkit
Free, Sworkit Pro $4
Available on: iOS, Android, Amazon
Derived from Simply WORK IT, Sworkit is a free fitness app that takes you through workouts ranging from 5-60+ minutes of either strength, yoga, Pilates or stretching. With the Sworkit custom workout builder you and a professional instructor (e.g. physical therapists, personal trainers, physical education instructors, doctors, etc.) can create and share custom routines ('playlists') from a growing library of over 170 different exercises. This has to be one of my favorite features of Sworkit. Essentially, your personal trainer or physical therapist can build custom workouts for you to follow within the Sworkit app. It's as easy as building a music playlist and may save you some time (and money) from having to go Physical Therapy each week, it will for me. Another feature I really like in Sworkit is that you can set the specific amount of time you have for your workout and it will automatically customize your routine within the four exercise categories – Strength, Yoga, Pilates or Stretching. If you only have 15 minutes, you can get a quick sweat on or you can go full-on with a 60-minute routine.
DailyBurn
$13 Monthly Subscription
Available on: iOS, Android, Roku
The DailyBurn app is way more than an app. It's more of an online personal trainer with nutrition planning program. There are hundreds of workout videos for you to do whenever and wherever all designed by professional trainers. Remember Bob Harper from The Biggest Loser? He's just one of the many trainers with DailyBurn. The one thing about this app is the pricing. It's $13 a month. That's a lot for an app BUT if you compare it to a gym membership, which you may not use after February, it's a steal. You can do these workouts in your hotel room with or without weights, making it like a portable gym membership making it great for regular travelers. I suggest you try it for free for 30-days to make sure you want to make the investment.
Perfect Pilates Body by Andrea Speir
Free app but requires in-app purchases ($2-$5) for workouts
Available on: iOS
Pilates is one my go-to exercise especially when I'm on the road. It's an easy thing to do in your hotel room, can provide a total body workout while at the same time stretching and strengthening your muscles. When you're traveling, these kinds of stretches can make a world of difference… The Perfect Pilates Body by Andrea Speir app provides various easy-to-follow short workout videos (10-20 minutes). The fitness app is free to download BUT to actually access the workouts you must do an in-app purchase for each workout, the prices range from $3 to $5. It does seem like a lot for a 10-minute workout but when you compare Pilates videos I've paid and downloaded, it's less expensive, the instructor isn't annoying, the workouts are really good and there are a variety to choose from with more being regularly added. I highly suggest you check out the Core-blast and Cardio Trimming workouts.
Strong Lifts 5×5
Free, in-app purchases for additional workouts from $2-$10
Available on: iOS, Android
Need to do more strength training and have access to weights when you're on the road? The Strong Lifts 5×5 is a great app to leverage for creating and doing a weight lifting routine. The fitness app tells you which exercise to do each workout, with how much weight and for how many sets and reps. It also tells you how long to rest between sets based on how easy or hard your last set was. If you fail reps, plateau or miss workouts, the app adapts the weight so you keep progressing. This helps takes the guess work – and remembering when you're on the road – out of your workout so you can focus on lifting.
Other Resources to Help You Stay Fit While Traveling