Ten years ago the Paso Robles wine region was home to only 35 wineries, that number has since grown to more than 200. As Matthew Liberty noted in a guest post for Carpe Travel, Paso Robles is not so much an up and coming region since its already up there, but that seems to be the thinking among wine lovers. In fact, Paso Robles is Califorina's third largest and fastest growing wine region. When I had the opportunity to go a girls-only wine tasting trip to Paso Robles with my old-college friend to celebrate our birthday's I jumped.
The thing I loved the most about Paso Robles – besides the wine – is its low-key, farm town feel. Driving around Paso Robles reminded me of how Napa Valley must have been 30 years ago. All farms. Real farms. Working farms. Tasting wine from someone's backyard picnic table or in a converted barn. Paso Robles wine region is truly for people looking for good wine but not the crowds or the hefty prices. It's the wine region for real people.
I was only able to scratch the surface on this trip – visiting 10 of the 200 wineries in Paso Robles. Here is a small snapshot – Paso Robles Wine in Pictures.
Drive to Paso Robles Wine Region
Paso Robles is located in-between San Francisco and LA. We took the 101 up to Paso from LA and had some great views of the ocean and Cachuma Lake. The drive takes between three to four hours depending on traffic (and how fast you drive). Map it.
A Site to See: Heart Hill
You cannot miss Heart Hill in Paso Robles, oh, and you should stop into Heart Hill Vineyard for a tasting as well. The namesake of this vineyard comes from a natural oak-tree filled depression on the hillside that's in the perfect shape of a heart. In 2003 Heart Hill Vineyard was purchased by Niner Wine Estates. Heart Hill Vineyard is located on the West side of Paso. It's home to 140 acres, of which only 46 acres are planted to wine grapes. In total, 12 varieties are grown here: Cabernet Franc, Cabernet Sauvignon, Grenache Blanc, Grenache Noir, Malbec, Marsanne, Mourvedre, Petit Verdot, Roussanne, Sauvignon Musque, Semillion and Syrah.
Wigs and Wine = A Good Time at Clautiere Vineyard
What do wigs and wine have in common? A lot at Clautiere Vineyard where you can not only taste several wonderful wines but also play dress up. And who doesn't like to play dress up? The owners have converted the farm house into a vibrant and colorful room with an area for adults to play dress up with a variety of crazy fun hats and wigs. Outside, the barn has been turned into a theater with a built in stage and sound system used by bands and entertainers to perform. While all that's fun and good and helps the vineyard draw in people for events and parties, the wine is what we came for. And the wine did not disappoint. The tasting includes a small cheese pairing to complement the wines.
The 145 acre vineyard is dedicated to the production of premium Rhone, Bordeaux, and Port style wines; 100% Estate bottled. The wines at Clautiere are not meant for long term aging, and at their price point ($15-$40 per bottle) that's just fine – enjoy them now, and often. On a side note, there is a great little picnic spot if you time your tasting around lunch or heck, have a snack and check out the art outside.
Paso Robles Wine to Try:
NV Mon Beau Rouge
2008 Roussane (it turns brown and becomes more buttery after it ages)
Two Cocky Sisters Estate Red
2009 Cabernet Sauvignon
The Vines
Notice anything different about the this picture (below)? Many vineyards in Paso Robles do dry farmed vines. Meaning, there isn't any irrigation set up and there are no lines to support the fruit. It's all up to Mother Nature to yield the grapes. This process is more risky and less fruit is yielded since there is more stress put on the vines BUT the fruit that is produced is more concentrated and robust.
Pear Valley
Visiting Pear Valley was a last minute decision as we saw the turn-off on our drive back into town for dinner. Sometimes those spur of the moment decisions work in your favor, this was one of those times. We joined a lively, friendly group in the tasting room and quickly learned it was acutally the wine maker and the owner, Tom Maas along with some locals in for a visit.
Pear Valley wine is made from 100% estate grown fruit. Its current offerings include Chardonnay (one that was aged in oak and another in stainless steel), Sauvignon Blanc, Muscat, Orange Muscat, Merlot, Cabernet Franc, Cabernet Sauvignon, Syrah, Zinfandel and our signature blend named "Distraction"
Paso Robles Wine to Try:
2009 Inspiration
2009 Charbono
2009 Distraction (Pear Vally's signature blend)
2001 Rose (the perfect summer wine)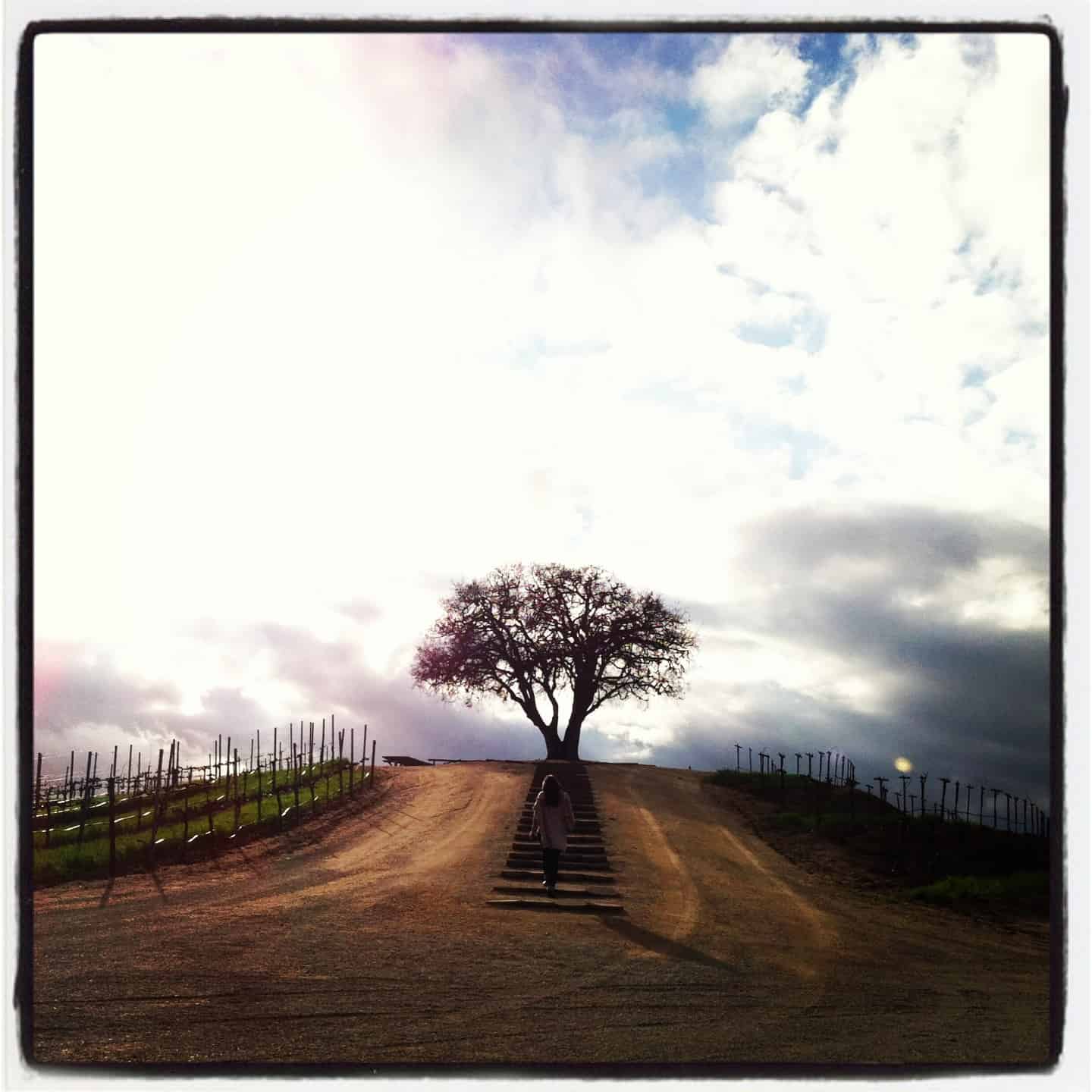 Lone Madrone & Kenneth Volk
I love two-for-one specials and that's exactly what I got when we stopped in for a tasting at Lone Madrone and Kenneth Volk Vineyard. The two vineyards shared a tasting room outside the Fat Cat Farm on the Wast side of Paso Robles. The space was rather unique in that it's an old barn that's been converted into a lovely space with two rooms – one for each vineyard. (When writing this post I learned that Fat Cat Farm closed in June 2013. Lone Madrone has moved its tasting room to a new location across the street from Adelaida Cellars. And Kenneth Volk Vineyard remains at the current location the two used to share.) Both Lone Madrone and Kenneth Volk Vineyard are worth stopping into for a tasting, even if they're not together anymore.
Kenneth Volk Wines to Try:
2009 Grenache, Rio San Benito
2009 Tempranillo, Bella Collina Vineyard
2009 Mourvedre, Enz Vineyard
Lone Madrone Wines to Try:
2009 Old Hat (zinfandel and petite syrah)
2008 The Will
2006 Cabernet Sauvignon
Rotta Winery was one of the first three wineries established in Paso Robles and is the only remaining family owned "original" winery in San Luis Obispo County. The winery's focus is on red wines such as Cabernet Sauvignon, Zinfandel, Merlot, and Black Monukka– a dessert wine, and Zinfandel Port. The winery also is a big proponent of dry farming (noted in the photos above). When you step into the tasting room located in the Templeton hills you get a unique blend of history and modern winemaking technology all at once. The tastings take place in the barrel room where your tasting table is dwarfed by stainless steel tanks that line the wall; Rotta only uses stainless steel to age its wine. Tip: Take a jacket, it's a very cold tasting room.
Paso Robles Wine to Try:
2012 Zinfandel Rose (Loved this wine. It's a perfect, refreshing summer wine.)
2007 Giubbini Vineyard Estate Cabernet Sauvignon

Hope Family Wines
I had little expectations for Hope Family Wines when I came in and saw NO ONE in the tasting room on a Friday. With that said, their wines blew my mind. It is hands down "my find" for this trip. Hope Family Wines consists of five individual brands: Liberty School, Treana, Candor, Austin Hope and Troublemaker. The vineyard cultivates varieties best suited to the Paso Robles area including Cabernet Sauvignon, Syrah, Merlot, Mourvedre and Grenache.
Not only did I fall in love with the Candor Merlot and Liberty School Cab but since we were the only ones in the tasting room we were able to chat with the winemaker, Jason "JC" Diefenderfer and the ever so funny, Robert in marketing to learn more about the vineyard and Paso Robles in general.
Paso Robles Wine to Try (and buy):
Candor Merlot
Liberty School Cabernet Sauvignon 2010
Liberty School Cuvee 2009
Troublemaker by Austin Hope
Treana – white and red
Sculpterra
"Wine? What wine?" I thought as I got lost in the sculpture garden at Sculpterra Winery. The winery has become a destination for wine and art aficionados. It's home to many award winning wines and multimillion dollar sculptures that fill the garden, creating an amazing venue for events or a Sunday picnic. The winery is owned by The Frankel family, where the vineyard produces Cabernet Sauvignon, Zinfandel, Cabernet Franc, Mouvedre, Petite Sirah and Viognier. The vineyard also produces pistachios, and they are delish! While I loved the grounds at Sculpterra and frankly the wines were amazing I have to admit it was the only winery I couldn't wait to get out of. We walked into the rather crowded tasting room on a Thursday afternoon and were greeted not by smiles or a hello but rather by a woman who half-way said, half-way grunted, "If you want to taste, it's $5." We happily paid our $5 for the tasting and then continued the abuse. Perhaps the wine was worth it, or perhaps I should have bought a few bottles and did my own tasting outside in the sculpture garden. Either way the people working that day did not leave a good taste on my palate. Hopefully it was just a bad day in the Sculpterra tasting room and other visitors don't have their experience ruined too.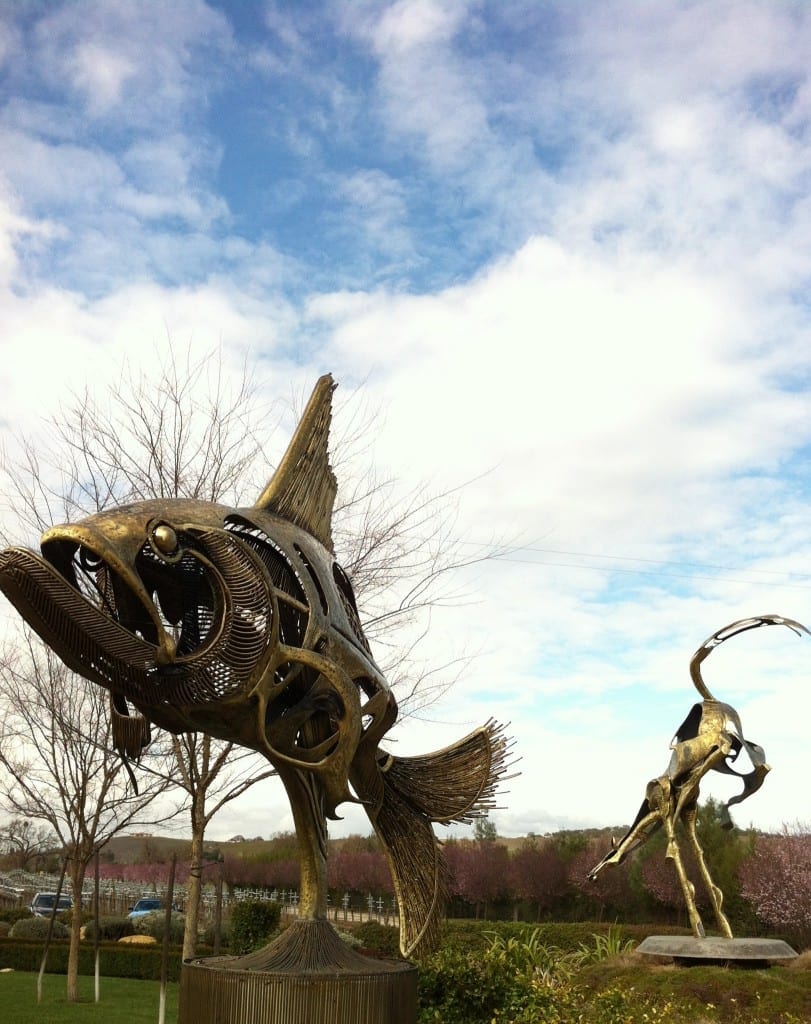 Getting Around Paso Robles
Instead of driving ourselves around Paso Robles we chose to hire someone else to handle the wheel. There are several car and limo services in Paso Robles to choose from, we choose to go with Destination Drivers. The unique thing about Destination Drivers is their drivers offer a chauffeured experience driving you in YOUR own vehicle. They met us at our hotel, drove us to the wineries we wanted to visit, and took us back to our hotel. It was big cost saver when compared to limo and other car services.
Have you been to Paso? What's your favorite Paso Robles wine, winery and why?