Combining the love of travel with the love of wine in New Zealand's Central Otago wine region
By Talek Nantes, Contributing Writer
New Zealand wines are becoming increasingly popular on restaurant menus word wide, especially the delightful, crisp whites. After having recently ordered a New Zealand wine at a restaurant I can see why. I was blown away and immediately began researching New Zealand wines to better understand the regions…and planning my next wine vacation. The first thing I realized about visiting New Zealand wine country is that you need a lot of time to do justice to the wine regions of this beautiful country and its 2000+ vineyards. To give you an idea for just how big we're talking – 
New Zealand vineyards stretch about 1000 miles from the tip of the North Island where the lauded Marlborough Sauvignon Blanc is cultivated to the South Island's Central Otago region, the southernmost wine region on earth.
I eventually limited the wine vacation to New Zealand's Central Otago region, which includes several subregions, each with its own unique characteristics and climate that produce significantly different wines.
Bannockburn, a very hot area where grapes ripen early.
Bendigo, a warm area with its own sub-region and grapes planted at different elevations. The Bendigo sub-region includes the vineyards at Tarras and Maori Point.
Gibbston in a green valley surrounded by mountains where the vines are planted. It is the highest and coolest of the sub-regions.
The Alexandra Basin where many of the highest temperatures in the country are recorded. Fortunately, a cool river runs through the area.      
Wanaka is the smallest of the sub-regions but what it lacks in size it more than makes up for in wine quality. This regions is also where most visitors base themselves as it is centrally located and there are many nearby activities. 
EXPLORING CENTRAL OTAGO WINE REGION
Central Otago wine region is a place of jaw dropping natural beauty. It offers sweeping views of snow-capped mountains and lakes created from receding prehistoric glaciers. The vineyards specialize in Pinot Noir, Pinot Gris but you'll also find Rieslings and other wines.  
A great way to enjoy the Central Otago area is to travel there via Route 6 going south from Greymouth on the South Island's west coast. You'll soon come to the glacier towns of Franz Joseph and Fox Glacier. If you're feeling daring, take a helicopter ride over the glaciers. Guaranteed your heart and stomach will change places as you soar over an icy precipice and float towards another glacier. The helicopter lands on glaciers you can actually walk on!
Further south on Route 6 you'll come to the total opposite of snow-capped mountains and glaciers, a temperate rainforest. These two diametrically opposed geographies are within a few miles of each other and are equally fascinating.
Temperate rain forests are humid, thick with exotic vegetation and carpeted with moss in every imaginable variation of green. The air is thick with insects. Alien looking plant life looms everywhere. The scenery is so primitive looking you almost expect a dinosaur to peek through the vegetation.
The rain forests are exhilarating to hike during the day, but for a once-in-a-lifetime experience, walk a few meters into the forest at night with a flashlight then turn off the light. You will be surrounded by thousands of fireflies creating a spectacular, unforgettable lightshow!
About three and a half hours south of the glacier towns on Route 6 is Wanaka. This is ground zero for Central Otago wine country. Park yourself here for a couple of days and indulge. Wanaka is on beautiful Lake Wanaka which was formed when glaciers receded. Most of the fun in Wanaka takes place at the lakeside. This is where you will find shops, restaurants and the pubs.   Wanaka is a big tourist town with plenty of hotels and restaurants in all price ranges. Indian food is a specialty and lamb is on most menus. I recommend staying at Edgewater, it is the only hotel actually on the lake. Every room has a lovely view either of the lake or the mountains. Prices start at about $230 USD which is reasonable for what is offered.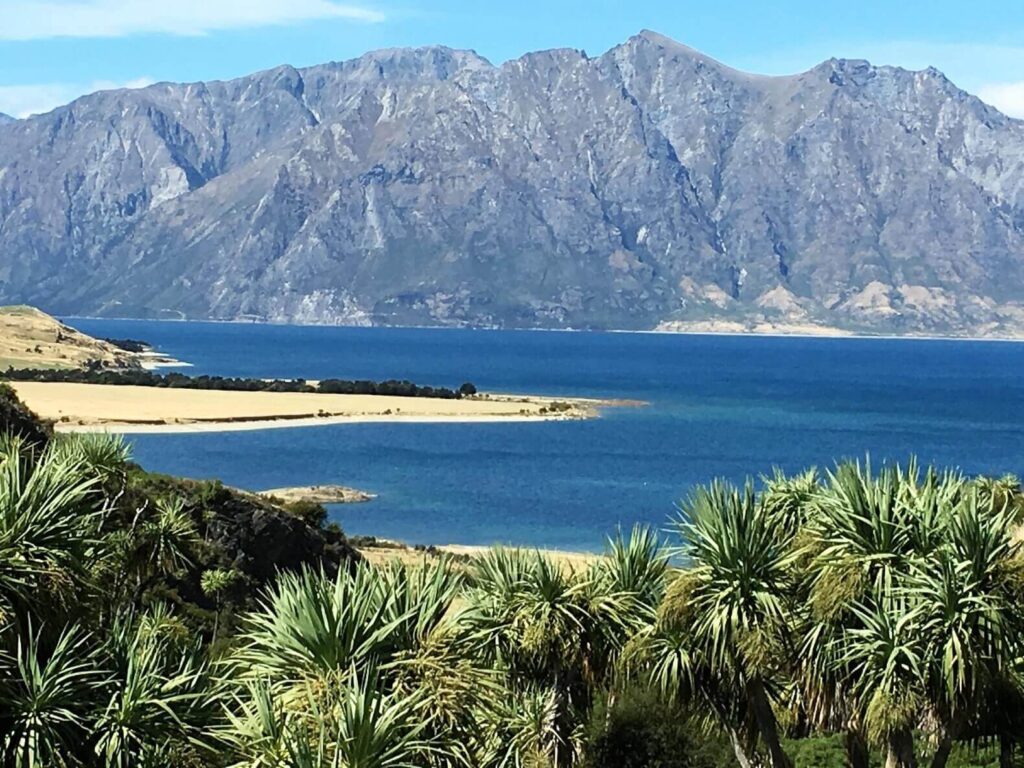 Wanaka has an amazing array of attractions for visitors such as boat rides on the nearby lakes, dinner cruises, hikes, wildlife viewing "safaris", but my focus was on wine tasting. Having never been to the region I wanted to work with a local tour guide – it's usually the best option unless you really know a region. There are a variety of winery tour option in Wanaka, I selected the Wanaka Wine Tours (WWT) company based on the number of wine tastings options they offered. You can choose from three main tours; a two-winery tour; a half-day tour visiting four wineries or a full-day tour to visit six wineries. Like any good oenophiles we opted for the six-winery tour with a wine-paired lunch.  The vineyards included on the the tour were Aitkens Folley, Rippon, Carrick, Akarua, Domain Road and Swallows Crossing. I couldn't tell you which of these were my favorites as they are all little gems nestled in bucolic landscapes and growing amazing wines. (I recommend them all equally for your wine vacation to Wanaka!)    
Talek Nantes is an Amazon best-selling author, digital content creator and founder of the travel blog, www.travelswithtalek.com. She is a passionate travel enthusiast who enjoys sharing her travel experiences with others.