The best winery recommendations from those who REALLY know – the locals.
One of my favorite things to explore when I travel is wineries and what I've found is the locals tend to know the best wineries to visit. On my last trip to Napa Valley and Sonoma County I took advantage of the locals I met – especially those working in the wine industry – by asking them what wineries they would recommend people visit. And, boy did I get a good list! Each day we ended up modifying our next days plan to try and fit in more Napa Valley wineries and Sonoma County wineries that had been recommended. The result = amazing wine finds!
While we weren't able to get to all these recommended Napa Valley wineries and Sonoma County wineries we did get to several. And, I wanted to share the list. I'd love to know if you've visited any of these Napa Valley wineries and Sonoma County wineries, and what you thought about the wines. Going to Napa Valley and Sonoma County soon? Make sure to take note!!!
Napa Valley Wineries
Von Strasser Estate Vineyards
Originally known for its Cabernet Sauvignon, Von Strasser has expanded over the last 25 years to offer three tiers of Cabernet Sauvignon-based wines, Grüner Veltliner, and small amounts of a port-styled wine made from Malbec. What peeked my interest in visiting Von Strasser, besides its Cabernet Sauvignon is the background of the owner and winemaker – he began his career in winemaking as the first American intern for Chateau Lafite-Rothschild in France, then working at Trefethen Winery and Vineyards and Newton Vineyard. That my friends, is a serious resume. We weren't able to vist Von Strasser this time around. Have you been? Want to go – you will need to make a reservation.  (I'm going to be searching for the Cabernet Sauvignon at my wine shop next time I'm there!)
Jericho Canyon Vineyards
Located on a hillside in the Jericho canyon, the vineyard has its grapes ripen later than other vineyards on the valley floor. As a result of letting the fruit hang into late October or early November the small lots of Cabernet Sauvignon, Merlot, and Cabernet Franc produced are full-bodied, complex wine with well balanced tannins.
Tanks Garage Winery
Located in an old gas station in the town of Calistoga Tanks Garage Winery is a small collection of "one off," uniquely-crafted wines in a very cool and fun atmosphere. The winery and tasting room is the dream of two longtime friends turned reality —after decades of collective experience in farming and winemaking, decided to make a go of it on their own. You will need to make a reservation.
Sonoma County Wineries
Located in Russian River Valley in Sonoma County, Christopher Creek Winery is a small, family owned winery producing award winning, estate bottled wines, with annual production around 4,000 cases. Its portfolio includes Cabernet Sauvignon, Zinfandel, Pinot Noir, Chardonnay, Viognier, Port.
Unti Vineyards
Unti Vineyards came highly recommend from the winemaker at Kelham Vineyards in Napa Valley and for good reason. The winery specializes in Mediterranean varietal wines producing small lots of estate grown Barbera, Grenache, Montepulciano, Sangiovese, Syrah, Zinfandel and a dry Rose from Grenache and Mourvedre. We had a chance to swing in for a tasting and I have to say, it's a find. The wines are amazing! You're not going to be able to find much of it wine outside of the tasting room since the majority is sold onsite and through its membership program; only three percent of the wine actually leaves the state of California. A few favorites to try are the Rose, which is made from Grenache and Mourvedre, the Grenanch and Barbera. If you do visit, there are picnic tables outside so grab a bottle and enjoy your lunch!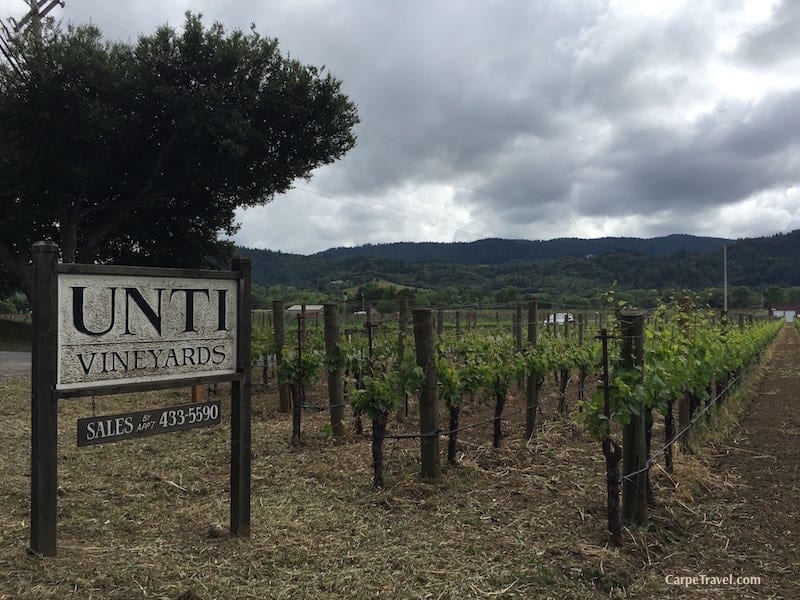 Aperture Cellars
It's not easy to find Aperture Cellars – the tasting room and the wine. We walked all over downtown Healdsburg searching for the tasting room, which turned out to be an art gallery showcasing the works of the winemakers father, Andy Katz. By the time we finally found the tasting room, it was closed. I was disappointed since the Aperture Cabernet Sauvignon had come highly recommended AND the winemaker, Jesse Katz grew up in Boulder, Colorado. All the wines are also sold out online. Until the next vintage…
Stonestreet Estate Vineyards
There are two tasting rooms for Stonestreet Estate Vineyards, a tasting room in downtown Healdsburg, as well as onsite at the vineyard. We visited the downtown tasting room, which was a great way to sample the wines – Cabernet Sauvignon, Chardonnay and Sauvignon Blanc. However, if you have a chance to visit the vineyard I suggest you do so. Ranging in elevation from 400ft to 2400ft, Stonestreet Estate Vineyards stands as the one largest and most extensive mountain vineyards in the world. As a result of the variety of elevations and soil compositions, the wines produced are bold with distinctive flavor profiles of the Mayacamas Mountain Range.
Iron Horse Vineyards
Iron Horse is an independent estate and family owned winery in Sonoma County, in the heart of the Green Valley AVA. There are approximately 160 acres in vine, planted exclusively to Chardonnay and Pinot Noir. They also produce 12 different sparking wine cuvées, ranging from Ocean Reserve Blanc de Blancs, made from 100% Chardonnay, to a dry Brut Rosé.
Peay Vineyards
Located in the northern section of the West Sonoma Coast, Peay Vineyards produces small quantities of Pinot Noir, Syrah, and Chardonnay – some under 100 cases. We didn't have a chance to visit Peay this time around. Have you been to this Sonoma County Winery? Ever had the wine?
Hanna Winery
With 600 acres of land in the Sonoma County's Russian River Valley, Alexander Valley and the Mayacamas Mountains blends the viticultural diversity of fruit cultivated in its four vineyard estates. The winery is most commonly known for its Russian River Valley Sauvignon Blanc and Chardonnay, as well as its Alexander Valley Cabernet Sauvignon. It also produces a big, fruit-forward Zinfandel. (Mix it with a strawberry and it's simply amazing!!!)
Have you visited any of these Napa Valley wineries or Sonoma County wineries? I'd love to know hear your thoughts in the comments.