Our frequent readers (thank you!) may recall a post I did last year about a trip to New York City that included a stop at Italian Wine Merchants (IWM). I was on a hunt for a New York City wine tasting and much to my disappointment, I didn't quite get it. Well, my snarky and punchy post did generate a response from the shop's founder, Sergio Esposito. He promised a better experience next time if I gave him the chance to provide. Well, I did and so did he.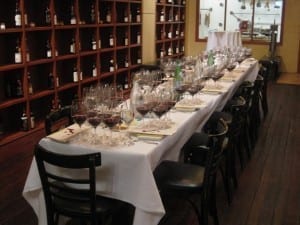 But, to back track a little, I want to acknowledge that perhaps I took things too personal a year ago. Owning my weakness: I have a tendency to think the worst about what people think of me. At lunch recently one of my employees started a discussion on poor service. He said he prefers to give the service provider the benefit of the doubt, reminding himself everyone has a bad day once in a while. Wow, to have that positive outlook in my genetic make-up! I'm certainly not pre-disposed to that, but it's certainly within my power to make an effort to remind myself of such realities. So, while I know I'm unlikely to have that as my natural reaction, I pledge to make an effort to not assume the worst – especially when it comes to how others are responding to me. Who knows, I might even find focusing on the positive makes me a happier person! Wish me luck!
But, back to my return to Italian Wine Merchants. What a hook up! I was in touch with Mr. Esposito during my travels through Italy earlier this year. How cool is that!? He was going to try to meet me in Piemonte, but ended up in other parts of the country.
During my weekend in NYC Italian Wine Merchants was hosting a Studio Regional Tasting: Tuscan Treasures. The event was about $70 a person (their public wine tastings range from $70 to $99 plus depending on the wines being poured); the event lasts about two hours with tastings of six wines, paired cheeses, salumi, breads, and a presentation of the wines by the shop's sommelier. I was given two seats for the event. And, it seemed as though all my NYC friends were either busy or out of town that weekend. I hated to let that seat go to waste. And, luckily it didn't come to that!
Wine Tasting in New York City Eve: Dinner at Eataly
The trip came to be because of a business trip in Poughkeepsie, NY. I had the points for two comp'd Hilton nights (Hilton Garden Inn-Chelsea is a fantastic location, but the hotel was disappointing), combine that with a company-purchased flight and a complimentary wine tasting and it was a perfect weekend.
I found myself at Eataly for dinner on Friday night. What a madhouse. The year before I took a walk through of the ginormous Italian marketplace. A bit of a claustrophobe, I bolted shortly after entering. But, this year I decided it was the perfect place to get my Italy fix. Eataly features eleven dining options. I found about the only seat at the counter bar at the seafood nook, Il Pesce. I copied the patrons sitting next to me by ordering the fresh scallop special. It just looked so incredible – and it tasted even better! Pretty soon the three of us were gabbing like old pals. The gal was heading off on a boat trip the next day and had to leave soon to pack. The gentleman was in town from Los Angeles and offered to show me around the East Village where he grew up. It was fun to see the city with a local (he has an apt in the East Village so he is in the City once a month). Perfect – a new friend! And, he had no plans the next day, so that seat was not to be empty after all! Relief!
Off to the Wine Tasting New York City
Tony met me at my hotel around noon and we walked the mile or so to Italian Wine Merchants. We were enthusiastically greeted by the staff – and they didn't even know that I was the jilted girl from last year yet! A long table was set up, packed full of beautiful stems, all shimmering with lovely grape juice from the land of Dolce Vita.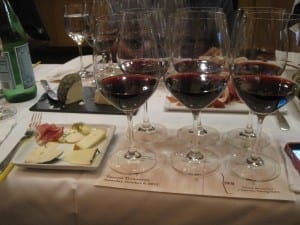 I was giddy. The sommelier, Francesco, personally tracked me down to introduce himself. One of the staffers made sure my seat was to my liking and I even got an email from the person who had been coordinating with me during the week in advance to confirm all was set. Yep, A+ on service. And, to be fair I gave a nod to attentiveness when I arrived the year prior. So, in my new found positive outlook I prefer to believe this is how it always goes at IWM.
There were about 16 or so of us gathered 'round the table. We took our seats and Francesco started our liquid tour of Tuscany. Here's how it went down:
Wine #1: Villa Dei Freschi Chianti Classico Riserva 2006. The wine is 100% sangiovese and the wine house an exclusive sangiovese producer. Bonus Factoid: To gain "Classico" status the wine must be at least 80 percent sangiovese.
Wine #2: Villa Mangiacane Chianti Classico Riserva 2006. This was my favorite Chianto Classico of the day. It was a big wine that pairs well with hearty meats and steaks. Bonus Factoid: The 2006 vintage was one of the best of the decade with a long growing season – hot days and long night.
Wine #3: Col d'Orcia Brunello di Montalcino 2006. The producing estate is comprised of 540 hectares with 142 planted
to vines. The wine had a tremendous change as the tasting went on. In the beginning it wasn't my favorite, but by the end of the two hours it had opened considerably and my palate was smitten. Bonus Factoid: Brunellos are of the most expensive wines produced from the sangiovese grape and the region is small coming in at around just 3,000 acres.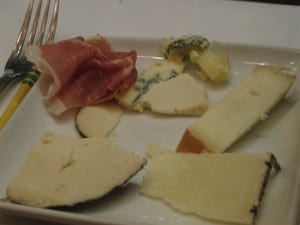 Wine #4: Tenuta Friggiali Brunello di Montalcino 2006. I adored this wine from the very first taste with its earthly elegance. And, it only got better as it sat in the glass with the minutes ticking away. Bonus Factoid: Brunellos are 100% sangiovese with an extended maceration period (very basic maceration explanation: time on the skin and stems producing color and tannins); requires a minimum of three years in a traditional Slovenian botte (large cask).
Wine #5: Le Macchiole Paleo Rosso 2005 – Cabernet Franc. Sigh. My favorite wine of the day. There is nothing quite like a well done cab franc – especially from Bolgheri – in my humble opinion. It was the second 100% cab franc I've tasted from the region. The beautiful expression of the grape rivals the likes of Bolgheri's top wine houses, Ornellaia, and Sassiciai, making Bordeaux blends out of Tuscany. Legendary producer Sassicaia was the first to plant cabernet sauvignon at his Bolgheri estate, Tenuta San Guido, in 1944.
Wine #6: Grattamacco Toscana 1991 – Super Tuscan blend: cab, merlot, sangiovese. A true Super Tuscan blend with two primary Bordeaux varietals and the Tuscan standard of sangiovese. I have to admit, while it was a nice wine, I couldn't help but think it was a bit past it's prime, or perhaps it was just drinking a more refined that day. I don't pretend to know enough to tell either way. Bonus Factoid: The region is situated about 60 miles southwest of Florence with a latitude similar to Montalcino and Montepulciano. The difference is in it's proximity to the sea resulting in a maritime influence. The wines exude a salty flavor.
Wine Service
All the wines were poured directly into the glass and saw an hour in the glass before the tasting started. The time in the glass discussion led to one of temperatures to serve wines – bubbles, whites, and reds alike.
As for wine storage, keep at approximately 55 degrees (do not exceed 57 degrees or go below 53 degree) with 65 percent humidity. In terms of service, Francesco offered some temperature numbers and tips: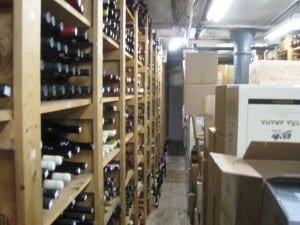 Older Wines: As wines age serve them warmer so the flavors come through. You want to appreciate its sugar content.
Sparkling: Serve at cellar temps; being more fruit-driven, proseccos drink better cooler.
Whites: NEVER server at refrigerator temperature. If you are taking a white out of the fridge, let is sit for a bit so it's not as chilled to get the true flavors.
Reds: Varies depending on age and varietal. Example: Sever a Bordeaux a couple degrees below room temperature, while a light, fruity Beaujolais drinks best about six degrees below room temperature.
The tasting ended with a trip through IWM cellar. Francesco told us they scale back on shipping during the summer to mitigate heat damage. That said a lot to me about the shop's commitment to bringing the best wines to their customers. He told us at the beginning of the tasting that the shop only stocks wines that inspire them – and they try to span price points. In example, they only have about half a dozen different chiantis in their inventory. But, it's their definition of the best of the best (after the tasting, I trust 'em).
Italian Wine Merchants is a true gem. I encourage everyone to explore the wines and if you are looking to learn more about wine (especially Italian) attend one of their wine tasting events. I was not disappointed. And, I will certainly be back for another when I return to NYC.
Dear Mr. Esposito, grazie mille! What an amazing experience!
Also Read:
New York City: A Trip to Italian Wine Merchants
Tuscany Wine Adventures: Wine tasting in Greve in Chianti