Written in partnership with Hotels.com
One of my favorite cities in the United States is New Orleans. It's there where I first made my big plans to begin traveling the world, which led me down the road I'm now on. It was also in New Orleans where my love for wine and food pairings began over a plate of BBQ shrimp and a chilled Chardonnay. I truly love the Crescent City…so much so that The Husband and I visit nearly every year. But, never with the kids. At least not until our last visit when both the Princesses and The Husband's parents joined us. To say it was a different kind of trip would be an understatement.
While it wasn't my favorite visit to New Orleans, we pulled it off and had a great time. Both the kids now share our love for New Orleans and want to attend The Husband's alma mater, Loyola. And, the grandparents…well they survived. The trick was knowing where to go and where to stay. After visiting nearly every year for 20 years we knew we could make it happen. Let's take a look at a few places in the Big Easy that might have you clamoring to take your kids too.
Hotels in New Orleans
One of the most important things to keep in mind when you are traveling with kids to New Orleans is finding the right hotel. Hotels.com.com asked me to share my top picks for this piece.
First off, do not stay in the French Quarter. It's a 24-hour party and young kids do not need to be exposed to a lot of what's happening. Instead, opt for the Garden District. It's a quick ride on the Streetcar into the French Quarter on the days you want to explore and shop downtown. My kids looooved riding the Streetcar.
I've personally stayed at all of the following hotels and can vouch for them being family friendly. When we visited New Orleans with our kids we did stay at the Columns Hotel. I loved having connecting rooms and yard where they could run around while we enjoyed happy hour or our morning coffee. With littles, having that yard to run is huge!'
Columns Hotel | Hotel Indigo | Hampton Inn | Avenue Plaza
Family Friendly Activities in New Orleans
Garden District

Since you'll be staying in the Garden District, you will be surrounded by gorgeous southern mansions that are the stuff of movie legend. Take a stroll through Uptown or jump on the Streetcar to see all the grandeur along St. Charles Avenue.
Jump on the Streetcar and visit the Loyola New Orleans campus. It's beautiful…and small so you can literally walk around the entire campus in less than 30 minutes. I also suggest you take a stroll down Magazine St. It's home to some great boutiques and delicious restaurants.
Frenchmen Street
Frenchmen Street is the place to go for New Orleans nightlife – don't go there at night with your kids. For a more PG-rated experience visit during the day. On Frenchman Street you will find places like the Spotted Cat, and Snug Harbor that crank up live music day and night. They feature some of the best musicians in the city and the concerts there are…better than most you would find in a stadium venue. Plus, the food on Frenchman Street is quite tasty – make sure to hit The Praline Connection.
Mardi Gras World
Ever want to get an inside look at what happens behind at Mardi Gras – without actually going to the biggest party in the country? Just visit Mardi Gras World. This warehouse by the Port of New Orleans is where a lot of the preparation for Mardi Gras floats takes place. Visitors can take a 90-minute walking tour to see people working on building and decorating the huge floats that will fill the parade routes in that following festival.

Experience Life in the Bayou
The Bourbon Street nonsense seems worlds away when you head just 45 minutes outside of New Orleans into the bayou. Riding through the murky water on a flat-bottomed boat with a local tour guide is an awesome way to not only see a different side of the area but to learn about the importance of the swamps for our environment, see alligator in their natural habitat. You might even get to feed them. (Check out Cajun Bayou and Swap Tours and/or Jean Lafitte Swamp & Bayou Boat Tour)
New Orleans Cemetery Tour
Depending on your kids ages and interest will depend on if you want to do a cemetery tour. I personally think the cemetery's in New Orleans are fascinating. The art they hold. The history. The process of burying above ground. It's all so interesting, but it can also be a little scary for kids. If you're traveling with tweens and teens you should be fine. Regardless, make sure to talk to the tour guide ahead of time to understand what will be discussed on the tour.

Audubon Park
The park plays host to the New Orleans Zoo, and features more gorgeous southern estates and of course oak tree lined streets. When you're finished, you can give brunch a try at the Audubon Clubhouse Café. Ask for a table that overlooks the park. If you get lucky, you will be seated on a beautiful veranda with an amazing view. This is so much better than Bourbon Street.
Jackson Square
My favorite Saturday or Sunday mornings in New Orleans have been spent in Jackson Square eating Beignets at Café Du Monde and sipping coffee followed but a walk through the maze of local artists displaying their latest masterpiece's. When you're down there it's also a great time to take a carriage ride through the French Quarter. The guides are great in sharing some of the history and fun stories that have taken place in Quarter. The kids will love the donkey's.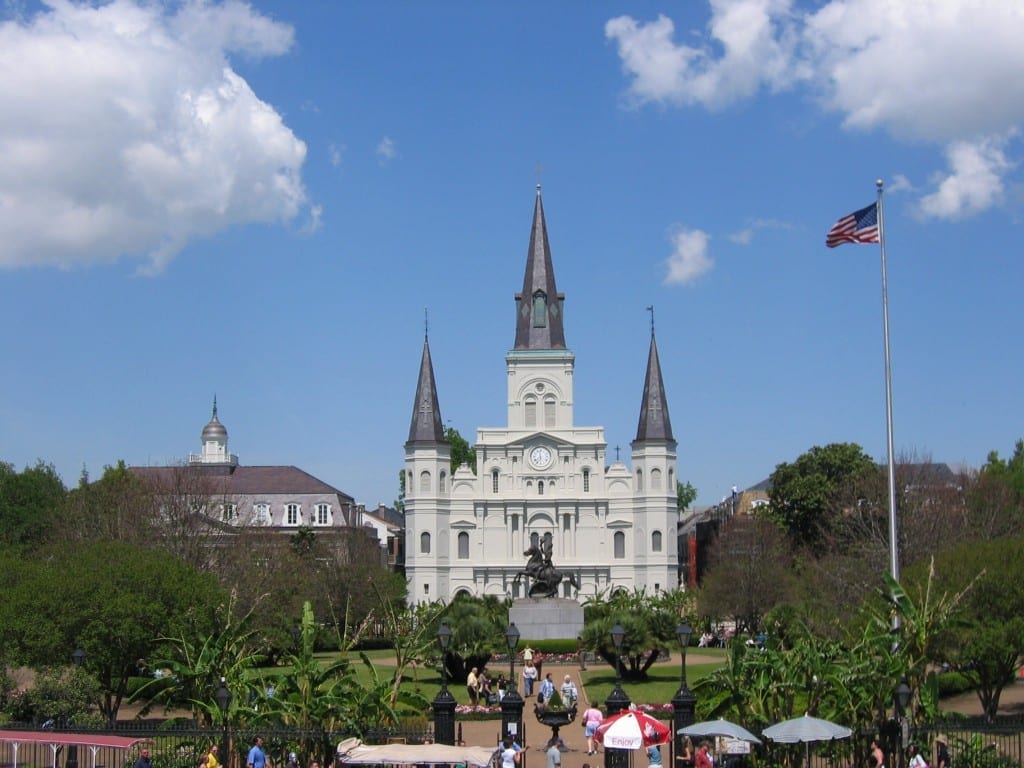 Steamboat Natchez
One of more unique and memorable New Orleans experiences is take an afternoon cruise on an authentic steam-powered sternwheel paddleboat. Riding up and down the Mississippi River you will see historic sites in the French Quarter, while listening to a live jazz band. The Steamboat Natchez is a well-established company that offers two daily harbor cruises, as well as a dinner and Sunday brunch cruise. If you're kids are older, doing the Sunday brunch would be a fun experience, otherwise, stick to the two-hour river cruise.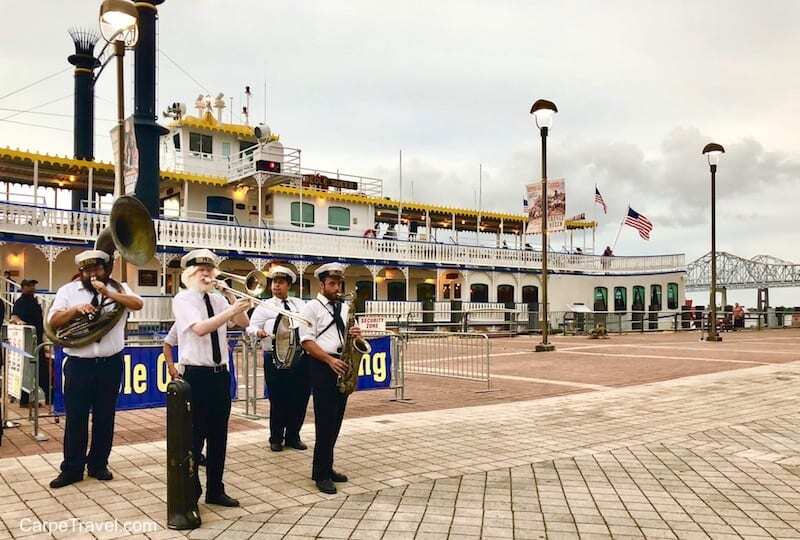 City Park
This year, USA Today 10 Best named New Orleans City Park among the 'Ten Best Things to Do with the Kids in New Orleans'. With its many attractions, events, and open green spaces, City Park's 1300 acres is a dream destination for anyone year-round. Here you will not only find stunning greenspace but the New Orleans Museum of Art, Sydney and Walda Besthoff Sculpture Garden, Louisiana Children's Museum, a fairy-tale sculpture playground, and the kids favorite – the Carousel Gardens Amusement Park. To top things off, a new Café du Monde Beignet restaurant opened in the park.
The National WWII Museum
One of the most comprehensive collections on WWII is housed in the Warehouse District of New Orleans at The National WWII Museum. In fact, Congress has designated it as the official WWII museum of the United States.
"The National WWII Museum tells the story of the American experience in the war that changed the world—why it was fought, how it was won, and what it means today—so that all generations will understand the price of freedom and be inspired by what they learn."
While kids may not love museums, The National WWII Museum features immersive exhibits, multimedia experiences including a 4-D movie presentation, and an expansive collection of artifacts that make your visit both educational and entertaining. To make the most of a visit, consider doing one of the behind the scenes tours – especially for tweens and teens who may need a little more engagement.