Sagrantino (sah-grawn-tea-noh) is Italy's monster grape found predominantly in the Umbria wine region of Italy, home to nearly all of the world's production.
The small-berried powerhouse Sagrantino grape has markedly thick skin resulting in highly structured, tannic wines. The tannin-level in Sagrantino wine is stronger than even Italy's beloved tannic beauty of Nebbiolo. Don't let the mouth-drying profile scare you away, though. Modern winemaking styles are giving way to more approachable, younger drinking Sagrantino wine.
Dominant flavors of blackberry and black cherry with hints of spice and earthy notes.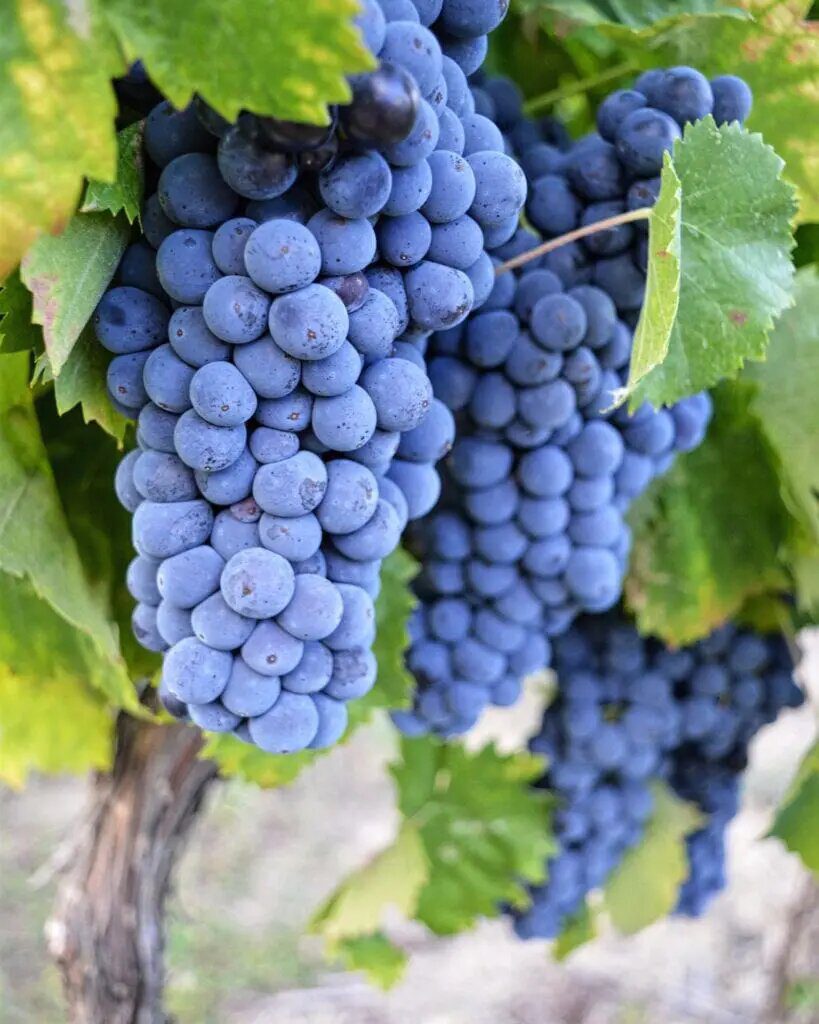 Fun Fact
The name Sagrantino is derived from the Italian word "sacramento", meaning sacrament. In medieval times, Sagrantino was strictly produced as a sweet wine for religious rites by area monks. Today that wine lives on as Sagrantino Passito with flavors bursting with bittersweet chocolate and sweet black fruits.
For centuries Sagrantino wine was primarily served for occasions like religious feasts and area feste (festivals). By the 1960s, that specialized use limited production to such a degree that the grape was died out. Then a smattering of local contadini (Italian farmers) began work to bring it back to life in the Umbrian hills. Most notably in Umbria's famed Montefalco hills.​​
In Umbria, Sagrantino received DOC status in 1978 and was further elevated to DOCG status in 1992.
Due to the grape's intense tannic structure, DOCG requirements dictate minimum aging of up to 37 months with at least 12 months in wood. (A guide to understanding Italian wine classifications.)​​
WHERE TO FIND THE SAGRANTINO GRAPE
Ninety percent of all Sagrantino cultivation is in central Italy's Umbria region.
In Umbria, you find a unique microclimate of temperate weather with mountain breezes that cool the hottest of days.
Sagrantino's most famous growing area is Montefalco where clay soils are sprinkled with patches of sand and limestone. The soil content tempers the roots and forces the vines deep to find water.
In Montefalco, you find Sagrantino Rosso (Sagrantino blended with Sangiovese), Sagrantino di Montefalco DOCG, and Sagrantino Passito.
WHEN IS THE RIGHT MOOD FOR SAGRANTINO WINE?
HOW TO ENJOY SAGRANTINO
SAGRANTINO FOOD PAIRING
With Sagrantino's high tannin level, fatty, rich dishes work well. We suggest red meat, pork, and mushrooms.
PRACTICAL TIPS FOR SAGRANTINO WINE
Glassware: Oversized red wine glass with a large bowl.
Shelf life: The hefty tannins make it very ageable. Sagrantino wine ages 10+ years.
Serving Tip: This wine benefits from lengthy decanting to soften the tannins.
SAGRANTINO WINE RECOMMENDATIONS
Looking for Sagrantino recommendations? Here are a few suggested sips.
Carpe Travel collaborated with Valerie Quintanilla to compile the grape varietal overviews. Valerie and her son Il Ragazzino reside in Barolo, Piedmont, Italy, by way of Denver, Colo. She runs a custom Italian travel planning business while moonlighting as a marketing consultant for European wine and travel companies. She has been featured in Wine Enthusiast, Food & Wine Magazine, Open Skies (Emirate Airlines inflight magazine), and more. Follow her expat and wine chronicles here https://linktr.ee/valeriekq.