Spaghetti and Meatballs Wine Pairing
During the last six weeks of Denver's stay at home order, due to You-Know-What, restaurants have been closed for everything minus delivery and carry out. Until the order went into place, we really haven't done a lot of carry out. Mainly because when we're not traveling we usually like to cook or visit one of our handful of go-to restaurants. But that's all changed.
One of the highlights of our life under the stay at home order has become our weekly carry-out dining experiences. We've had a lot of fun – and delicious experiences – exploring new restaurants right here in Denver. Which, brings me to what I hope will become a more ongoing and permanent series of post for Carpe Travel, even after life in quarantine.
Carpe Travel's Featured Restaurant, Food and Wine Pairing
One of my friends recently opened Restaurant Olivia, a new Italian restaurant here in Denver. It's literally six blocks from my house and I had yet to visit before the stay at home order. So I was R.E.A.L.L.Y. embarrassed when I called her to see if they're doing takeout. Luckily they are AND they're doing so much more. The three owners – Austin Carson, Heather Morrison, and Chef Ty Leon – are helping to feed those in need in Denver through $10 donations people make with their takeout orders. These guys are feeding hundreds of people in need each week!!! One of those meals going to families and first responders is Chef Ty's delicious Spaghetti and Meatballs. He was kind enough to share the recipe for all of you who are not in Denver to enjoy at home.
 If you're in Denver, you can still make it at home BUT you should totally order take out and make a $10 donation to feed a family! If you do order, the Focaccia bread, charred artichoke and lemon olive oil cake are musts to pair with any of their entrees.
Suggested Wine Pairing
Pair this Spaghetti and Meatballs with an Italian Chianti or Sangiovese.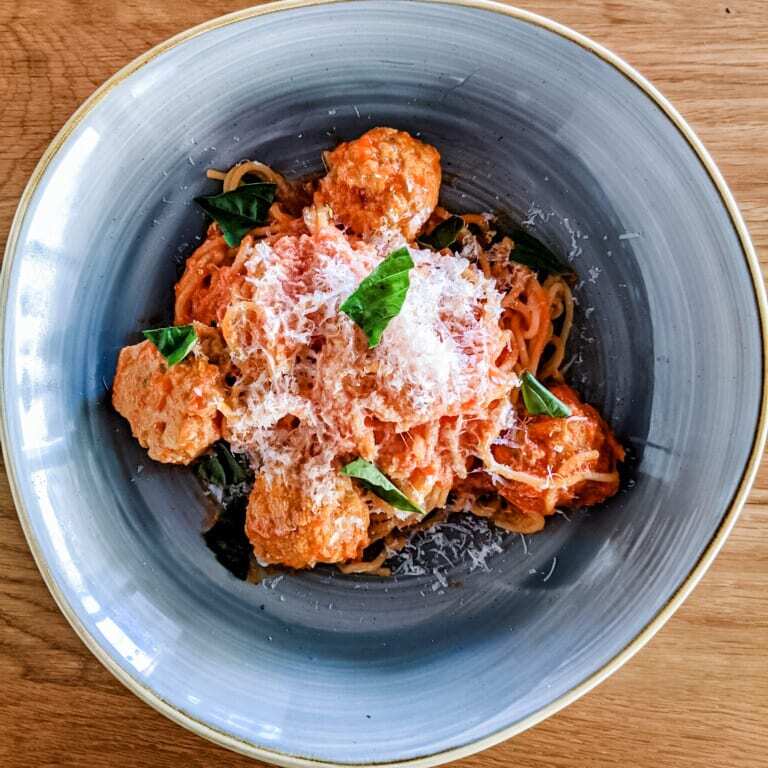 Ingredients
Sauce Pomodoro
36 Cloves Garlic
1 ¼ cup Olive Oil
1 cup Blended Oil
1, #10 Can Tomatoes
2 Tbsp Fennel Seeds
2 tsp Chili Flakes
3 Sprigs Basil
2 Tbsp Salt
Pork Meatballs
3 ½ Pounds Ground Pork
2 Onions, Diced
12 Cloves Garlic, Chopped
¾ cup Olive Oil
11 oz Focaccia, or other day old bread, torn into small pieces
2 cups Milk
8 Eggs
7 oz Parm, Grated, plus more for plating
2 tsp Chili Flakes
1 cup Basil, Chopped, plus more for plating
4 tsp Salt
2 Pounds Cooked Spaghetti
Instructions
Sauce Pomodoro
1. Toast the Garlic in the oils until very soft, fragrant and golden brown. Once the garlic is cooked, add the rest of the ingredients and cook on a low simmer for 1 hour.
2. After the hour, pull out sprigs of Basil and blend the sauce up until smooth. The sauce has a lot of oil in it, and will break if not blended up enough. Keep hot until your meatballs are finished.
Pork Meatballs
In a pot, Sweat out the onions and garlic in the olive oil. Make sure to do it on low heat so that the they dosn't get any color on them, cook until they are very soft and translucent then cool on a tray.
In a bowl, combine your torn focaccia, milk, eggs, parm, chili flakes, basil and salt.
Mix until well combined.
Add your pork and cooled onion and garlic mix to the bowl and mix to combine. Mix everything with your hands, not a mixer, so the mixture doesn't get tough.
Chill in the fridge for about an hour so as to stiffen up the mixture to make it easier to handle. Using a portion scoop (Black) portion all the meatballs on a sheet tray with parchment paper. Make sure they are tightly packed so they don't fall apart.
Bake at 400 degrees for 15 minutes, then rotate the tray and bake for another 10 minutes. Remove the tray from the oven and cool. Reserve cool for service or put the meatballs in a bot with some of the pomodoro.
Gently simmer for about 10 minutes, until the meatballs are very hot in the middle. Pour over the cooked Spaghetti and garnish with torn basil and plenty of grated Parmesan.