With more than two dozen wine tasting rooms, downtown Healdsburg is one of Sonoma County's top spots for enjoying a day of wine tasting without ever having to drive. Many Healdsburg wineries have opened tasting rooms in the downtown area in an effort to introduce their wines to more people. Making Healdsburg tasting rooms a great way to explore more of what Sonoma County offers.
On a few of my last visits to Sonoma I've had the chance to spend some time exploring the downtown Healdsburg tasting rooms. It's extremely easy to do especially when you're staying in Healdsburg, which is a great home base for the Sonoma County wine country. It's also an excellent opportunity to get to a few more Healdsburg wineries you may not be able to visit in the wine country given their distance or your ability to get to their onsite location.
Nestled in the winegrowing regions of Alexander Valley, Russian River Valley, Dry Creek Valley, and Chalk Hill, Healdsburg was once a small farming town but is now a chic, one-stop sipping destination in the heart of Sonoma County. In addition to the tasting rooms, Healdsburg is home to a number of art galleries, boutiques, cafes, and Michelin Star restaurants.
I've outlined a few of the top Healdsburg tasting rooms that are a must-sip, and paired them with a few of the best restaurants and hotels for a more, well-rounded wine country getaway. There is one drawback to these urban wine tasting rooms, they're all lacking vineyard views. So, I highly suggest you still get outside of town to explore the neighboring vineyards.
One Stop Sipping in Downtown Healdsburg Tasting Rooms
One of my favorite hotels in Healdsburg is the H2 Hotel, which is located toward the south end of town, making it a perfect spot to either end or begin your exploration of Healdsburg tasting rooms.
My perfect day of wine tasting in downtown Healdsburg would look like this…
Begin the morning with breakfast and coffee either at Spoon, located in the H2 Hotel or the Parish Café, a few blocks from the hotel. Another option is the Costeaux French Bakery – amazing! But it throws off the route for my tasting tour. If you could care less, and want to walk off your breakfast then head there. You won't be disappointed. (It opens at 7 am, so you could go early then head back to the hotel to change and then out for tastings after 10:30 am when most Healdsburg tasting rooms open.
Leaving from the H2 Hotel walk up to either at La Crema or Williamson Wine (or both if you're sharing a wine tasting). Then you're on your way over to Stonestreet Winery for some stunning Cabs.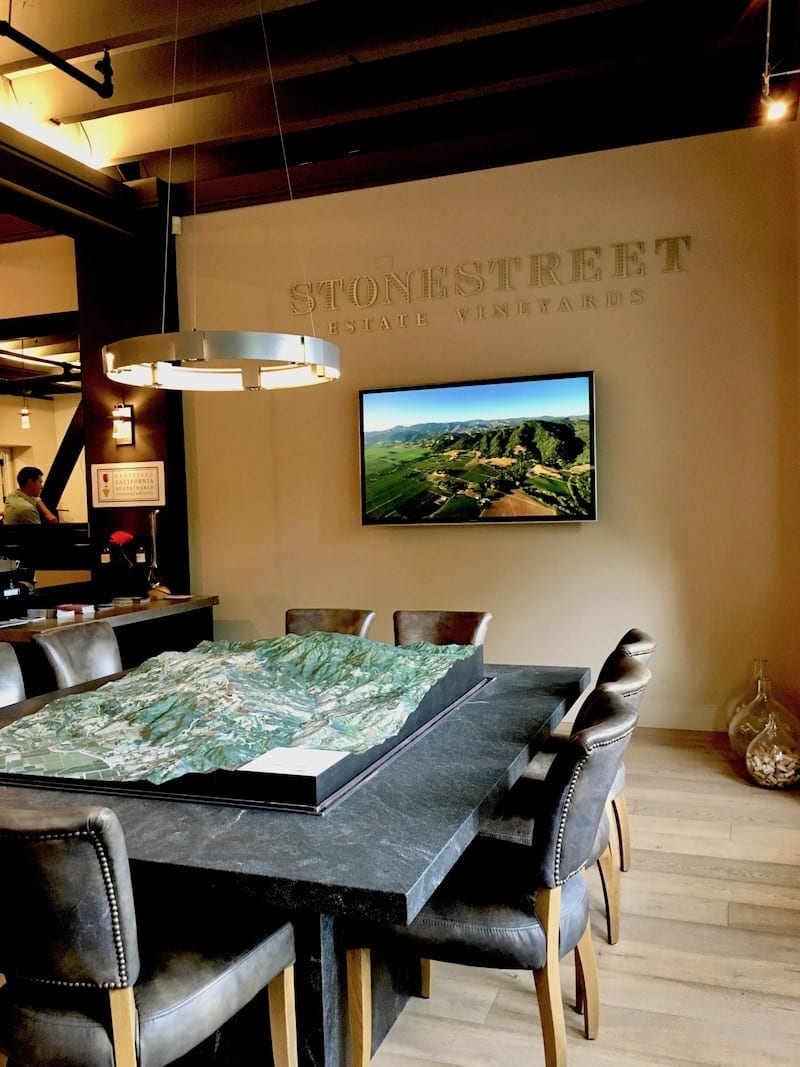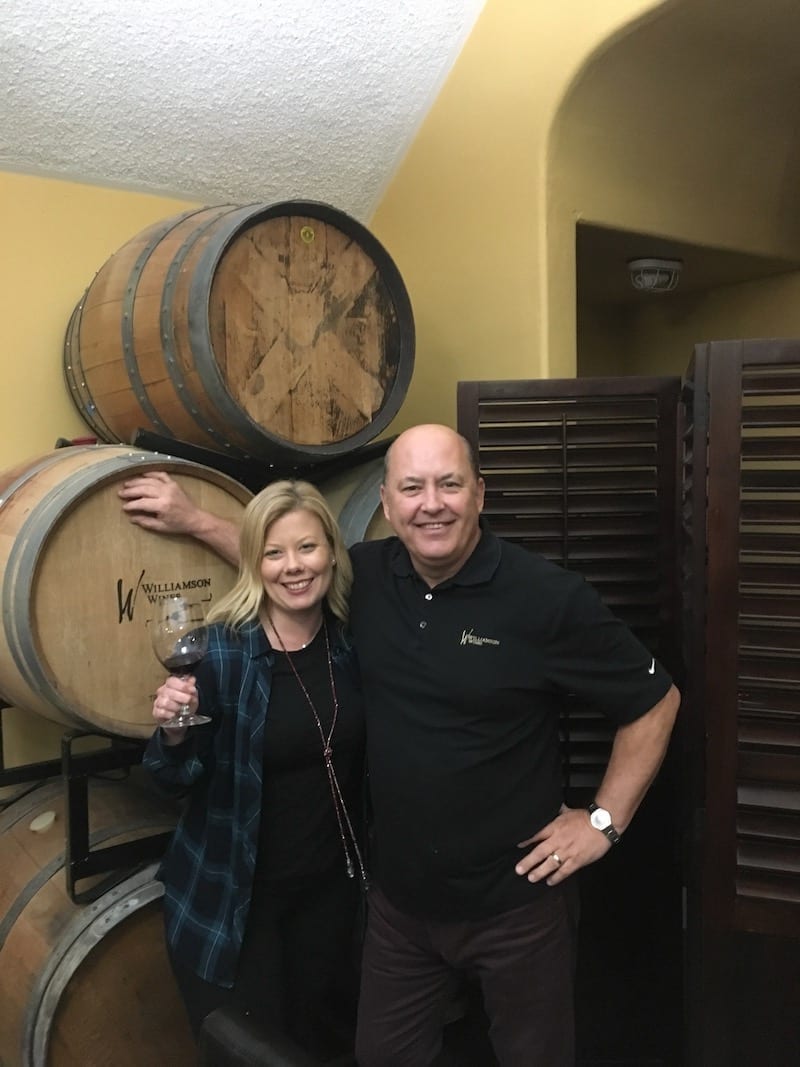 It's about a 15-minute walk to Seghesio but it's well worth it for the wine tasting and four-course lunch pairing. (The Seghesio wine tasting room is at the complete opposite end of town as the H2 Hotel, see the map below for reference.) Make sure to make a reservation for this. On your way there, it's a great time to do some window shopping (or real shopping).
After lunch at Seghesio, you'll be heading back into the main downtown area. Walking is a welcomed treat at this point given the lunch and wine that's been consumed. Grab a coffee or tea at Costeaux French Bakery and make your way down Healdsburg Ave and into the Plaza to check out a few of the art galleries and shops you didn't pop into on your way up to Seghesio.
If you're up for more wine tasting, I would suggest you check out Idlewild Wines, LIOCO, Siduri, Selby Winery, Banshee Wines, or Longboard Vineyards. Not all of them of course, pick one or two and then head back to the hotel for a quick siesta before dinner.
As for dinner, I personally love Chalkboard, Valette and Willi's Seafood & Raw Bar. However, I REALLY WANT TO GO TO Single Thread. I wasn't able to get in on my last visit. This restaurant is a three Michelin Star culinary experience that offers an 11-course, tasting menu for dinner. If you do get a reservation for here, skip the after lunch wine tastings to save your palate.
WINE TASTING TIP: Most downtown Healdsburg tasting rooms charge a tasting fee. Expect to pay $10 or more to taste, the fee may be waived with a purchase. Keep in mind, two people can always share a tasting. Not only will you save money but you may be able to make it to a few additional wineries.
Where to Eat in Downtown Healdsburg
Looking for a few things to do in Healdsburg that are beyond the tasting rooms?
There are more than two dozen art galleries are within walking in the downtown area.
The Healdsburg Museum and Historical Society hosts exhibits about the rich history of Healdsburg and surrounding areas.
Take a walk along the Russian River.
Shop. Shop. Shop. The plaza in downtown Healdsburg is home to some amazing boutiques.
Personal Recommendations for Hotels in Downtown Healdsburg
SingleThread Farm – Restaurant & Inn – If you stay here, a full-service breakfast is included in the stay. I also suggest you make reservations for dinner at the Michelin three-star restaurant at least one of the nights during your stay.
H2 Hotel – I really enjoyed my stay at the H2 Hotel. The hotel is vibrant, clean, colorful and extremely focused on sustainability and clean energy. One of the coolest things I loved was the green roof. It's a huge garden!
Looking for more things to do in Sonoma County? See Carpe Travel's wine travel guide for Sonoma, Napa Valley and other wine regions in California.