Colorado is synonymous with winter. In fact, the state is one of the top winter destinations in the world, but it's not just a winter snow skiing and boarding destination. Across the state, hotels, lodges, ranches and even yurts have elevated their offerings to appease guests and create an unforgettable winter vacation, many of which have nothing to do with skiing and boarding. You'll find that Colorado's distinctive lodging options are as varied as the state's breathtaking landscapes. From backcountry adventures and the return of the ski train to sleeping at a distillery, or a hot spring. Below are several unique winter accommodations you'll find in Colorado. Now, just pray for snow!

Backcountry Hut and Yurt Systems in Colorado
Never Summer Nordic (Walden). Spread throughout secluded locations within the Colorado State Forest State Park near Walden, the Never Summer Nordic Yurts deliver a diverse menu of possibilities that allow guests to choose their own kind of adventure. Nestled along a seemingly endless system of old roads and trails for skiing, some yurts are categorized as "difficult accessibility" and can only be reached by four-wheel drive vehicles, while others have two wheel "drive ups" and wheelchair accessibility. Each yurt is set up with beds, woodstove and basic cooking facilities.
San Juan Hut System. In southwestern Colorado, the San Juan Hut System is designed to accommodate all levels of skiing, snowshoeing and fat-biking abilities with tremendous snow quality and first descent possibilities. The winter hut system offers over 60 miles of cross country trails and access to phenomenal remote backcountry skiing. It is unlikely that guests will cross another's tracks. Huts hold eight people per night and are equipped with padded bunks, a propane cook stove, propane light, wood stove, firewood and necessary utensils and cookware.

Colorado Hut & Yurt Alliance. With about 130 huts and yurts statewide, the owners of each property formed an alliance (the first of its kind in the USA) in 2014 to exchange ideas, act as a common voice for land use issues and collectively work to improve the experience available to the public. Through the website, guests can explore each hut or yurt's unique amenities to find the appropriate accommodations for each trip. The site also offers field information to keep visitors savvy with avalanche hazards, GPS technology, weather and trailhead directions. While the Alliance serves as an aggregate of Colorado's huts and yurts, communication including questions and reservations can be directed to each respective owner.
Lodging with Local Libations in Colorado
Marble Distillery Inn (Carbondale). Born from the purest water, the Crystal River headwaters are filtered through 99.5 percent calcite Yule marble in Marble, Colorado, the same marble used for the Lincoln Memorial and the strongest marble known to man. Pure water and all natural grains are the cornerstone of all Marble small batch spirits. Situated above the distillery and tasting room, The Distillery Inn offers five deluxe rooms in the heart of Colorado's Roaring Fork Valley, that boast hand-selected sustainable materials, sophisticated finishes and elegant Fili D'Oro Italian linens. With a martini bar and balcony in each room, guests can craft up their own Marble Distilling original cocktails to be enjoyed while taking in the views of Mt. Sopris.
The DRAM Lodge (Silver Plume). Guests who are looking for Old West charm and a secluded lifestyle can get lost at the DRAM Lodge in Silver Plume, known as a "living ghost town." Located on Main Street in the National Historic District of Silver Plume, Room 1 is perched above the DRAM workshop where Shae Whitney and Brady Becker craft award winning bitters, teas and syrups. The space is updated to include all modern amenities while still exuding its historic charm. The kitchen is also stocked with DRAM tea and bitters for guests to create delicious beverages. The lodge is walking distance to many snow shoeing trails, the historic Georgetown Loop Railroad and 10 minutes from Loveland Ski area.
Two Rivers Winery and the Chateau (Grand Junction). On Colorado's Western Slope, Two Rivers Winery houses a unique lodging opportunity in the style of a gracious French chateau, with a sweeping staircase and grand halls where guests can spend their days tasting Chardonnays, Merlots, Cabernet Sauvignons, Rieslings, Syrahs and Ports. In the Chateau there are just a handful of rooms, laid out over one floor with views over the 15 acres of vineyards.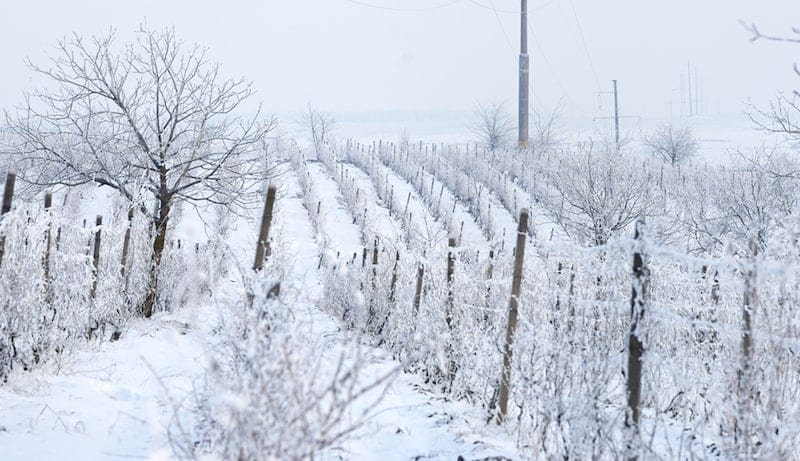 Winter Ranch Getaways in Colorado
Sundance Trail Guest Ranch (Red Feather Lakes). For those who can't leave their furry companions at home, Sundance Trail Guest Ranch is pet friendly all-year long. In the winter months, the ranch offers horseback rides on the trails of the Roosevelt National Forest. Afterward, guests return home to enjoy a massage, stargaze from the hot tub and swap stories in front of a Colorado mountain lodge fireplace. In addition to a complete dude ranch riding program, Sundance offers a lively list of activities in an unstructured atmosphere such as disc golf, billiards, foosball tables and corn hole.
Coulter Lake Guest Ranch (Rifle). Coulter Lake is located three-miles into the White River National Forest that is home to incredible natural beauty and abundant wildlife. There are only six cabins at Coulter Lake with two on the lake and four spread spaciously among the aspen trees for individual privacy. Winter offers some of the best snowmobiling in the state as well as snow shoeing, cross country skiing, sledding, snow forts, snowball fights and more.
Vista Verde Ranch (Steamboat Springs). At Vista Verde Ranch, guests can truly get away in a remote location for all the peace and quiet a family or couple could ask for. In a winter wonderland setting with horses, sleigh bells, crackling fires and luxurious log cabins, guests can revel in the ease of an all-inclusive vacation. Chefs prepare three bountiful meals each day, and the staff is ready to meet every need with authentic Western hospitality. For an adventurous afternoon, visitors can enjoy a variety of activities including snowshoeing and cross-country skiing, fat tire biking, snow tubing, winter horseback riding, backcountry skiing and more.
Hot Springs Winter Warm-Up in Colorado
Avalanche Ranch Cabins and Hot Springs (Redstone). Situated at 7000 feet, overlooking the Crystal River, with Mt. Sopris towering above, the views at Avalanche Ranch are nothing short of dramatic. The 36-acre Ranch offers cozy log cabins, a bedroom loft apartment, ranch house and covered wagons for glamping opportunities. Activities on the ranch include snowshoeing, sledding, ice skating and cross country skiing on the grounds or nearby trails. After a day of play, the hot springs are open around-the-clock for all lodging guests. The three pools are located on site, a short walk from all cabins.
Strawberry Park Hot Springs (Steamboat Springs). Nestled in an aspen grove about 15 minutes from town, Strawberry Park Hot Springs offers a rustic and rejuvenating experience where guests soak in natural spring water in stone pools. Here guests can enjoy a massage in private massage huts and stay the night in a variety of lodging options including a train caboose, cabin, wagon and more. For those who would like an adventure pairing, a 25-minute drive takes guests to Howelsen Hill, the oldest ski area in continuous use in Colorado that also features the largest natural ski-jumping complex in North America.
Antero Hot Springs Cabins (Nathrop). In the heart of the fourteeners region of Colorado in the San Isabel National Forest, Antero Hot Springs offers guests the privacy of their own hand-shaped hot spring pool just outside the door of their cabin. Each large soaking pool is fed by a hot spring on the property and is rich in minerals but low in sulfur. The cabins can accommodate parties of four or up to 10 guests in the Chalk Cliffs Chalet that comes complete with media center, fully equipped kitchen, gas grill and indoor fireplace.
Adventure Inspired Accommodations
Uphill Skiing Program at the Limelight (Aspen). Located in the heart of downtown Aspen, the Limelight Hotel is just steps away from world-class skiing and riding, distinguished dining, shopping and nightlife. In conjunction with the Aspen Snowmass Ski and Snowboard Schools, the Limelight Hotel is offering an uphill skiing program to introduce and engage guests in the growing sport. The uphill skiing program is free to hotel guests and will take place during select dates on Buttermilk Ski Area from 10 a.m. to 2 p.m. Expert ski school instructors will guide newcomers to the sport through the process of learning how to use the equipment as well as instruction in the best techniques for uphill skiing.
Backcountry Adventures at Park Hyatt Beaver Creek Resort (Beaver Creek). This winter, Park Hyatt Beaver Creek Resort and Spa will debut the third installment of its highly curated Ultimate Winter Experience in collaboration with leading experts in outdoor adventure in the Vail Valley. The customizable package allows guests to choose their adventure – with activities that provide exclusive access to Colorado's premier outdoor playground including untracked North Vail Bowls and a snow cave lunch with Paragon Guides, ice climbing and avalanche training with APEX Mountain School and cat skiing excursions to Independence Pass with Chicago Ridge Snowcat Tours.
The Crawford Hotel's Ski Train Package (Denver). In celebration of the return of the Denver Ski Train this winter, the Crawford Hotel is rolling out a new Denver Ski Train Package. This package offers unparalleled access to Amtrak's new Winter Park Express – which is returning this winter to transport skiers & snowboarders from Denver Union Station to Winter Park Resort on weekends from January thru March 2017. The Crawford's Denver Ski Train Package includes luxurious overnight accommodations for two, ski storage, breakfast to-go and two après ski signature cocktails and an appetizer at the Terminal Bar Après Ski Lounge.  
Have you visited any of these winter destinations in Colorado? What did you think?
Looking for more ideas for things to do in Colorado or Colorado's wine regions? Click on over to Carpe Travel's Colorado Wine Travel Guide.
Save
Save
Save