When I was researching our Disney Cruise and found it ported at Castaway Cay, Disney's private port-of-call I can honestly say I rolled my eyes. Thinking to myself, 'why should I be surprised Disney has its own island, after all it already has its own World'. That said, I really wasn't too excited to be porting at Castaway Cay as I thought it would simply be an extension of the cruise ship. I was wrong. Very wrong.
Disney's private Bahamanian island is only 3.1 miles long and 2.2 miles wide but as my mom used to say – 'great things come in small packages'. This is beyond true when it comes to Castaway Cay. There are soooo many things for people to do, no matter your age or your interests. From sitting back at the beach (family beach or the adult only beach) to snorkeling, hiking, biking, swimming, sailing, jet skis and tons of other water sports to shopping and playing video games, albeit I don't suggest the latter, you're at a beach for goodness sake!
If you are going to be visiting Castaway Cay, here are a few things we learned that may help your visit be "magical". (Come on – everything Disney is magical, right? 😉 )
Things to Know About Castaway Cay
Walk, Ride or Bike
Since the island is pretty small getting around is easy and Disney has made it even easier with an open-air tram that will pick you up at the ship and take you to different stops throughout Castaway Cay. It's not only a great way to get around but also to simply see the island.
If you'd prefer to see the island by bike and get a little exercise while you're at it, you can rent a bike for an hour (perhaps more if you pay for extra time) and ride along the 1.5 miles of bike trails around the island. The trails are paved and have several rest stops along the way. Many of the stops are also great viewing spots. There is a large viewing tower you can ride to and walk up to see the entire island, it's a great view! The bikes themselves are cruiser bikes, many are equipped with child seats. There are also childrens bikes available to rent.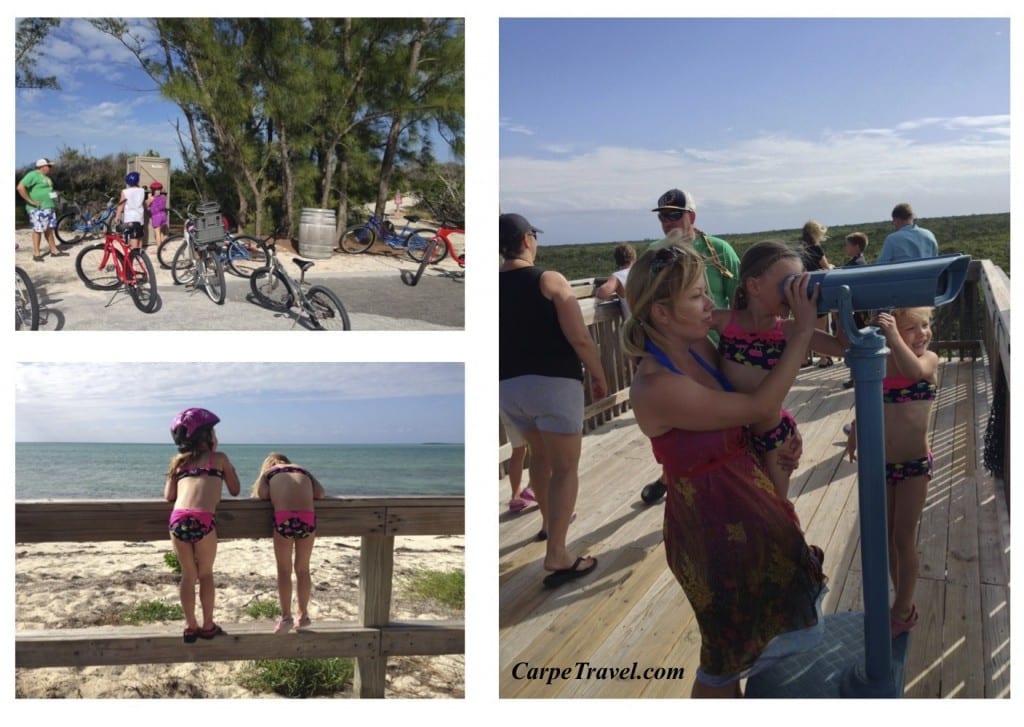 Disney's Castaway Cay 5K
Running on a cruise ship is not an easy task, trust me. I tried doing my regular runs on both the treadmill and the running track only to feel like the worlds biggest clust. But when you're at Castaway Cay you can run on land – real land in a real race! Disney has its Castaway Cay 5K for each ship that ports. Participants meet in the morning around 8:30am (well before the heat of the day) to get their bib numbers, after all it's a real race. However, the race isn't designed to be really competitive as they want everyone to feel like they can participate. So if you're simply up for a 3 mile walk or jog on a tropical island join in.

Drinks and Food Are Provided
There are three places to eat on Castaway Cay – Cookie's BBQ, Cookie's Too BBQ and a "secret" BBQ near Serenity Bay, the latter is only for adults and provides a few additional menu items. The first two are more of a buffet with the same items at each, options range from burgers, hot dogs, ribeye steak, rotisserie chicken or a jerk chicken, a fish option, bbq pork ribs, salads, fruits and of course cookies for desert. The food is very good and it's readily available throughout the day, it's also included in your fees making it unnecessary to go back to the ship to eat lunch.
On a side note, there are waiters on the beach ready and willing to bring you a Corona or fruity umbrella drink if you so desire. They'll also bring your kids water and juices. They do not bring food.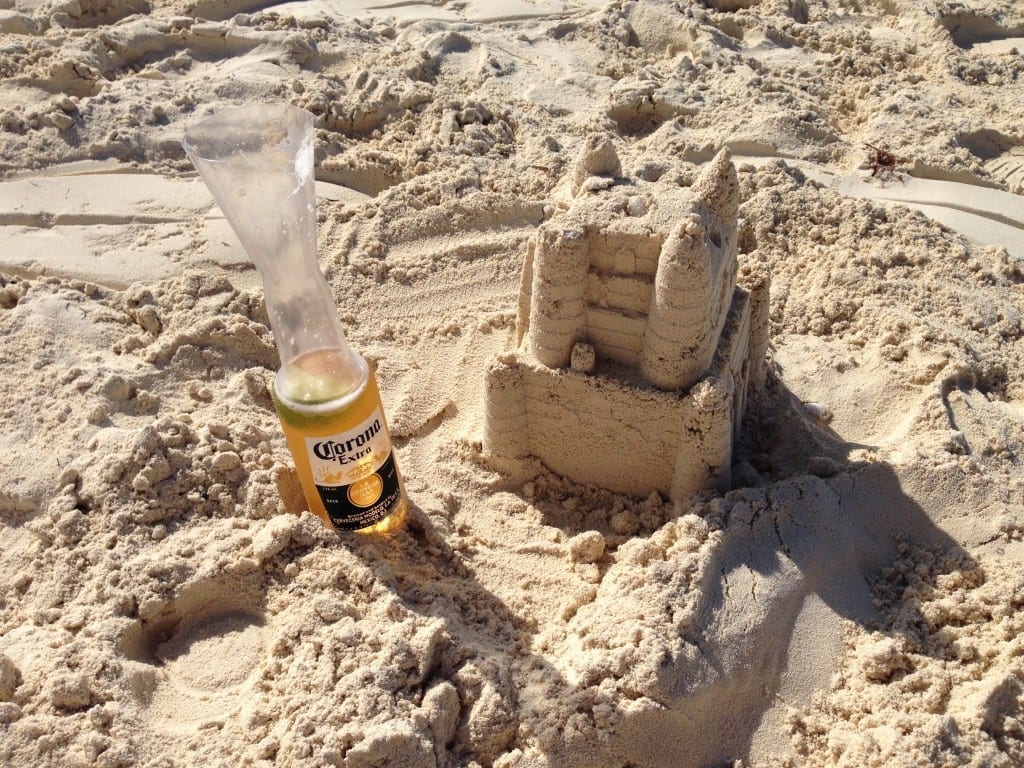 Want privacy – done. (You can even get away from the kids.)
There are 20 cabanas on Castaway Cay people can reserve (for an additional fee). There are 10 at the Castaway Family Beach and another 10 at the adult only Serenity Bay Beach. If you do want to reserve a cabana, book it online as soon as you're able to begin reserving things. The cabanas go fast.
As for having some privacy from the kids that can be accomplished too. While you lounge at Serenity Bay Beach, reserved for guests ages 18 and older, your kids can enjoy some (supervised) fun at Scuttle's Cove. This is the free child care area on the island where Disney counselors help make sure kids have a blast playing in the sand, the water feature or doing a slew of other activities.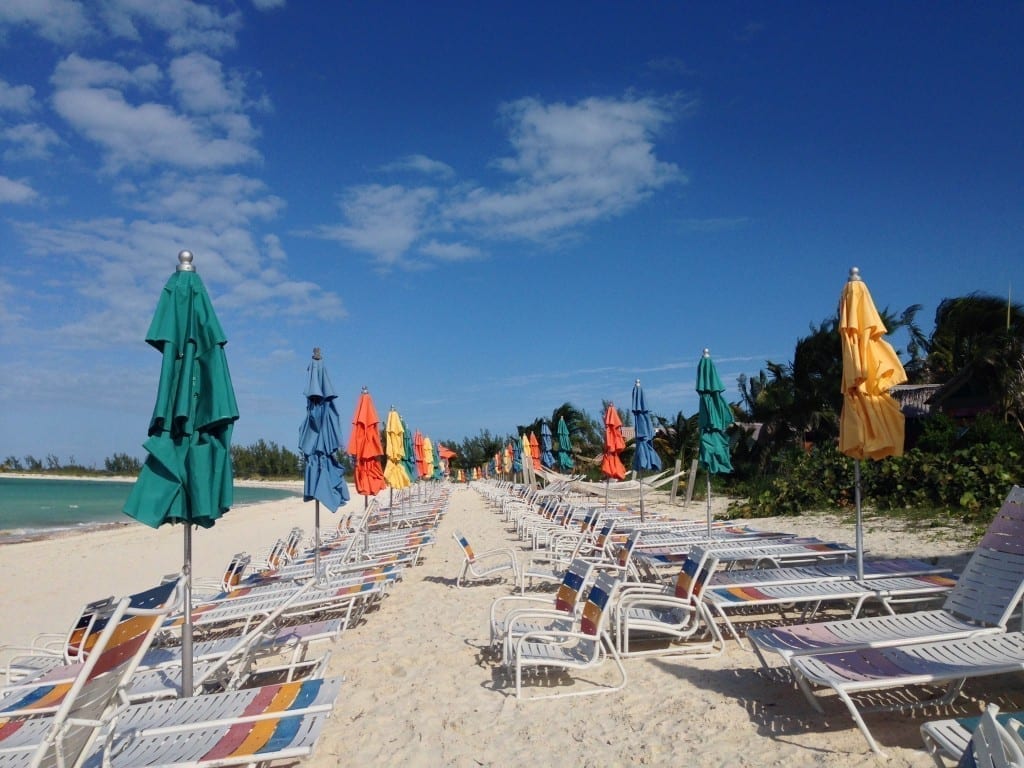 Character Sightings
No need to worry about not getting your fill of Disney characters in at Castaway Cay. There are sightings set up when you disembark, near the post office and at Mt Rustmore, all of which you pass as you're walking to the beach. Many characters also step out for a quick dance party at the gazabo or are walking around the island throughout the day.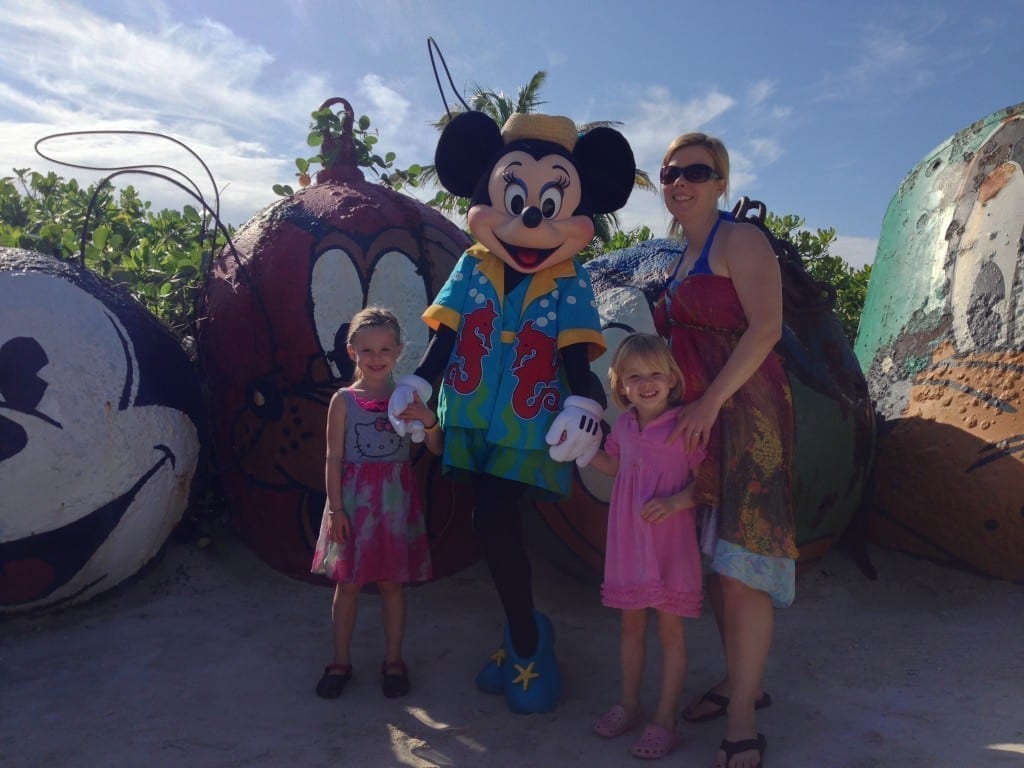 Port Adventures
As with all the Disney Cruise port adventures you'll need to plan to sign up for your excursions online before you depart for your cruise. You may still be able to book them on the ship but things do fill up fast – especially the popular things – so try to book in advance. The excursions on Castaway Cay vary in both activity and pricing – snorkeling and bike rentals being two of the least expensive to more costly ones such as stingray interactions, glass-bottom boat tours, parasailing, jet skis, sailing and the list goes on…
The one thing I really liked about Disney excursions is they have recommended ages for each activity. This really does help ensure your kids aren't getting in over their heads – or that you're paying for something they're not going to be able to do. Since we were traveling with the Princesses, who at the time were four and five years old our options were fairly limited. However, we were able to secure a 30 minute glass bottom boat ride online, which the girls were thrilled about (and talked about everyday leading up to the trip). The excited turned to sheer disappointment (and tears) when it was canceled the morning we ported. The day we visited Castaway Cay there were high winds so the majority of excursions were canceled. We were reimbursed but still had bummed out kids, at least for awhile. After snorkeling, playing at the beach, dancing with Micky Mouse, watching crab races and taking a bike ride they had completely forgotten about the missed boat ride. My point is, there are so many things to do a Plan B is easy to come up with.
I do want to point out that we reserved our snorkeling gear and bike rentals online beforehand, but you should be able to rent these things in real-time when you're at Castaway Cay. As I also mentioned, we snorkeled when we visited Castaway Cay. Perhaps it was because of the high-winds, which changed the clarity of the water but we were unable to really see any wildlife or other things unless we swam well out to rock wall that enclosed the beach, even then it was limited. It was a bit of a let down given the hype.
Safety First
Aboard the Disney Cruise you'll find life jacket stands near every pool. It's the same on Castaway Cay, both child and adult inflatable vests are available at every lifeguard stand. (If you plan to swim further out into the ocean, you will be required to wear a life jacket.) Speaking of lifeguards, every beach has multiple stands where lifeguards are stationed. There are even stations in the ocean for added safety.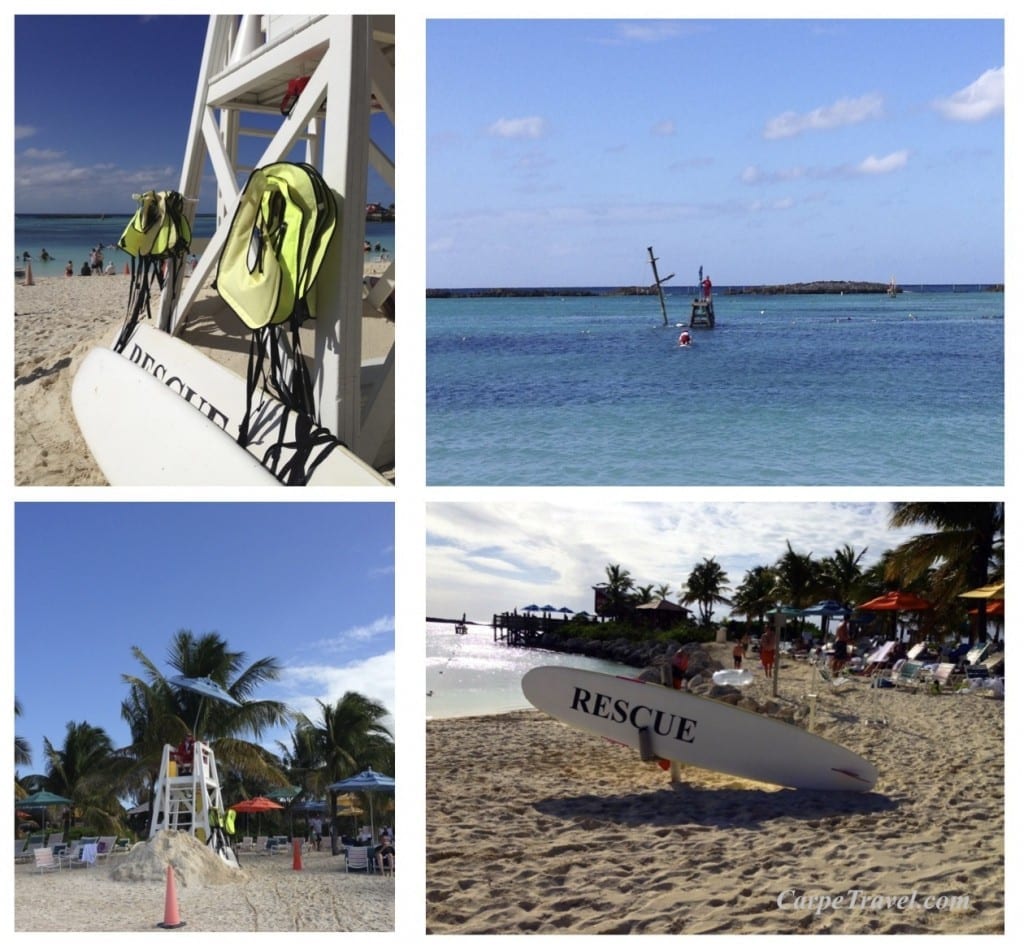 Have you visited Disney's Castaway Cay? What did you like/dislike? Other things people should know? Please share in the comments.