A visit to Newton Winery was a must on our visit to Napa Valley. They produce wines we've only enjoyed out and about, but never at their winery so this trip we made it priority.
I had not realized just how far up Spring Mountain Newton was when I booked the 11am Newton Winery tour, thus we were late. Apparently everyone made the same mistake. Of the six couples who were also in the group, we were the second to arrive, thus we were early. Frankly, it's not that the road was so long, it's that the road is COVERED in potholes so we had to drive very slowly as to avoid bottoming out. We knew we were close when we passed an old, large Red English looking telephone booth.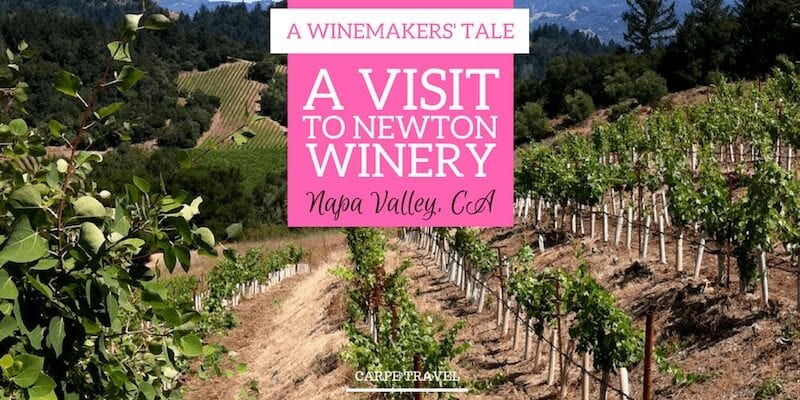 The late Peter Newton who was originally from England, which explains the telephone booth, founded Newton Winery. The winery is made up of a several expansive formal English gardens, which Newton himself designed. You could easily spend a day sitting and sipping in these elegant gardens.
The main garden actually sits on top of the barrel room. As we made our way to the barrel room I found myself stopping rather often to admire the grounds and the trees lining the path into the caves. I later learned these trees were originally centerpieces at Mr. Newton's daughter wedding. My how they had grown!
Newton sits atop Spring Mountain. To be exact it's 500 to 1,600 feet above sea level. That doesn't mean a lot to a Colorado girl since we're a Mile High but, for the vine it means they have to struggle to survive. The result, grapes that are rich and abundant in flavor, but smaller yields. This explains why Newton only produces smaller quantities.
Once in the caves we had the opportunity to learn more about Newton's unfiltered wine process. Newton is a bit different that other Napa wineries since it practices an unfiltered wine making technique, which includes natural fermentation and bottling without filtration.
One of the main take aways for me personally was really being able to learn/experience the difference between French and American Oak. Newton uses both and we were able to see both right next to each other. Touch them, compare and smell the difference. (French oak is much softer, both touch and smell.) And, then sample the different nuances in the wines.
After we left the caves we went back into the tasting room where the group was seated at a large, elegant table. The tour included a wine and tappas pairing, that enhanced the flavor of the wines. While we tasted a variety of wines my favorites where the cab's, of course. Although I was really impressed with all of them and discovered one of my new favorites – The Puzzle.
2007 Unfiltered Chardonnay (decant for an hour to bring out the toffee in the wine, it tasted a bit like peanut brittle, without the brittle.)

Unfiltered Merlot 2006

Unfiltered Cabernet Sauvignon (can age for 10 years or 20 years in a magnum. Right now the wine is very flora but will smooth out over time. It's honestly amazing.)

The Puzzle 2007 (50% Cab, 8% petit Bordeaux, 3% cab franc, 33% merlot;decant for two hours)
One thing I haven't mentioned in this series of Napa Valley posts is that The Husband and I were on a quest to purchase wine that could age for 20 years; one that we could give to our daughter to celebrate her 21st birthday. Ok, one that we could open to celebrate her 21st birthday with her. (It would need to be a magnum since they tend to age longer than single bottles.) We found the perfect wine at Newton – its 2008 Unfiltered Cabernet Sauvignon. Instead of trying to pack a magnum in the suit case, we chose to ship it. Mistake.
Newton sent it to us in the heat of the summer and the bottle got heat exposure and the wine leaked out of the cork and wrapped foil. It wouldn't be a big deal if it hadn't happened THREE TIMES. They replaced the bottle the first time and second time. I asked them to not ship the replacement until the weather was cooler since we have no desire to ruin wine. That's simply a crime. Fingers crossed it arrives safe and sound in the next few weeks.
Things to know when visiting Newton Winery
Newton Winery Tours are held Tuesday's through Sunday's at 11am, only.
Book early. You cannot just do a tasting.
Parking is very tight.
Give yourself plenty of time to drive up Spring Mountain.