This summer the family did a little Road Trippin' in Colorado with Glenwood Springs being one of the stops. With it being named "America's Most Fun Small Town", how could we pass it by?!? There are several hotels in Glenwood Springs to choose from, however all you luxury travelers take note – none of the hotels in Glenwood Springs are considered four-star+. That doesn't mean you can't find a great place though.
Some of the more popular hotels in Glenwood Springs include the historic Hotel Colorado built in 1893, Glenwood Hot Springs Lodge, Hotel Denver and its sister hotel, Hotel Glenwood Springs, which is where we chose to stay.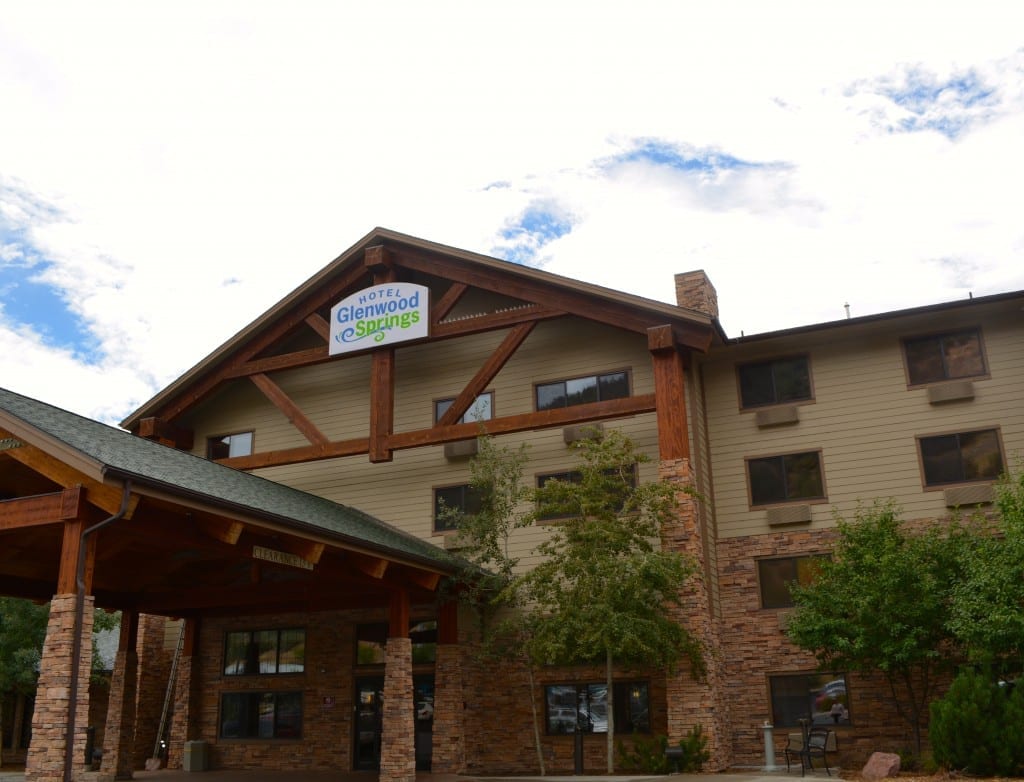 Rooms
Hotel Glenwood Springs is a newer hotel – built in 2006 – with a variety of room choices, including Extended Stay and Kitchenette Suites as well as Fireplace or Whirlpool Suites. I loved having a suite with a door so we could put the kids to bed and then stay up a bit later without keeping them awake. Note, no rooms at Hotel Glenwood Springs have a balcony (something I typically seek out with kids going down earlier in the evening). The bedroom and bathroom were both spotless and had plush bedding/towels. One of the nice add on's included the extra hooks in the bathroom…it's the little things that matter, especially when traveling with an entire family. Each room in the suite – bedroom and living area – had a flat screen TV.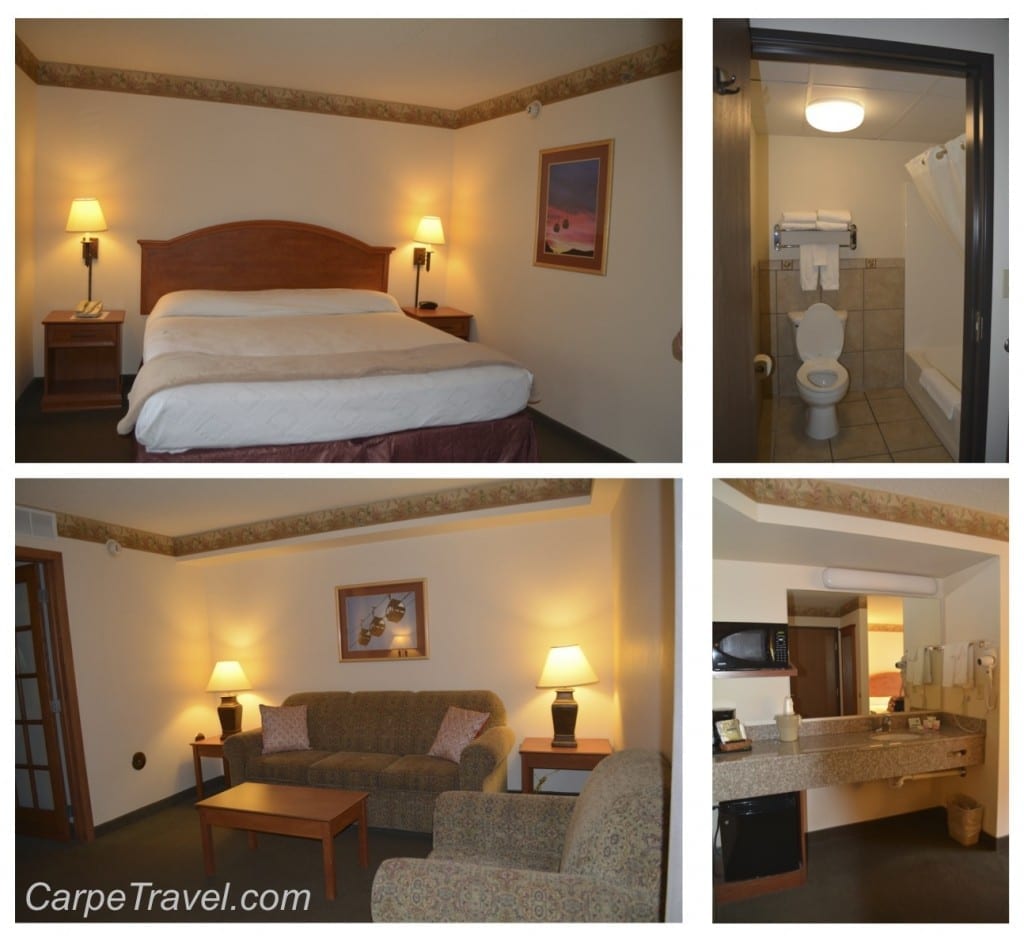 Location
While Hotel Glenwood Springs is a little further from downtown Glenwood Springs, it has the advantage of being at the base of Glenwood Caverns Adventure Park. There is something about being one of the first people on the gondola taking you to the top of the mountain to the parks entrance that made me smile. Maybe it was the morning views or having ZERO lines for the rides for nearly an hour after opening.
You can easily walk into downtown Glenwood Springs from the hotel. There is a nicely paved trail taking you through the Two Rivers Park, which offers a playground and some amazing views. It's about a 15-minute walk into town. There is parking downtown but during the weekend and high traffic times, walking may save you more time than not.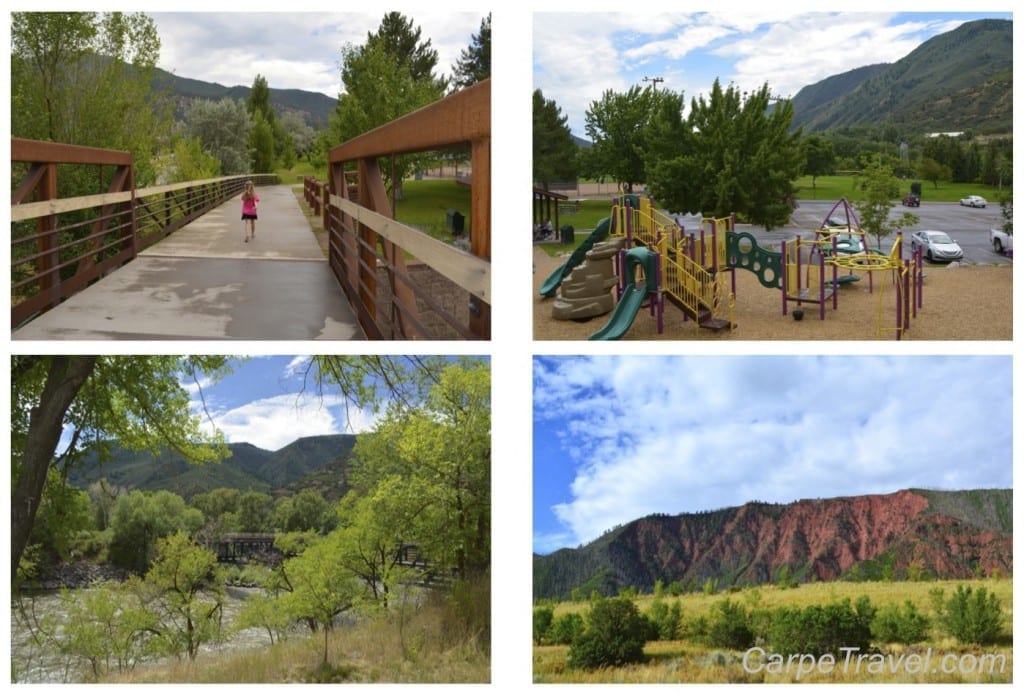 Families Should Know
The hotel is located at the base of Glenwood Caverns Adventure Park.
If you're planning to stay three or more nights tell the front desk about the third night and they will treat you to pizza from one of Glenwood Springs's pizza restaurants.
Check the hotel's special offers page. At the time of this posting you can purchase a lodging package that includes tickets to the Glenwood Caverns Adventure Park.
The hotel has an indoor water park for kids. It's fairly small – two slides, waterfall, swimming area – but it's fun and will keep kids entertained for a fair amount of time. (Parents can sit back and enjoy the view of Red Mountain outside the window.)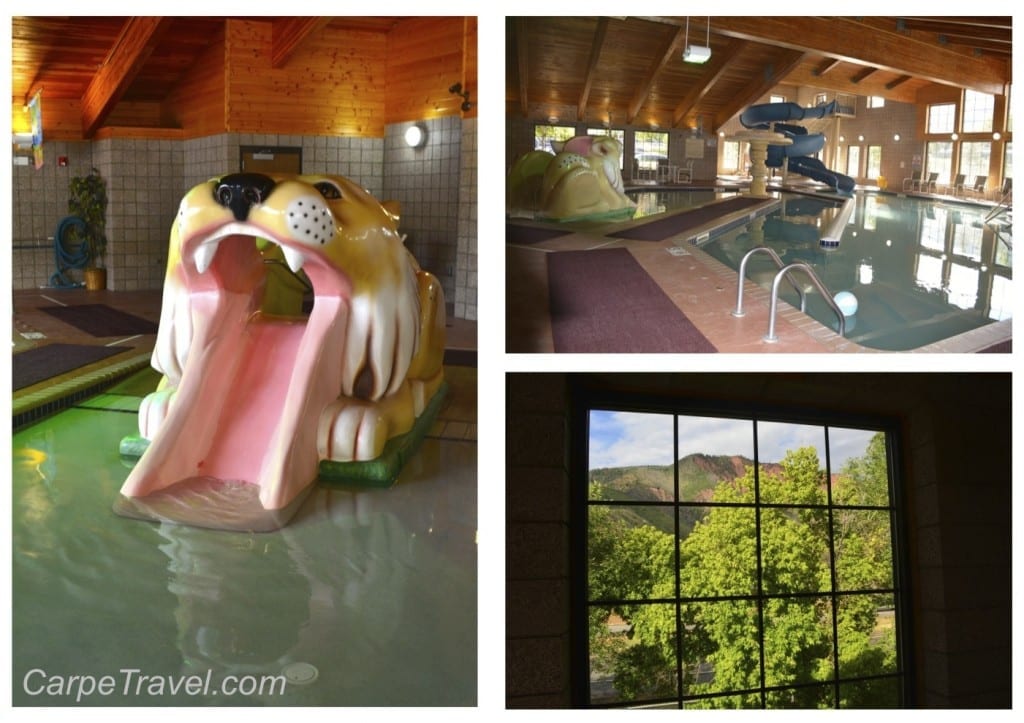 Dining
Hotel Glenwood Springs offers a standard continental breakfast for guests. Think cereal, yogurt, bagels, muffins, fruit and waffle maker. No room service.
Amenities
Free Continental Breakfast
Indoor Splash Pool with Waterslide
Free Wireless (the connection fast and easy to access)
Smoke-free Building
Air Conditioning
Business Center
Exercise Room
Large Vehicle Parking (perfect for those traveling with campers or RV's)
Guest Laundry
Roll-Away Beds and Cribs
Pets
Hotel Glenwood Springs does allow pets BUT in only select rooms. You need to call in advance or book a pet friendly room.
Contact Information
The Bottom Line
Hotel Glenwood Springs is a great family, friendly hotel that's not only nice/clean but seems to be made to accommodate families. It's also an affordable option with fun amenities. For people seeking a little more nightlife staying closer into town might be a better option. What do you think? Have you been to Hotel Glenwood Springs? I'd love to hear your thoughts in the comments.
Disclaimer: While I did pay for my family's room, we were provided passes to the Glenwood Caverns Adventure Park. All thoughts in this review are my own.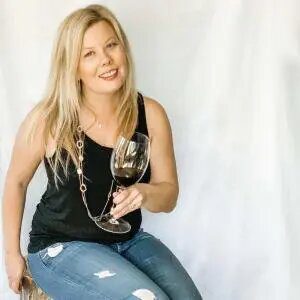 Elaine Schoch (pronounced the German way – Shock) is the editor and founder of Carpe Travel as well as an award-winning travel writer, wine judge, certified by the Wine & Spirit Education Trust (WSET) Level 2 and certified American Wine Expert. She is married to The Husband and has two kids, Princess One and Two – who's interest and knowledge in wine is quite extensive. Not to mention the stamps in their passports.