Your guide to the best and worst things to do in New York during all four seasons of the year…according to a local.
As a born and bred New Yorker, one of my absolute favorite things about NYC is its seasons. We don't have any of that permanent San Diego summer or perpetual Canadian winter; we get every single season at its absolute height — slushy brown winter snow, stifling hot and humid heat and everything in between.
This may sound like a negative — coming to New York during a snowstorm can certainly detract from your Central Park or Highline plans. But, these full-blown seasons make an already incredible city even more unique. You can easily come here in winter and have an entirely different trip than if you came here during the summer months, making New York a year-round and constantly changing destination.
In this guide, I'll show you the best and worst things to do in New York during all four seasons of the year. Each has its own energy and with that comes a whole host of activities and experiences to try. No one season is the best or worst to visit, so let's start at everyone's favorite pumpkin-spiced season.
Fall in New York: October – December
Fall in New York City is genuinely amazing. Coming off the heels of a hot and humid summer, the city is abuzz with this amazing charged energy that welcomes the October cooldown. There's a unique electricity in the air when people begin to shift from tank tops and shorts to jeans and knit sweaters. The leaves start to change and blow around busy streets, and Central Park changes from green to a deep orange.
The city stops baking under the summer sun and instead becomes cool, windy and comfortable — very easy to walk around in. The anticipation of some of our favorite holidays (Halloween and Thanksgiving) gives everyone something to look forward to and the store windows get a makeover. With all the comfort and breeziness of Fall in New York, there's quite a lot of options to do.
Spend some (or all of your) time in Central Park
Of all the seasons, fall is my favorite one to go exploring in Central Park. The leaves are a bright and vibrant orange and the lakes are totally peaceful and still, now that pedal boating season is over. The crowds are also far smaller than they are in the summer and spring, so take advantage of this unique time of year!
Go Apple Picking Upstate
A short one-hour ride outside the city will take you to some beautiful forests and orchards. New Yorkers flock to these around October and November to pick their own apples.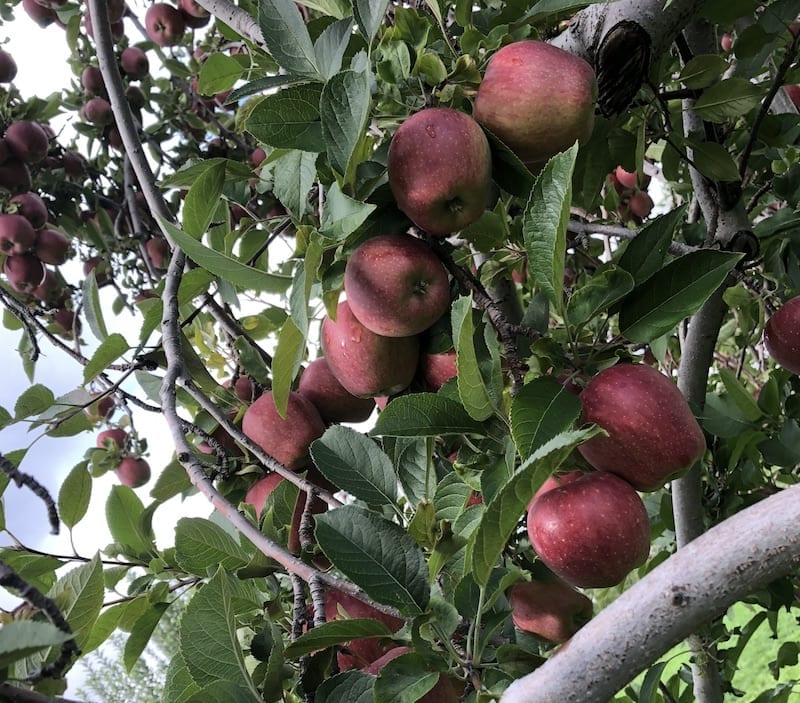 Get your PSL Fix at one of New York's Amazing Cafes
It's no secret that in New York, fall is Pumpkin Spice Latte season. The city has literally thousands of amazing & unique cafes that make all sorts of lattes, hot chocolates & specialty drinks to warm up your body from the breezy fall air.
My Personal Recommendations:
– Steamy Hallows: The unofficial Harry Potter-themed cafe in the East Village
– B-Cup: A small Israeli-themed cafe in the East village with a cozy, lounge-like ambience
– Stumptown Coffee Roasters: Supplier of specialty coffee around the city
Check out Macy's Thanksgiving Day Parade
The Macy's Thanksgiving Day Parade is easily one of the coolest parades in America. Plan your trip around it, and you'll see some amazing (and gigantic) character floats, singers & dancers. And if you don't like crowds, you can always tune into it on your hotel TV.
Haunted Hayrides & Corn Mazes
Many of these orchards will also feature haunted houses or hayrides, and corn mazes. Experience What upstate New York has to offer in its fullest by taking a day trip up to one of these and seeing the foliage in full (it also makes for a very scenic drive)
Major NYC Fall Pro's & Con's
Pros
Temperature is cool and comfortable, making it easy to walk around & explore
Fall foliage is in full force
You'll get a chance to celebrate Halloween & Thanksgiving
Cons
Rooftops bars and restaurant outdoor seating is closed
It's slightly harder (but not impossible) to see much nature and do outdoor activities. If you do, bring a sweater or jacket.
Winter in New York: December – April
Oh, winter in New York City…such high highs and low lows. Never has one place been so brutal and picturesque all at once. On one hand, New York in the winter is absolutely stunning and magical what with holiday decorations and Christmas cheer throughout the city. On the other, snowstorms and freezing weather cause snow, sleet and slush like you've never seen before. I'm not exaggerating when I say that you'll never have seen such brown snow before in your life. But it comes with the territory!
Wintertime is such a phenomenal time to visit New York. All the parks (Rockefeller Center, Bryant Park, Madison Square Park & more) are decked out in fairy lights and impossibly large Christmas trees, Macy's has its famously curated store windows, and holiday music can be heard from the open-air markets to the citywide diners. It's truly a holiday wonderland like no other. Come during the winter and you can do things such as…
Ice skate in Rockefeller Plaza or Bryant Park
Both parks are world-renowned for their wintertime ice rinks and huge Christmas trees. Come see the parks fully decorated and lit up, and enjoy this small oasis of holiday cheer in the middle of a loud & busy concrete jungle. Be aware, however, the lines are long and you'll be paying much more than it should actually cost.
See the light show displayed on Madison Ave at Rockefeller Center
Almost as famous as the Macy's store windows, the Rockefeller Center light show displays beautifully designed and animated lights projected on the building across from Rockefeller Plaza. It's free and it plays every 20 minutes or so, but beware of the massive crowds.
Check out exhibits at any of NYC's dozens of award-winning museums
Too cold to be outdoors? New York City has some of the most iconic and fabulous museums in the world. Check out the inspiration for the movie "Night at the Museum" at the American Museum of Natural History, or head to the Museum Mile on 5th Avenue to see iconic art museums like The Metropolitan Museum of Art, The Guggenheim, the Museum of Modern Art, the Museum of the City of New York, and many more.
See a Broadway Show, The Radio City Christmas Spectacular or check out Sleep No More
Potentially one of the most famous parts of New York City, Broadway has so much to offer, from lighthearted musicals to deep, intense dramas. I've literally never seen a Broadway show that wasn't amazing, so check out what's playing during your visit and get your tickets ahead of time. They get much more expensive as you get closer to day-of.
The Radio City Christmas Spectacular is also iconic for its kickline of Christmas dancers and dancing Santa Claus. Come see what all the hype is about and make sure to grab a cup of hot cocoa afterwards.
For the more adventurous theater goers, check out Sleep No More, a difficult to describe interactive show experience. From what I understand, it's sort of a mashup of a Shakespearean play, a haunted house and a choose-your-own adventure game. It comes highly recommended, and it's much less known than the other shows, so check it out for a super unique experience.
Head upstate for some skiing and snowboarding
Only an hour or two outside of the city, New York's Pocono mountains offer tons of skiing and snowboarding options for those who like a little winter adventure sports. There are tons (and I mean tons) of lodging options, many of which are all-inclusive.
Major NYC Winter Pro's & Con's
Pros
Christmas and New Years make it a genuinely unique and magical place
There's a beautiful charge in the air for the holidays
Everything is decorated beautifully and over the top
There may be lots of snow (if you like that sorta thing)
December is generally the milder winter month
Cons
It can be brutally cold, slushy and wet (I've seen 5° Farenheit before)
Other than skiing, it's next to impossible to do any outdoor activities like Central Park, the Highline, etc.
There may be lots of snow (if you hate that sorta thing)
January and February are the colder winter months
Spring in New York: April – June
Ah, Spring…my old nemesis. Flowers blooming, warming sun, and for me, endless springtime allergies. I personally love the spring, but the spring seems to hate me, leaving me sneezing inside to watch everyone else go outside and party. But spring is a truly exciting time to be in New York.
Everyone dips a toe outside again after being hunkered down for the cold winter months, stripping off their fleece sweaters in favor of a light cotton tee. There's a beaming energy in the air as everyone pretends that 60° weather means tank tops and shorts. With the newly warming weather, there are so many options of what you can do:
See everything bloom at Central Park and Brooklyn/Queens Botanical Gardens
Now that winter's over, everything starts to come into bloom again, and it's really not to be missed. Central Park stretches about 50 city blocks and is jam packed with newly flowering plants and vegetation.
The Brooklyn and Queens Botanical Gardens are stunning cheap daytime activities that can really show off the huge variance of vegetation not only the city, but the State of New York, has to offer.
Take a subway to Brooklyn or Queens and check out everything that's now in bloom.
Be sure to pack an umbrella, though, as weather during the spring can be unpredictable.
Take a walk on the Highline
Refurbished from an old train line that ran up the west side of the city, The Highline is located in Chelsea and stretches over 20 city blocks. It's a beautiful raised park that gives you a perspective of midtown from a totally different angle. And the best part is that it's totally free!
Head to the Bronx or Central Park Zoo
Springtime means that many outdoor activities that closed for the winter are starting to open back up. The Central Park Zoo is located conveniently in Central Park off of 5th Avenue, and the Bronx Zoo is a bit of a ways into the Bronx, but is world famous and totally worth it.
This is the perfect time to check out the zoo's as it's not too hot or crowded, but some exhibits may still be closed depending on how close to winter it is.
Kickstart Rooftop Season
Springtime in New York City is rooftop season. With all that warmth comes the reopening of rooftops across many bars and restaurants in the city. Check out some gorgeous city views from the best vantage points that Manhattan has to offer.
My Personal Recommendations:
– 230 Fifth Rooftop Bar – Not too packed in the spring and if it's too cold they have igloos with heaters in them
– Refinery Rooftop – Half indoors & half outdoors, this bar and restaurant has a beautiful view of the Empire State Building

Major NYC Spring Pro's & Con's
Pros
Everything – plants, people, energy – comes alive again
Some of the most comfortable weather to see NYC's outdoor attractions
Cons
Some outdoor attractions still not open until Memorial Day (summer)
You'll likely have some unpredictable weather (may rain, may be too cold)
Spring allergies make outdoor activities brutal and/or impossible depending on how sensitive you are
Summer in New York: June – September
When New Yorkers celebrate summer, we really celebrate summer. Once everything's in full bloom and the cold fully dissipates, you'll rarely find anyone indoors. People flock to the beaches and their summer cabins, and wear nothing but shorts, tanks and sunglasses from June to September. However, with all the summer fun comes a big price: heat & humidity. The New York heat and humidity is like nothing I've ever seen before. Subway stations become saunas, subway cars become ovens, and you could fry an egg on a rooftop bar. But don't let this dissuade you; New York summers are the best I've ever had.
Check out some of Brooklyn's cool open air and rooftop bars
Brooklyn has grown a lot in the past ten years, and with all its gentrification came some phenomenal restaurants and bars. Check out some of its amazing open air bars and rooftop restaurants. Some say that the New York City skyline is 10 times better from Brooklyn than anywhere else.
Have a picnic at Central Park's Great Lawn
By now you know that Central Park is good to visit almost all year round (I'm lookin' at you winter). In the summer, you'll always see families and millennials picnicing on the park's Great Lawn. Grab some sunscreen, sandwiches, and (non alcoholic) beverages and spend the day having a picnic. Better yet, rent a boat and escape to the water.
Head to Long Island's Beaches
Want an escape from the city life? Take the Long Island Railroad (LIRR) 45 minutes out to Long Island and relax on quiet beaches, fully removed from the hustle and bustle of the city.
Parking at the beaches costs a pretty penny ($25 USD), so make sure to pack your car full of people to split the cost into something more manageable
Personal Beach Recommendations:
– Point Lookout – Quiet, removed and clean
– Long Beach – For a combination of city & beach life all in one
– Jones Beach – A New York classic with a lot of space and even more history
Check out a NY Yankees or Mets game
New York is home to two amazing but rivalling baseball teams. Take the train to either stadium and chill out at the ballpark with a beer or a ballpark frank.
See a concert at Jones Beach Amphitheater
One of the most famous stages in New York, the Jones Beach Theater hosts concerts for A-list celebrities and pop stars.
Pro Tip: Combine your beach day with a concert for the ultimate summer day trip
Check out some of Long Island or Ithaca's wineries
Want to get even further out of the city? Rent a car and take a 2-3 hour drive to Eastern Long Island and check out some of the dozens of beautiful vineyards and wineries. You can even rent a wine wagon and travel winery to winery with 10 of your closest friends.
If you're looking for more of a rolling hills sort of vibe, you can also find many wineries a few hours upstate in Ithaca.
Go Hiking Upstate
Feeling adventurous? Head upstate 2 hours to New Paltz and try your hand at any of the town's dozens of hiking trails.
Personal Trail Recommendations:
– Minnewaska State Park
– Wallkill Valley Rail Trail
– Mohonk Preserve
Check out the Coney Island pier
The Coney Island Pier is cheesy and iconic. Check out the boardwalk or get some thrills from the amusement park. Coney Island is also home to the original Nathan's hot dog restaurant, famously a New York icon.
Major NYC Summer Pro's & Con's
Pros
Both indoor & outdoor activities are all available to you
It's the perfect time to see our beaches
Sunny days & warm weather equate to positive city vibes
Cons
Brutally hot & humid. It does occasionally get too hot to be outside.
The subways & subway platforms are horrifyingly hot.
The entire city stinks. The garbage just oozes in the heat & makes the city hot and sticky
Overall, there really is no perfect time to visit New York City. Each individual season has its own positive and negative attributes, but those attributes ensure that any time you come to visit, you'll get an entirely different experience. Seeing Central Park in the fall and the summer are two entirely different experiences of Central Park. Don't believe me? Come check it out for yourself!
About the Contributing Writer: Gilad Gamliel is a traveler in his twenties and is the author of Anxious & Abroad, a travel guide that aims to show nervous travelers and first timers that travel isn't just for the carefree nomadic types, but can be fun and worthwhile for any kind of person — neurotic, meticulous, anxious or otherwise. He's traveled to almost 20 countries in the past three years, all of which with anxiety and OCD. His site is full of tips, recommendations, advice and step-by-step guides he's compiled from his travels, so that he can help people plan a trip from the beginning all the way up until you get on the plane. You can check out his site, Anxious and Abroad, Instagram and Facebook.