Collecting currency from your travels? What to do with it.
Brazilian Reals. Euros. Mexican Pesos. Canadian dollars. French Francs. Russian Rubles. I have them all and then some. When I first started traveling I used to think it was fun to save and collect currency from the countries I visited. It was never a lot of money, just whatever was left in my wallet or pockets. Sometimes less than $5, other times it might be up to $20. I enjoyed having my currency collection in a pretty little hand-carved stone box I had picked up at a market in Brazil. And, my kids have enjoyed playing bank, admiring and comparing the "neat" pictures on the different currencies. Princess Two even took some of the Russian Rubles into school for show-and-tell. But, what used to be a little memory box has turned into a small drawer of left over change and paper currency from around the world.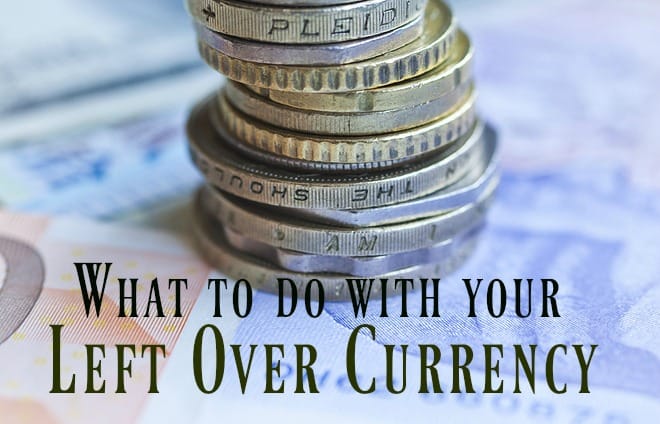 Yes, I could take all the currency into a local currency exchange but then I have to check the exchange rates at each to make sure I'm getting the best rate and that they even take the currencies I have. I could also take it all to the airport the next time I travel, but then I have to remember to do it…if you're traveling with little people you know adding one more thing to your plate during the travel process isn't likely to happen. So the money sits in my sock drawer, taking up the space where my workout socks should be.
I wasn't exactly sure just how much money was sitting in the drawer and had no clue what I was going to do with it until I came across Left Over Currency. The company allows you to convert your old currency and coins to cash; it accepts circulating as well as withdrawn notes and coins. I collected all the currency in my drawer and did a quick check on the company's exchangeable currencies page and found I had nearly $200 sitting in my sock drawer! That's the price of a plane ticket or a night at a hotel. It's officially time to convert the kids "play money" back into mommy's money. I began looking into how I could do it with Left Over Currency. The result = Simple.
How Left Over Currency Works
At Left Over Currency, you can exchange your leftover foreign coins and banknotes for cash in three steps:
Step 1: Find out which banknotes and coins the company accepts for exchange. Left Over Currency exchanges leftover cash for more than 35 different currencies, both circulating and obsolete. To find out for which countries you can exchange your leftover foreign money, visit exchangeable currencies page. You will also find the company's exchange rates there.
Step 2: Download and print the exchange form. Fill in your personal details, details about the currency and/or coins you wish to exchange and your payment details.
Step 3: Send Left Over Currency your filled in exchange form, along with the currency and coins you wish to exchange. On receipt the company will pay out the exchange value: via Bank Transfer, PayPal or a check.
Now, to make room for my workout socks…and maybe even buy some new ones.
Save this tip for later – PIN IT NOW!!