New Orleans has become somewhat of my second home, at least in my heart. It was on my first visit to New Orleans more than a decade ago (that makes me sound sooo old!) when I realized I HAD to get out of Texas and see more of the world. I was missing so much! Since then our travels have taken us all over the world but always back to New Orleans, at least once a year. I can honestly say, New Orleans (to date) is my favorite city in the United States...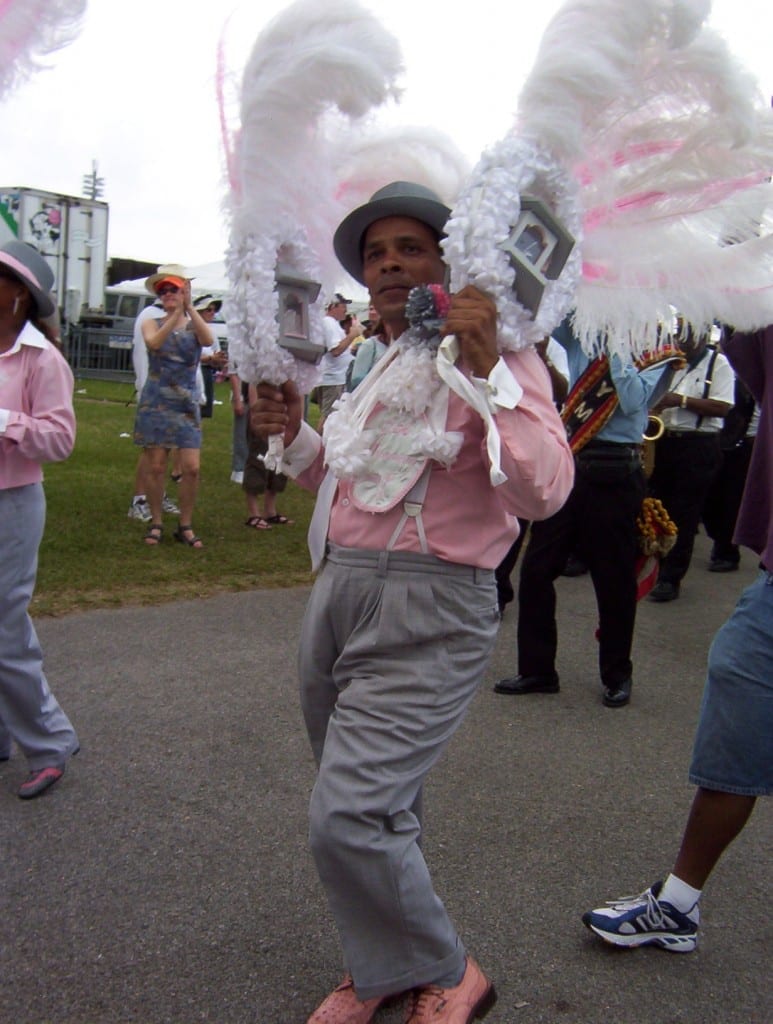 I put together a short guide for first time visitors on things to do in New Orleans (or really where to eat, drink and listen to music). For ideas on things to do with kids in New Orleans and a New Orleans bucket list we have you covered. Let me know in the comments if you have other recommendations on things to do in New Orleans.
Where to Listen to Music in New Orleans
Frenchman Street always has a great line up of live music playing in the bars and venues that line the street (DBA is one of my favorites). What I love about Frenchman Street is that you can simply walk down the sidewalk to see/hear where you'd like to grab a drink and listen to a great band. Most bars do have a cover so take some cash.
Preservation Hall and Tippitina's are both classic spots to catch headliners and your local bands. You will need to check their calendars and make sure to get tickets in advance.
The New Orleans Times-Picayune Entertainment section is one of the best local resource to find out who's playing were and when. You can also check out what, if any, festivals will be taking place when you're in New Orleans to either join in the festivities or steer clear.
One of my favorite places to catch some good music in New Orleans is to just walk around the French Quarter and listen to the street musicians. You never know what kinda show you'll find when you turn the corner. I had way too much fun one morning watching these guys one morning.
Where to Have Drinks in New Orleans

It's really endless, that is the number of places to grab a drink and have a good time in New Orleans. We always seems to find a gem when we duck into a place to either escape the heat or an afternoon rain shower so just go with it and have fun. You might just find yourself a good 'ol crawfish boil in the back. Here are a few of our regular spots we always try to visit though.
Pat O'Brian's is a hot tourist spot but it's still a lot of fun and pretty local at the same time. It has one of THE BEST patios and piano bars (space is limited in the piano bar). Make sure to order the famous Hurricane and if you return your glass before leaving Pat O's you'll get $10 back. Otherwise, you'll have spent $16 on a single drink. (You waiter will rarely mention this to you.) You can also choose to take the glass home with you. While Pat O's is great for a drink check out it's menu too. The food is awesome.
Cat's Meow is a great happy hour spot with two for one specials. It's dubbed "the worlds best karaoke bar". Always fun people watching at the bar or my favorite – the balcony. If you're into karaoke – it's your spot!
If you're into beer then check out the in the French Quarter. It's the only microbrew in the Quarter and is always a good time. Oh, and the food is pretty darn good too. Try to grab a seat on the balcony.
The Old Absinth House – classic spot, sorry you can't get real absinth here any more.
The Black Smith is the oldest bar in New Orleans and is located in the French Quarter. During the day it's a fun place to grab a drink on the patio or cool off inside. At night, it's a different experience. The bar is dark (candle light only) and filled with a fun atmosphere courtesy of Mike Hood who plays at the piano bar. It's probably one of the most fun late night bars in New Orleans.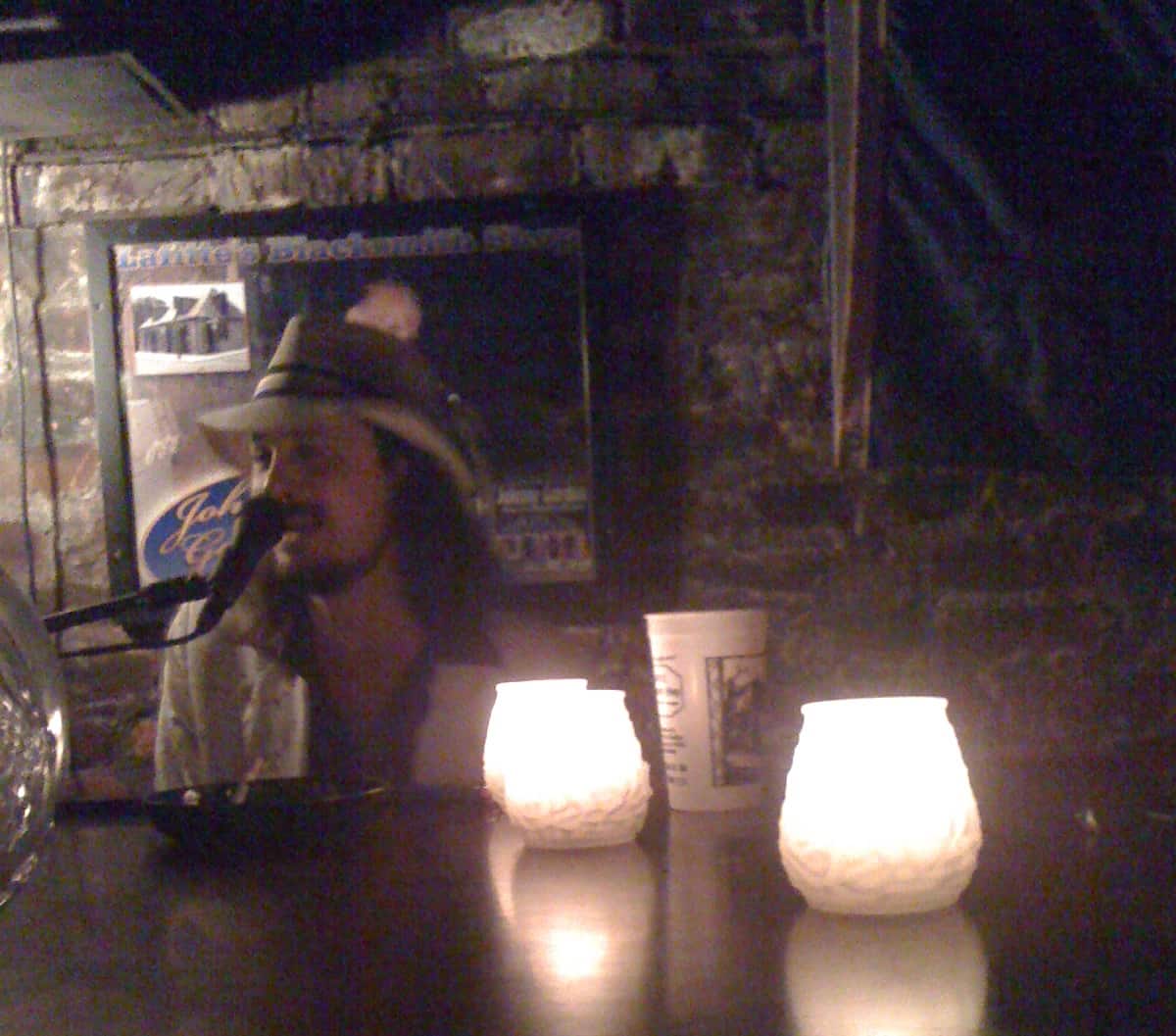 Where to Eat in New Orleans
Everyone has their own list of favorite places to eat in New Orleans and if you're a local those places probably differ from the travel guides. Here are a few of my top (current) favorite locations. They range from high-end to low-end so pick your attire and budget then eat up.
Heavenly is all I can say. Brennan's is a better morning/brunch spot in my opinion. It's an egg-based restaurant, which sums up what most of the dishes are composed of. I love the Traditional New Orleans Breakfast menu. It's a three-course menu that starts you off with a choices such as gumbo or a baked apple (how to choose?!) and then takes you to the main course, my favorite – their famous Eggs Benedict. It's followed with desert. Most people, such as my husband select Brennan's Banana's Foster, which they invented and make right in front of you, but being allergic to banana's I stuck with the chocolate pecan pie. Really, it was heaven in my mouth… What I love the most about brunch is the drink and food pairing. What meal, even brunch can't be complemented with an adult beverage. MAKE RESERVATIONS!!!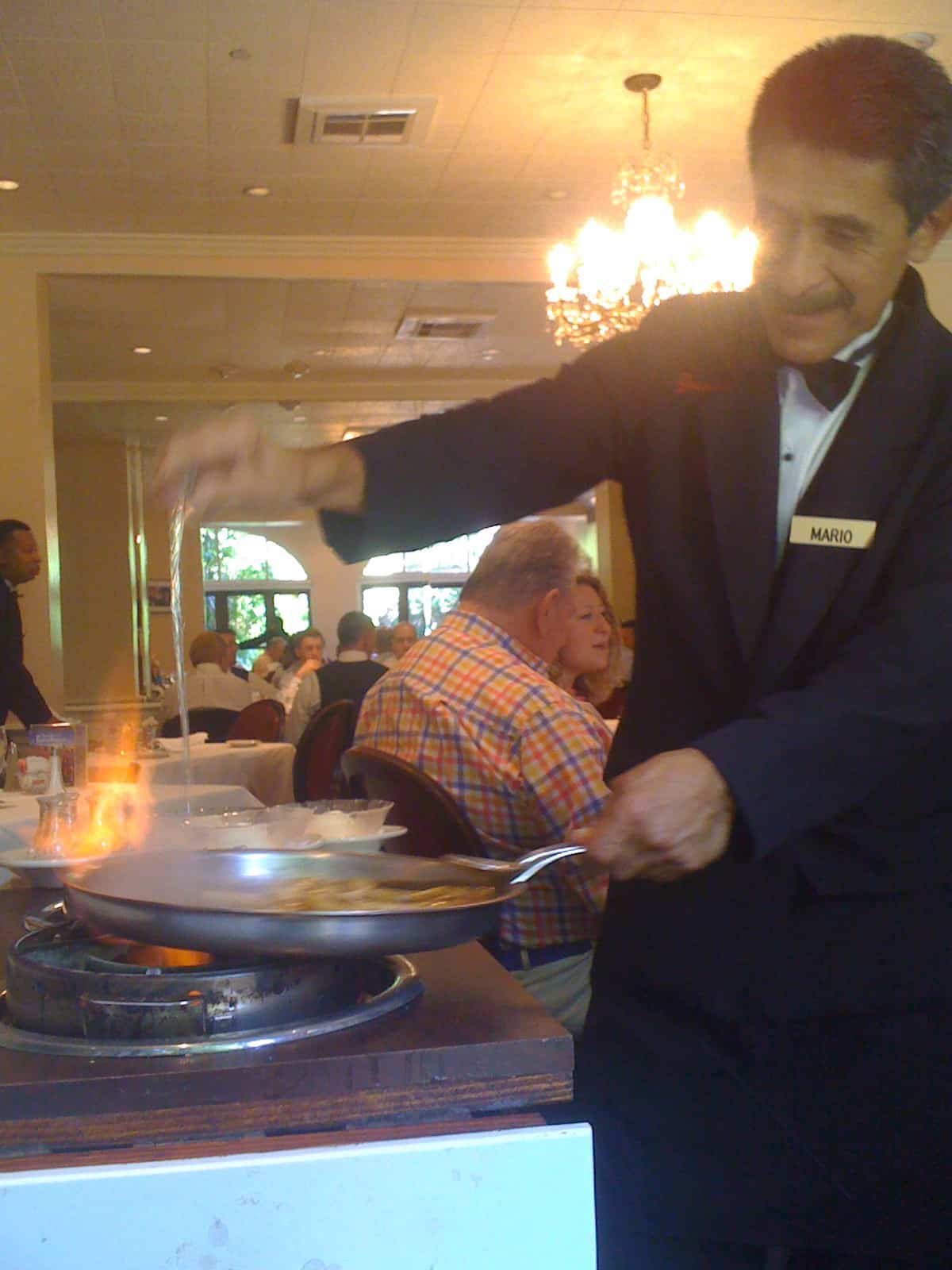 It's not all hype, Emeril's is really a BAM! experience. In other words, the popularity of Emeril is well deserved. First, the wine list is 40 pages long. Seriously. Emeril himself has pulled out several wines off the list he likes and recommends as well – these are in addition to the wine list. It's a seasonal menu so things often changed. I do suggest that if they're offering blueberry, bourbon bread pudding – get it. It's divine.
I came to know of John Besh, the owner and chef when I had my tonsils removed and all I could bare to watch on TV was cooking shows. (I was in pain and starving so give me a break.) A trip to Restaurant August was a must and has been the years since. Not only is his food fantastic – French with a little Southern flare – but he has truly made an impact on the New Orleans restaurant scene since Katrina hit.
Don't expect a wide selection of items to choose from on this menu and vegetarians, just skip it. Port Of Call is THE BEST burger and steak joint around. You can select from several different types of burgers and cuts of meat, which are all served with an amazing baked potato – no French fries allowed!
The home of the beignet and the original French Market coffee stand. It's a great spot in Jackson Square to grab a basket of beignets, chicory coffee and hear some street music. That's all you can get here so don't go expecting a big meal. The turnover in tables at Cafe Du Monde is fast so don't worry too much if there is a line of people waiting to get in. It's worth the wait. If it's a nice day, take a walk up the stairs from Cafe Du Monde to the river and see if Dr. Saxtrum is playing his saxophone (accompanied by his little boom-box). He's a fun a guy and great local musician. Grab his CD's while you can. Since you'll be in Jackson Square, make sure to walk around and check out the local artists selling their work. It's one of the best ways to experience the local art scene.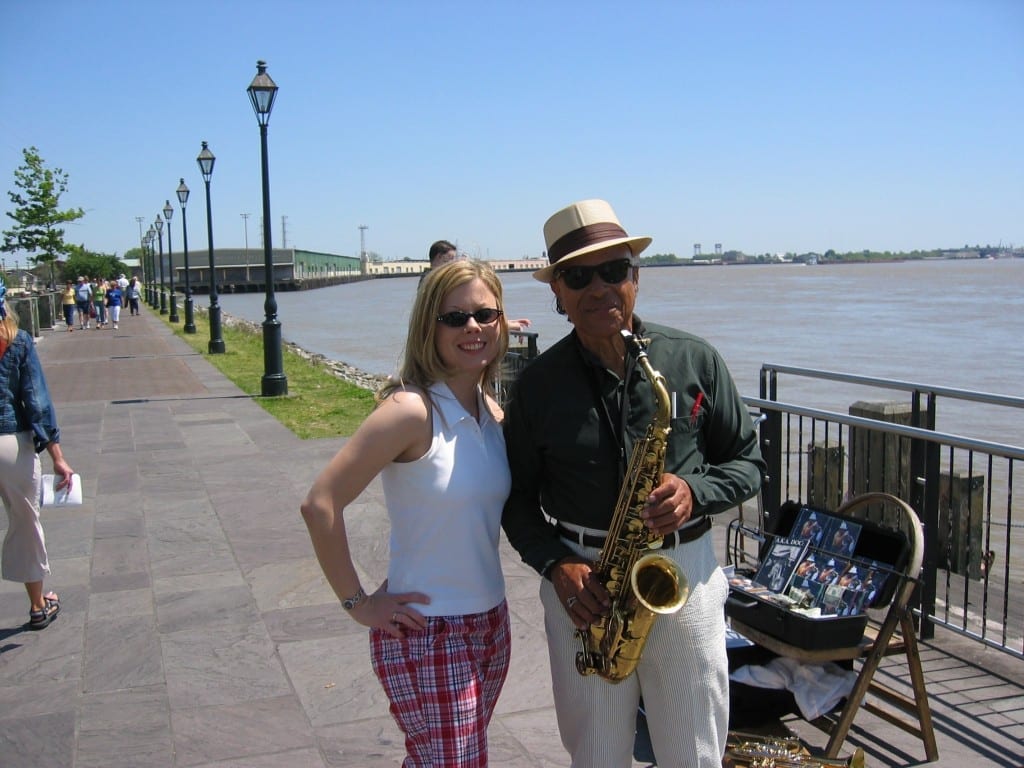 Elizabeth's is off the beaten path but it's well worth the taxi fare to get there. It's open for breakfast and lunch, in other words go for brunch. The kitchen is busy cranking out down home goodness. From praline bacon (yes, bacon smothered in melted pralines) to crabby eggs (crab cakes/Eggs Benedict). You can't go wrong but you can gain a few pounds here.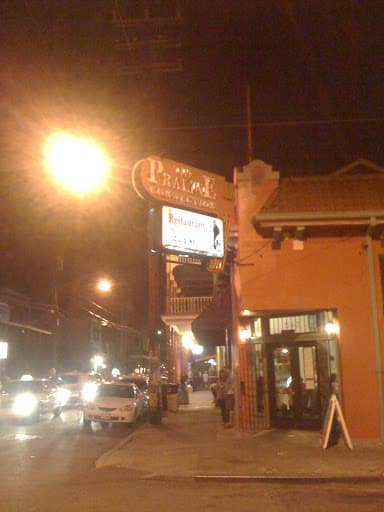 Praline Connection
This place has some soul, serious soul food that is. The Praline Connection serves "down-home" cajun-creole style soul food at VERY affordable prices. I don't know how I have lived before without fried pickles… I wanted to try a little of everything so I ordered "A Taste of Soul" Platter – Filé Gumbo, Red Beans & Rice, Jambalaya, Greens, Fried Chicken, Catfish Strips, and Bread Pudding. I was not a member of the clean plate club that night (thank God) but I did experience an authentic no-nonsense soul food meal. The Praline Connection is located on Frenchman St. so you can have a dinner and then hit DBA or another hot spot to check out some live music.
Johnny's Po-Boys
You can get a po-boy at just about any place in New Orleans but Johny's is one, if not the best place to have a real New Orleans sandwich.
Cooter Brown's Tavern
Depending on when you're in New Orleans, Cooter Brown's has some great crawfish boils and is known for its oysters.
Central Grocery
I haven't been to Central Grocery but I've been told that not only did they create the muffaletta but it's the best one in town. A traditional muffuletta consists of one muffuletta loaf, split horizontally. The loaf is then covered with a marinated olive salad, then layers of capicola, salami, mortadella, emmentaler, and provolone. The sandwich is sometimes heated through to soften the provolone.
A few more in case you weren't already hungry…
Pascal's Manale Restaurant
Red Fish Grill
Ralph and Kacoo's
Court Of Two Sisters
NOLA Restaurant: Another one of Emeril's restaurants.
Mr. B's Bistro
The Alpine Bistro
The Timberline
Are you headed to New Orleans soon? Been recently? Any things we need to include? Please let us know your favorite things to do in New Orleans in the comments.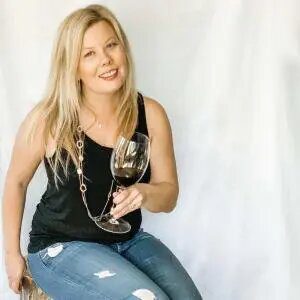 Elaine Schoch (pronounced the German way – Shock) is the editor and founder of Carpe Travel as well as an award-winning travel writer, wine judge, certified by the Wine & Spirit Education Trust (WSET) Level 2 and certified American Wine Expert. She is married to The Husband and has two kids, Princess One and Two – who's interest and knowledge in wine is quite extensive. Not to mention the stamps in their passports.