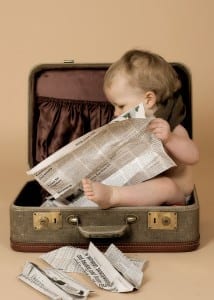 Until I was a parent I never really knew just how literally kids took things, or responded to things. Not to mention their honesty. They tell the God's honest truth, good, bad, pretty and ugly. Over the last four years I've learned not to ask the Princesses a question I'm not really ready for. Like, does this outfit make me look fat… But my first lesson in a child's literalness was taught to me years before becoming a mom on a trip to Texas by my nephew. We'll call him Little E.
At the time Little E was about three-years-old and was very sad his new playmates were leaving (me and The Husband). He asked to come home with us. Being me, the sarcastic sense of humor came out, "Yes, Little E, you can but only if you can fit in my suitcase."
The next thing I knew the kid had crawled up into my bag and was starting to zip himself in. I didn't know if I should laugh or cry it was so sweet and way too cute.
Happy Birthday Little E. I hope your travels in life are far and wide…they could always start in Colorado with a visit.