This weeks dose of travel inspiration comes from my friend, Valerie Quintanilla, who has contributed quite a few posts here on Carpe Travel regarding her wine travels and traveling to Italy. Her tale today though is about taking the reigns and "making life happen". For her that means MOVING TO ITALY! She's been talking and dreaming about it since I met her more than a decade ago and last Tuesday she boarded a one-way flight to Italy. No job. No car. No set agenda. Just a dream that she's finally going to live. Her tale is one that doesn't end here though. She just launched her expat blog, make sure to check out her Italian wine adventures and what life as an expat in Italy holds for her – Girls Gotta Drink .
"People who don't take risks generally make about two big mistakes a year. People who do take risks generally make about two big mistakes a year." – Peter F. Drucker
Why travel? There are so many reasons to explore this world. Travel is fun, exciting, and thrilling. It's also scary – whether you're a youth taking your first trip sans parents, a 20 or 30 something heading out on business travel, someone venturing out solo, a parent(s) planning a family vacation, or retirees taking their dream vacation. Road tripping or international, there is risk involved. We put ourselves out there, test our limits and get outside our comfort zone. The rewards are thrilling. That's why I travel.
In college I did a study abroad program backpacking through Western Europe, but despite dreams of a return, it hadn't happened. I didn't have enough vacation time, I didn't have a travel pal, there wasn't enough money – the excuses go on and on. At age 31 I realized, for the first time I had the means, the motive, and the opportunity. I didn't need anyone with me. My United and Hilton loyalty program points were full. No more excuses. Time to go back to Italy.
The trip was magic. I'd done all the touristy stuff in college so I didn't do the museum and church thing. And, being on my own meant getting up when I wanted, eating when I wanted, talking to whom I wanted – the land of Dolce Vita was at my disposal! What did I want to do? Drink wine, to eat, and to walk, walk, walk everywhere!
I am so grateful I went for it. And, the rewards were ten fold. I returned to the States with a confidence I never had. I'd navigated my way through a foreign country, solo! I made friends everywhere – with others and myself. I was proud and inspired to do more. I got back with my next Italy excursion on the brain. People asked why return to the same place. But, it wasn't the same place. I'd only scratched Italy's surface. If one focused trip there could teach me so much about life and myself, I had to see what else the country had to offer.
I set back out the next year and again in 2012. I simply had to go back to Piemonte, where I rounded out the two-week holiday with seven days there. And then, on the first day I met The Boy. We were standing outside, drinking bubbles at Centro Storico in Serralunga d'Alba (a teeny tiny Barolo village). The owner had just sabered a champagne bottle with the back of a wine glass (can't make this s#i* up!).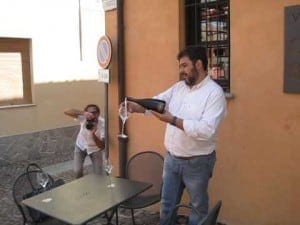 We spent an amazing week together. He took me for dinners, opened unbelievable wines, we watched the sun set in a vineyard…it was like a movie. Except, he didn't run after me at the airport begging me to stay. We didn't kiss as it fades to black and live happily ever after. Nope, it was real life and I'd fallen for a guy who lived in a faraway place – a place I'd fallen for just one-year prior. What's a girl to do? After a couple State-side visits, hundreds of emails, and countless Skype conversations, I bought a one-way ticket.
Friends and family tell me I'm courageous and inspiring. While I appreciate the kind and encouraging words, I think the important takeaway is: I am no different than anyone else. I'm just a girl who got lucky enough to have the chance to explore, and I took it. And, while I've experienced and seen amazing things, it was what I found in myself that yielded the greatest reward.
For me, it was born from solo travel, but the travel itself is what changed me. I looked at my situation and asked how I could make it work, not letting my situation dictate my experiences. I got out of my comfort zone and went after my dreams. In the process, I got an opportunity, to move to the place of my dreams with a partner who shares much of my loves and passions. It creates a new situation, where I must again evaluate how to continue my travels. It is a "must" for me. I can't stop exploring – both the world and myself.
Ciao Ciao!