Holiday travel stress is just as much of a tradition as pumpkin pie and regifting, but with a few tips and apps, you can help remove a lot of it. Sorry, but I can't help you with the lime green sweater Santa left…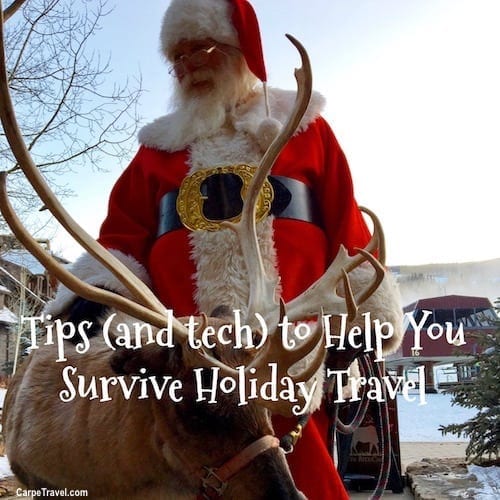 Tips (and tech) to Help You Survive Holiday Travel
GIVE YOURSELF MORE TIME:
With more people traveling during the holiday's you should expect longer lines and traffic. Always plan to give yourself more time be it driving to grandmas house or parking and getting through airport security.
CHECK-IN ONLINE
Make sure you check-in online in advance, secure your seat assignment and get your boarding passes, either print them, have mobile passes – better yet do both.
HAVE YOUR INFORMATION READILY AVAILABLE
Hotel confirmation numbers. Boarding Passes, Gate Numbers. Don't try to rely on going through your inbox to find the emails or sorting through a stack of papers to find your confirmation number. I love this app called TripIt that helps me with all this. The app keeps all your travel plans and confirmations in one place and creates a master itinerary. It reminds you to checkin online ahead of time, reconfirms all the details and gives you real-time flight alerts, cancellations, gate information and can help you sang a better seat.
HAVE IMPORTANT NUMBERS
Make sure you load up your phone with all the important numbers for your trip – hotels, car rentals, restaurant reservations. That way if there is a delay you can contact them ASAP. If you're using the TripIt app, it will have all this information in your master itinerary.
DO YOUR RESEARCH
Plan ahead. Have a few ideas of things you want to do, where you'd like to eat. Even if you're visiting friends or family who are in charge of entertaining you. TripAdvisor is always a good a good resource and you can get its app to help when you're traveling. I also suggest you check out Get BEEN, this app lets you see your friends' recommendations on restaurants, hotels, and other things to do. It reviews from people you actually know.
When it comes to doing your research knowing where you're going can save you from a painful situation. Map out your driving directions beforehand, or at least have a map you know will work, even if you can't connect to wifi.  Here WeGo is a great app to have for this. It provides detailed turn-by-turn directions for over 100 different countries that you can download and access offline, making it a great app to help avoid data fees.
PACK LIGHT & SHIP GIFTS
One of the worst thing is to have your luggage lost so try to avoid it by not checking your bags. It may be to late for you to do this year but if you can ship your gifts, it can save you a huge hassle at the airport, not to mention extra baggage fees if you're flying.
PACK EARPLUGS
Always pack earplugs. Ear plugs can allow you to somewhat escape amidst all the chaos.
PACK SNACKS
Don't rely on airport snacks. They're not always the healthiest, they're expensive and won't save you – or your kids – if they come down with a "case of the hangeries" If you don't pack snacks and need to eat at the airport, use the app GateGuru. This app provides information and maps on what the restaurants and stores are within an airport and its terminals. It even goes so far as locating ATMs.
PLANNING TRAVEL FOR 2017!!
More than likely you've already booked your airfare for this holiday season. There still some great last minute deals out there. If you do still need airfare or are planning 2017 travel, check out the airfare prediction app Hopper. With Hopper you set up what days you want to fly, and then it sends you push notifications telling you about how prices are changing and recommending when you should buy.
Interested in learning more? See my tips on Good Day Colorado.
Save