Saratoga Springs is a short train ride from New York City, aka a great weekend getaway.
Here are eight things you must do after you disembark.
By Kayla Wagner, contributing writer
New York City is a marvel on its own, but at times I find myself wanting to escape the hustle and bustle of the city that never sleeps. One summer morning last year as I was strolling through the buzzing streets of the City, spontaneity kicked in. I found myself heading to the nearest ticket booth where I bought a ticket to Saratoga Springs.
I'd heard so much about the place from my colleagues, and decided it was just the escape from the city I needed to take – that day!
After a few hours on the train, I arrived at my destination and was welcomed with the smell of crisp, clean, fresh air and swaying trees. My whole body was itching to explore the great outdoors, so I dropped my bags off at the hotel and instantly set out to Saratoga State Park.
I collated a few of the things I wanted to do before coming here, and they were not run of the mill. Checkout more things to do in Saratoga Springs.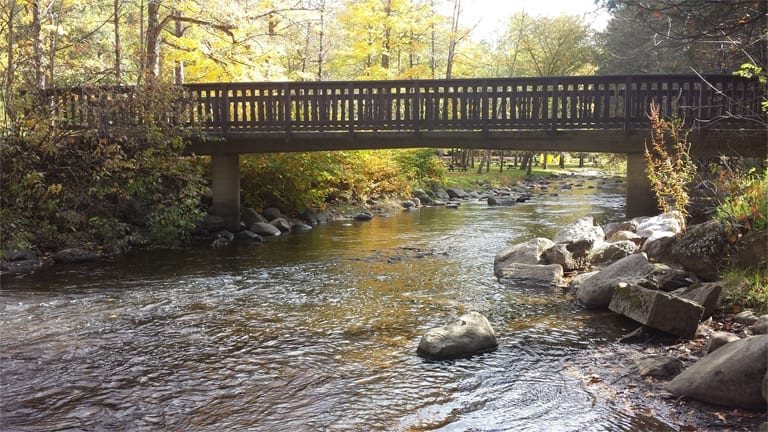 Saratoga State Park
As I set foot into Saratoga State Park, I came to terms with its vastness. The map that I got at the information center was useful, and it showed me everything I could do on the premises.
With trails galore, I began strolling through the gardens and stumbled across happy couples and families enjoying their picnics. Being the automobile fanatic that I am, I decided to visit the Saratoga Automobile Museum. Upon entering, I felt like a child in a candy store. The various exhibits, the collection of international and household racing cars, and the hall of fame all left me in awe.
Similarly, there are many other museums and minerals springs on site which you can take the time out and visit.
Broadway
Next, I made my way down Broadway, a street that runs right through the heart of the city. I did, for a minute, think of skipping this but on second thought, I made my way down the street.
The quaint little cafes and restaurants and the tiny little shops came together perfectly to resemble a European shopping avenue. It felt like I was ambling in the streets of Paris or the likes. I hopped into a variety of boutiques and bought a few local items. In honor of the history of the city, I also dashed into one of the few millineries (women's hat store) which lined the sidewalk and picked up the fanciest one I laid my eyes on.
Attend an Outdoor Festival
I happened to be in town during the Saratoga Wine & Food Festival – I couldn't help but resist. It was an enthralling experience as I got to mingle with culinary experts and taste dishes and beverages from top restaurateurs. I happen to consider myself to be a food and wine connoisseur, so I had to mark my attendance to the event.
Other events include the local Chowderfest, the Jazz Festival, the Saratoga Shakespeare Company performing in Congress Park, etc.
Pick and choose as per your interests.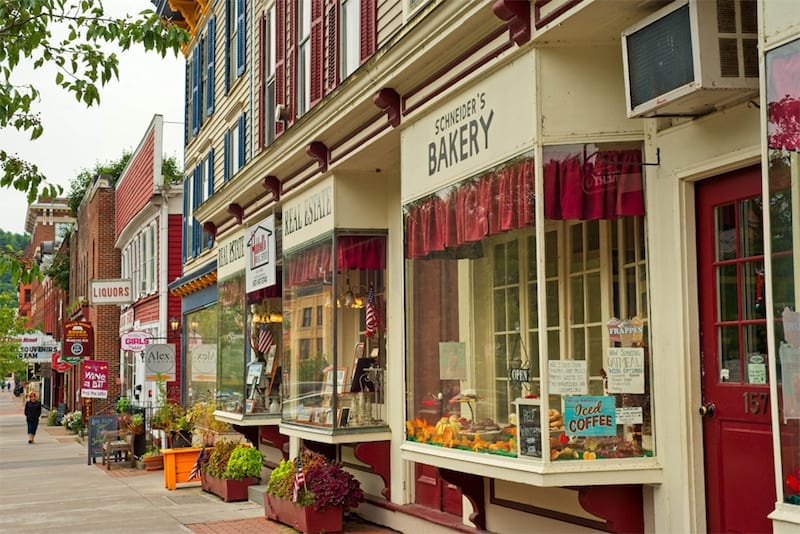 Sweet Mimi's Café and Bakery
I had heard that people don't mind waiting for hours for a table at the famous Sweet Mimi's Café and Bakery so I had to see what all the fuss was about.
From a 500 meter distance, I could smell the freshly toasted bread, and I knew I was close to my destination. As I approached the bakery, I noticed there weren't too many people. Fortunately, I only had to wait for 30 minutes.
Once I entered, a burst of goodness wafted past me. I was welcomed by a white and clean eatery whose centerpiece was a pastry display case with rows of jams.
The menu changes daily and their items are made with fresh and local ingredients like garden herbs and farm eggs.
I was ready to eat my heart out! I ordered the famous Italian breakfast sandwich made with eggs, spinach, mozzarella, prosciutto, and pesto served on a crunchy ciabatta (a type of bread). For on the road, I packed half a dozen oversized chocolate chip cookies that Sweet Mimi is famous for.
Roosevelt Spa
From the fables I've come across, Saratoga's spring is known to have medicinal properties. Back in the 1900s, the spring water was funneled into Lincoln and Roosevelt Spa where people came for treatment. Today, it's Roosevelt Bath and Spa where visitors can pick from a wide range of treatments, without a prescription of course.
The best part is that the spa continues to maintain its heyday aura.
I chose to indulge in the aromatherapy mineral bath where I got to soak myself in a private tub, which sinks into the floor. The water is so relaxing that I couldn't count the number of times I drifted off to sleep. Nevertheless, I felt 45-minutes passed by way too fast.
Spending Time at the SPAC
I cannot express in words what I felt at this center, but I loved every single moment of it. Acts at the Saratoga Performing Arts Center – SPAC – cover almost every genre you can think of. From classical music to jazz to rock to pop and other forms from the world over.
For centuries, this arts center is known to be the home in the summer of the Philadelphia Orchestra and the Ballet from the city of New York. Visitors get an opportunity to witness distinguished performances all through summer.
Whether the Orchestra performs to a live showing of the E.T or Indiana Jones else a ballet by Balanchine, the extensive options are endless. Other popular musicians such as Dave Matthews have been known to perform at the amphitheater.
I managed to catch none of ones listed above, but I did watch a free jazz performance by a local band in the lawns under starts…
Lake Local
To finish off the evening, I headed to Lake Local, a restaurant. You can make your way to the restaurant by foot, bike, car, canoe, kayak or boat!
While I waited for my fish tacos, I decided to take a swim in the lovely small beach. Once I finished my swim, I unwound on their comfortable Adirondack chairs and enjoyed the pleasant breeze.
On the way to the restroom, I noticed the indoor tables and a lovely bar. But this area was rather unoccupied as most of the occupants preferred the outdoors.
The view is gorgeous, and the simple food is a great compliment. Fish and chips, grilled fish, clam chowder, mussels, sausages cooked in beer sauce, corn on the cob etc. are a few dishes from the menu. Of course, I had to have some local beer along with my tacos!
The Ghost Tour
To finish off an eventful day, I opted to go on a ghost tour.
An easy-paced 90-minute tour that takes you on a journey to learn about the spirits who live in the area for hundreds of years. I was a bit scared, but as I became comfortable, I was entertained as well as enchanted.
An Fun-Filled 24-Hour Adventure in Saratoga Springs

My 24-hours in Saratoga Springs, New York was worth every one of the 1,440 minutes. Each and every experience has been embedded into my memory, giving me a sense of belonging but also leaving me in awe. If given a chance, I would surely head back to this sweet little town for another adventure.