Glenwood Springs, Colorado aka America's Most Fun Small Town isn't just fun during the summer months. There are quite a few things to do in this little mountain town when the weather calls for snow. If you're heading that way, here are six of the top things to do in Glenwood Springs in the winter.  Let me know you have any other "musts" in the comments.
 Six Things to do in Glenwood Springs in the Winter
Skiing
With 680 acres of skiable terrain and 67 trails, Sunlight Mountain Resort in Glenwood Springs gives you a full day of skiing for about half the cost of the mega resorts in Colorado. In addition to miles of cruising intermediate terrain, Sunlight's East Ridge has one of the steeper runs in the state. It is also home to one of the longest trails in ski country, Ute, a beginner slope that winds more than two miles from summit to base. Sunlight Mountain is located just 12 miles south of Glenwood Springs. Parking is free and the lines are non-existent.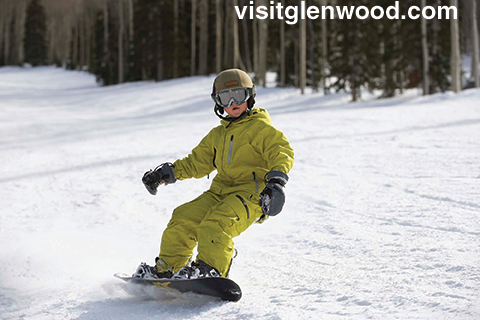 Don't ski? Don't despair. There are are several alternatives to skiing and snowboarding in Glenwood Springs.
Winter hiking
With trekking poles and hiking footwear (with traction), you'll be equipped to explore the trails around Glenwood Springs. Red Mountain  Trail (aka Jeanne Golay Trail) offers some of the best views of Glenwood Springs, its two rivers and Mt. Sopris, all from a single vantage point. For an easy walk, stick to the road which is closed to traffic; for a more physical challenge, hike the steep single track trail. (More on Red Mountain Trail )
Snowmobiling
Snowmobiling in Glenwood Springs is a great way to get outdoors and explore. Check out Glenwood Adventure Company or Sunlight Mountain Resort for guided group outings on trails with jaw-dropping views of Mt. Sopris, the Elk Range and the Flat Tops Wilderness.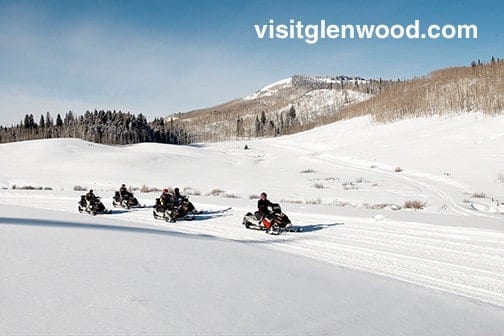 Snowshoeing
Try snowshoeing on the Babbish Gulch trail system at Sunlight Mountain Resort. The extensive network of groomed trails meanders through scenic backcountry woodlands. Bring your own or rent snowshoes in town at Summit Canyon Mountaineering or Sunlight Ski & Bike Shop.
Cavern tours
Spend the day at Glenwood Caverns Adventure Park where Winter on the Mountain dazzles visitors with lighted thrill rides, a new 4D movie and fire pits for roasting s'mores. Holiday-themed lighting inside Glenwood Caverns makes the King's Row Tour even more colorful than usual. Open 10 a.m. to 9 p.m., Friday – Sunday, with extended dates through the holidays. (More on the cave tours.)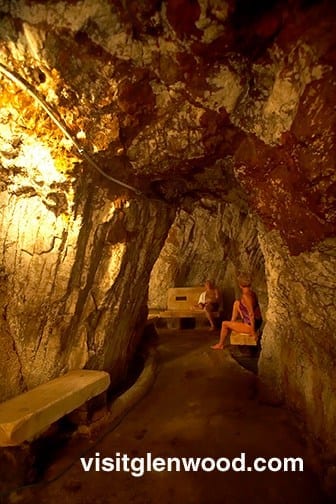 Hot springs & spas
Glenwood Springs is home to the world's largest mineral hot springs pool and natural vapor caves  –  Glenwood Hot Springs Lodge – visitors can soak, steam or indulge in massage or body treatments at Glenwood Springs spas. It makes it a great spot to hit after a day of snowshoeing or skiing.
Have you visited Glenwood Springs? What are some of your favorite things to do in Glenwood Springs in the winter?
Make sure to click over to read about the top three things to do in Glenwood Springs during the summer.
Looking for more ideas for things to do in Colorado or Colorado's wine regions? Click on over to Carpe Travel's Colorado Wine Travel Guide.