What started out  as a let down of a vacation day, became one filled with exploration, discovering nature and new things to do in Fort Lauderdale.
Fort Lauderdale is traditionally known for Spring Break, beaches, shopping and a vibrant nightlife, one doesn't typically think of it as a "nature" hot spot. But the city can also be an escape for nature lovers, even if you're in the middle of downtown. On my recent trip to Fort Lauderale I was determined to explore and photograph as much nature as I could before spending two days in the Convention Center in meetings and sessions for  TBEX, an annual travel bloggers conference.
I had arranged to do an early morning nature photo tour, as a per-conference event. It was changed last minute to more of a hotel history tour. Not what I had in mind, but it was too late to make other arrangements. So, why not give it a go…What began as more of what I had hoped for – a nature/history photo tour – turned into touring 1950 style hotels. While the historical aspect was interesting and the tour guide was engaging and extremely knowledgeable, it wasn't my cup of tea. I wanted to see nature, not lobbies.
When the tour ended early I left the group and set-out to Fort Lauderdale Beach, disappointed but determined to try and save my day by exploring the area and doing my own nature photo tour. And, what a day it became. Birds. Seashells. Jelly fish. An airboat ride in the Everglades filled with alligator sightings. What started out as a disappointing morning, became an amazing day filled with more nature and exploring of Fort Lauderdale than I had imagined. Definitely a ??Carpe Travel kinda day…and one I wanted to share the photos from.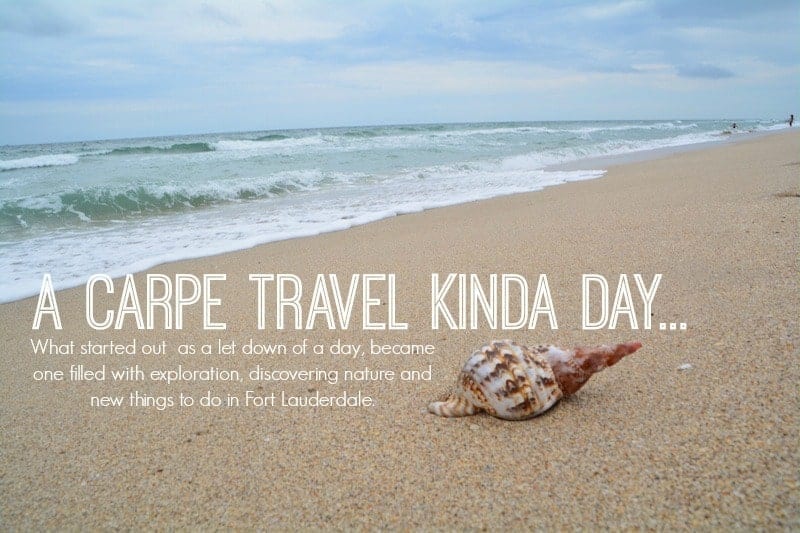 Have you had a vacation day that went all wrong but ended up turning around – your own kinda Carpe Travel day? I'd love to hear about it in the comments.
The Bonnet House & Hugh Taylor Birch State Park
The initial TBEX group photo tour began at the lovely Bonnet House Museum and Gardens. This was an amazing part of tour and did provide access to nature, history and architecture right in the middle of the city. Surrounded by high-rise hotels and condos sits a three-mile stretch of land along the beach that's untouched, pristine nature – Bonnet House and the adjacent Hugh Taylor Birch State Park.
Hugh Taylor Birch, a wealthy northerner who wanted a private, winter retreat purchased the land in 1895 after vacationing in the then small town of Fort Lauderdale. He built a winter estate and named it after the Bonnet lily flower that grew on the grounds, aka Bonnet House. Years later – 1919 – he gave the estate and surrounding 35-acres to his daughter, Helen and her husband, Fredric Bartlett as a wedding gift. This is where the story really begins…
They were both artists and art collectors, their love for art is showcased throughout the house and museum with pieces they created as well as those from other artists. The art is fun; it's colorful and gives you more of a whimsical feeling as you're exploring the grounds.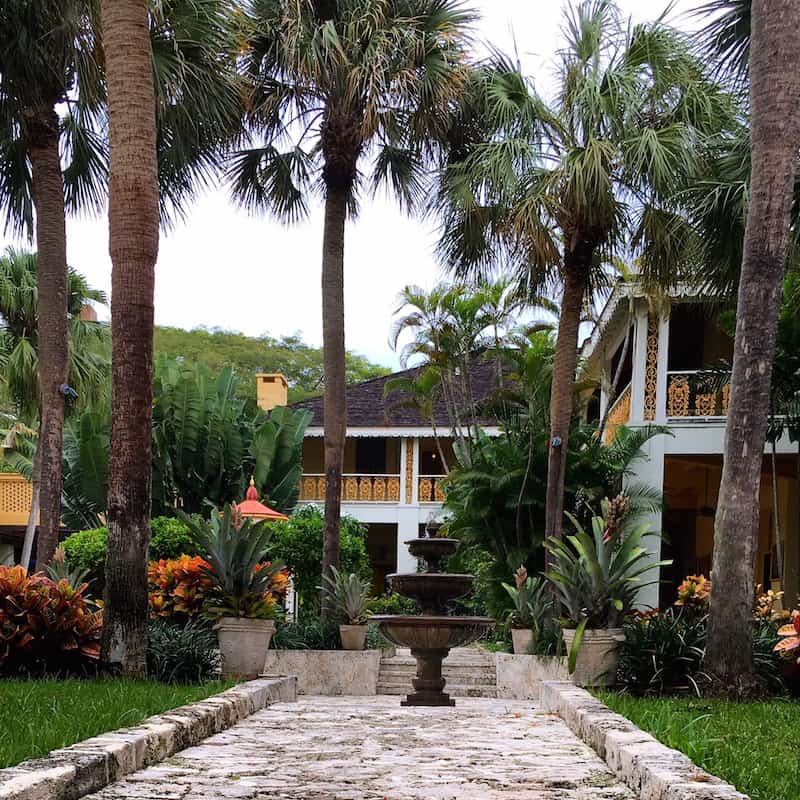 When Helen died, her husband continued to winter at Bonnet House. He remarried Evelyn Fortune Lilly six years later and the two continued to spend their winters at Bonnet House. It was Evelyn who saw to keeping  Bonnet House as a nature preserve and escape for art lovers. Before her death – at age 109 – she gifted Bonnet House to the Florida Trust for Historic Preservation to "ensure a piece of Florida history would be enjoyed by future generations." Bonnet House is a great escape in the heart of downtown…and reminder of Fort Lauderdale's past.
Now, remember Birch had only gifted Bonnet House and 35-acres to his daughter so he retained much of the land, which is now Hugh Taylor Birch State Park; adjacent to Bonnet House. Wishing to preserve his subtropical paradise from the development that was springing up all around it, Birch donated his estate for use as a public park. On July 1, 1949, Hugh Taylor Birch State Recreation Area officially opened to the public. It is now an island of trees and greenery in the middle of urban Ft. Lauderdale. The park is filled with outdoor activities from camping, canoeing, fishing, swimming, enjoying the beach, hiking – all right in the middle of downtown Fort Lauderdale.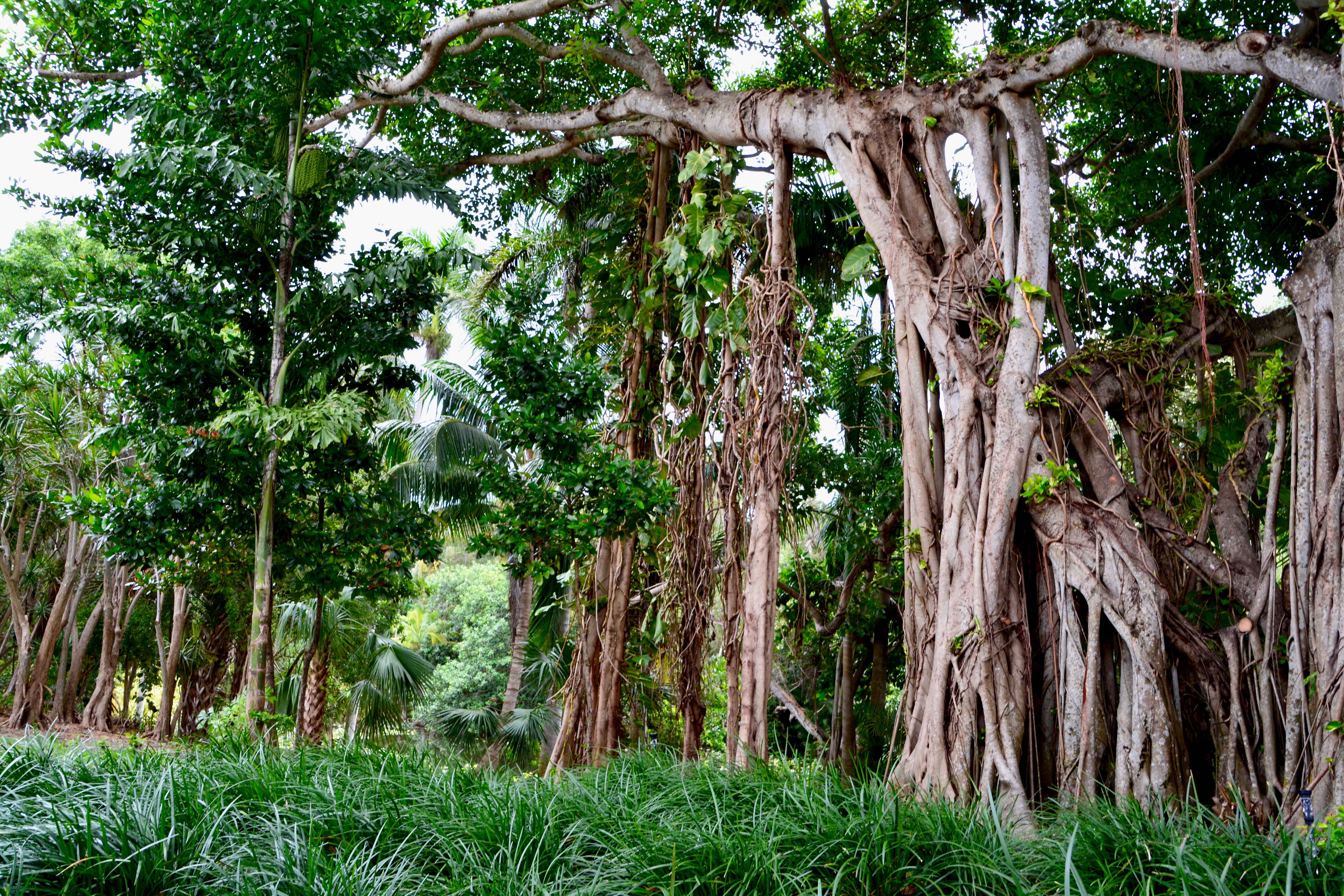 If you want to see nature at its fullest without leaving the city, Bonnet House and Hugh Taylor Birch State Park are two of the top things to do in Fort Lauderdale.
Creating a Carpe Travel Kinda Day…
So this is where the tour took a turn from nature to hotel rooms and lobbies. Let's skip over this and get to the Carpe Travel kinda day I ended up having… After skipping out on the bus ride back to my hotel with the group I headed a few blocks up to Fort Lauderdale Beach. A storm was rolling in and watching the waves and birds brought my camera out and got my finger busy snapping shots.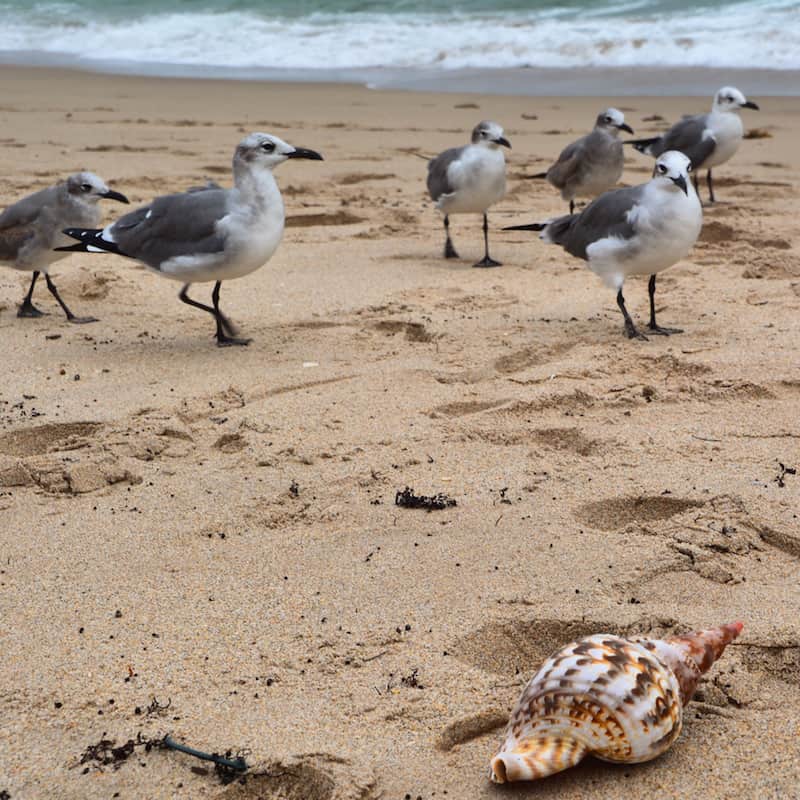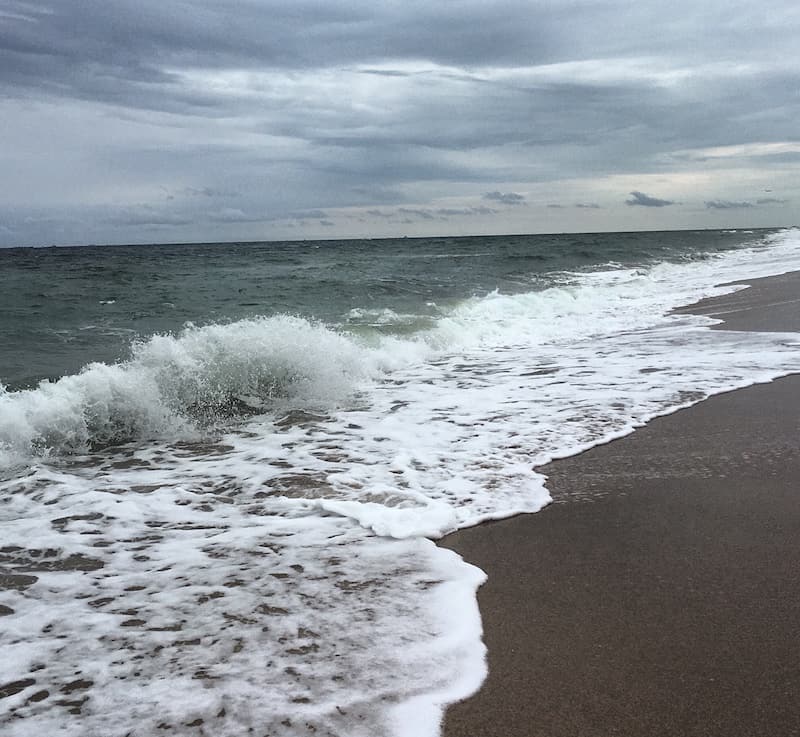 Walking a few miles up the beach I made it back to the convention center, signed in for the conference and ran into a friend who informed me there were a few spots open on an tour to the Everglades she was about to head to. As luck would have it, my nature photo tour was back on!
Everglades Holiday Park
After a 30-minute drive from the Fort Lauderdale convention center I found myself surrounded by miles of wetlands. We were in the Florida Everglades and about to hop aboard one of Everglades Holiday Park's many airboats that would zip us through the "River of Grass".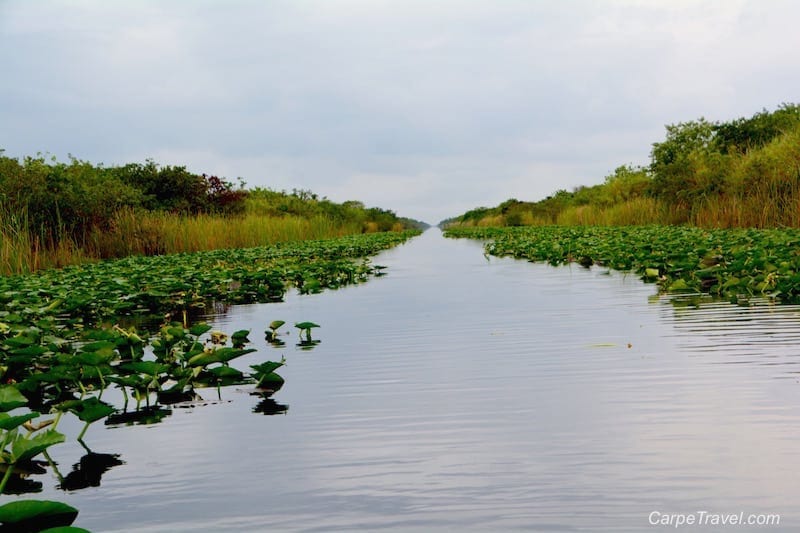 Airboat tours with Everglades Holiday Park are done rain or shine, sever days a week. For us, the storm had rolled in, and so had the rain. Luckily the airboats are covered so we stayed dry, and my camera could come out to play. (I'm betting on a hot, sunny day those shaded airboats make a world of difference!)
We locked eyes with at least five American alligators. Saw two iguanas perched high in the tree tops and counted a number of birds perched upon the Bonnet lilly's. It was a great way to see some of the area's exotic and unforgettable wildlife.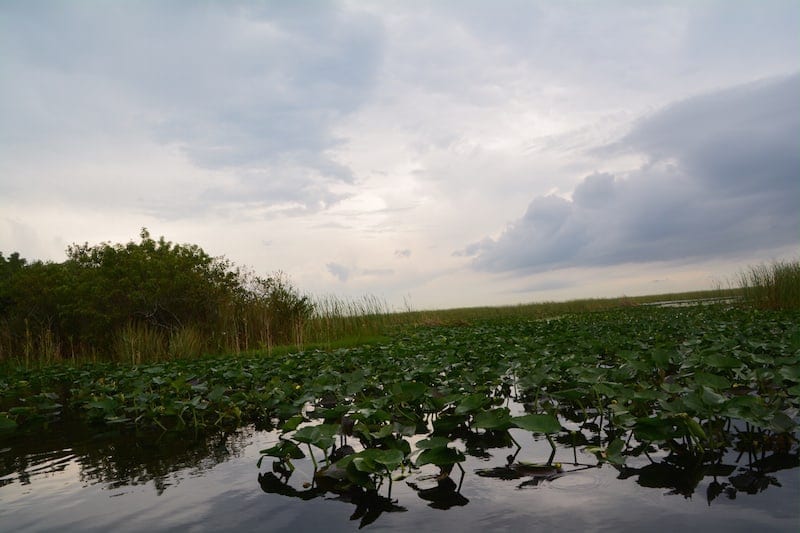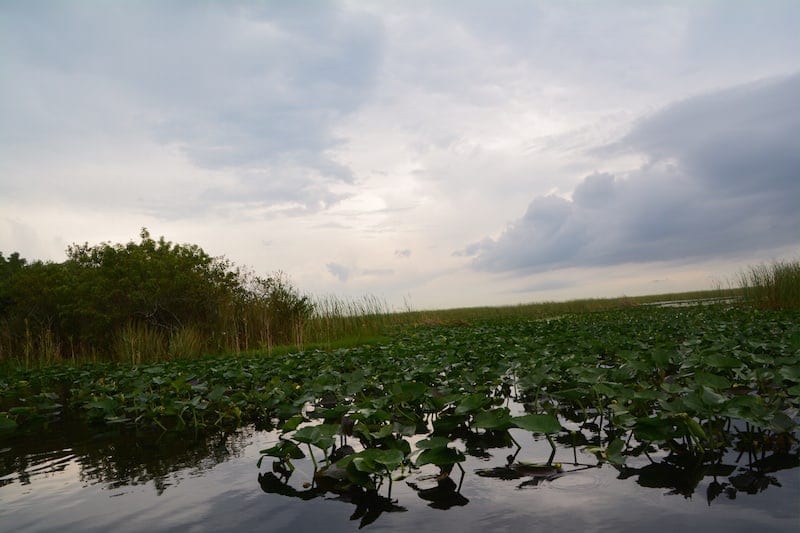 What started out  as a let down of a day, became one filled with more exploration, seeing the nature the area has to offer outside of the beach…simply discovering news things to do in Fort Lauderdale. I seized the day. I seized the travel. Truly a Carpe Travel kinda day!
Have you had a vacation day that went all wrong but ended up turning around – your own kinda Carpe Travel day? I'd love to hear about it in the comments.