By Cheryl McColgan, Contributing Writer
For a city that doesn't get the "touristy city" reputation, Cincinnati has a lot going on. Not to mention a rich (wine) history to explore and some excellent attractions to check out. Here are some of the best Cincinnati attractions to see if you're looking for things to do in Cincinnati.
Why people love visiting this Cincinnati attraction:
Say "Hello" to this ultra Instagramable museum in Cincinnati. Yes, you'll see a ton of vintage, neon signs but you'll also be able to learn a lot about the history of sign making and its impact on the city.
Catch a Show and Grab at Drink at Arnold's – A Real Speakeasy
Why people love visiting this Cincinnati attraction:
Visiting Cincinnati's oldest bar is like taking a step back in time. Arnold's has been serving up drinks since 1861, and was even an actual speakeasy during Prohibition. Over the years Arnold's has achieved and maintained a wonderful reputation for good food in its daytime tavern and restaurant. In 1976 a dinner program and opened the now treasured courtyard (downtown's first outdoor dining in several decades). A stage was built and live music began on the weekends.
All of this continues today. Its rich history and cultural diversity has secured Arnold's as an important niche and destination in Cincinnati.
Check out the Local Wine Scene
Why people love this: Because it's wine!
Did you know Ohio used to produce more wine than any other state in the country, and Cincinnati was the most important city in the national wine trade. That was in 1859, thanks to Prohibition in the early 1900's the wine industry in the state died. Today the Ohio wine industry is budding again and is producing award-winning wines. (See Carpe Travel's Ohio Wine Travel Guide.)
There are several ways to check out the Ohio wine scene in Cincinnati. If you're visiting in March, look into attending the Cincinnati International Wine Festival. Better yet, visit a local winery a few in and around downtown include – Revel OTR Urban Winery, Holtkamp Winery Tasting Room, and Skeleton Root.
Why people love visiting this Cincinnati attraction:
Great rotating exhibits, OMNIMAX theater, a large collection of Rookwood Pottery tiles and beautiful art deco building.
This building was built in 1933 as the main train station in Cincinnati. The art deco architecture and museums it now houses make it a great destination while visiting Cincinnati. It is home to the Duke Energy Children's Museum, the Museum of Natural History and Science, the Cincinnati History Museum, an OMNIMAX theater, the Cincinnati History Library and Archives and an ice cream parlor featuring the famous Rookwood Pottery tiles.
After the building was abandoned by Amtrak, Cincinnati voted it a historic landmark in 1973. It was initially turned into a mall but then later became the home of several local museums.
It features the largest half-dome in the western hemisphere, measuring 180 feet wide by 106 feet high. The arches of the dome surrounding the front entrance will carry a whisper from one end to the other, always a favorite with children. There are also two large mosaic murals in the entrance depicting Cincinnati history and 16 smaller ones featuring railroad scenes.
Why people love visiting this Cincinnati attraction:
Findlay Market is Cincinnati's oldest covered public market that brings a variety of vendors together offering fresh and local goods. If you're lucky, you'll find the occasional live music at the beer garden.
Cincinnati has a thriving restaurant scene – it was also recently ranked among the top 15 cities in the United States for foodies. While you can find amazing food throughout the city, a morning at Findlay Market is a must.

Why people love visiting this Cincinnati attraction:
This beautiful old building and architecture is home to the symphony, ballet, opera and other traveling arts events.
Fun Fact: Cincinnati has the second oldest opera company in the country.
Cincinnati Music Hall was started in 1876 and is considered an example of Victorian-gothic architecture. It's one of the most recognizable buildings in Cincinnati both for its beauty and its size.
In addition to housing the more traditional arts companies, the venue has also hosted many contemporary acts. Whatever time of year you visit Cincinnati, there is always something interesting to see at Music Hall.
There are also many great bars and restaurants within just a couple of blocks of Music Hall. The venue is located in a revitalized part of Cincinnati called Over the Rhine. It's become the restaurant hotspot over the last few years and is also home to the beautifully renovated Washington Park.
The Great American Ball Park
Why people love visiting this Cincinnati attraction:
Cincinnati is home to the oldest professional baseball team in the United States — the Cincinnati Reds. Hence the reason why the teams ballpark has been given the title.
If it's not baseball season, don't worry. Cincinnati is home to three professional sports teams – Cincinnati Bengals and the FC Cincinnati, the new major league soccer team. Sports lovers are sure to find a game to catch.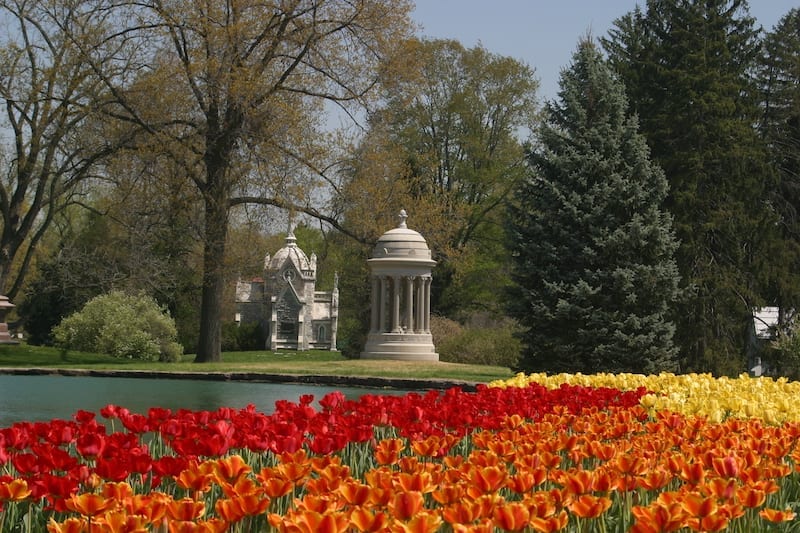 Spring Grove Cemetery and Arboretum
Why people love visiting this Cincinnati attraction:
This beautiful 733 acre garden is the second largest cemetery in the U.S., as well as a National Historic Landmark.
Founded in 1844, the Spring Grove Arboretum has been serving Cincinnati for over 150 years as both a cemetery and arboretum. While it may initially seem a bit morbid to visit a cemetery, the large mausoleums combined with the beautiful landscaping make it seem like a peaceful place of rest and communion with nature rather than a spooky cemetery. It's the final resting place for Civil War generals, congressional medal of honor recipients and Revolutionary War soldiers as well as many former Cincinnati residents.
The arboretum is a Morton Arboretum Register level III accredited site. It collects and displays woody plants that are used in the management of landscapes in the Midwest. They also work to establish collections of Midwest native species as well as nonindigenous plants.
Spring Grove is near a fun Cincinnati neighborhood called Northside, home to tattoo parlors, vintage shops, cafes and quirky bars.
Why people love visiting this Cincinnati attraction:
The bridge spans the Ohio River and is a prominent part of the Cincinnati skyline. It offers a great foreground to Cincinnati skyline photographs and is one of the most photographed sights in Cincinnati.
The bridge is named after its designer, John A. Roebling. When the Roebling Suspension Bridge opening in 1867, it was the longest suspension bridge in the world at 1,057 feet. The Brooklyn Bridge was also designed by Roebling and took over that record when it opened in 1883.
The bridge connects the Covington, KY and Cincinnati, OH riverfronts and is also open to pedestrians. On the Covington side of the bridge, there are a series of very large murals along the floodwall that depict the history of Covington including Bison migration pathways and escaping from slavery.
Both ends of the bridge lead into entertainment areas that are home to bars and restaurants. While visiting the bridge and murals plan to have lunch or dinner on either side of the river. If you're looking to stay nearby the award-winning boutique hotel designed by Corey Rineair, Hotel Covington, is just a few blocks away from the murals.
Why people love visiting this Cincinnati attraction:
Although this "Cincinnati" sight is technically in Covington, it's worth mentioning because it's famously beautiful and people love to visit. You can also attend a Catholic mass in a historic church that has been listed as one of the most beautiful in the world by the Catholic Reporter.
The Cathedral Basilica of the Assumption was started in 1894 and has never really been finished. A basilica is a special designation by the Catholic church, and the cathedral in Covington is one of only 84 minor basilicas in the US. It's a fantastic example of Gothic Revival architecture. There are 82 gorgeous hand-poured stained glass windows that were made in Munich Germany. One of the windows housed in the north transept is one of the largest in the world at 67 feet tall by 24 feet wide.
What are some of your favorite things to do in Cincinnati? Are there other Cincinnati attrations we need to add to the list? Let us know in the comments.
About the Contributing Writer: Cheryl McColgan is the founder and editor of Heal Nourish Grow, an ultimate wellness, healthy lifestyle and advanced nutrition online publication. Her passion for helping others create Ultimate Wellness and live their best lives led her to found Heal Nourish Grow. She helps people develop the confidence and habits to create lasting change and greater health by sharing her wealth of knowledge and over 25 years of experience in fitness, nutrition, yoga, and wellness. You can connect with her on Instagram and Facebook.