We stopped about five times in a kilometer in the hills of Tuscany en route to the farmhouse just outside San Gimignano. Talk about the photo ops. Grape vines and olive trees spread out as far as the eye could see.Much to our pleasure we found
the San Gimignano farmhouse,
Il Vicario, without incident. Despite her shortcomings (the whole not talking thing), the Lady in the Box was doing her part by getting us to our destinations. I will certainly give her that.But I digress. The farmhouse is owned by Fulvio and his niece Katia. Initially we hoped to start our time in Tuscany there, but there was no room at the inn because of Katia's nuptials. So we recalculated the route and hit up Florence first.Upon arrival we were greeted by two friendly Americans at the pool who explained they had been to the wedding and were now relaxing, which was exactly what we needed after so many stops and drives in a little over a week. They pointed us to the direction of the main room to find Fulvio so we could check-in.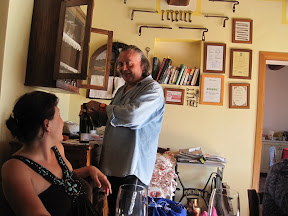 Jolly old Fulvio was standing in the doorway with a large grin on his face welcoming us. Two couples were sitting around laughing with full wine glasses in hand. Fulvio hands us keys to our rooms, then pauses, "you want to go to them now, or you drink wine first?". I plopped right down and started to relax.One couple had just done the cooking class and were disappointed to not be able to stay because it was full. The other couple was from Jersey and had also been in town for the wedding.Okay, this wedding. It sounds like Katia and her groom had nothing on Wills and Kate. Folks were in from other parts of Italy, the U.S.A., France, Spain — you name it and it was represented.We talked till the bottles and the glasses emptied, then it was time for a quick siesta before dinner. As usual, I could only sleep for about 20 minutes so I headed back down to hit the pool. It was just a little slice of heaven. The scenery was unbelievable and the sun was sinking giving some of the most beautiful panoramas.
We ate dinner with the group in the main room. It was a three-course meal with some great complimentary local wines. Everyone at the table had been at the wedding — even Katia had arrived to serve dinner! From what I was hearing about the festivities I was surprised she was out of bed. A French couple from Alsace brought their computer down and we watched a slide show of wedding pictures. It was simply beautiful.
It was early to bed and I started the next morning with a run through hills. Now that doesn't suck.
We scheduled a cooking class onsite with some folks Lisa knows who were also on holiday in the area. We spent about five hours cooking and 30 minutes eating. It was SO MUCH food. We did an antipasto with bruschetta, crostini rubbed with garlic, salt and topped with olive oil, two pecorinos — an aged one topped with honey and pine nuts (my favorite) and a younger version with a chocolate banana sauce.
We made a Tuscan bread salad with tomatoes, cucumbers, basil, salt, pepper, oil and red wine vinegar. The topper was the bread. The unsalted Tuscan bread is quite hard so we actually had to dip the bread in water and RING IT OUT before crumbling it over the salad. It was a bit odd and I was very skeptical. I'm not much of a soggy bread eater. But OMG, the salad was AMAZING — yep, that's right, with caps. We kept trying to figure out how we could find unsalted bread in North America to make the salad. Ideas?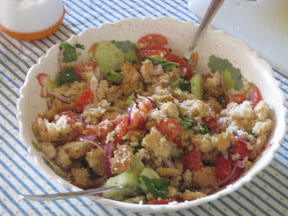 We made two kinds of sauces, a simple red and a white sauce with beans, onions and fragrant lemon thyme. We also made the local pasta, pici. It's a long thick string of pasta.
Some interesting things I learned about pasta making:
– egg is traditionally only used by the rich; in most places it's simply salt, flour and water.
– every area has it's only style and shape; some shapes mirror those of other areas, but they are still called something different.
Next, we did a quick chicken, fried with capers (or for the non-caper lover, orange, which I say was more amazing). It was a lot of food. In fact, probably too much. Even Katia said it was an abnormal amount as the only time they each THAT much is for a feast.
Twas a fun class. Best of all about the stop, I actually got in a run and a long walk thru the vineryards and olive trees. It was quaint, it was rustic and it was very sweet.
Now for the part of the trip I've been DYING for: Piemonte.
Gotta love waking up in Tuscany and going to sleep in Piemonte. Oh, Italy… you are too good to me.
Ciao Ciao!
– Posted using BlogPress from my iPad