This is a sponsored conversation written by me on behalf of Alamo Drafthouse. The opinions and text are all mine.
A movie theater is a movie theater, is a movie theater. Or rather it used to be. Going to a movie theater isn't what it was when I was a kid, or even when I started taking my kids to the movies a few years ago. Today, it's all about the experience…and the film showing. Denver's newest attraction – Sloan's Lake Alamo Drafthouse – has changed, even perhaps recreated the whole movie experience, at least for me.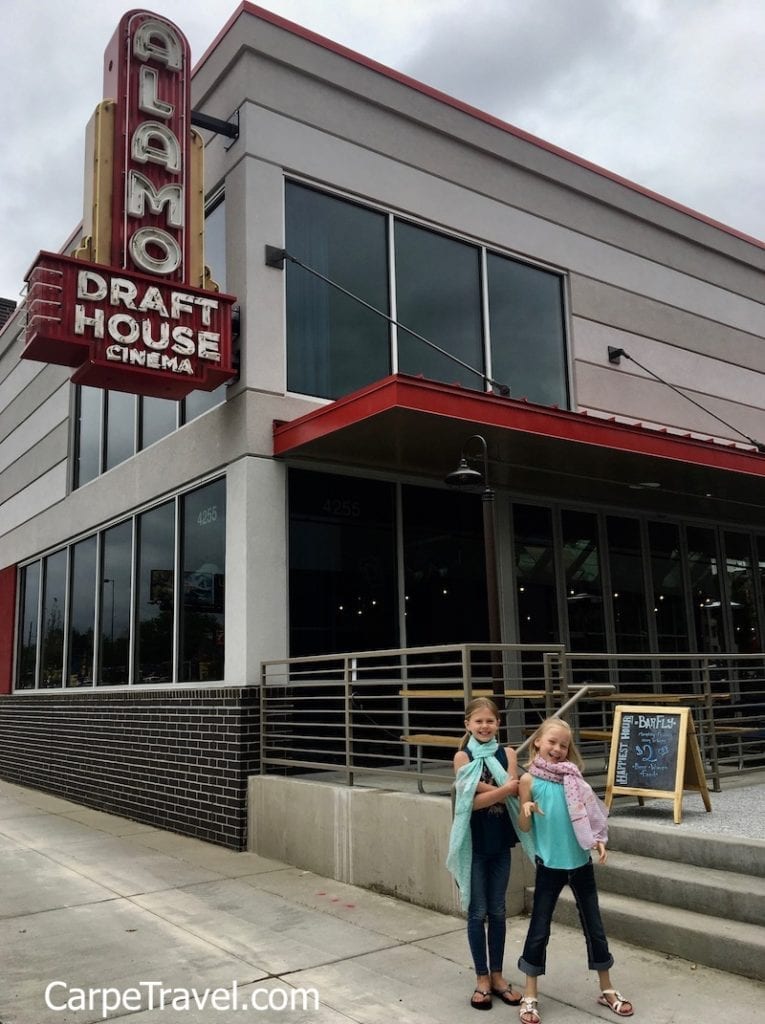 This summer the Princesses and I were invited to get out of the heat and into a seat at Sloan's Lake Alamo Drafthouse. We specifically wanted to check out the family movies and low cost Kids Camp screenings, which benefit local nonprofits. The Sloan's Lake Alamo Drafthouse is the second Colorado location for the Alamo brand. It opened this past May in the redeveloped seven-block St. Anthony's Hospital campus.
Think a full-service bar, and eight theaters with full dinner and drink service. Yes, there is a waitress (or waiter) who takes your order before and/or during the movie. There is no need to EVER get up unless you have to run to the bathroom.
The lunch and dinner menus are awesome and caters to everyone's taste buds with delicious options mapped out by executive market chef Seth Rexroad. (You have to try the fried pickles!!!) He's even created a beer and movie pairing dinner from the 32 local craft beers on tap! I'd like to see him do a wine and dinner pairing while screening A Good Year or Sidways. And if they did the latter, Merlot would HAVE to be on the menu.
Yes, I mentioned two old flicks – A Good Year and Sideways – because the Drafthouse chains don't just show new movie releases. Its theaters are capable of screening old and new films, including 3D presentations in RealD. You can regularly find specialty screenings of classics like Jaws, Clue, Midnight Cowboy, Dirty Dancing and so many other favorites.
For our visit to Sloan's Lake Alamo Drafthouse, we saw the new Cars 3 movie. Unfortunately, we couldn't make the Kids Camp, which is a great way to give back to the local community and see a good movie. All Kids Camp screenings are "Pick Your Price – $1, $3, $5" with 100 percent of ticket sales donated to local nonprofits and schools. In June, the Sloans Lake's screenings benefit Girls, Inc. of Metro Denver. The nonprofit is also its neighbor, a few blocks away on Colfax.
While both the Princesses loved the movie, they enjoyed eating a three-course lunch in the theater the most. The kid's menu options include three courses – a main dish, side and dessert. We also started the Friday fun with some fried pickles. OMG! They. Are. Amazing. Kids (and adults) can also indulge in homemade milkshakes. Princess Two suggests you try the strawberry milkshake. She gave it two-thumbs and two big toes up.
The kid's meals are served on a metal tray verses a plate so kids can opt to have the food sit in their laps and parents don't have to worry about food dropping or missing their mouth in the dark. As Princess Two put it, "Eating like this is fun and fancy…"
While the menu and dining option were what sold Alamo Drafthouse for both myself and the Princesses, the theaters at Sloan's Lake location were impressive. The micro-theater we were in sat 48; the other five theaters seat between 76 and 196 people, three of which have spotlights and raised stages specifically designed for special presentations. What I loved about the theaters though were the large, comfy leather seats. They are far enough apart in rows where a waitress can easily walk through, aka the person sitting behind you can't reach bump or put their feet on your seat. Or in my case, I don't have to continue to remind my girls to get their feet off the chair in front of them. (THANK YOU!!)
When you visit an Alamo Drafthouse, you're able to pick your seats ahead of time and then sit down 30 minutes before the movie begins. I loved the option of picking our seats…not only do ensure seating next to one another but for little ones who have to use the bathroom often, it's helpful to opt for an isle seat. And, instead of ads or mind-numbing content that runs over and over again when you sit down early in a theater, Alamo has created – or works with influencers like Mark Rober – to create custom pre-shows with content themed to most of the features it programs. These are super fun, short clips that are both entertaining and can be educational at the same time. (Here is one of the Princess One's favorites.)
Upon asking the Princesses what they thought about the experience as we sipped hot chocolate at the Starbucks next door, they both raved about the food and the ability to eat lunch in the theatre. Princess One did point out she thought the Alamo Drafthouse had a very strict no texting and no talking policy during showings. I have to admit, I'm impressed my nine-year-old picked up on this.
It's true, Alamo Drafthouse has a zero tolerance for talking or cell phone use of any kind during movies, and from the sound of things, they aren't afraid to kick anyone rude enough to start talking or texting their friends during a show right out of the theater. There is short clip that's played prior to the movie previews regarding this and it gets your attention. It definitely got mine and Princess One's.
When I asked Princess One if she thought this was bad, she said no but she was scared we may get kicked out. Why? Princess Two, "is always talking through movies, I was afraid she'd get in trouble and we'd all have to leave," she told us. Princess Two sat up and responded, "I saw it too, and I tried hard not to talk." True to her word, she did try and she didn't talk nearly as much as she normally does during movies. (THANK YOU!).
The Bottom Line
I rarely go to the movie theater anymore. Why should I spend money on a babysitter, pay for dinner, fight for a parking spot and then squeeze into a not so comfy seat next to someone who may or may not smell. The latter is usually the case for me. Instead, I can rent or buy a movie from iTunes, watch it at home after the kids are down, let The Husband whip up one of his fabulous "chef" meals and drink wine. The last two reasons – dinner and drinks – are really the main reasons we don't hit the theater more. Denver's newest attraction – Sloan's Lake Alamo Drafthouse – has changed, even perhaps recreated the whole movie experience for me.
Now, I actually want to get a sitter and have dinner and date night with The Husband. Better yet, it's fun for me to go to the movies with my kids. I can eat a delicious meal I didn't have to make – or clean up – and sip on wine while catching a good movie.
The Princesses Rating
Two-thumbs (and two big toes) up. It's a great way to spend a hot summer day or just THE place to go for your next movie.
But, don't just take it from us, The Alamo brand has earned accolades from the likes of Entertainment Weekly (#1 theater in America), Wired.com (Coolest Movie Theater in the World) and Fandango.com (One of the Best Theaters in the Country). For all the reasons I mentioned, and then some.
Have you visited an Alamo Drafthouse? What do you think???
Save