Most of us are familiar with the term Wifi aka connecting to the Internet through a wireless connection. But what about Mifi? If it's a new term for you Mifi means mobile wireless hotspot. And it's one that you can carry with you to help stay connected – kinda like your own little private Internet. For folks who travel and want to make sure they can always connect, Mifi is becoming an essential piece of travel gear. With Mifi growing in popularity, so have the offers – from monthly to prepaid Mifi plans.
How do you know which Mifi service or plan is best? What service will fit your budget and your needs? Unfortunately, there isn't one service that's the "best". It really depends on your wireless carrier, where you're traveling to and what devices you have that you want to connect. There are monthly Mifi plans you can purchase as well as prepaid Mifi plans that offer specific amounts of data and time allotments.
For frequent business travelers having a monthly Mifi plan may be the best option, especially if you're staying in hotels that do not offer free Wifi. For less frequent travelers, a prepaid program works great as you can use it when you need it, add more time to your plan and simply not use it – aka not pay for it – when you're not traveling.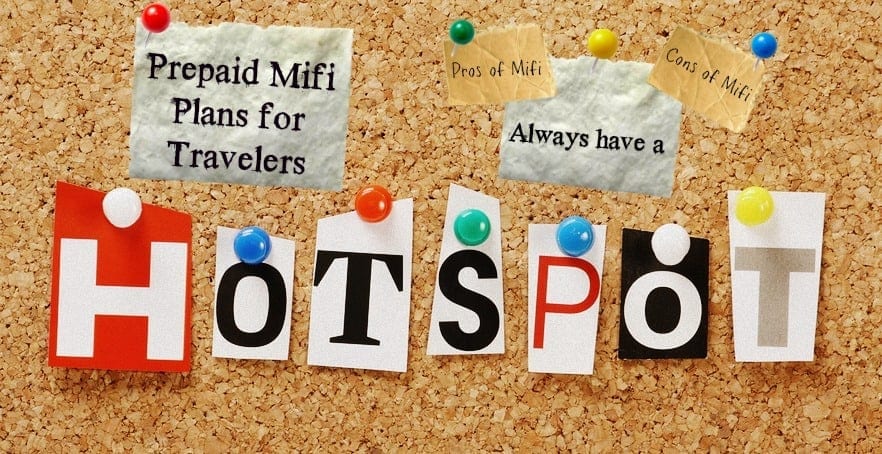 Pros of Using Prepaid MiFi Plans When Traveling
Security: One of the advantages of using your own MiFi when your traveling is for privacy and security. Since it essentially acts as your own wireless Internet router, you're on your own private line. In other words, the guy sitting next to you at the cafe can't jump on your connection. You have the administrative rights to who can access your connection.
All Your Devices Can Connect: As our travel bags become more crammed with wireless enabled devices the need (or want) to connect grows. However, unless you have access to an open wireless network such as one offered by a coffee shop, you typically must purchase an individual wireless plan for EACH of your devices. I found this to be the case in Moscow when I stayed at the Marriott. I wanted to connect my laptop, the charge was $20 a day. But then when I went to check email on my phone, I was required to pay an additional $20 to connect that device. Urgh.
Cons of Using Prepaid MiFi Plans When Traveling
Battery Life: The battery life on Mifi devices aren't always the longest. You can expect around four to five hours before they need to be plugged in. You can typically plug them into your laptop to charge but that does drain your battery faster. One thing to note, when you're not using the Mifi, turn it off so you don't waste the battery.
Rural Areas Might be Challenging: One of the points of having Mifi to make sure you have access to the Internet when you're on the road. However, it doesn't always mean you will. If you're traveling by train or car and will be going through tunnels, you may loose connection throughout the trip. Additionally, if you are traveling to very remote places, you may not be able to get access. Make sure to heck the providers coverage map to ensure they do in fact have service in the areas you're traveling to.
Speed: Depending on the plan you select – and your location at the time of use – your wireless speed may not be as fast.
The following chart focuses on prepaid Mifi plans. If you travel a lot or need your hot spot more times than not you should check with your wireless carrier to see if there are better options. Many times you can turn your smart phone into a hot spot and not need to purchase a Mifi device, but these programs do come with contracts and monthly fees. (To see a more in-depth break out of the prepaid Mifi plans check out this great chart the Prepaid Wireless Guide created and regularly updates.)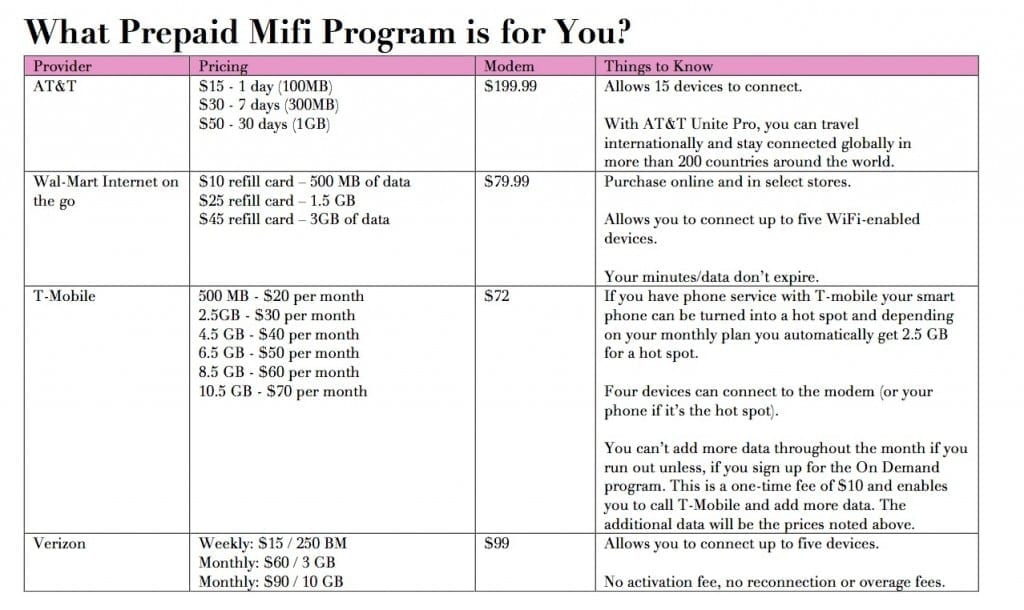 To see a more in-depth break out of the prepaid Mifi plans check out this great chart the Prepaid Wireless Guide created and regularly updates.
Do you or have you use prepaid Mifi plans? Have you found them to be helpful to have?