By Valerie QuintanillaIt was time to make our way into the hills of Tuscany. We found a little farmhouse outside of San Gimignano,
Il Vicario
, that features a cooking class and nightly dinners. It sounds perfect.The drive from Florence to San Gimignano is about 45 minutes. I found a winery that does lunch wine tastings,
Tenuta Torciano
. We arrived for our noon appointment to find two tour buses and a packed patio. We were led into a steaming hot dining room and served our first wine immediately,
vernaccia
, the wine of San Gimignano. It's a crisp white that throws acidity and citrus. A perfect cool down treat.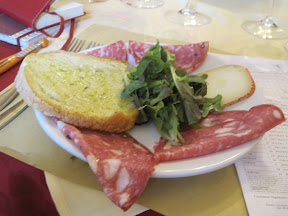 The tasting included seven wines, an antipasto, the traditional tuscan soup of ribollita made with veggies and leftover bread, and finally lasagna topped with truffle oil — amazing! Each dish featured a paired wine.
Toward the end our very attractive host (think Bradley Cooper meets George Clooney — talk about the perfect Super Tuscan blend) opened their most expensive wine for us, a Super Tuscan.
Now, Super Tuscans are blends and were something of a marketing ploy created years ago to sell more to westerners. They generally include blends of more Bordeaux-style grapes, like merlot and cabernet sauvignon. But, they are generally heavy with sangiovese.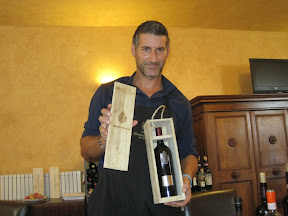 Our host tells us what he's about to pour includes pinot noir, syrah, cab franc, cab sauv and merlot. I was immediately surprised by this blend so I jumped in, "Wait! Pinot's can't grow in Tuscany! The climate is wrong." The girls at the other table had oohed and ahhed the moment pinot left his lips. They looked at me quizzically — what was this freak from Denver, Colo. talking about? Our pourer basically said, "Yes it does, in a small part." and went on with his presentation — about a 15 minute lead-in to the actual tasting. Perhaps it was all the wine, but I struggled to let it go. "But, pinot is such a delicate grape, how can it grow here?" I questioned. He wouldn't give me much insight so I stopped with my inquisition.
I've since done some googling and in fact, there is pinot grown in Tuscany. But, the funny part came about 20 minutes later. Lisa is inspecting the bottle and she elbows me, "look at this…". The back of the bottle has the varietal information. In the U.S. it's a label requirement to list the percentages and the varietal name. But, that's not the case in most of Europe as the focus is on the region versus the varietal. There, in plain sight reads, "100% Sangiovese". Seriously?? It's a 135 euro wine (on the web site it's listed as 180 and also lists the grapes he rattled off to us) and you're going to list the wrong varietal? Scusi? We opted not to call it out in front of the group. Clearly these girls were eating out of Bradley Clooney's hand. Who were we to kill his mojo? Instead we decided to question the pinot elements they were tasting.
I know, I know, I'm totally going to hell for baiting the girls, but I just had to do it. I quite innocently asked, "Do you all taste the pinot? I'm just not getting it." One of the gals seemed to forget I'd already mentioned the delicateness of the pinot grape and informed me that while she didn't taste it, it was a delicate grape so that's likely the reason. Huh? Then what's the point? You add cab franc for structure and merlot to soften a wine. Why do you add pinot if it's just going to be overpowered by the other grapes involved? Sorry, but girlfriend's explanation did not compute. Oh, and then there was the fact that I'd mentioned it being a delicate grape earlier. What eves.
I'm not a big pinot lover (I saw Sideways, but I still prefer my merlot) and I certainly don't pretend to be a pinot expert, but just give me a reason for blending with that grape. Give me something to hold on to people!
All four of the ladies were insistent it was DEFINITELY a blend. Oh, they could certainly taste that. Not gonna lie, Lisa and I sort of enjoyed it. One of the gals bought the special vino. We were just picturing one day when she opens the wine for a special occasion, she's telling the story, talking up the cost when a guest inspecting the bottle asks, "why oh why does the label say 100% sangiovese — by the way, isn't this from the home of sangiovese, Tuscany?" Ha!
Don't get me wrong, the wines were good and I even had three bottles shipped home. But, I do want to learn more now about where pinot grows in Tuscany, the value of pinot in a blend and most importantly: why did the label of that Super Tuscan read sangiovese?
Next stop, farmhouse and another cooking class. Maybe even a bit more wine! Ciao Ciao!
Talk to me on Twitter @valeriekq!
– Posted using BlogPress from my iPad