What happens when you're in the middle of the mountains and your daughter has a 104-degree temperature. Or your mother-in-law falls off her bike and hurts her hip? Better yet, you're in Mexico and you need to call an ambulance? When you travel you have to keep in mind the realities of life – accidents happen and you may need medical help. But do you know where to go or the right emergency phone number to call?
When my daughter woke up from her nap with a 104-degree temperature I called her doctor as I was giving her Tylenol. "Get her to the ER," was the pediatrician's response. The panic set in but more because I had no idea where the nearest ER was. We had headed up to the mountains earlier in the day for our first family ski weekend. We were supposed to be going sledding that afternoon, not to the ER.
I've since found several apps that have aided us during our travels, including some of the best medical apps for when you're on the road. Here is a list I've complied of nine of the best medical apps that can help you get and find help if you're in the middle of an emergency when traveling. I've had to use a few of these myself…have you?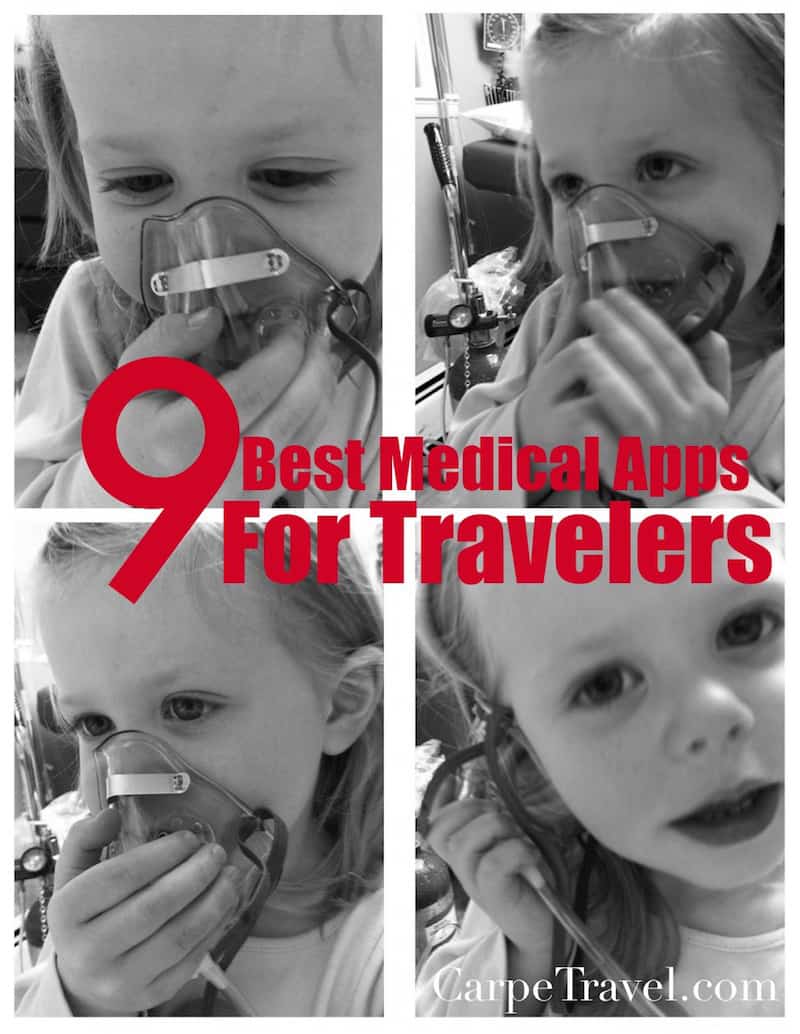 Nine of the Best Medical Apps for Travelers
iTriage
The iTriage app was created by two emergency room doctors, and gives you immediate, quick access to a large medical database. The database contains things like symptoms, conditions, different types of medications, different procedures, and current medical news. There is also a list of doctors and facilities for you to search should you need immediate help. You can even verify what insurance is accepted. Very handy app that I've used several times.
Allergy Alert
If you suffer from hay fever, or some other sort of allergy, then you are no doubt very familiar with pollen counts. Allergy Alert will let you know just what you're getting yourself into – before you take your trip. It is an app developed by Pollen.com that offers in-depth information about top allergens with detailed plant descriptions and images, as well as a five day allergy forecast. It's a must-have if you suffer hay fever at the slightest hint of spring.
Be Aware with Smart Traveler
Do you ever travel and wonder if you are about to be involved in a firestorm of political unrest or fall prey to a natural disaster? Well, if you download the Smart Traveler app then you will be in the loop, it's the official State Department app for U.S. travelers. It is essentially a fact book that is updated in real-time. It contains information on almost every country and gives constant updates concerning natural disasters or political events.
Avoid the Plague with SickWeather
Besides downloading the usual weather apps, there is also an app from SickWeather that allows you to see if there is a virus outbreak in your area. It aggregates data from various social media sites to determine the proximity and severity of the particular outbreak. Download it and let is help you avoid places where you might get the sniffles.
First Aid by American Red Cross
So you have a first aid kit in your bag, but do you know how to use it? With the help of the Red Cross and their first aid app, you can. Simply download it and give it a quick look. You will find information on all sorts of things from how to bind up wounds, to administering CPR.
Pet First Aid
Ever been hiking and your dog gets hurt? Camping and your dog starts vomiting blood? Not a pretty picture. Promise. The American Red Cross Pet First Aid app puts veterinary advice for everyday emergencies in the palm of your hand. Get the app and be prepared to act when called upon. With videos, interactive quizzes and simple step-by-step advice it's never been easier to know Pet First Aid.
Know Where the Hospitals Are – Internationally and Domestically
Half the trick of getting help in a foreign country involves knowing where the hospitals are. The TravelSmart app has that list at your fingertips. Hospitals in over 129 countries are conveniently organized in a searchable database with contact information and maps to locate them. It also lists emergency numbers such as police, fire department and ambulance by destination. It also includes a drug dictionary with international translations and first aid terms translated into multiple languages.
Have Your Medical Information Available
Nothing frustrates emergency responders more then showing up on the scene and having little or no information about someone's medical condition. Make that a thing of the past by downloading smart-ICE (In Case of Emergency). Here you can keep your emergency contacts, doctors information, medical information, and any prescription information or medicines you're taking handy. Great to have if first responders need to know what's going on when they arrive.
Find the ER
Several of these apps locate ER's and so much more. But if you're traveling with someone suffering from a health problems or chronic medical condition having finding the nearest ER with one click matters when seconds truly count. EMNet findER uses the iPhone's GPS to quickly locate ERs anywhere in the U.S. You can select the closest ER or another nearby ER in a map or list format. Once you select an ER, you have 1-click access to directions to the ER as well as additional information, including the ability to search online for more information about the ER. This app works in the United States.
Have you used any of these medical apps? What are the best medical apps you've found?