By Valerie Quintanilla
After 20 long hours of travel and a five hour car ride we arrived at our first destination, Bari. It was about 11:30 pm and despite near exhaustion in the car we were giddy. Luckily the Hilton Garden Inn pantry was stocked with vino. So, we indulged.
The next morning we headed out to explore the city. It was my first experience driving in Italy. I'm pleased to report no casualties thus far. Italy driving requires total concentration. Cars and people jump out from all over. To add to it, our GPS, which I lovingly refer to as the Lady in the Box was being temperamental. She only talks to us when it suits her and sometimes when she does speak up she directs us one way when the screen says the other. I really hope she lightens up or this relationship may not work out.
THE. BEST. FIRST. DAY. EVER. It started with a visit to a little boutique where we met Carmella. The clothes were amazing, but little Nonna Carmella is what truly gave the store its character. I slipped into my first dress and realized I had probably made a mistake. There is no turning back after trying on Italian clothes. The dress looked like it was made for me. Nonna Carmella, who didn't speak a lick of English, brightened up when I walked out and motioned for me to stay right there. She went scurrying about the store in search of something. She came back with a black cardigan. To humor her I let her dress me up. To my surprise it was perfect. Perfect. Perfect. Perfect. The cut, the way it hung, how it complimented the dress, sigh. No wonder Italian women always look so amazing, the clothes there are made for real women – you know the ones, with curves.
Lisa also got the star treatment when she came out of the dressing room. We felt like models! Nonna Carmella would bring us scarves, sweaters, jackets, shoes and more dresses. The little old lady knew just what she was doing. She didn't even ask for our sizes and her eye for accessorizing was fantastical. After much debate I walked out with one dress and a sweater. I had to have some very strong words with myself to not buy the amazing black pea coat with the most perfect sleeves I've ever experienced. Yes, sleeves can be perfect and can be an experience.
We somehow managed to explain to our new Nonna that we were on a wine and cooking vacation. Oh, and since it was now time for pranzo (lunch), could she suggest an osteria? She sent us off to a little place called Vini e Cucina.
We found the little dwelling with only locals. The waiter asked us simply if we wanted pesce (fish) or meat. For 20 euros each we got vino della casa bianco (white house wine) and the traditional three courses: antipasto that included two cheeses, proscuitto and four of the most amazing olives i've ever tasted; our primi was a rice dish of mussels and veggies; the secondi was fresh calamari; and they finished it up with a plate of huge red grapes. Sigh. La dolce vita.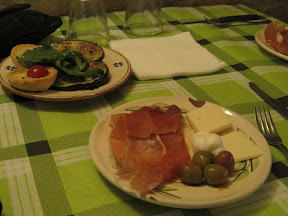 Lisa made friends with the cooks securing not only the recipe for the rice dish but also a very animated explanation of the cooking methods, which also included a peek at the pan it was cooked in. Bon appetito!
We thanked Bari for it's wonderful hospitality and drove further south to Lecce for out next stop.
– Posted using BlogPress from my iPad
Sharing is Caring...