By Iben Ayad, Founder of Outdoor Times
When people think of New York many automatically think of skyscrapers and crowded city streets. There is a lot more to New York including some of the most beautiful and wide open spaces. That is the very reason why so many visit this states many campgrounds each year and enjoy some great fishing along with that too. Here are three incredible camping adventures in New York that offer great fishing in some of the most picturesque settings you will ever find.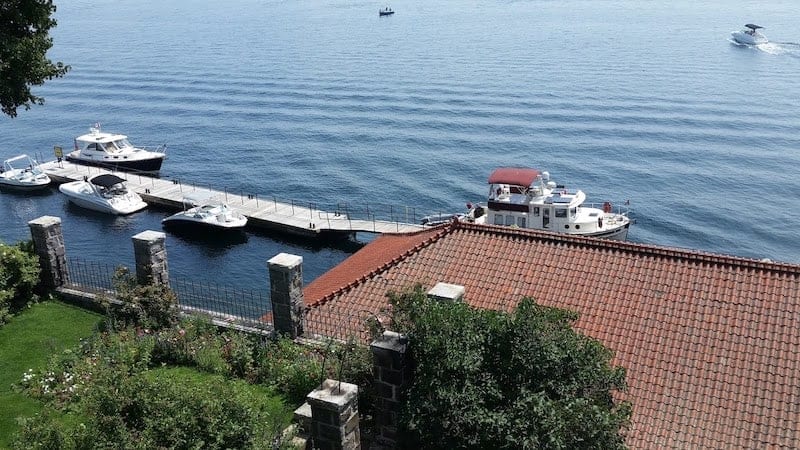 We start off our list of one of the most scenic and peaceful camping and fishing adventures you could possibly ever experience. This 10 acre park is actually located on an island that is part of the amazingly beautiful 1000 Islands region that that dots the St. Lawrence River between New York and Canada. It is one of the most peaceful and serene state parks in all of New York with great fishing.
Enjoy a day on the water going after such gamefish such as largemouth bass, smallmouth bass, northern pike, walleye, muskellunge (muskie) and many other varieties of fish.
If the kids get bored there are many other adventures you can enjoy in the area. There is the famous castle on singer island, river kayaking and there is nothing more breathtaking than taking a boat ride around the many islands in this scenic area.
About the only drawback with this state park is that it can only be accessed by boat. But that's not problem because boat rentals are available nearby Alexandria Bay. To enjoy the best fishing in the area you will need a boat anyway.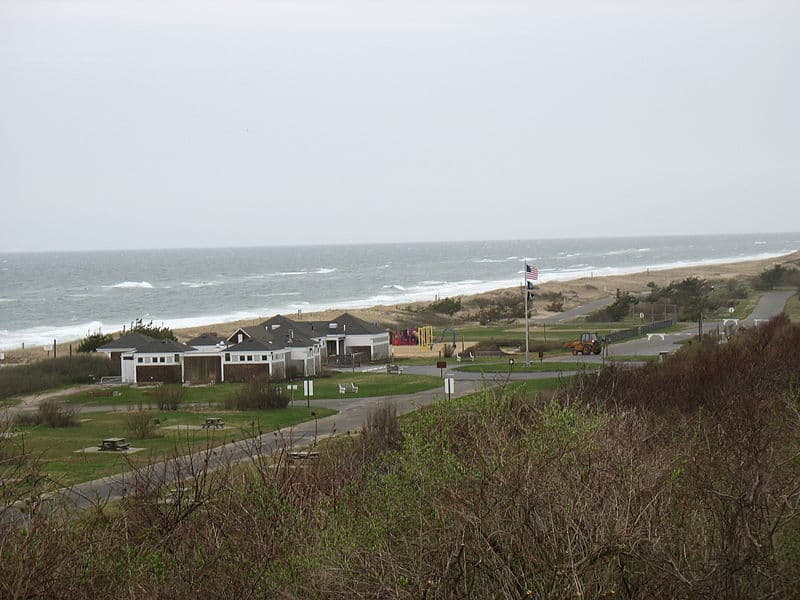 If you are looking for a different type of camping experience, then you will love this seashore campground and all it has to offer. It just so happens to be one of the best surf fishing spots in New York too. The whole time you are there you will be taken back by the beauty of the surrounding area.
What type of sound and ocean fish can you catch off the beach here? Many anglers have been known to reel in some pretty good size blues, striped bass and flounder depending on the season. Don't be surprised if you land an occasional shark, eel or ray either.
When you are done fishing you can swim in the waves (summer months only), take a stroll among the dunes or exchange stories around the campfire at night.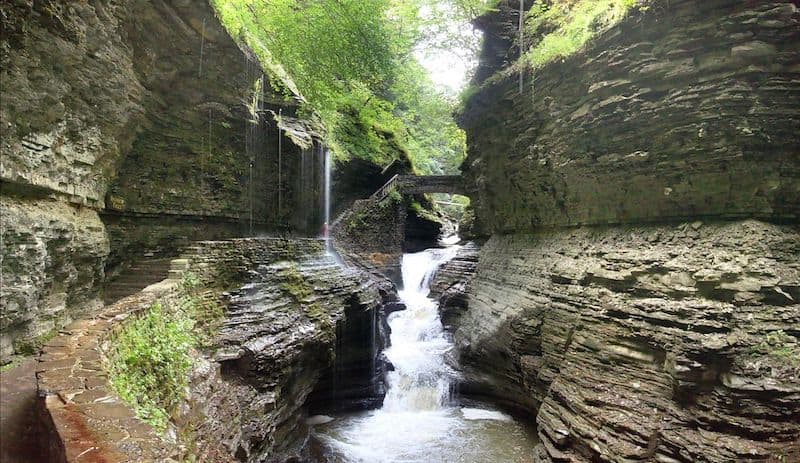 Maybe a lake camping adventure is just what you're looking for. That is what you get with Watkins Glen State park, which is nestled in the amazing Finger Lakes Region of New York (a fabulous wine region!).
You will be in a surrounding that is so picturesque you may just forget about the fishing but there definitely is some great fishing to be found here. Try your luck fishing from the shore or venture out onto the water by boat. The locals will tell you if you do it right you are likely to land some good sized lake trout, landlocked salmon, yellow perch, or even a feisty northern pike.
Don't worry if the fishing is not good because there are plenty of other activities to do in the area. You can catch a NASCAR race at the world famous Watkins Glen International Raceway, take a scenic boat ride on the lake or visit the amazingly picturesque waterfall and gorge area that the town gets its name from. You can even do some wine tasting and experience some great food at the many wineries that call Seneca Lake their home.
These are many scenic locations in New York that offer great camping and fishing fun too. But if you are an avid fisherman these three destinations offer fishing adventures that you and the family definitely don't want to miss. So the next time you're in New York grab your best fishing reel and tackle box and visit one of these exciting fishing hot spots.