Some of the best holiday presents don't come wrapped in pretty paper and topped with a bow. Instead, they inspire memories to last a lifetime. So, forget the golf simulator, skip the cashmere sweater, and consider the gift of travel. For Carpe Travel's annual holiday gift guide I've wrapped some of the best ways to give the gift travel, as well as travel gear for those big trips. Don't have a traveler in your life, no worries, many of these gifts will work for just about anyone. Happy holidays.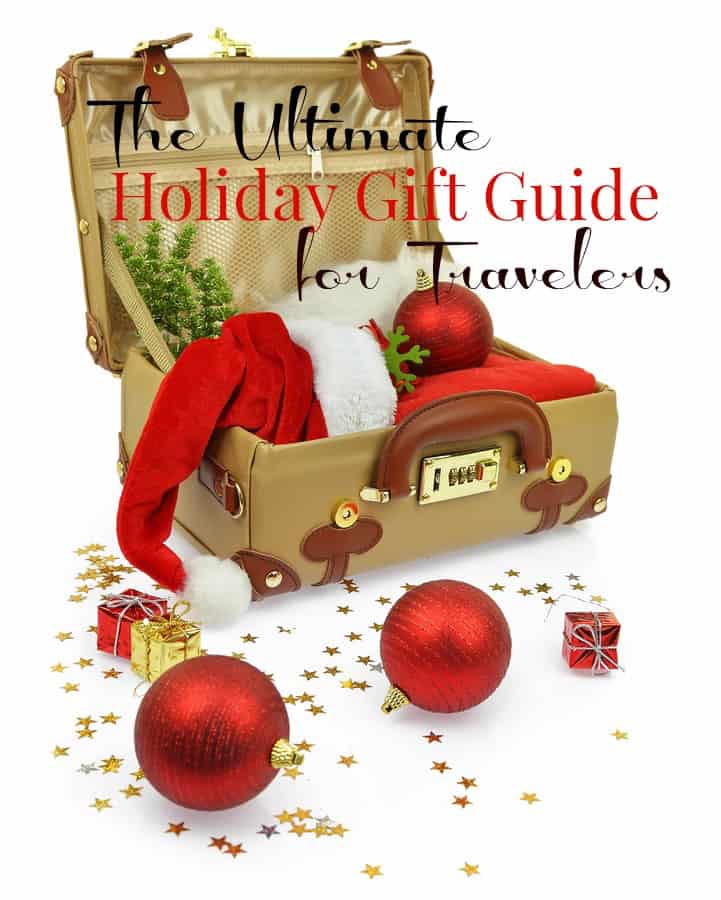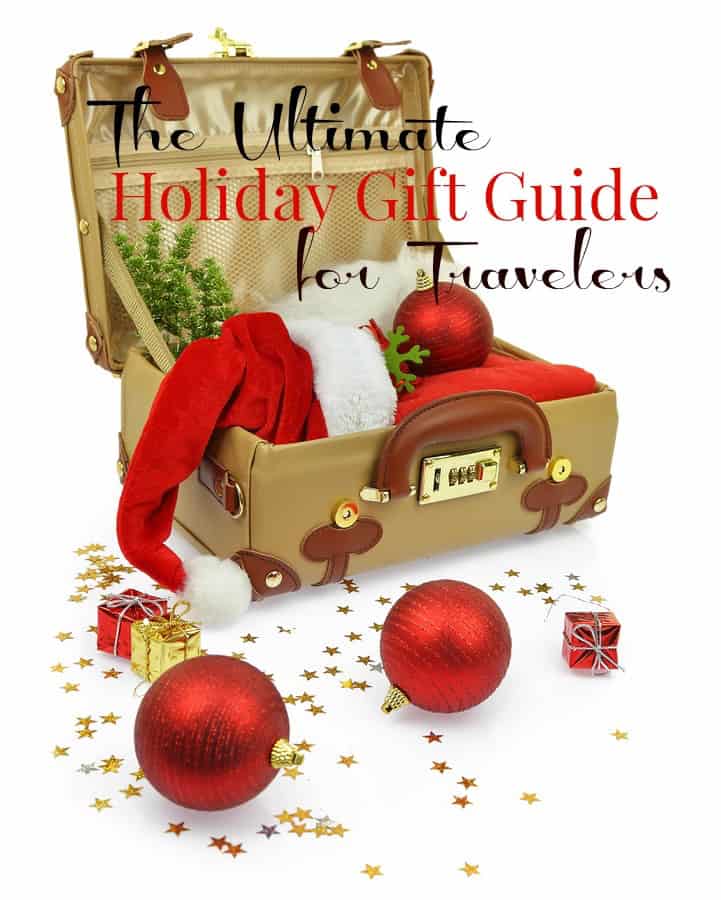 The Gift of Travel
The Gift of Language
Do you know someone planning a big international trip where they may need to learn a few new words to get around? Check out the BABBLE and Rosetta Stone programs. Both are excellent (and easy) gifts for those looking to learn a new language.
(Thanksgiving Sale: $174 Rosetta Stone Complete Set!
)
Cloud 9 Living – Experience Gifts
Talk about giving an experience gift, Cloud 9 Living has it covered. Cloud 9 Living offers more than 2,000 unique and memorable experience gifts in 51 cities throughout the United States. Starting at under $100 and ranging from Stock Car Racing and Flight Lessons to City Tours and Spa Packages, it truly has something for every taste and every budget.
Multi-attraction City Pass
A multi-attraction city pass is a great gift for travelers visiting popular city destinations. These are ticket booklets containing actual admission tickets to the top attractions in each city. You pay one substantially reduced price and ticket holders can then avoid main entrance ticket lines at most attractions as they are typically treated as VIPs. Here are two great services for the travelers on your gift list.
Go City Cards are available for North American cities and some international: Boston, Chicago, Las Vegas, London, Los Angeles, Miami, New York City, Oahu, Orlando, San Antonio, San Diego, San Francisco, and Washington, DC.
CityPASS is available in North American cities: New York, Atlanta, Boston, Chicago, Dallas, Houston, Philadelphia, San Francisco, Seattle, Tampa Bay and Toronto.
The Gift of Flight
Gift certificates from airlines always make for a good gift. United and Southwest Airlines offer gift certificates from $25 to $10,000, you can purchase these online and oftentimes the plastic gift cards can be found at the grocery store among the throngs of gift cards.
Hotel Gift Certificates
Know someone planning a big trip? Help them out with a gift certificate to go towards their hotel stay. If you know the hotels they plan to stay at you can purchase a gift certificate directly for that hotel. However, chances are you won't know (they may not yet either) so stick with a gift certificate from Hotels.com. They can then find their own hotel to meet their individual needs and manage the process themselves.
TripIt Pro ($50)
TripIt is the world's highest-rated travel-organizing app. It's also become my absolute favorite travel tool. TripIt is an app that automatically creates a master itinerary for every trip you're going on. It gives you instant access to all your travel plans in one place—any time, on any device. How it works, you sign-up, and begin forwarding your flight, hotel, rental car and restaurant confirmation emails to plans@tripit.com. The app collects the info, creates the itinerary including maps and driving directions. You also have the ability to add additional activities to your itinerary. You can set it up so your email and TripIt "talk" so your inbox automatically sends notices to TripIt so your schedule is set automatically without anything from you. This is all available in the FREE version, but the TripIt Pro takes things a bit further. It has all the organizing power of TripIt, plus extra features for stress-free travel, like real-time flight alerts that are both emailed and texted to you, seat tracking, refund notifications, points trackers and the ability to share your itinerary with others.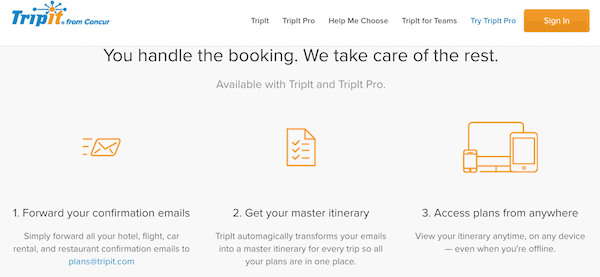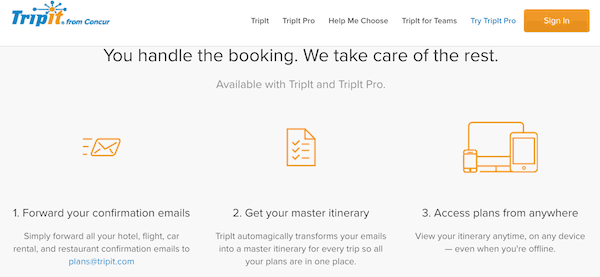 Travel Gear Gift Ideas

Nomader Collapsible Water Bottle ($17)
There are a lot of collapsible water bottles on the market but they're not created equal. For me, I need one that will fit in my carry-on or the side pocket of a backpack, it can't leak, must dry quickly, allow me to easily clean it and be able to stand upright so I can use it at the gym and by my night stand. Enter the Nomader Collapsible Water Bottle. This collapsible water bottle is engineered with a thick, flexible silicone body to maintain its sturdy shape for a comfortable drinking experience, yet can conveniently roll up for compact travel, collapsing to 1/3 its upright size. A multi-function carry strap is included to secure the flask in its folded position, or to loop around your wrist or luggage when you're on the go. The leak-proof twist top provides an airtight seal when closed. And, being the germ phoebe that I've become I love that the bottle's attached screw cap shields unwanted germs from getting onto the spout and into your drink and also makes the Nomander spill-proof.

Yeti Rambler Tumbler ($26)
I discovered Yeti's this summer and now I don't leave home without my Yeti Rambler Tumbler. It's been on numerous road trips and countless early morning school drop-offs. Each time it keeps my latte piping hot for at least an hour or if I'm sipping something cold, the kitchen-grade 18/8 stainless steel, double-wall vacuum insulation keeps the ice frozen – even in my hot car – for nearly the entire day. For people who like to keep their hot beverages HOT and cold drinks COLD this is the must have road trip cup.
Comfortable Contoured Eye Mask ($9)
Sleeping on a plane is not an easy task, especially when lights are going on and off all around you. The DY Reier Eye Mask is specially designed to completely block out any light while still remaining comfortable. Add the ear plugs and you're off to counting sheep.
Travel Smart Inflatable Neck Rest with Coolmax ($17)
At the airport you've likely seen people carrying neck rests either by hand or on top of their carry-ons. You've probably also seen them fall to the ground, be placed in the overheard compartments or underneath a seat. (Yuck!) I discovered the inflatable neck rests before a long flight to Moscow, it's now my absolute necessity for longer flights. It's tiny when not inflated so it fits perfectly in your purse or carry-on and then easily inflates with a few puffs. I prefer the Travel Smart Fleece Neck Rest with Coolmax since a neck rest can act as a scarf – keeping you warm – and the coolmax side of the neck rest gives you a cooling option. Travel Smart with coolmax is a soft fleece cover with coolmax performance fabric for neck comfort. It's comfortable, ultra-absorbent, washable and incredibly fast-drying. It also has a special safety valve to inflate to desired firmness and is contoured to support head and neck.

Travel Folding Soft Toothbrush ($6)
The GUMÂ On-the-Go toothbrush makes for the perfect stocking stuffer, and way to save space in your toiletry kit. The tri-fold design enables the brush head to fold into the handle, which then becomes a cover for clean and convenient storage in your pocket, purse, suitcase or backpack. When you're traveling, your toothbrushes doesn't always have the opportunity to dry after use, so the On-the-Go toothbrush features a patented antibacterial agent for continuous protection to maintain the hygiene of bristles.
Soap Sheets ($6)
There are a variety of Soap Sheets by Travelon – Body Wash Sheets, Hand Soap Sheets, Laundry Soap Sheets, Shampoo Sheets, Shaving Sheets – all make for excellent stocking stuffers. This soap sheets make things much easier when flying verses bottles. They are also perfect for camping or outdoor adventures, and "just in case". So whether you're taking a long car ride with young children or exploring the outdoors, stay clean with soap sheets.
RuMe Reusable Bags ($30)
I'm never without a RuMe bag when I travel. These reusable bags are excellent items to have if you go shopping and need an extra carry on for your return trip – just toss your shoes and bulky items right in to make room for your new purchases in your suitcase. They're also lifesavers when you're hitting the beach and need to carry all your gear, or carry wet swimsuits to your next destination. These little reusable bags unfold to hold up to 50 pounds! They're machine washable, water resistant and come in a variety of designs, sizes and styles. They have become some of my most essential and useful travel items…
Pro Packing Cubes Set ($40)
Pro Packing Cubes make efficiently organizing and packing your travel luggage a breeze! And, I love that you can see through the mesh netting to quickly identify the contents. They come in four sizes: Large (17.5 x 12.75 x 3.25 in) for pants, sweaters, towels and light jackets; Medium (13.75 x 9.75 x 3 in) for shirts, shorts, blouses; Slim (9 x 3.75 x 3 in) for shoe bags, underwear, gym gear, cables, adapters and toiletries. The cubes feature rip stop nylon construction, heavy-duty YKK zippers and double-stitched mesh tops.
VingardeValise Wine Suitcase ($200-$270)
Ok, so a wine suitcase isn't really an "essential", unless you're traveling with wine. What I love about the VingardeValise Wine Suitcase, which I've been using and recommending for years is that it was designed to be a suitcase AND a wine carrier. The suitcase features removable foam modules that hold a variety of different sized wine bottles. Since the foam can be removed you can also use the VinGardeValise as a suitcase just for clothing, clothing and wine or just wine. There are two versions, a 12 bottle version and eight bottle, Petite. The Petite is perfect if you want to carry the bag on your flight (before adding the bottles for your return flight). See my full review. CARPE TRAVEL READERS GET 15% OFF THEIR NEXT PURCHASE of the VGV3! Use the discount code CARPETRAVEL15.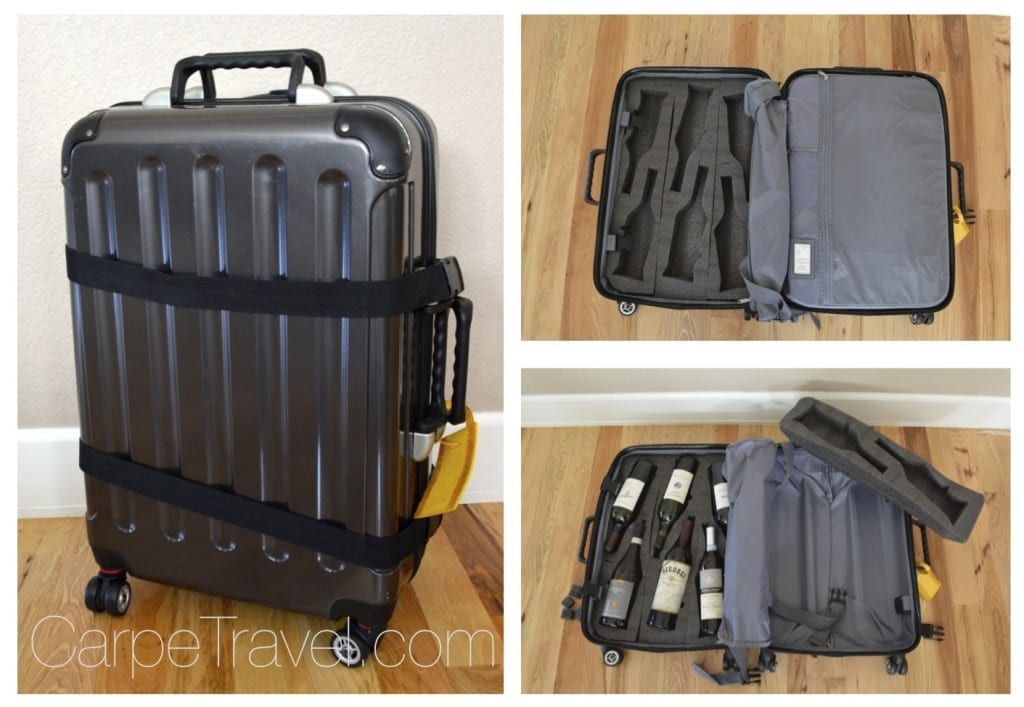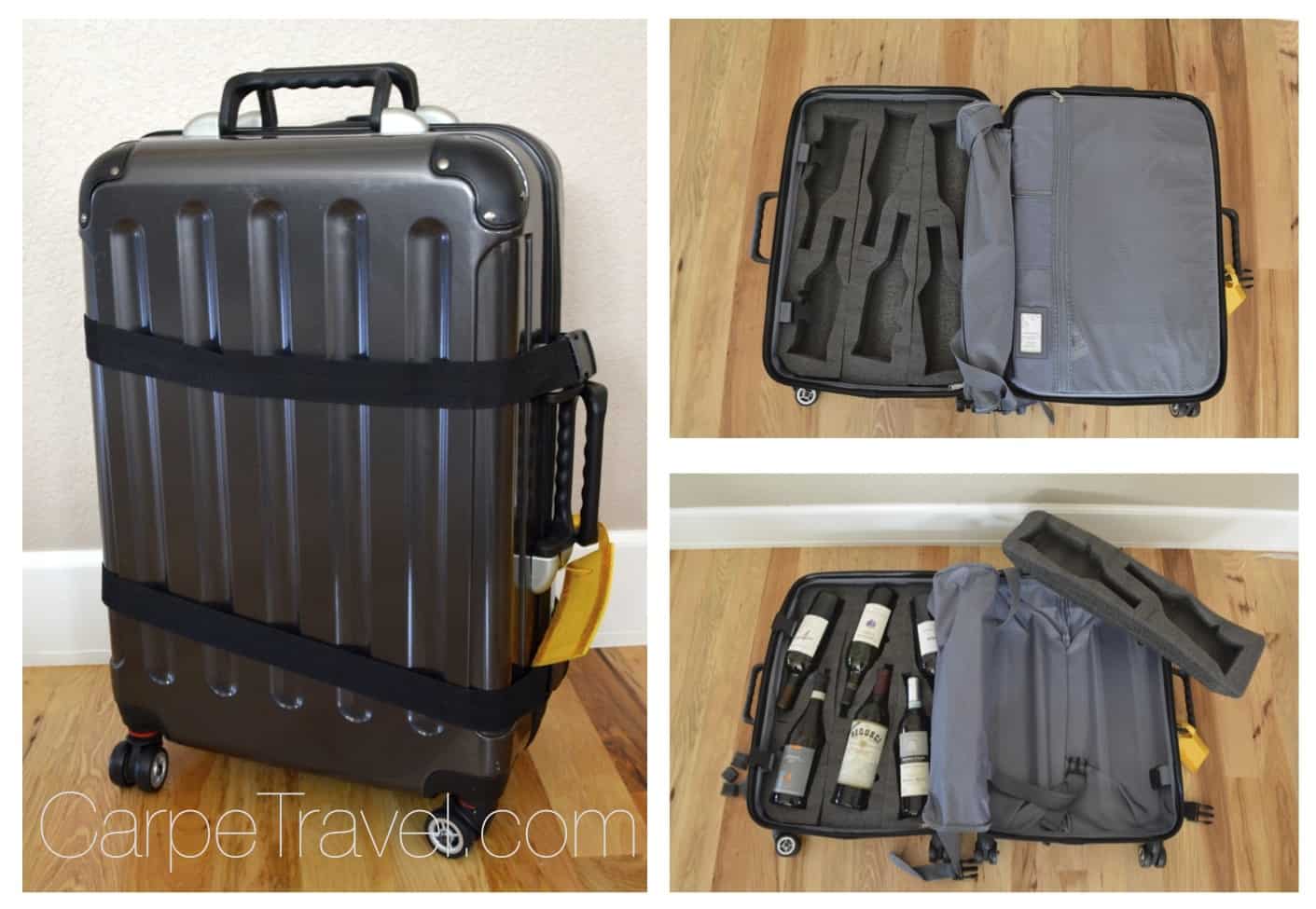 Cloud 9 Lounge
The Cloud 9 Air Lounger is a self inflatable and deflatable lounge chair, perfect for the beach, lake or any outdoor activity. Simply open the end and and run a few feet, allowing it fill with air, then roll the end to seal it and close with the clasp. Simple. There are several different inflatable loungers on the market but Cloud 9 takes relaxing to the next level with convenient extras like a built in bottle opener, a stretch can/bottle pocket to keep your drink off the ground, a double pocket to hold your iPad or magazines, a security loop to use to stake to the ground so the wind doesn't blow it away, and a drawstring carrying bag to carry it in. Carpe Travel readers get 10% off their purchase, use the discount code – Carpetravel – at checkout.
Kelly Moore Fashion Camera Bags
As a photographer and a woman, I have never been able to find a stylish, functional bag that I could use to carry my equipment while I travel…or when I'm out and about at home. Enter Kelly Moore bags. There are a variety of bags Kelly Moore offers so pick your favorite/s. I adore the Woodstock and Trenton bags since they can both convert to a backpack, hold all my camera gear as well as my laptop. Ladies, you NEED this bag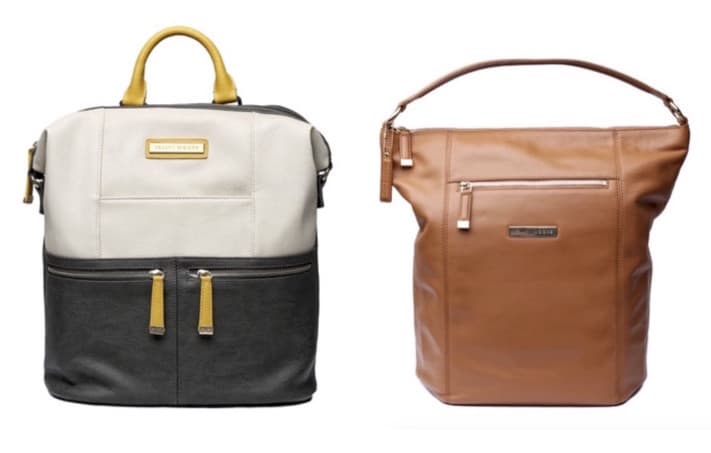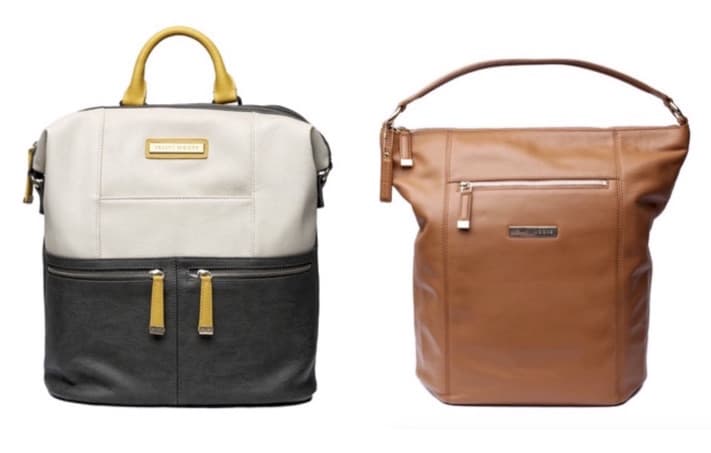 Travelon's Anti-Theft Crossbody Bag
This purse fits snugly up against your body and looks great doing it! The slash-proof construction and adjustable, cut-proof shoulder strap is great,  for added safety you use the locking hardware to attach it to any post or chair. The Travelon Anti-theft Crossbody Bag also comes with an RFID blocking card slots as well as a handy removable LED light.

The Pocket Poppet Cardigan
I never travel without a stylish cardigan. It's simply a must. One of my new go-to's is the Classic Pocket Poppet travel cardigan. This high quality unique cardigan is not only stylish and versatile but it also features a  Rip stop fabric pouch on the inside, perfect for stashing your phone, credit cards or cash when you're traveling.  The pouch falls in the small of the back and cannot be detected while wearing the Poppet. When you no longer need to wear it it easily folds away and "pops" back into its pouch aka the pocket. The Classic Pocket Poppet travel cardigan is made from a Made in the USA soft classic knit rayon jersey with 8% spandex for easier crease release, perfect for travelers who avoid ironing at all costs.
Technology Gifts for Travelers
myCharge HUB ($70-$130)
I've been recommending the myCharge Razor series for years. They're reliable, compact chargers that give me at least three full chargers each time. But, I might be switching to the new HUB Series. The new portable chargers feature built-in Lightning and micro-USB cables. That may not seem like a big deal but it's huge for me as I always seeming to misplace my cord or forgetting it at home. All models in the HUB series, including the 3000mAh HUB mini ($69), come with built-in Apple Lightning and micro-USB charging cables. The 6000mAh HUB Plus ($99) and the 9000mAh HUB Max models ($129) also feature built-in wall prongs, making recharging as simple as plugging into any outlet. During the month of Deember myCharge is offering a special 30% off pricing on purchase. Use the promo code STOCKINGSTUFFER at checkout.
Lexar JumpDrive C20i Flash Drive ($90)
With today's overflow of content, it's easy to run out of space on your iPhone or iPad. With the Lexar Jump Drive C20i flash drive, you can easily add storage and charge your devices on the go. Gone are the days of having to delete your favorite photos and videos to make room for more. This 3-in-1 iOS flash drive cable features both Lightning and USB 3.0 connectors, for quick offloading of files-no battery needed and no network required. It works with use of a free file management app from the App Store, and automatically and securely syncs files on the go.
Thumbs Up! Pocket Click Stick ($10)
I've never been a big fan of the selfie stick but I have to admit, they can come in handy. For $10, the Pocket Click Stick folds up, fits in your pocket and gets you that hard to get shot.
Satechi Travel Router ($33)
The Satechi Smart Travel Router / Travel Adapter with USB Port is awesome. This little device functions as a typical router enabling you to create your own, secure network while also amplifying the Wifi signal. Which is something most travelers have wished for at one time or another after experiencing a weak Wifi connection in a hotel room. This compact device also adapts to fit into four of the most common plug configurations used around the world and features four different modes for your wireless networking needs. Two options provide charge your device: an AC power port and a USB port. This adapter is convenient for charging smartphones, laptops, music players, cameras, e-readers, handheld game consoles, tablets, and other devices all around the world.
olloclip 4-IN-1 ($80)
The Olloclip is perfect for those travelers who tend to rely more on their iPhones for photos. This little device clips onto your iPhone to provide a higher quality zoom lens. The olloclip 4-IN-1 clips onto your phone to provide four, quick changing types of lenses – (Fisheye, Wide-Angle, Macro 10x & 15x). The best part, besides taking high quality images, it weighs less than an ounce and can still fit in your pocket.
Kenu Stance Tripod for iPhone ($25)
Triods for smartphones are a dime a dozen. But, the Kenu Stance, is the first tripod specifically designed for the iPhone, mounting directly into the iPhone's Lightning port. It is small and compact – smaller than a pack of gum – and with the addition of a key ring, it makes it extremely easy to take anywhere. It's remarkably versatile, with both portrait and landscape positioning options. It also features a bottle opener, I mean if it's going to go on you keychain it should, right?!?

Texture Subscription – Netfilx for Magazines ($10 a month)
I'm a magazine junkie…and I hate paying for subscriptions. So I don't. Instead I grab the latest copy at the newsstand or ask for subscriptions from Santa. He usually delivers. The problem is, when I do have the time to really kick back and read my magazines I don't have them with me. I've either left them at home, on the plane or simply don't want to carry five magazines in my already packed backpack. The latter is usually the main reason… So I turn to my iPhone or iPad for reading material, which is typically limited. It's even more limited when I'm traveling and have spotty (or no) wifi. Enter Texture, dubbed the Netflix for magazines, and for good reason. Texture is a digital magazine subscription service that provides unlimited access to 160 of some of the most popular magazines right from your phone or iPad. (Texture is available on iOS, Android and Windows 8 devices.)It can be used with and without Wifi, making it the perfect travel companion. Read my full review.
Travel Gifts for Kids
The RideSafer Travel Vest ($160)
This may be more of a gift for parents than kids, but the kids do benefit. The RideSafer is the perfect – safe – portable, alternative to a car seat or booster. You can easily slip the RideSafer into the pocket of your carry on or purse (albeit a larger purse), making it ideal for traveling. Think taxis and Uber. The RideSafer travel vest is a legal alternative and meets Federal Motor Vehicle Safety Standard. It's important to note the vest was designed for children 3 years old and up who can sit forward facing. See my full review (and video).
Scratch Off World Travel Tracker Map ($30)
Landmass's World Travel Tracker Map is similar to a scratch off ticket. Travelers scratch of the destinations they've visited to track their travels, with each scratch off a new vibrant color is revealed from underneath. The map features 210 flags of the world, terrain data, and state outlines for Australia, Canada and the USA. I love this last feature since kids can not only see the states on the map but also be reminded just how big and diverse a country really is.
American the Beautiful Quarter Book ($10)
This year – 2016 – marks the 100th anniversary of the National Park System. As we end the year it's a great time to remember how valuable these parks are by celebrating the parks through the American the Beautiful Quarter program. This 12-year initiative includes 56 quarters featuring reverse designs depicting some of our most cherished national parks and other national sites. The U.S. Mint will issue five new quarter designs per year, with one final design in 2021. This year – 2016 – celebrates the Centennial anniversary of the National Park Service. The coins tied to the 2016 celebration include Shawnee National Forest, Cumberland Gap National Historic Park, Theodore Roosevelt National Park, and Fort Moultrie (Fort Sumter National Monument). You can order a commemorative quarter book to collect all the quarters in the program. (Read my review of a visit to the Denver Mint.)
National Geographic Kids Subscription ($15)
Want to encourage your kids to not only see the world but to understand it too? A subscription to National Geographic Kids is one of the best ways to do both.
Kids Lonely Planet Books
I love the collection of fun and educational travel books Lonely Planet offers for children. From pop-up books about London and New York to travel journals, games and its new Cities Book written for children aged 8+, who are taken on an incredible world tour through 86 of the world's greatest cities.
Save this holiday gift guide for later – PIN IT NOW!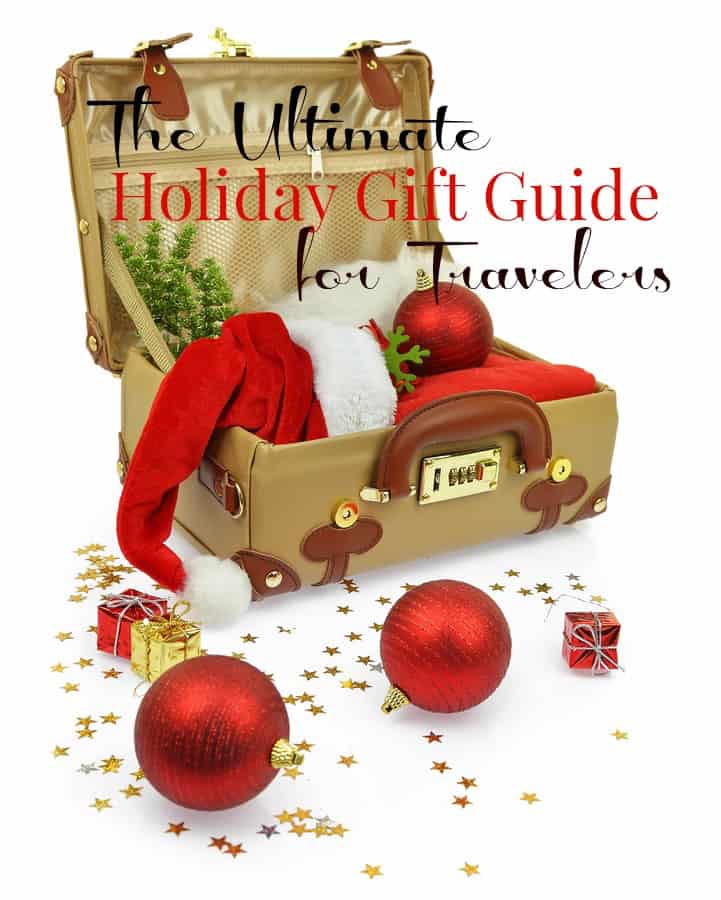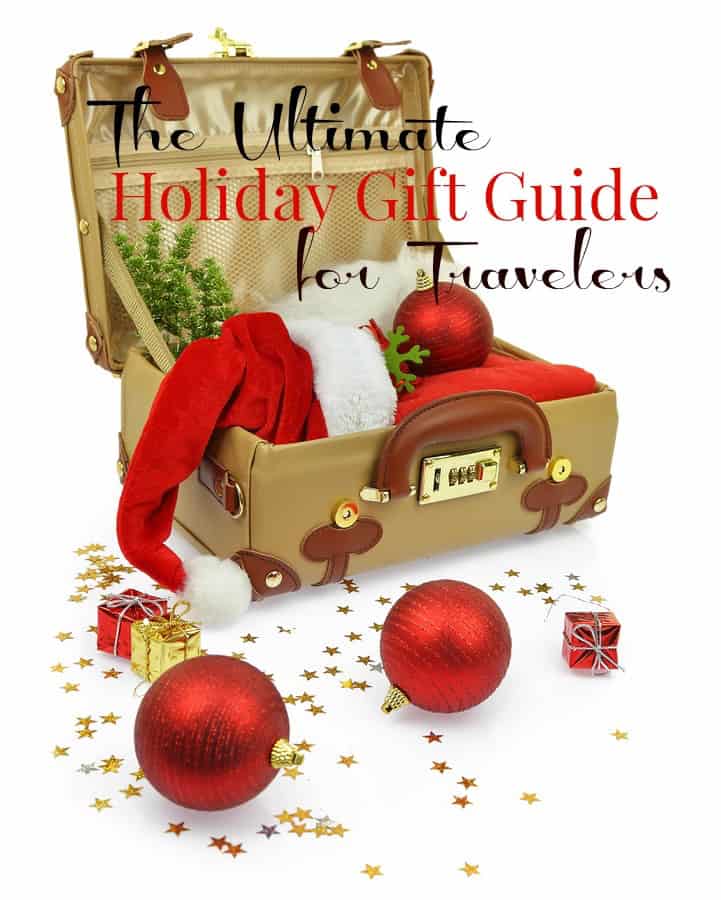 This article does contain some affiliate links. In other words, if you make a purchase after clicking through to an item, you're helping to support Carpe Travel. 
Save
Save
Save
Save
Save
Save
Save
Save
Save
Save
Save
Save
Save
Save
Save
Save