One day at Disney World is just not enough. I went in knowing this but experiencing Disney World first hand solidified it for me. You need at least a full week (or at least four full-days) to really experience everything it has to offer. I'm glad we were able to scout out the area and get a feel for things for our next trip and learned a few valuable pieces of information about the Magic Kingdom to pass along.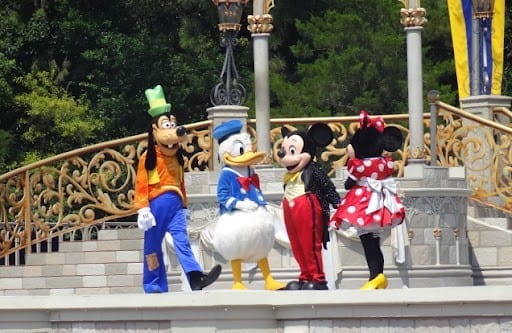 Things to Know at Disney World
Camera Shop
Prior to our trip our camera broke so I purchased a new one on the way to the airport. However, the salesman at BestBuy forgot to tell me I also needed to purchase a memory card. URGH! Needless to say I found myself at Disney with limited internal memory and freaking out. How could I miss the best photo opportunities with Princess 1!  Alas, Disney has thought of everything. There was a great little camera shop right when you walk into the Magic Kingdom on Main St. inside the Theater building. My picture taking was saved! (For a list of recommended digital cameras checkout CNET's top rated digital cameras.)
Rides in Fantasy Land
If you're hot, cranky and need a break, go on "It's a Small World After All" in Fantasy Land. It's one of the longer rides so you can sit down and cool off in the air conditioning. Take snacks with you for your grumpy ones.
The Mad Tea Cups will make you sick if you spin too fast. (Princess 1 and The Husband insisted on spinning until I nearly lost my breakfast.)
Dumbo is like the FASTEST ride ever. It's not worth standing in line for longer than five minutes since it's about a 60 second ride.
When to Go to Walt Disney World
We went in Sept., after Labor Day which was one of the recommended "off season" times to visit. We didn't plan the timing but it worked out in our favor. It was fabulous! We visited the park on a Thursday, the crowds were nonexistent. We waited in line at max for five minutes; the longest line we waited in was Dumbo  in Fantasy Land at the Magic Kingdom. With that said, we were able to ride several rides in the short time we had at the Magic Kingdom so we really were able to experience everything in Fantasy Land in one day. The Unofficial Guide to Disney World did a full report in its 2011 book noting when the best times and worst time to visit the park are based on ticket sales. I've noted them here.
Busiest Times to Visit Walt Disney World
Christmas Day through New Years Day
Thanksgiving weekend
The week of Presidents Day
The first full week of November
Spring Break for colleges
Late March through the third week in April
Least Busy Times to Visit Walt Disney World
The period between Thanksgiving and Christmas
The second full week of November through the weekend preceding Thanksgiving
September, after Labor Day
The month of October
January 4 through the first week of Feb (except MLK Day)
The last week of April though early June
FASTPASS  – Do you really need it?
The FASTPASS is a complimentary service that saves your place in line for  an attraction while you enjoy the rest of the theme park. It's kinda like making a reservation for a ride. Whether or not you need one all depends on when you visit Disney World. If it's in the summer or other peak time, yes you should get it (see the time frames listed above). I was hesitant in setting one up before we left and I'm glad I didn't since we did not need one.
Disney Photographers
They're everywhere. These photo happy folks are stationed in the most photographed places in the park and will snap your photo with their camera and if you're nice, they'll even take a shot with your camera for you. You will be given a photocard – a Disney PhotoPass – tied to the photos these folks take. If you have multiple photos taken you can have them scan the same card so you're not walking around with 25 cards. This is great since they can capture some excellent shots with amazing backgrounds. However, it's pricy if you want to order the photos when you get home. One photo cost me $15, and that for a 5×7 download. But it was nice one and worth the money. I only bought two of the photos we had taken given the price though.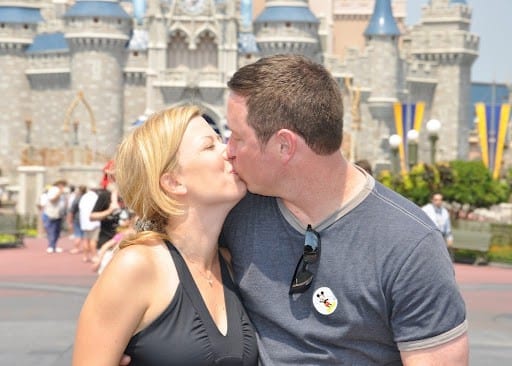 Disney Character Sightings
I hate lines. With that said, I am all for paid character sightings, even after doing the breakfast with the Princesses at Cinderella's Royal Table. Yes, it it did not go as planned but I would have hated to stand in line for 30 minutes to have my daughter meet Tiana or Rapunzel just have her melt down. (At least at the breakfast she could see them from afar and cuddle into me when they approached. Princess 1 tells everyone she can that she met Belle and Cinderella. She doesn't fail to mention she was to scared to say hi.) If you can, try to do the breakfast or lunch with the Princesses or Chef Mickey. You can also find place and make reservations specifically for dining with characters here. The site tells you what characters you will be able to see as well. The key thing about characters and kids though, is your child may freak out so be prepared. Don't force your child to get their photo done with a character. It's not worth the time or the fight.