The second day I was in Piedmont  I planned a wine tour, but with Aussie transplant, Kerrie. Her story is quite lovely. She and her husband traveled to Piedmont for their honeymoon. She said they were sitting outside admiring the beauty, pondering how ever they could make it work to spend more time there.Years later they decided to spend Kerrie's maternity leave in Piedmont to just relax and enjoy. "We're still here," she told me nearly five years later as we zip through the windey roads of her new home.
I found Kerrie when I was looking for a vacation rental. She and her husband rent a little two-bedroom in the village of Barolo. Unfortunately it booked right as we were in the midst of making a decision. I told her I was hoping to do some guided wine tours while in the area. She offered to take me to some wineries and arrange for a visit to a cheese maker. Sounds good to me!
Kerrie and her husband plan everything from cooking classes to wine tours to extended bike trips through the area with their company, Experience IT. The bike tours sound amazing. Folks ride for about 30 to 40 kilometers a day, then hunker down in a town or village for wine tastings, amazing food and good times.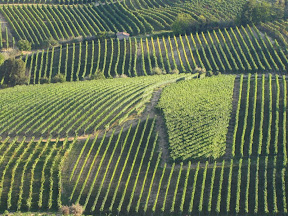 Kerrie picked me up in the morning around 9:30 a.m. and we gabbed the entire way to the cheese maker. She told me her story of becoming a Piemonte resident and her love of the grape. I told her of our adventures, my interest in Italy and my mutual grape adoration. I nearly forgot what we were doing when we arrived!
Silvio is a sheep cheese maker. He spoke no English so Kerrie translated. She explained that cheese making was not in his family so he had to do an apprenticeship. His entire business is out of his home. Currently he's looking to expand his property to make an agriturismo.
He has 30 sheep, all indigenous to the area. Each sheep is milked individually so he can inspect the milk and catch disease or issues early on.
Silvio showed us cheese at various stages of it's development. It goes on the bottom shelf upon first creation — shortly after milking. As it moves up the shelf it's getting older — six, 12 hours and eight days.
The sheep are well cared for and maintained. Silvio knows he can get more milk, but he opts for a minimum so as to not stress the animals and their bodies; this safeguards against sickness and disease. He also allows the lambs to stay with their mother 30 to 40 days to allow them to bond; Kerrie explained that is unusual for his profession. It costs him milk — essentially profit — but he prefers to make sure they are healthy.
Silvio set us up in an adorable little studio just to the side of the main house for our cheese tasting. He presents us with six cheeses ranging from six hours to five months old (the two and five month old cheese were experiments). I love cheese and I have admit that all were quite strong. What a neat experience!
From there we ventured off to
a Barolo winery, Conterno Fantino
. The lovely Chaira was our tour guide. She first sent us off with the owner's son to show us the tank room. Due to unseasonably hot temps this year the wineries are in the throws of an early barbera harvest.
While we were in the tank room a truck pulled up, packed with crates and crates of grapes. The crew immediately began dumping the grapes in the destemming machine. It was so cool to actually watch as the grapes went in, the stems came out one way and the juice another, journeying through big tubes into the huge steel tanks for maceration. During maceration the wine sits on the skin creating the color and developing it's tannic elements. It usually lasts about 12 to 24 hours, depending on the producer.
We watched as two tanks were filled, then headed down to the wine cellar. Chaira asked where I was from. When I told her Denver, Colo. her eyes lit up. "One of our restaurants is from there, you know
Barolo Grill
?," she asks.
Of course! Barolo is well known and well loved in Denver for it's amazing food and incredible wine list. It's also widely known that the owners take their staff to Italy annually for wine education. Not a bad gig! I'm looking forward to drinking some wine Conterno Fantino when I get home. If you're from Denver or are just visiting, the restaurant — and the wine! — are definitely worth the splurge.
In the cellar room we saw piles of bottles ready to be sold and shipped. None were labeled. She explained for better storage they do not label the bottles until an order comes through.
Next we tasted the wines. They were amazing. I fell in love with their oaky chardonnay "Bastia" DOC. Most chard's in Italy are done in steel, so it can get quite expensive to get an oaky italian chard. If that's what you want, be prepared!
I loved pretty much everything we tasted. They had a fantastic blend, a Langhe Rosso "Monpra" DOC; the varietals included nebbiolo, barbera and cabernet.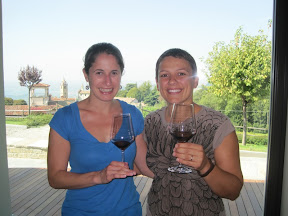 And, the Barolos were so smooth, big, but smooth. I wanted to ship six bottles home, but was reminded that wasn't necessary since they have a local Denver distributor. I'm thinking the blend or their 2007 Barolo would be the perfect pairing with the roast I have planned for Christmas eve…and those amazing potatoes Lisa made with Leslie.
The winery makes about 140,000 bottles a year. Kerrie explained that is considered about a medium-sized winery in Piedmont.
We spent a few hours there. It was so relaxing. As we ventured away I started snapping shots of the rose bushes in front of the vineyards. Kerrie asked me if I knew why they were planted at the top of a vineyard row. Robert had told me the day before that tourists forever comment on what a nice touch it is that they add the roses for the beauty. But, the truth is the italians do not like roses because of the thorns. They add the roses because disease and insect problems show up sooner in a plot of roses, so it's how they can weed out issues early. Brilliant! Kerrie added that the same is practiced in Australia.
We had a lunch of local specialties, including a bean dish with balsamic and onions, a raw meat dish with spices, oil and an area delicacy, truffle shavings — the oil slightly cooks it. I wasn't sure how I'd like that one, but I ended up very happy. A few other dishes were presented to us and we ended with a bowl of hazelnut gelato — perfecto in the home of hazelnuts!
From there we scooted down the hill to the village of Barolo for another tasting. Two days of so much BIG wine was starting to take it's toll on my palate, so I'm sad to report I had a rough time with the next group of wines. They were just so heavy.
It was another wonderful day. Kerrie had me back early where Lisa was cooking dinner. The place smelled incredible. I opened a bottle of my favorite sparkling, from Piedmont, Mascato d'Asti.
Leslie and Robert were coming over for our last night in town. Since we hadn't tried a Rosato (italian rose) the day before Robert brought a rose of nebbiolo. As mentioned in a prior post, I am not much of an italian rose drinker because they are so heavy, but this one was lighter and very smooth. Another hat tip to the Piemontese.
Lisa made a stuffed focaccia that she'd done in her Puglia cooking class. Oh, I love that focaccia. All the chunks of big vegetables, the flavor. Then, she did a primi of carbonara, also delish. Finally, she ended with secondi of fish. It tasted so flavorful it was hard to believe it was just covered in rock salt for hours. That was it! She truly is an amazing cook.
We toasted a wonderful few days and packed up the car. How could two weeks be nearly over? The next day we had an early drive to Rome. My flight home was Saturday at 11 a.m. Sniff sniff.
Cin Cin, Piemonte! Till we meet again!
Talk to me on Twitter @Valeriekq!
– Posted using BlogPress from my iPad