Today I said goodbye to my "first love". No, not the guy in the photo. He's stuck with me "until death do us part". Rather the little white house in the background. The place that taught me what home really means and that coming home really is the best part of traveling…or can be.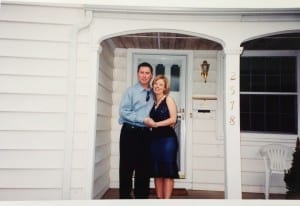 I bought her – my little white house – before we were married, or even engaged. She was mine. My first adult investment. My first paint stuck under the finger nails for months at a time. My first lawn mower purchase, and weekly lawn mowing job. My first frozen pipes and flood. My first I can't believe I bought this. My first "home"…
I've mentioned before how on my first trip to New Orleans I made my "make it happen list". Buying a house was on that list. At the time I wanted to do it for two reason. One, an investment. Two, I needed to feel like I had a "home". One no one could take from me. After having lost my dad "home" was gone. Or at least forever changed. It was my weird way of trying to make a new one. A new life. And I did. A few weeks later I found my little white house. After seeing countless houses in my mediocre price range (for Denver) I walked in and knew she was mine. You know that feeling, the one where you know it's just right. I've only had it a few times in my life. My little white house (and my new house). My dog. And the first photo we received of Princess Two in her little pink dress with a big red bow on top of her head.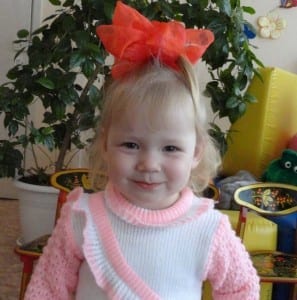 My perspective of "home" has changed in the last 13 years. It's a not place for me any more. It's my kids. The Husband and even my sandwich stealing Beagle. But at the time none of them – minus The Husband, then The Boyfriend – were in my life. My dad was gone (and within three months both my granddads). My mom wasn't herself. My sister ran off and got married (to a great guy who is a wonderful dad to their two kids). The Boyfriend (now The Husband) was a big question mark. My little white house grounded me and opened my eyes to the world in more ways than one.
The day after I closed on my little white house I lost my job. Me and luck were not friends… The tech bubble burst and I was a casualty. Instead of feeling like I now had a "home" I was trapped in a money pit. I couldn't strap on my backpack and take off with what was left of my money. I couldn't go live in Vail and work for the resort for the season. Nope. I was stuck. Or so I thought. I had no idea my little white house was about to show me the world…
Unemployed and with time on my hands (and a wonderful depression-era grandmother who in her fears, helped bankroll the following few months) I went to work. The basement became its own apartment and rented out. The second bedroom was fixed up. Roommates moved in. My mortgage was covered. Hello Telluride. Hello Mexico. Hello New Orleans (again). Hello airline miles. Hello unemployment checks running out. Hello grandmother (and mother) telling me to get a job.
Yes, I went back to an office job (for awhile) but not after enjoying several months off – exploring Colorado, gambling in Shreveport, traveling back to New Orleans, and of course home improvement projects. I kept my house filled with roommates for a few years to help finance my wanderlust. When I married The Husband we cut it back to just the basement apartment. The income from the rent helped send us to Italy, Brazil, Mexico and countless destinations around the United States. So much for being "stuck".
And after each trip I got to come "home". Not to just any house, but MY little white house. The one I loved and the one who loved me back. I know it sounds silly to say a house can love you but she did. She does. And she's ready to move on and love a new a family. To give them a "home". And so today I have to let her go.
Thank you little white house for teaching me what home really means. For showing me that coming home – be it a house or a hotel room – is the best part of traveling. For financing my travels, helping me to see the world from both the front porch swing and the destinations I traveled to. Thank you for helping me make so many things on my "make it happen" list really happen.