To be an ostrich or to be great? That's the question.
For the last six years at Carpe Travel I've asked travel writers and photographers to share photos they have captured of the American flag or US Monuments for our annual photo essay. Every year I'm blown away by the response and photo submissions. This year is no different! Thanks to all those who contributed. So without further ado…

This past April I traveled through a cold, wet Ireland, a dusty North Africa, and a battle-raged Italy, all via a four-year collection of love letters my grandfather sent to grandmother during WWII. I discovered the letters while helping to clean out my grandparents house following the passing of my Mimi. She was 98 and it was time they were reunited.
They were part of what has been dubbed the "Greatest Generation". One that made America Great… I have to admit, I have felt that the greatness of our country is fading along with the passing of this generation. To say I've been frustrated with the news and what's going on in today's polarized world is an understatement. It's been so bad I've wanted to check out. Move to Italy. Be an ostrich and just stick my head in the sand for the next two years.
And then there were the letters…that reminded me it's up to us to be a great country.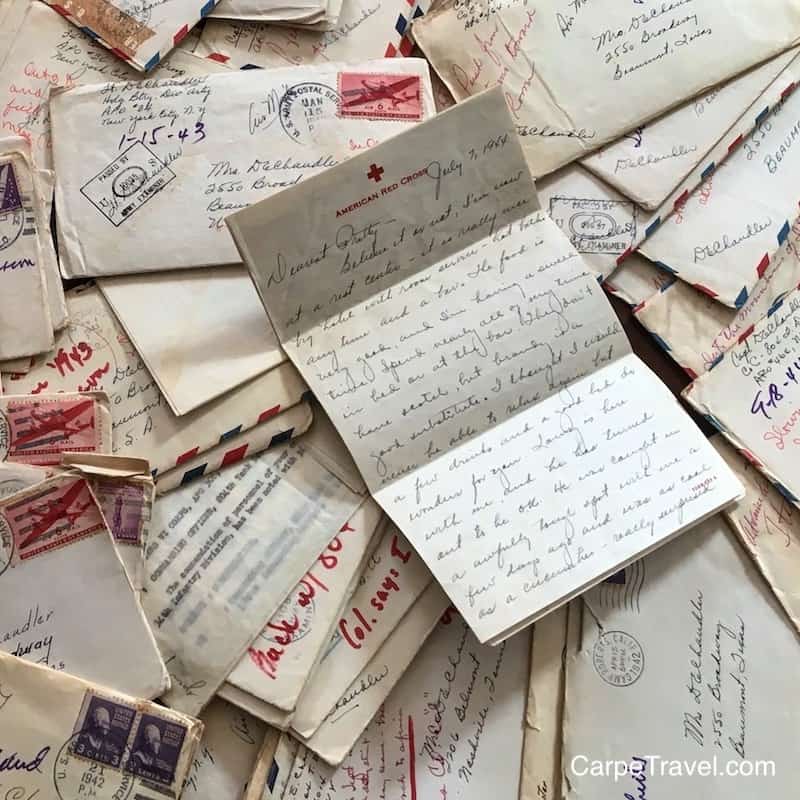 Oh, the stories my grandfather was finally ready to share took me along for a ride I wasn't expecting. His writing (and penmanship) literally made me feel as if I riding on a ship to North Africa – bumps and all. And, walking along the halls of an empty Irish castle beside him admiring the tapestry's hanging along the long, empty corridors. And, crawling through a wet field in Italy as "lead" flew inches from my head in search of an escape route.
I learned more about his combat – and his heart – than he ever told me. He was captured by the Nazi's and led the escape with his men. The pain he felt in losing friends who had become brothers brought me to tears. And, I finally understood why he called my grandmother Pistol. (He had tape her photo to the handle of his gun.)
His sweetness and strength shown through to her in his letters in the midst of the surrounding chaos…not once did he want to stick his head in the sand. To quit. To runaway. Yes, he wanted it to end and to go home. To build a future with his new bride. But, he was working to make the world a better place. And, he did both during the war and when he came home.
I've had a hard time writing this year's intro given my personal ostrich mood….until yesterday at Mass. During the closing of the service the Priest reminded me that it's up to us to be great. Not the church. Not the Pope. Not the politicians. Certainly not the leaders in the government. Not the media. Not someone else. But ME and YOU.
As if he was reading my mind, the "How?" was then answered.
Vote (and know who and what you're voting for). Run for office if you think you can make a difference. Volunteer. Donate to a cause you believe in. Stand up and share your voice (respectfully) when something is wrong. TAKE ACTION, even if it's as little as signing a petition or sending a tweet to your Congress person regarding a topic they're voting on. My personal one…Travel to another country to understand how the rest of the world lives…and views the United States.
We are great. We are powerful. And, with that power comes responsibilities. It's our choice to remain great. What are you doing to KEEP America Great?
Thank you to all those who contributed to this year's photo essay. I'm honored to be a part of such a giving and inviting community of travel writers. Please scroll through all these images and let us know what you think in the comments. If you have any photos that showcase the red, white and blue? Tag them on
Instagram
#CarpeTravel.


I shot this photo two weeks following the wildfires in Santa Rosa, CA. This is what remained of one home in Coffey Park. The flag is a tribute to the men and women who fought the fires…and a sign that they're not giving up.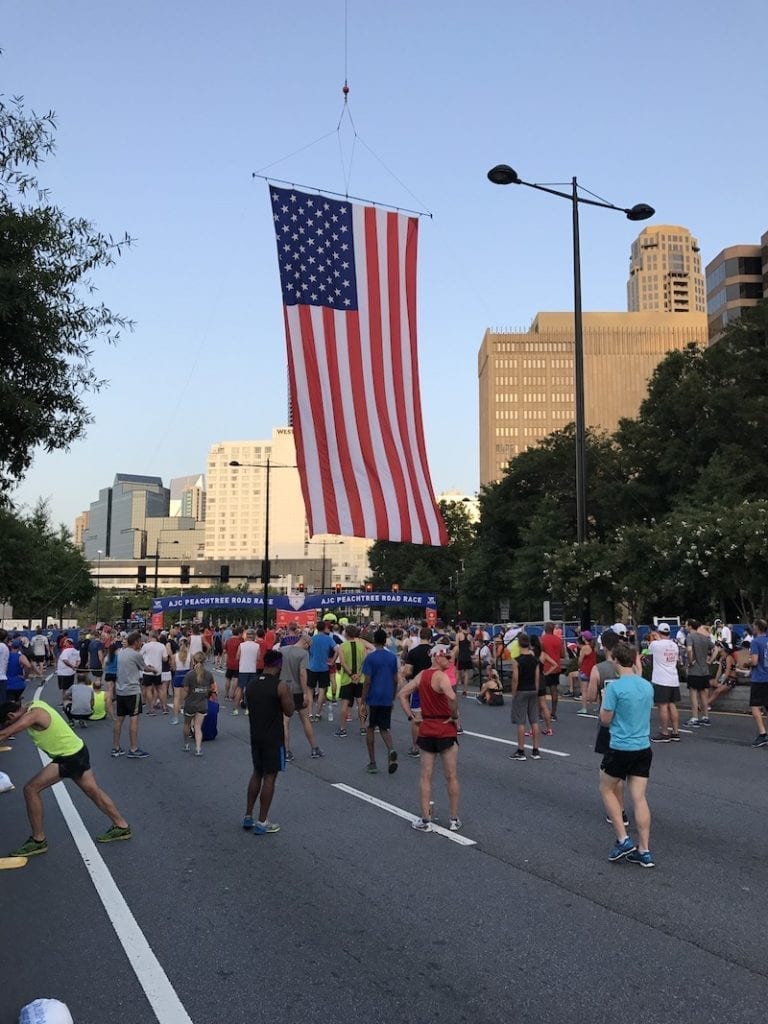 Halef from The Round The World Guys shot this picture right before participating the largest 10k running race in the world – The Peachtree Road Race. Each year, 60,000 runners run this popular 4th of July tradition in Atlanta, Georgia.
Pearl Harbor, also known as the attack that awoke a sleeping giant.
Both photos take by Elaine Schoch, CarpeTravel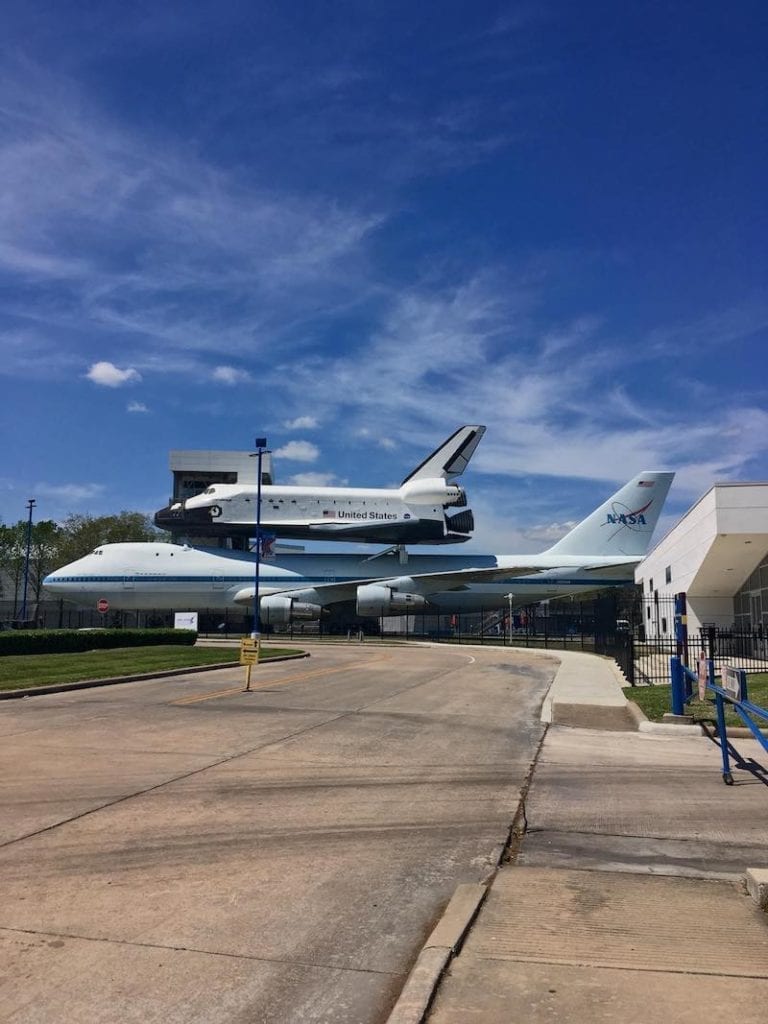 There's nowhere as iconic as the NASA Space Center in Houston where many of NASA's innovations are designed and tested. Karen at Wanderlustingk shot this sprawling complex, which is also the home of NASA's astronauts. If you've always dreamed of becoming an astronaut, you must visit Houston for its famous space center!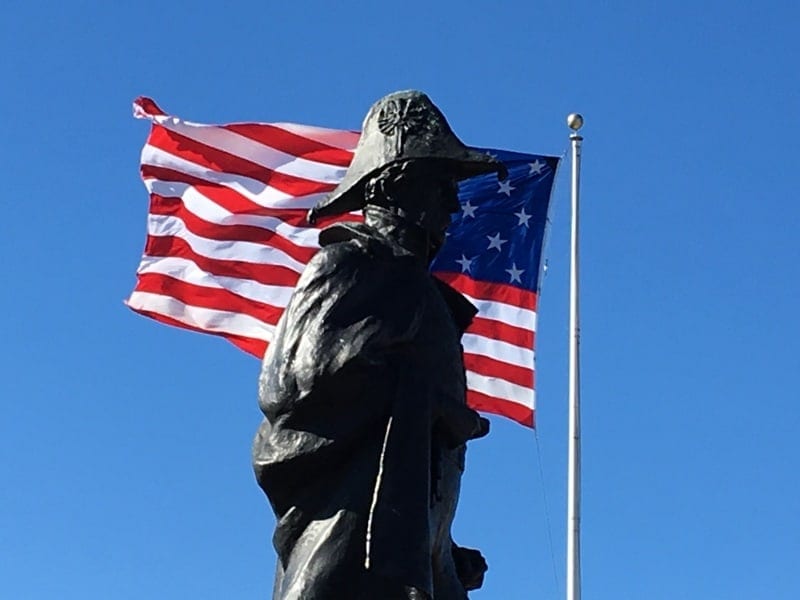 Tracey Kifford with PackThePJs took this picture in Baltimore, Maryland. Across from Inner Harbor there's a 100-steps climb up to Federal Hill Park. Here – as well as being an amazing viewpoint – there are cannons and a statue of Major General Samuel Smith. Major General Smith was involved in defending Baltimore against the British during the war of 1812.


Photos by Elaine at Carpe Travel… This last Thanksgiving we visited New York City and took the Princesses to Ground Zero. The fire station is directly across the street from where the Twin Towers stood, the firefighters we THE first responders.
Every soul who was lost on the Sept. 11 attack receives a white rose next to their name on what would have been their birthday at the Sept. 11 Memorial fountain.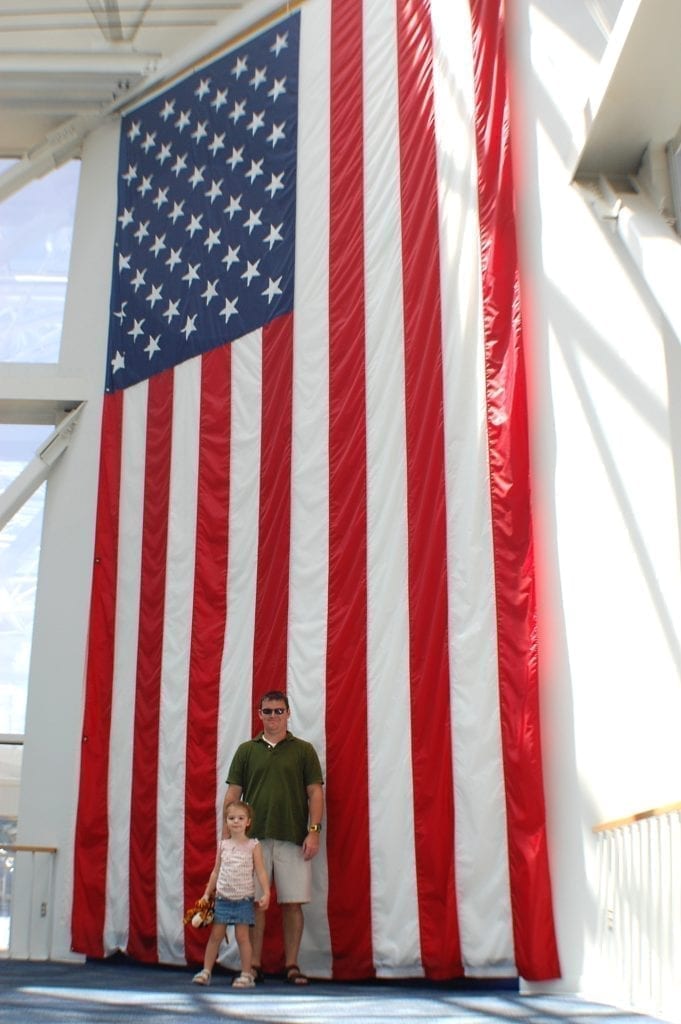 Lori from Fitz5 On the Go photographed this beautiful flag at the Pensacola Naval Air Station Museum in Pensacola, Florida.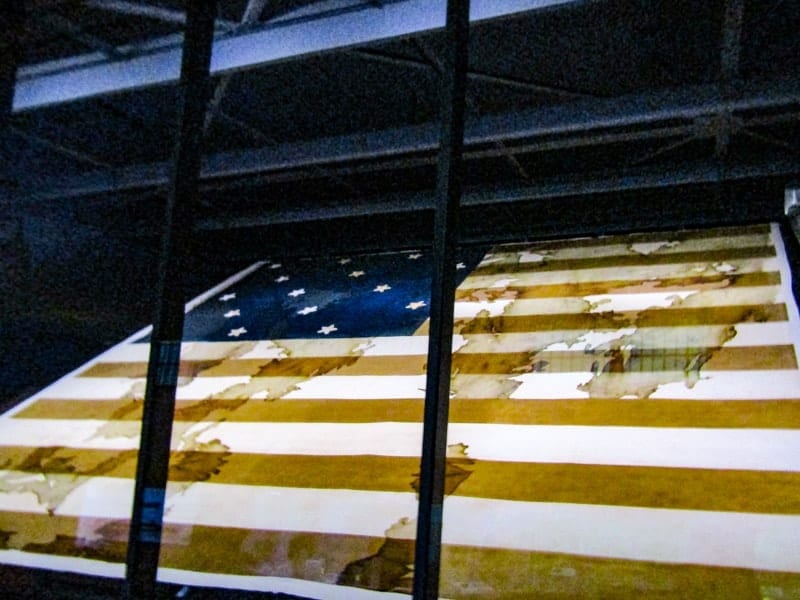 Roxanna Keyes from Gypsy With a Day Job took this photo of an actual War of 1812 battlefield flag at Old Fort Niagara, in upstate New York.

Both photos by Elaine Schoch
New Orleans… One of the great cities in the United States. New Orleans is one of my favorite cities and it also happens to be the city my grandfather and grandmother were reunited in after FOUR long years.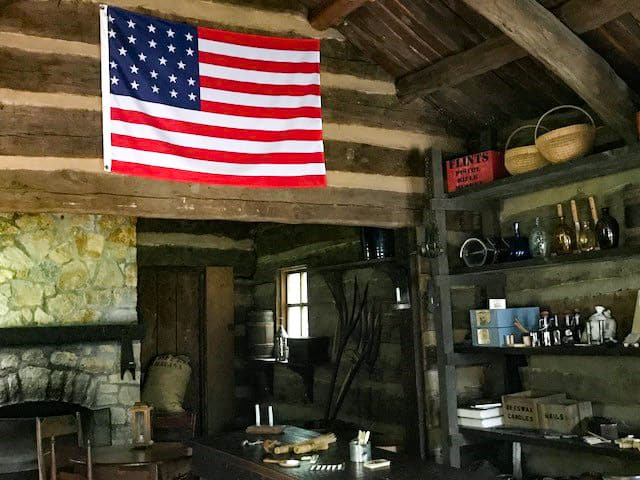 Barb Lindsoe took this photo for Gypsy With a Day Job in the Berry-Lincoln Store, in the reconstructed village at Lincoln's New Salem State Park.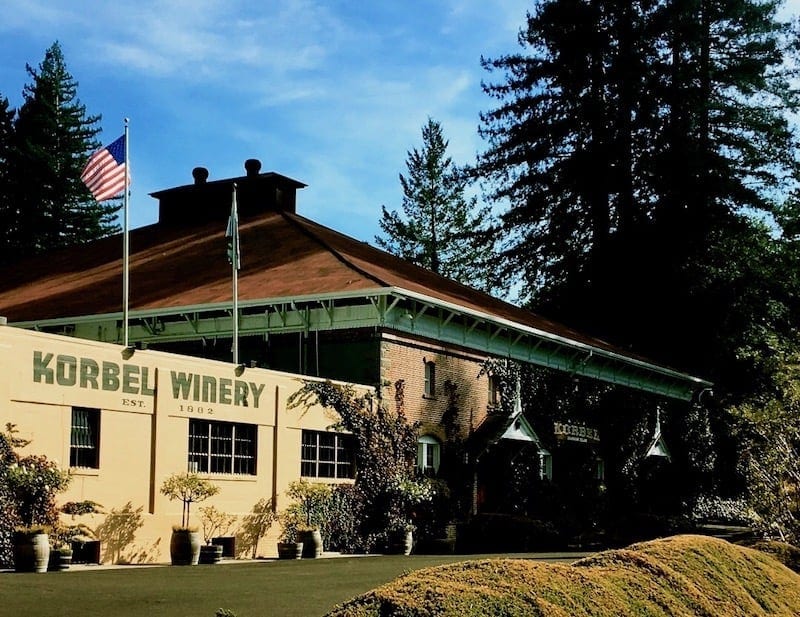 Did you know Korbel is one of the few US winemakers that can legally use the term Champagne on its bottles? It's all due to a 100-year-old loop hole in The Treaty of Versailles and a little thanks to Prohibition. Photo by Elaine Schoch.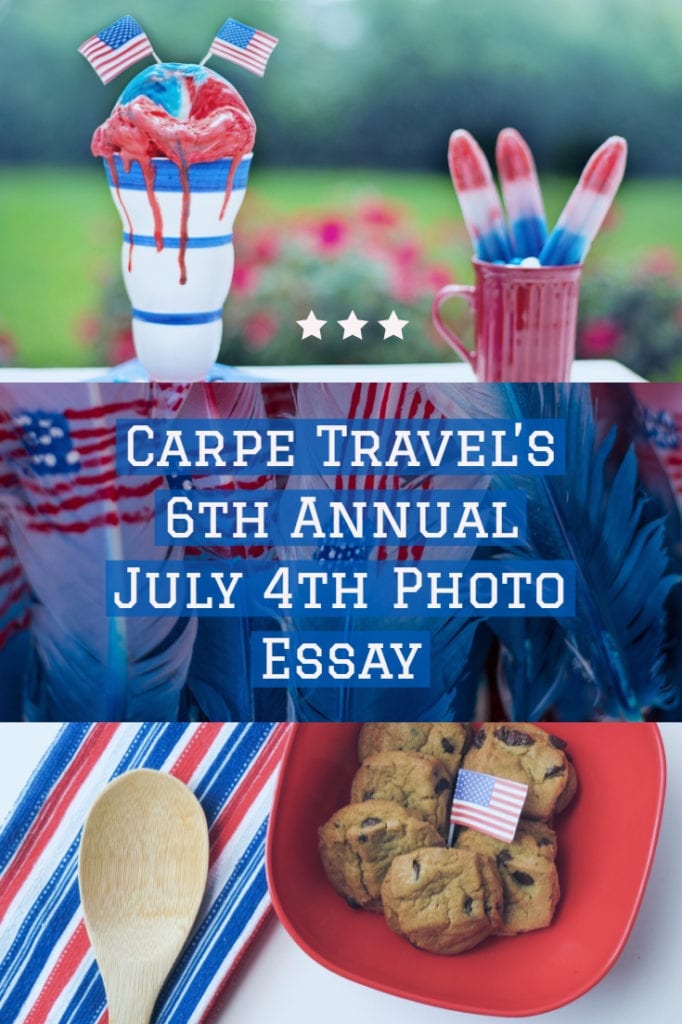 Cheers to a wonderful Independence Day Celebration! Thank you again to all those who contributed to this year's photo essay. If you have any photos that showcase the red, white and blue? Tag them on Instagram #CarpeTravel.