With an hour to spare we had enough time to get through airport security, download email and grab a coffee. It was my first business trip as a new mom and a very important one that involved meeting a new beauty client in New York City. I had dumped the diaper bag, transitioned the "purse" items into a "fashionable" purse that would be deemed "acceptable". My boss was waiting patiently as I dug through said "fashionable" purse searching for my ID, which I realized I had left in the diaper bag.
Now what? How can you fly without an ID?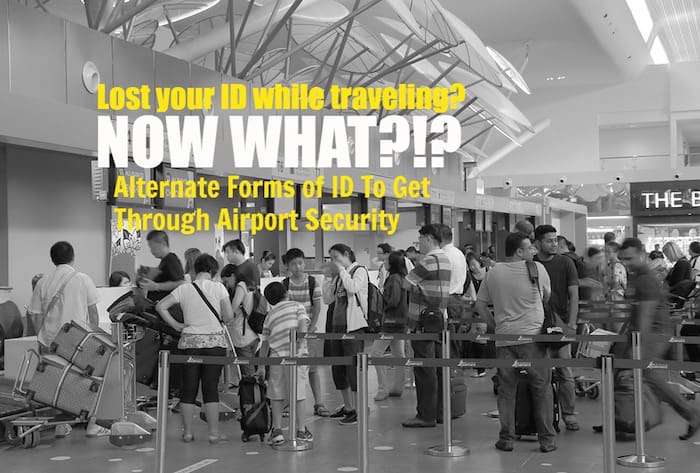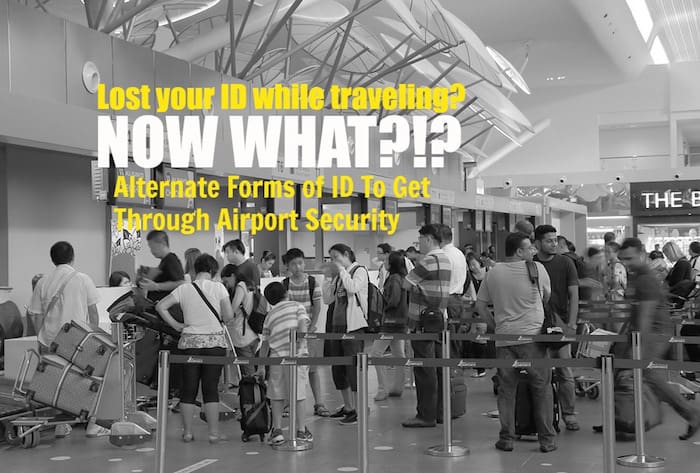 When you fly in the United States you have to have a valid form of ID, aka a passport, driver's license, state issued photo identification card, U.S. military ID or airline/airport-issued ID. I had none of these. I did however have a Costco Card and credit card. Don't ask me how I managed to transition my Costco Card and not my driver's license… Thankfully, I was allowed to board my flight.
I have since learned there are a few other forms of identification that have worked for travelers who have lost ID their while traveling or had it stolen. These are certainly not foolproof and are not recognized forms of valid ID by TSA but they might  be how to get through airport security if you are caught in a pickle.
Alternate ID: How to get through airport security if you have lost ID while traveling
Business cards with your picture on them
Credit Cards
Costco Card
Checkbook (if you still carry one of these)
Marriage licenses
Police report for your stolen wallet or passport
Picture of your ID (a photo copy or a picture saved to you smart phone)
Security badges from work that have a photo
Student IDs
The TSA policy is clear. It states that the only officially accepted forms of identification are government issued IDs. However, they also state that just because you lost ID while traveling, it does not necessarily mean you will not be able to board your plane.
"We understand passengers occasionally arrive at the airport without an ID, because of losing it or inadvertently leaving it at home. If this happens to you, it does not necessarily mean you won't be allowed to fly. If you are willing to provide additional information, we have other ways to confirm your identity, like using publicly available databases, so you can reach your flight. If we clear you through this process, we may give you additional screening. If we can't verify your identity, you may not be allowed to enter the screening checkpoint or to board a plane."
While TSA does not officially accept any of these alternate forms of identification as legitimate, at the end of the day TSA is run by people, not robots. Therefore, they are pretty good at sniffing out a dishonest person. They don't want you to be stuck at the airport anymore than you do. (Here's a bit more on what they have to say about how you can you fly without an ID.)
If you ever find yourself at the intersection of lost or stolen, that Costco Card you have not used for a while just might be your saving grace. Evidently Costco not only gets you good deals when you buy in bulk, they can also get you on a plane too.
Ever had your ID lost while traveling? Did you have to use an alternative form of ID to board your flight? What was your experience?