I've been making the list, checked it twice and now it's time for you to determine how naughty or nice the traveler is in your life. This past year I've been noting some of the best gifts for travelers – small, light, easy to carry (and pack), durable and most of all – useful. Sounds like a challenge? It can be but I've put together a list of a bunch of gift ideas in a variety of price ranges for nice stocking stuffers to more elaborate gifts.
The Best Gifts for Travelers: 2015 Gift Guide 
The Gift of Travel

Travel Gift Certificates (Priceless)
While you may love to give your husband a trip for two to Napa Valley or send your mother to Tuscany for a week, giving travel isn't always realistic. You can however, purchase gift certificates for airline tickets. For instance, United and Southwest Airlines offer gift certificates from $25 to $10,000. These are the truly the best gifts for travelers.
Modern Travel Fashion
SHOLDIT Scarf or Neck Gaitor ($30+)
Think fashion, style, function and security all wrapped into one. The SHOLDIT is a smart accessory that makes travel a bit easier and more secure. While it appears to be just a stylish scarf or shoulder wrap, the SHOLDIT contains two hidden zipper pockets. One is perfectly sized to carry a woman's travel essentials – boarding pass, ID, passport, credit cards, earbuds, eye-mask, and other small travel items. There is also a smaller hidden pocket designed for easy access for your cell phone. It can also fold down into a clutch if it gets warm and you need to remove it as a scarf – or if you need a new style. The company has also recently introduced a fleece Neck Gaiter. The unisex neck gaiter has one pocket for your essentials – perfect for skiing and other winter activities.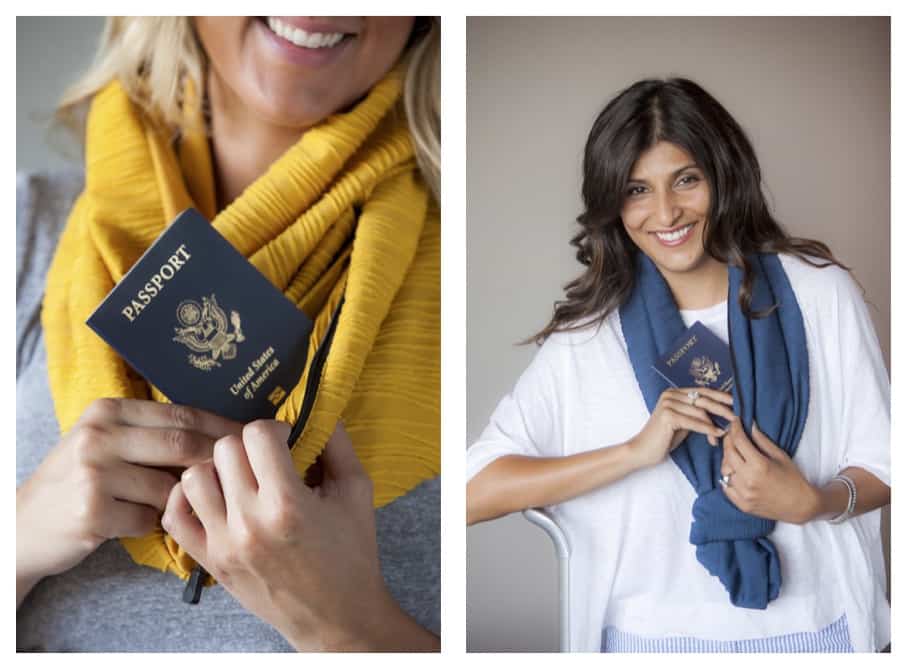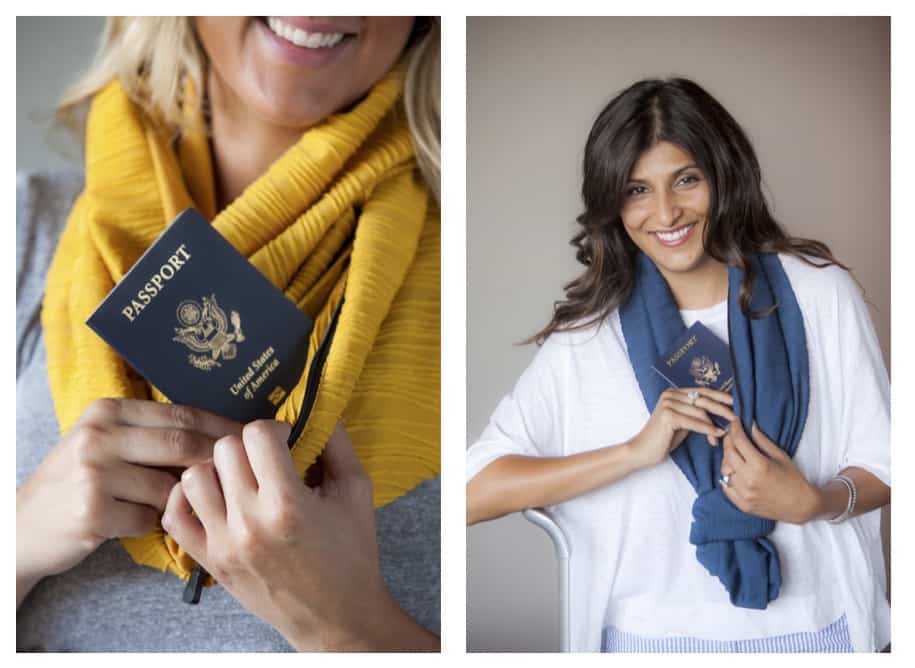 Maxi Dress Pin ($20)
This is THE perfect stocking stuffer for the women in your life who love to wear Maxi Dresses, aka LONG dresses and skirts. The Maxi Dress Pin does just that – pins your dress to change the length. I'm short so I'm fairly limited in being able to wear long dress and skirts; even the petites typically drag on the ground. With the Maxi Pin, it all changed. I could simply scoop up the dress at the side seem, insert the pin and off I went – without my dress dragging behind me.


Toad & Company
Anything from Toad & Company…This is my new favorite clothing brand I turn to for travel. Its new Modern Travel line has dresses, pants and shirts that are wrinkle free, light, fashionable and complete with little hidden pockets. The line is available for both men and women, though I wouldn't recommend any of the dress for guys. My favorite items for women are actually the Sanderling Skorts. These are perfect for hiking, biking, a casual stroll around town and even happy hour. They're are easy item to dress up or down. The hidden pockets are perfect for you phone, money and id. I have gotten a ton of use out of mine and need Santa to restock for 2016.


Compression Socks ($25)
Ok, I'll be honest, getting socks for Christmas can be boring. However, compression socks are more than just socks. They're soooo helpful in saving your feet when you're traveling. Not all compression socks are fashionable, actually few are. Trust me. I have nerve damage in my feet and use these socks regularly. They have saved me on more than one flight. You can find some compression socks that are more on the fashionable side from Sockwell
.
Gifts for Tech Travelers
FitBit ($90 – $300)
I wasn't one to jump on the wearable's bandwagon. In fact, I had no desire to ever get in on it, until I did. The FitBit is my gateway wearable…and I'm literally addicted. My kids are following in my footsteps, asking me everyday how many steps I've walked so far and if I've met my goal yet. And, that's just at home. My addiction is worse when I travel. At the airport, my seven-year-old asks me to start the timer to see how many steps we are taking to get to out flight. This last one, nearly 3,000 steps. Being a blogger, aka someone who's sitting in front of a laptop writing most days the FitBit has been key in helping to remind me that I need to get up and move. As a traveler, it's awesome to see how far I've walked during my day of exploring; I hit 10 miles in Fort Lauderdale!
WD My Passport for Mac 2TB Portable External Hard Drive ($100)
This tiny little device made it on my list last year as well, frankly it may be on it next year too. It's one of the best gifts for travelers! The WD My Passport can save your files (aka your life) when on the road. The WD My Passport works right out of the box with your Mac computer, but it can be easily reformatted for Windows (according to sales materials – I haven't tried it). It is also compatible with Apple Time Machine backup software. The Passport comes with 500GB, 1TB or 2TB storage options. That's A LOT of data!
MyCharge Razor Max($69)
How often does your cell phone die when you're traveling? The kids iPad? Have you had to seek out the changing stations at the airport just to recharge or had to sit on the floor at a conference to recharge your devices? I have. It's beyond annoying! I received a MyCharge Razor Max earlier this year and I have to say it has honestly changed how I travel. I don't ever worry about my phone dyeing. (Except the time I accidentally left the MyCharge in the hotel, as luck had it my friend had one in her purse – save!). This little device is about the same size as an iPhone 5 so it can easily fit in your pocket, purse or backpack. I found I could get three full charges on my phone and/or iPad before I had to recharge the MyCharge. It comes equipped with 2 USB ports so you can charge two devices at once. This is THE perfect gift for anyone on the go.
Mirrorless Camera – Sony A6000 ($550)
For $550 this is a splurge gift. I'm still carrying my DSLR camera around and loving the quality of the pictures but I hate having such a large camera to carry with me. Not only because of the size but the risk of carrying such an expensive piece of equipment out and about. I haven't made the move to a Mirrorless Camera yet but I'm heading that way. The Sony A6000 tops my list and have been highly rated and recommended by tech and photography experts out there.
Olloclip ($80)
The Olloclip is one of the best gifts for travelers who tend to rely more on their iPhones for photos. This little device clips onto your iPhone to provide a higher quality zoom lens. There are a few options to consider, I'm personally asking Santa for the olloclip 4-IN-1
. The olloclip 4-IN-1 clips onto your phone to provide four, quick changing types of lenses – (Fisheye, Wide-Angle, Macro 10x & 15x). The best part, besides taking high quality images, it weigh less than an ounce and can still fit in your pocket. If you are going to get one for the traveler in your life, make sure you check to see which type of iPhone they have since different lenses work with different types of phones. (I have the iPhone 6, just wanted to clarify for Santa.)

Zolt Laptop Charger Plus ($100)
I've been known to travel with a surge protector, not because I'm afraid of an electrical surge but so I can plug in all our devices at once to charge. NO MORE! With the charge Zolt Laptop Charger Plus you can charge one laptop and two mobile devices at the same time while automatically regulating power to each. The best part, it's the size of a tube of lipstick so it saves a lot of valuable luggage space.
BUBM Electronics Organizer Case ($18)
I'm a bit over the top at times when it comes to organizing, other times I'm a total failure. When I received the BUBM Electronics Travel Organizer
for Christmas last year, I thought it was useless. Why would I need this? "After all, I have a system." I gave it a try though and immediately realized my system was flawed. This little zipper pouch was the answer. One little bag held my camera charger, phone cords, MyCharge, adapters and everything else in a neat, easy to access bag that could slip in and out of my purse or backpack.
BlueDriver Professional Diagnostic Scan Tool ($100)
If you're headed out on a road trip, the BlueDriver OBDII Scan Tool
could save your vacation if you run into car problems. This tiny tool works with your smartphone and lets you diagnose problems with your car (wireless, and no mechanic required). You can read or clear trouble codes when the check engine light comes on. In other words, you can save time and money if you run into minor problems. The tool also allows you to view a vehicle-specific Repair Report that contains info such as Code Definition, Possible Causes, and Reported Fixes, which can be emailed as a PDF.
For the Wine Lovers
Wine Maps from VinMaps ($60-$200)
I absolutely love these wine maps form VinMaps. I have found it difficult to find useful and well made wine maps of specific wine regions. Ones that aren't just pocket maps but could be framed as art within your home or office. And, I had never seen one map that has all the wine regions in the world. How fun would it be to map all the regions you've visited in the world on one map! These wine maps are the perfect gift for travelers who love to explore wine regions.
The VingardeValise Wine Suitcase ($250)
The VingardeValise Wine Suitcase made my gift list last year too. This is the ultimate wine lovers suitcase. With several types of wine suitcases on the market this is the only one designed to be a suitcase AND a wine carrier. The VinGardeValise wine suitcase is designed and constructed to accommodate a full case of wine (12) of 750 ml bottles. It features removable foam modules that hold a variety of different sized wine bottles. Since the foam can be removed you can also use the VinGardeValise as a suitcase for clothing, etc. Pack six bottles on the left, seal it up and pack your clothing on the right. Or just pack 12 bottles and forget the clothes. I prefer the latter.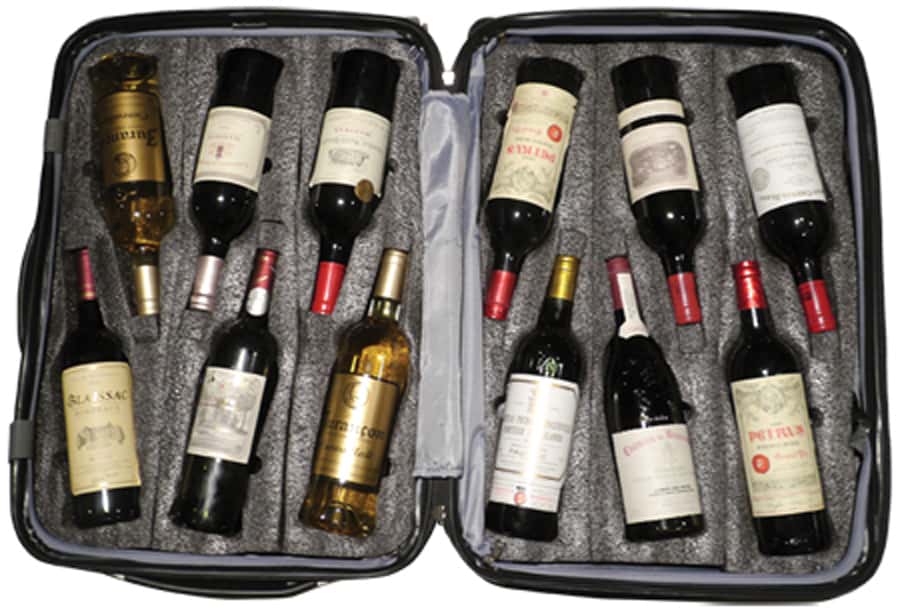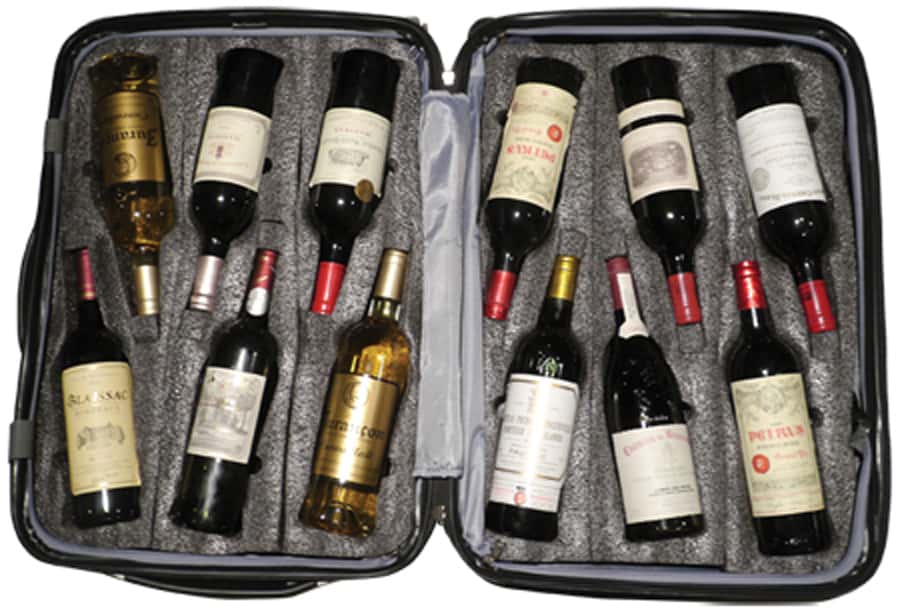 The Wine Bible ($25)
The Wine Bible
is the ultimate guide to wine and the perfect companion to travelers trying to explore a new wine region. It's a comprehensive, entertaining, educational and endlessly interesting book that aims to educate wine lovers. Not only does The Wine Bible educate readers on wines and how to read labels but on wine regions around the world. How these regions differ from one another along with maps, and recommended destinations. I love this book for all of these reasons but the main one being is that it's totally approachable for everyone – from a novice to an experienced wine connoisseur. (It's also one of the top resources Jay Christianson, the winemaker at Canyon Wind Cellars noted for people to read to help educate themselves on wine. I will be honest, there is little to no way I would carry The Wine Bible
with me on a trip. After all, it's a bible, aka BIG, but I do study it beforehand. However, it's now available for download on the Kindle (and Kindle app) making it my new reference guide right in my back pocket.
Wine Trails by Lonely Planet ($25)
Love to travel? Enjoy wine? Lonely Planet has released a new book – Wine Trails: 52 Perfect Weekends in Wine Country
– that pairs the two perfectly. The book includes 52 weekend itineraries for 20 countries with reviews of 327 wineries. That's not all though. Wine Trials includes practical details on where to stay, where to eat and of course where to drink. It's a great guide for those looking to explore wine regions they haven't yet visited.
Just Because…
TripIt Pro ($50)
TripIt is the world's highest-rated travel-organizing app. It's also become my absolute favorite travel tool. TripIt is an app that automatically creates a master itinerary for every trip you're going on. It gives you instant access to all your travel plans in one place—any time, on any device. How it works, you sign-up, and begin forwarding your flight, hotel, rental car and restaurant confirmation emails to plans@tripit.com. The app collects the info, creates the itinerary including maps and driving directions. You also have the ability to add additional activities to your itinerary. You can also set it up so your email and TripIt "talk" so your inbox automatically sends notices to TripIt so your schedule is set automatically without anything from you. This is all available in the FREE version, but the TripIt Pro takes things a bit further. It has all the organizing power of TripIt, plus extra features for stress-free travel, like real-time flight alerts that are both emailed and texted to you, seat tracking, refund notifications, points trackers and the ability to share your itinerary with others.
Anything Moleskine…
My first notepad in journalism school was a moleskin notebook, while I hated my beat I loved that little notebook. When the company closed a few years ago I was able to grab a few notebooks before they were gone. I hadn't realized the company had relaunched until recently when I received one of its City Notebooks as a gift. Not only are the traditional notebooks back but Moleskin has introduced themed books, from Hello Kitty to StarWars. I love the Voyageur – Traveller's Notebook. It's a new sized notebook for Moleskine in a portable format designed to store printed emails, itineraries, maps and of course your observations and explorations on the road. I also suggest you check out the new City Notebooks – a guidebook you write yourself. Ideal for both visitors and city dwellers, this guidebook lets you organize things you want to keep for future reference or for your records such as the names and addresses of restaurants, shops, friends, hotels, or tourist sites. The Key Map summarizes the overall layout of the city, including large-scale maps of the city centre, an alphabetical street index, and map of the metro system. Honestly the map is probably the best part…but you do have some blank pages to jot down useful information, and record your thoughts, stories, and memories.
I know, we live in a digital world where Evernote and other tools can do much of this but I still like to be old school and write things down…
Insulated French Press Coffee and Tea Mug ($30)
This past summer I desperately tried to break my morning latte addiction. When I say "desperately" I mean I drank instant coffee with creamer when we went camping and didn't complain. With the Bodum Insulated Stainless-Steel Travel French Press Coffee and Tea Mug
, you can brew coffee or tea on the go and drink from same container when it's ready. It's made of vacuum-sealed, double-wall stainless steel and keeps beverages hot or cold for several hours, has a non-slip silicone grip and is dishwasher safe.
Micro Luggage Scooter ($400)
Ok, technically the Micro Luggage
is designed for use by adults in airports and airport terminals but my kids would rock this. The Micro Luggage is a kickboard, bag and trolley in one so you can "scoot" to your terminal at the airport. It's approved for use as a carry-on, fits in overhead bin. They're pretty pricey but imagine the fun you could have with this. 😉