I was seven-months pregnant when we decided it was the perfect time to take off for a beach vacation to Cab San Lucus. It was going to be our "Babymoon", also known as the last big trip before having kids. Aka one last ha-ra before our lives were totally and forever changed.
I had been given "permission" from my doctor that making the trip was fine and highly recommended. And so I got busy. I had big plans for this trip. Deep-sea fishing. Glass blowing. Touring ruins. Relaxing at the beach. This soon to be mama was going to live it up.
The Universe had other plans.
I love to fish and going deep-sea fishing was on the bucket list. So on the first day in Cabo we booked our deep-sea fishing expedition with a local guide. The day arrived and we awoke to an overcast and rainy morning – complete with 60mph winds. Clearly our tour would be canceled.
Nope.
I told myself I could do this. It's just a little rain and some waves. Not a big deal. The rain faded before the boat left the dock and we witnessed an amazing sunrise, complete with a latte in hand. It was going to be a fine day. In fact, it was going to be an excellent day. A day I could complete something on my bucket list. I was beyond excited.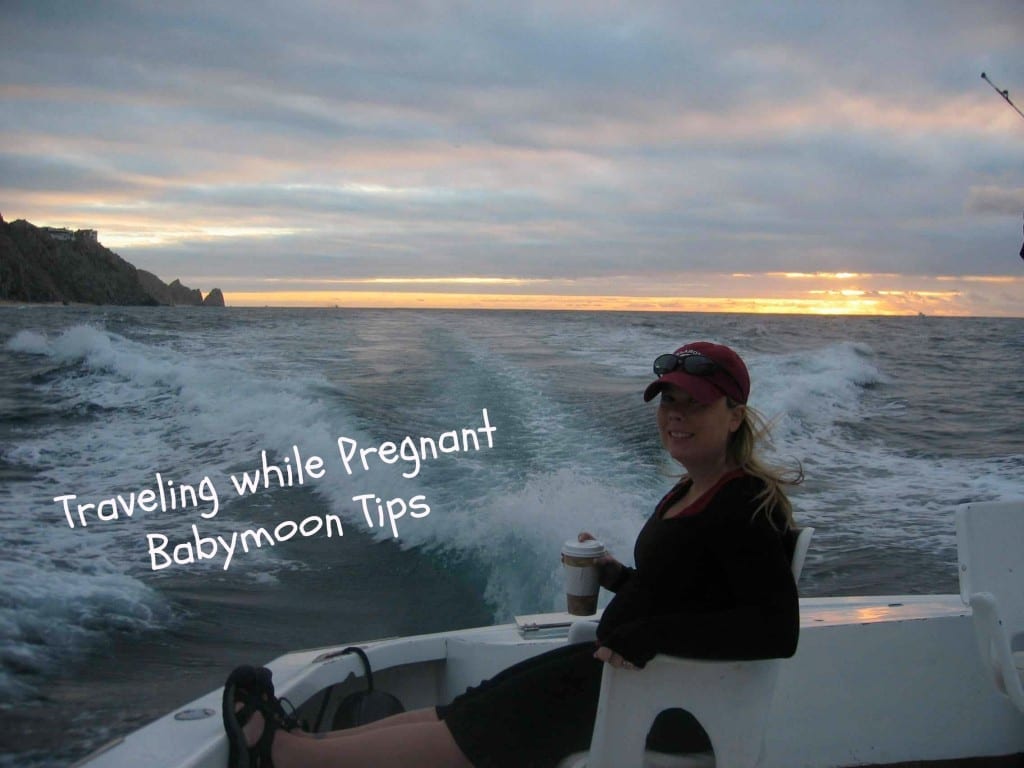 And then it happened.
We were about 20 minutes into the six-hour trip when the seasickness came on. I spent the next hour in the bathroom. The next two hours with my head on the table in the boats cabin.
After three hours, The Husband finally got the Captain to take us back to the dock. I actually think that after three hours the other people on our tour were finally starting to feel bad for the sick, pregnant lady. And it helped they caught a fish.
I never even got to hold the rod or try deep-sea fishing… So much for an excellent day and crossing something off the bucket list. All that excitement had turned into sheer, utter disappointment. And when you're pregnant those emotions are typically more intense = I was mad. Not only had I wasted a day but a lot of money.
I've been asked since if I would recommend taking a babymoon to others. My answer, it depends. While our deep-sea fishing expedition was the first part of the trip, the end of the trip (and three more weeks at home) were also spent in the bathroom due to Montezuma's Revenge. (The middle part of the trip was nice though.)
If you're thinking about taking a babymoon, here are a few things to consider.
Babymoon Tips
Go earlier in the second tri-mester. According to the American College of Obstetrics and Gynecology, the safest time to travel is from 18 to 24 weeks.
Pick a destination you're both going to enjoy. One that has activities you both can do AND will enjoy. For us, Cabo was great since The Husband is a beach go-er and would have spent every day there if I had let him. I'm an explorer, so the combo of having relaxing parts of the day at the beach and a few hours to "do" was perfect.
Make sure to check with your doctor before you book your travels to make sure they agree your body can handle it. And, keep them looped in if you need anything on the road.
The Husband spent a lot of time on the phone with my OB when I came down with Montezuma's Revenge, make sure you have their contact information handy and know how to reach them if you're traveling internationally.
Try to minimize your travel time. In other words, don't take a long flight or one that has several connections. Try for a direct flight or a short car ride.
To avoid blood clots make sure you're moving around, especially if you're flying. Get up and walk around every hour and avoid crossing your legs.
No matter where you're traveling – state-side or internationally – you should know where the nearest hospital is to your hotel. There are several apps that can help you with this, I prefer iTriage.
When your pregnant your system is more sensitive than usual. Keep that in mind when you're traveling and try not to experiment with too many new foods.
Listen to your body. It's ok to take a break and simply relax. If you're tired, take a nap. If you're hungry, eat. If you can't walk anymore, take a cab. Don't push yourself to do more than you should, it's not just you that you're pushing anymore.
 Have you taken a babymoon? Tips to add?